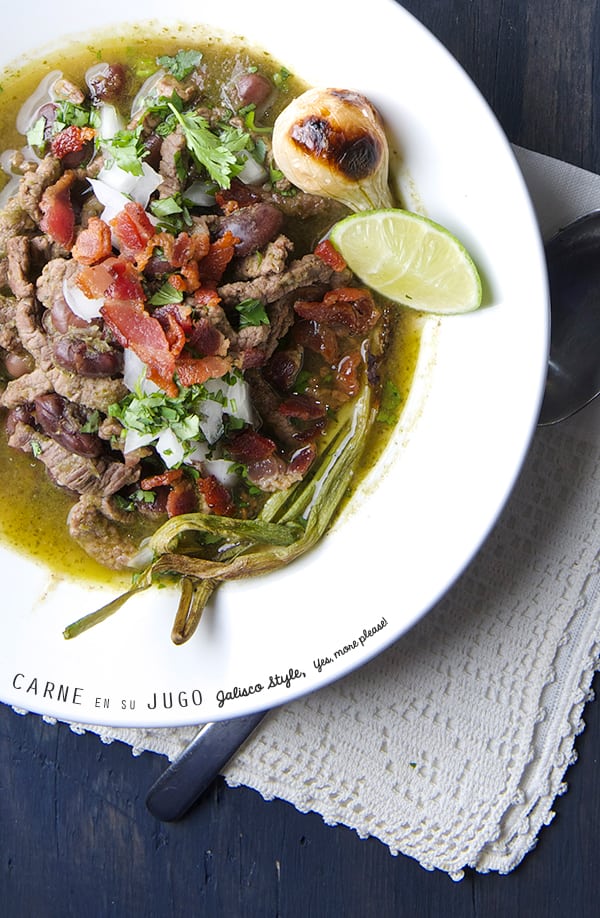 This recipe is dear to my heart. A traditional dish from the city I was born: Guadalajara, Jalisco Mexico. It brings me lots of memories from my Mom's cooking. You see my Mom is not an avid cook; but the dishes she prepared for my brother and I when we where little, where always prepared in a delicious manner, and well seasoned with love. This is one of my Mom's best dishes for sure.
Now, how can something so simple and humble as a combination of beans, meat, and a simple broth can be so darned good? I do not know, but once you make sense out of this combination of ingredients that seems to want to be a guisado, but is not a guisado, and wants to be a soup, but its not a soup, once you prepare it, you will understand why I like it so much.
What is not to like about thinly sliced juicy meat, flavored with a little bacon, simmering in its own juices, along with fresh cooked beans and their broth, some herbs, chile and tomatillos? The result it is far better than it reads, or than it looks. It is a loose stew. Perfect for the transitional weather, when you almost want it to be Fall or Winter but its not there yet. And of course it is a must make dish on a rainy or cold weather day. Easy to prepare, one pot situation.