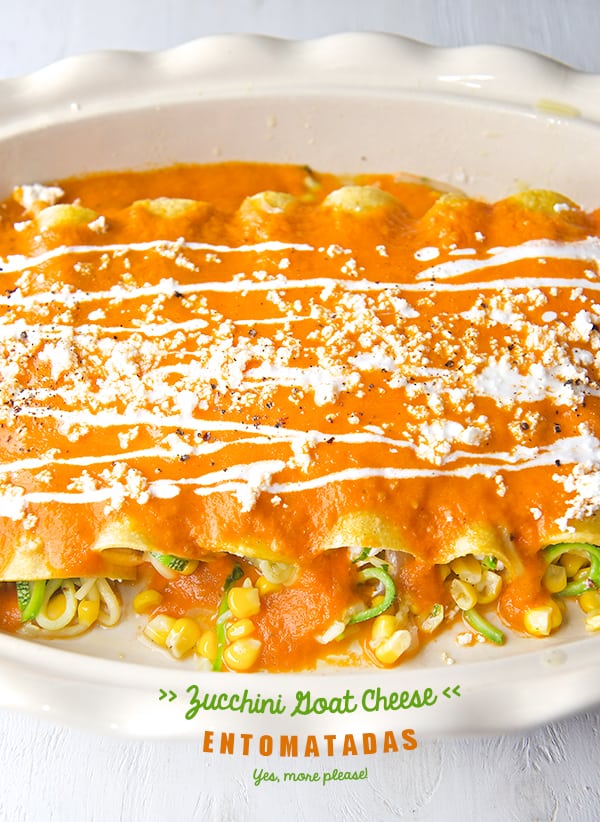 Entomatadas;//Adjective, En=in / tomat= from the word tomato /adas = adjective termination that denotes action,"adas"
I would say that the closest translation of the word "entomatadas" or "entomatado" would be "smothered in tomato".
These Entomatadas are the mellow cousins of the Enchiladas. They have the same concept and construction, rolled tortillas filled with infinite possibilities and covered with a sauce made with dry chiles. The sauce used in entomatadas is made with red tomatoes, as its name suggests. Roma, or Tomboys tomatoes, or jitomate "bola" in Spanish is usually the tomatoes of choice when making this sauce, but certainly any red round meaty and juicy tomatoes, along with mild herbs and spices will work.
The basic Entomatada sauce is very mellow and showcases the best in tomatoes. In this version of mine, I rock it out a little bit by adding a single serrano, that mimics the black pepper and adds deep of flavor to the sauce. The sauce consist of boiled tomatoes, that are skinned, blended, and then sautéed with onion, garlic and fresh epazote or mint. Then its pureed for a second time to produce the most velvety and creamy tomatoey sauce. The creamy sauce contains no dairy however, which makes the sauce light and fresh. Also on the virtue of looking for a healthier, lighter version of the classic way to make entomatadas which calls for frying the tortillas, I warmed up the corn tortillas and I drizzled them with a bit of a delicious green… a grassy extra virgin olive oil! This step not only adds another layer of flavor, but also prevents soggy tortillas when the salsa is added.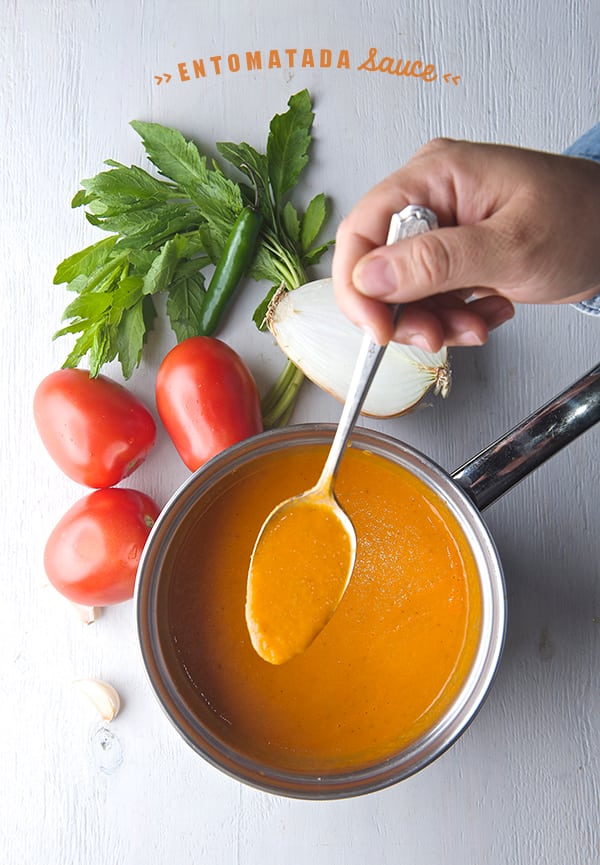 These Entomatadas of mine are filled with sautéed zucchinis, onions, sweet corn, and goat cheese. Once I roll them up, they are smothered with the piping hot tomato sauce which warms them through. These Entomatadas are best eaten warm almost tepid temperature.
Pouring the sauce separately when making any kind of enchilada is my favorite way to make them; It avoids enchilada uni-blocks. Best of all, by using this technique on these Entomatadas, is that it makes them BAKE-FREE!!! keeping you and your house odor free when you have closed the windows to run the A/C. If you don't understand how that works, then come further South.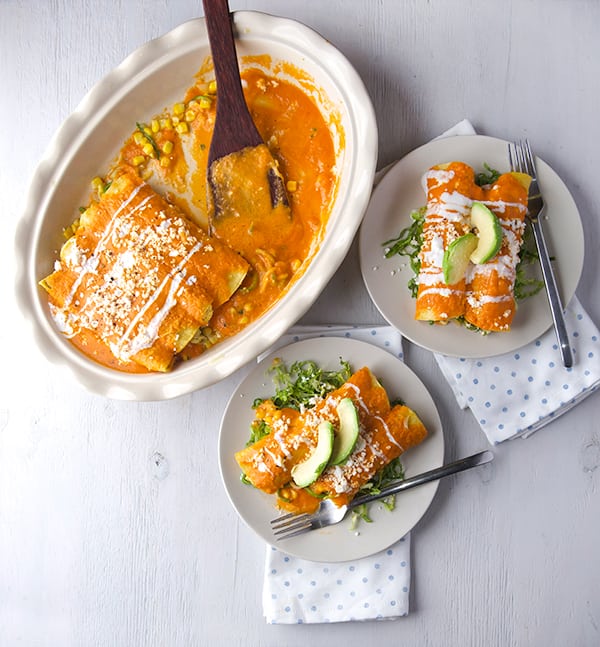 Entomatadas are great for entertaining. I usually have them rolled up and when its time to serve them. I pour the piping hot tomato sauce all over, drizzle of Mexican crema or in this case I use a diluted Greek yogurt and sprinkle of queso fresco to keep them on the lighter side. Take them to the table and serve on a bed of shredded fresh lettuce and avocado wedges. I'm telling you, these Zucchini Goat Cheese Entomatadas scream Summer out loud! Whether its a midweek dinner or a potluck this recipe, its a must try! I know you will like them as much as we do!…
To make this Entomatadas you will need….
Zucchini Goat Cheese Entomatadas
Serves 4
8 Corn Tortillas
8oz goat cheese
For the filling:
2 medium/large zucchini
1 Ear of corn worth of kernels
1/2 medium size white onion
1 garlic clove thinly chopped
2 sprigs of fresh epazote, if you can't find epazote you can use a mix of fresh tarragon and mint, or just mint.
Salt and pepper to taste
Extra Virgin Olive Oil for sautéing and drizzle the tortillas.
For the Sauce:
1 -1/2 pounds fresh Roma tomatoes
1-2 Chiles Serranos
1/4 onion thinly chopped.
2 garlic cloves
2 sprigs epazote or mint.
1 teaspoon salt
1/4 teaspoon cumin
1/4 teaspoon black pepper
1 cup low sodium chicken stock
Garnish with:
3 cups finely chopped Lettuce
3 tablespoons of plain Greek yogurt+ 2 tablespoons water + salt + pepper, shake well on a drizzle bottle or whisk on a small bowl.
4 oz. Queso Fresco
1 Avocado
Preparation Method:
1. Make the sauce. With a paring knife make a little cross on the bottom of each tomato. In a medium sauce pot place tomatoes and Serrano chiles, bring to a simmer cover with a lid for a bout 10 minutes, or until tomatoes are cooked. Once they are cooked, carefully remove skins and the bellybuttons. Using a blender or immersion blender puree the tomatoes, Serrano and herbs.
In a sauté pan drizzle some extra virgin olive oil and saute the onion and garlic for 1-2 minutes until translucent. Add the blended tomato sauce, salt, pepper, cumin, and the chicken stock. Stir well and bring to simmer for about 15 minutes. Remove any foam that it might form. Using an immersion blender puree the sauce in the pot, or place it on a blender to puree.
This will produce the most velvety tomato sauce with out adding any cream or milk. Once blended, place the sauce in the same pot and keep it under slow simmer to keep reducing it. Taste and adjust for salt if needed. Sauce should be velvety and the consistency should cover the back of a spoon. See picture below. If your sauce is to runny keep simmering until reaches the right consistency.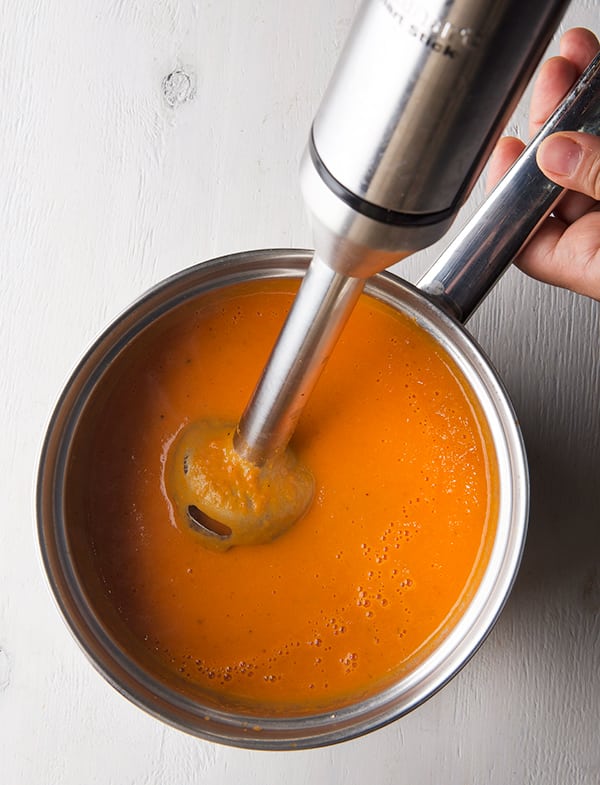 2. While the sauce is simmering, make the filling. In a sauté pan drizzle some extra virgin olive oil, add onions, garlic and corn kernels, sauté for 2-3 minutes, add the zucchini, herbs, salt and pepper toss well. Cook for a quick 1-2 minutes, being careful not to over cook the zucchini. Remove from heat, set a side.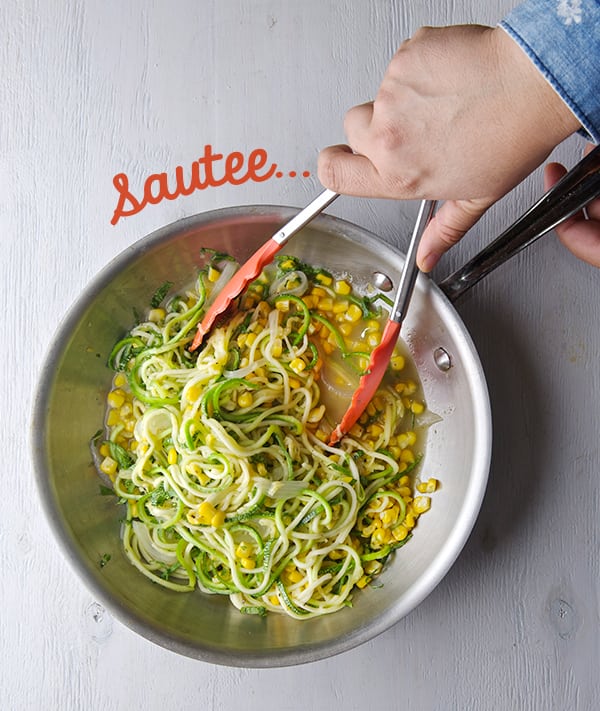 3. Now we are ready to assemble! Warm your tortillas, and on a ceramic dish or plater drizzle a little extra virgin olive oil place one tortilla and kind of smoother it with the olive oil. Add a generous amount of the Zucchini filling, crumbled goat cheese and roll them up! proceed with the rest of the tortillas.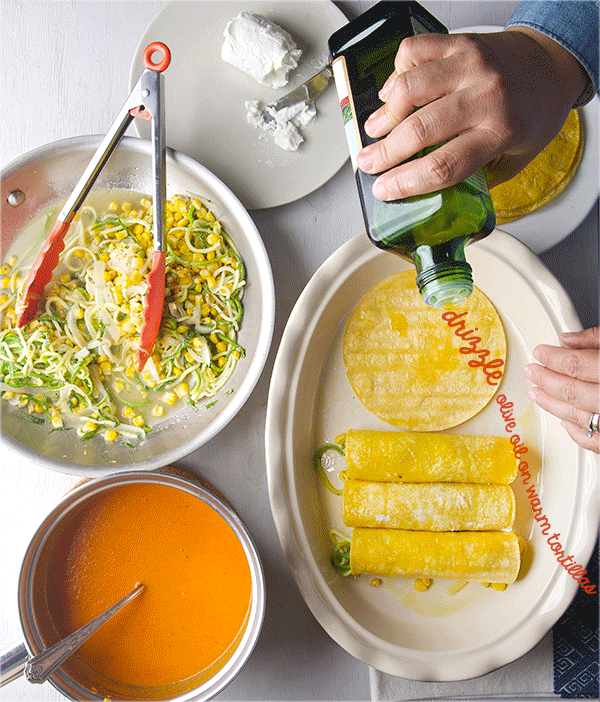 4. Once you have them all rolled up, proceed and poor all the piping hot tomato sauce on top. Drizzle some crema or greek yogurt mixture, queso fresco a bit of salt and fresh cracked pepper.
Dinner is ready to serve!!!
Serve this entomatadas on a bed of finely chopped lettuce, avocado and if you have some extra sauce left, bring it to the table for an extra drizzle.Enjoy!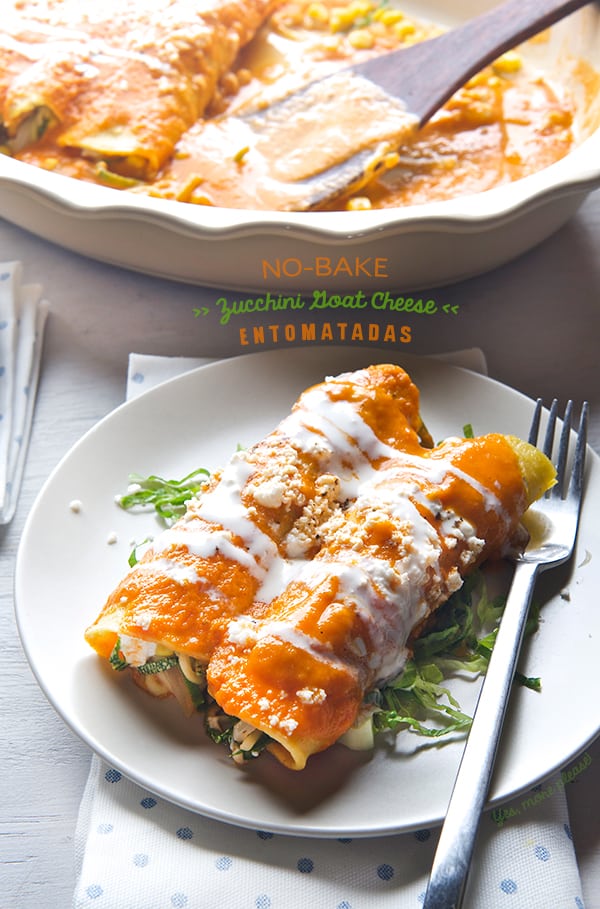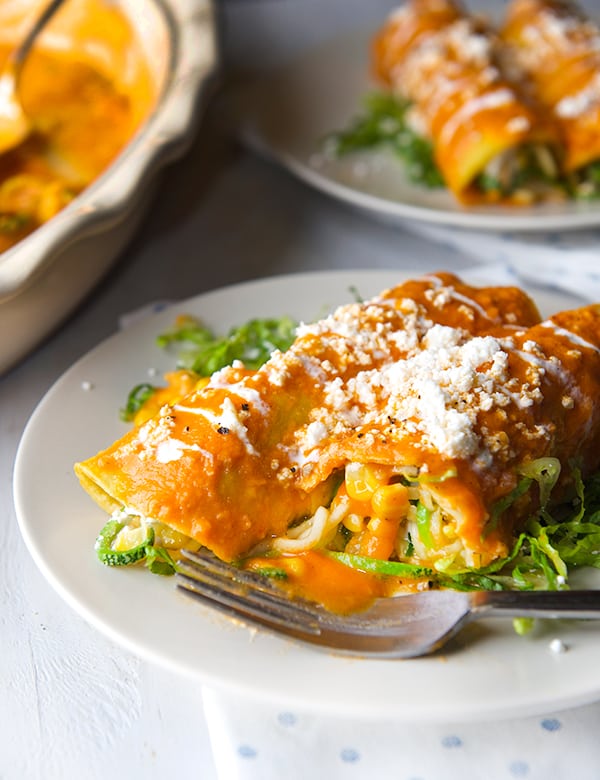 So much Zucchini so little time!
Music pairing: Kenny Dorham, A night in Tunisia (Guillespie Paparelli)