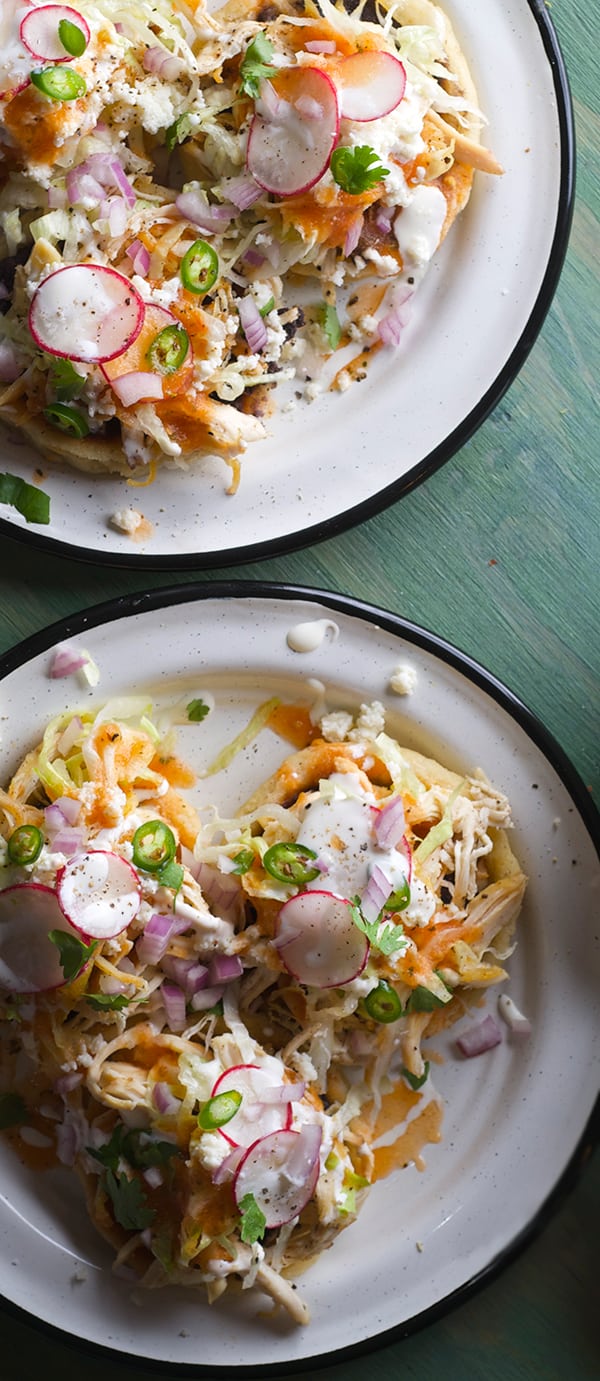 Antojitos Mexicanos…These are the "small bites" in Mexican street food. Go to the fair or the Tianguis (street market) and they are the perfect food for an impromptu craving. Sopes de Pollo – Chicken Sopes is one of them. Take corn masa dough and create a small fried or grilled pattie and you have the foundation to add any kind of toppings you like; shredded chicken, beef, pork, picadillo, chorizo, requeson~Mexican Ricotta, refried beans, mashed potatoes, calabazitas, poblano rajas, mushrooms, infinite filling possibilities. Top them off with a simple tomato salsa, shredded lettuce or cabbage, onions, radishes, crema and queso fresco or cotija cheese, and these little sopes, will be a highly crave-able meal.
In Guadalajara, Jalisco, where I'm from, these fresh corn masa patties are called Sopes de Masa, or pellizcadas which translates into "pinched". Why? Once these masa patties are cooked, on the comal or fried, the edges of these round patties are pinched all around to create a border-leap that will hold the fillings and topping goodness.
This masa pinching is done by an experienced cook, a grandma or an aunt, cooks that have developed Moctezuma fingers, with digital prints deleted by the generational hard work in the kitchen. Since these patties are piping hot, you need this kind of strong digital numbness to achieve the results. Lucky you, this is not the only way to make sopes, I will provide you with an easy solution using two spoons. You get to keep your fingerprints.