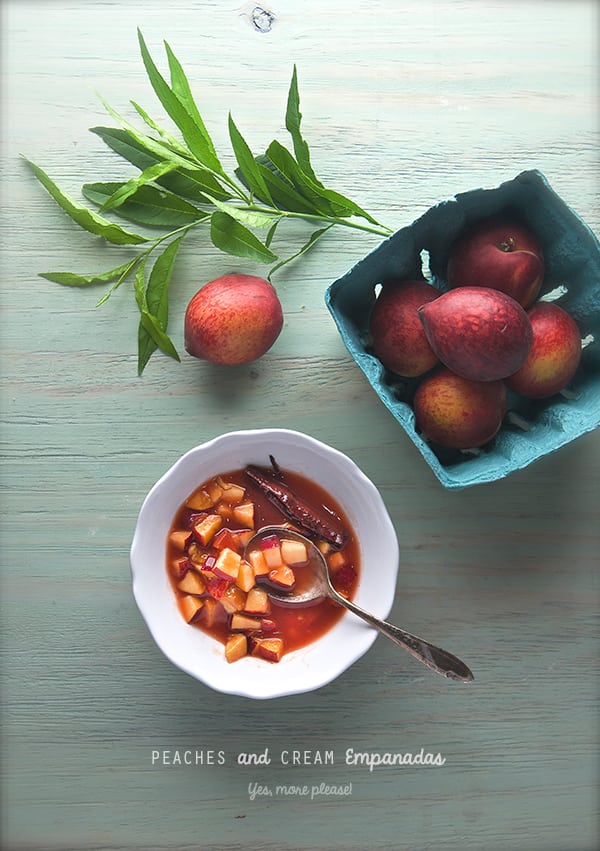 When the rain is gone the petrichor remains anticipating a clean fresh day. A day of sunshine finally warmed up the city of Austin, and with this shiny day a reminder that it is of the end of May. Warm days ahead allure me with one peachy promise. Texas Peach season is here, now in full swing through warm August. All the recent rain equals juicy peaches. Rumor has it that it is the best crop in at least five years.
With this rumor in mind I bought a basket of peaches, which lasted us thirty seconds. After the peach binge I ran and bought more peaches to make a recipe for them. I came up with three delicious recipes. First one, road peaches: Just eat them as they are, cold or slightly warm room temperature, bite into one and your taste buds go into overdrive. A magnificent juicy, acid, sweet, floral taste, with juice running through your fingers. Advice: take lots of napkins and a little pouch with pink himalayan salt to sprinkle in every other bite…To die for.
Second recipe, a Peach, Sweet Corn, Basil and grilled Hallumi Salad which will be on the blog next week…stay tuned.
And a third recipe to say goodbye to spring: Peaches and Cream Empanadas. These little empanadas are a breeze to make. The dough its not sweet, it has no sugar, only salt. It is so easy and forgiving once you get the hang of it you're going to want to make every fruit, vegetable, meat, poultry, cheese filling into an empanada. They cook really fast; 15-18 minutes. Forget about store bought, make the real deal. The dough can me made in advance because it keeps up to a month in the freezer, maybe a little more, but I think a month is tops so the buttery flavor is not gone.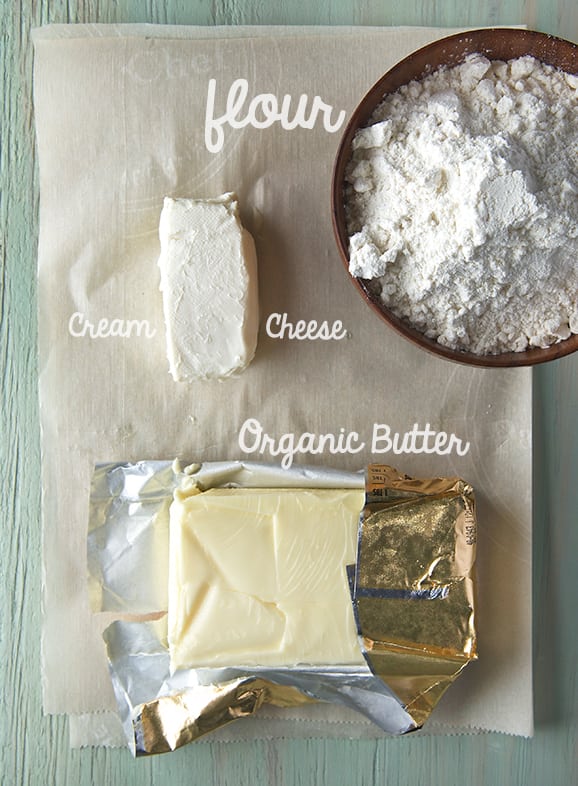 The filling its a combination of cooked and uncooked peaches, which give the empanada that tangy flavor with out being overly sweet…because that's the way I like it. Combining fresh and cooked gives you the bright peach flavor closer to that fresh bite. In one bite you can taste the sweet butter and tender crumb from the dough, the creamy ricotta and the sweet, tangy juicy peaches. Cinnamon sugar dust adds that extra sandy crystal texture that just make them irresistible. Yes, that's why they are little in size. Good things come in small packages right?… The recipe makes 12 / 3.5″- 4″ mini empanadas.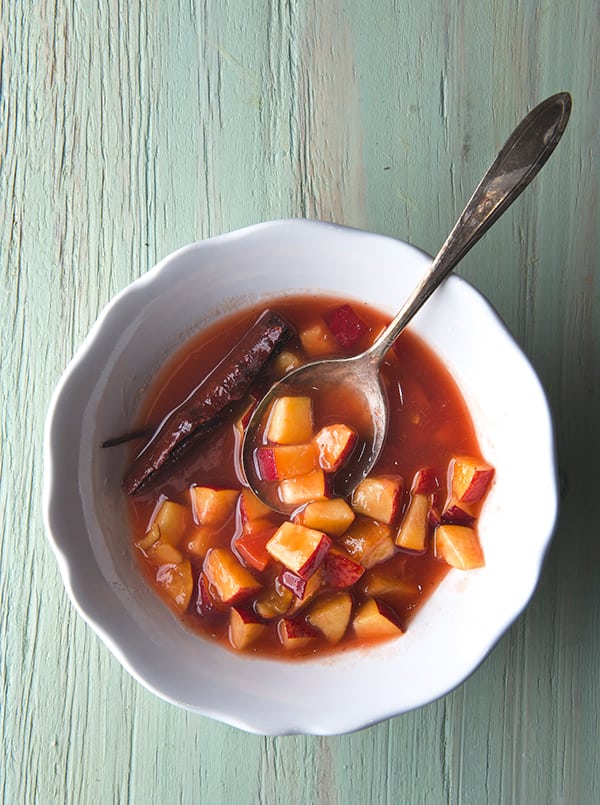 Where to get these scrumptious peaches? If you are a Texan you know where to go, in fact share with us where is your favorite place to get peached. But if you are new in town: Road side stands are a usually in my opininon the best and most accessible way to get your peachy cravings. If you live in the Austin, Texas area or nearby check this following link to more information about visiting Fredericksburg The Texas Hill Country click here for market days, for a great peachy day.
If you want to know about other locations to buy  and for a complete guide on where to buy visit: Texas Peaches.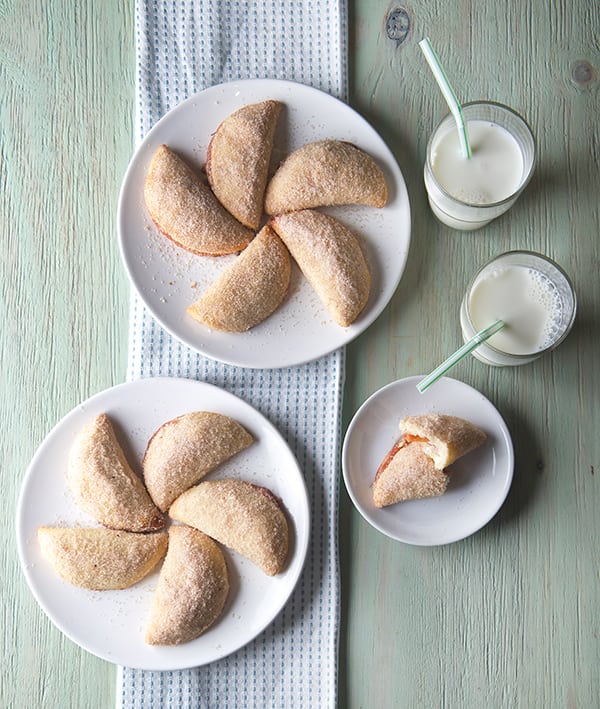 For the Recipe you will need: 
Peaches and Cream Empanadas
Makes 12 scrumptious mini empanadas.
1 ¼ cups Unbleached all purpose flour, or Whole wheat flour.
4 oz. (1 stick) Organic unsalted butter room temperature.*
2 oz Mascarpone cheese or Cream cheese room temperature.
2 good pinches of kosher salt
* Except if you live in Yakutsk,… quick soften in the microwave, people from Arizona, don't even bother just cook the empanadas on your car hood…JKD!
For the filling:
4 small medium peaches cut into small squares or 1/4" thick slices.
3 small /medium peaches blanched, peeled and pureed.
¼ cup turbinado sugar (upon how sweet are your peaches, you might need more or less, taste them and adjust to your sweet tooth)
1 tablespoon honey
1 pinch of clove
1 cinnamon stick
A smidge of salt
the juice of half a small lemon.
1 teaspoon of cornstarch or arrowroot dissolved in 1 teaspoon of water.
¾ cup ricotta cheese or mascarpone
Dust with:
½ cup fine sugar
2 teaspoons Saigon cinnamon
Preparation Method:
1. Make the dough: In a bowl mix with a wood spatula the softened butter and cream cheese until creamed and well combined. Add salt and flour, and mix until well combined. The dough will be coarse at this point knead 3-4 times with your hands until you have one soft dough ball. Do not over mix. Shape into a disk and cover with plastic wrap. Refrigerate at least 30 minutes.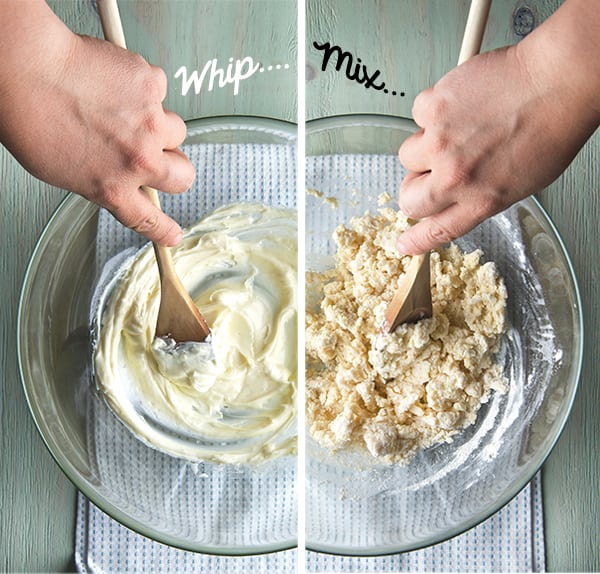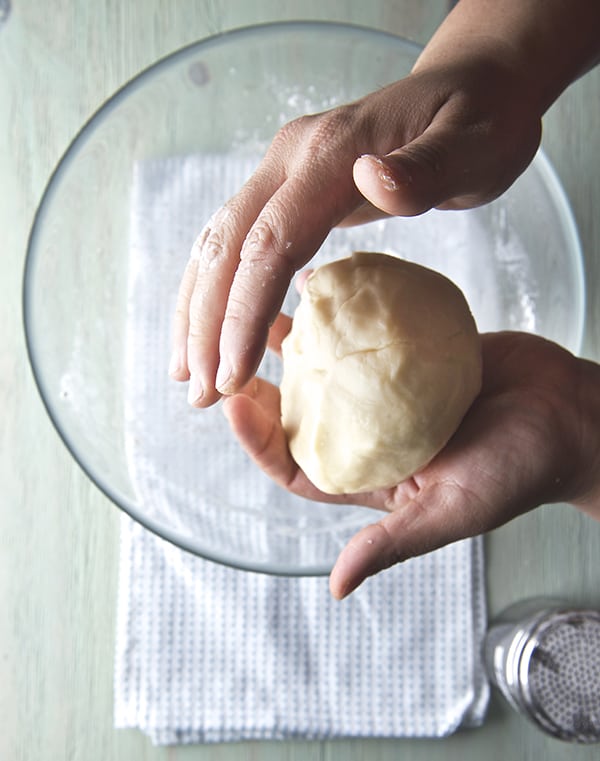 2. Meantime prepare your peach compote.
In a small pot, combine the peach puree, sugar, honey, clove, cinnamon stick, and bring to a simmer. Remove any foamy matter as it bubbles. Simmer for about 4-5 minutes until the sugar is dissolved, no foam, and starts to change consistency. Add salt and lemon juice. Stir. Add the dissolved corn starch, stir and bring to a simmer 1 more minute. Add the diced peaches or slices what ever you prefer. Toss and remove from heat. Let cool off completely before using.
3. Flour generously your working table, roll out your dough to 1/8" thickness and cut out 3.5"- 4" rounds. Usually I roll the dough twice, first time I get 7 round pieces, and I fill them as I go. Gently fill each round dough with one to half a teaspoon of ricotta and 1 generous teaspoon of the peach compote. Eye ball it, it can be more or less. You want just enough peach stuffing for this little delicate empanadas, so you can close with no trouble of over flowing. Making the first one its always a challenge. Usually you will get the hang of it on the second one. Do not worry just have fun, up till now I have not met an ugly empanada, that did not liked me… : )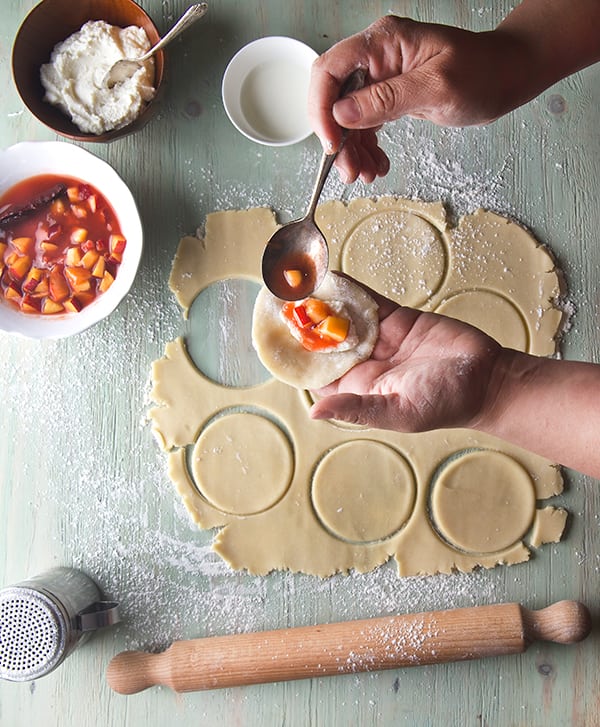 4. Once the filling is on gently fold and pinch the edges, place on a baking sheet lined with parchment paper or a handy dandy sil pad. Knead briefly the rest of the cut out pieces and re- roll. You will get another 5-6 dough circles. By this time, If the dough feels to warm just place it back into the fridge for 5 more minutes before re-rolling, for better handling.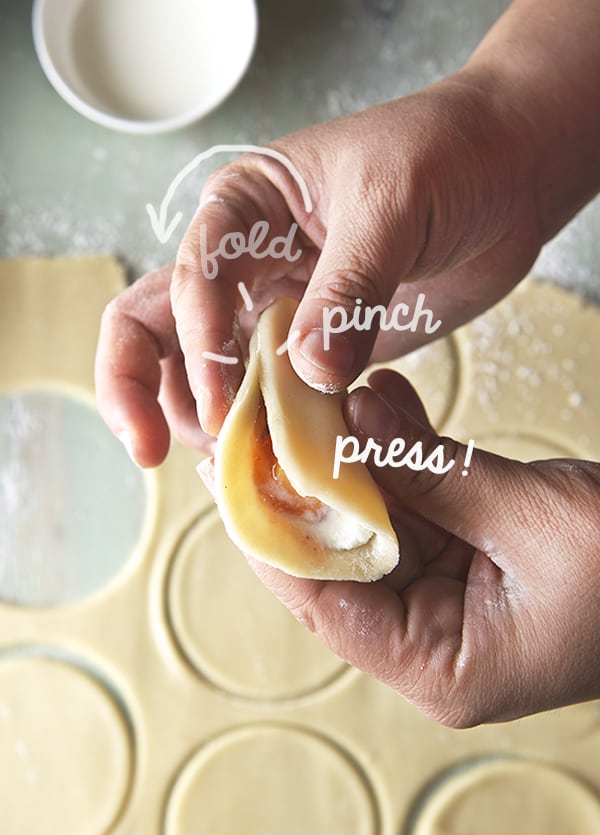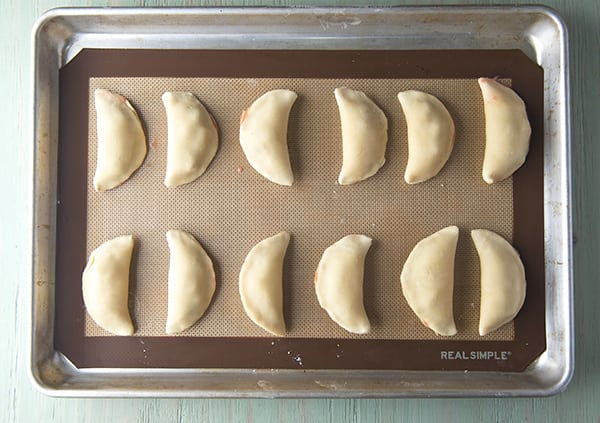 5. Fill the rest of the empanadas, once the tray is ready, place it on the refrigerator for 5-10 minutes, while you heat up your oven at 375 F /190 C.  Pop your tray into the oven and reduce temperature to 350F bake for 15-18 minutes. They should look slightly pale and golden on the edges, and definitely golden brown on the bottom. Remove from oven and let them stand on tray for 5 minutes. With a cookie spatula transfer to a cooling rack. Once they are cool enough to handle, but still warm, toss each one into the sugar-cinnamon dust. Until well covered. Place them back on rack, to keep cooling.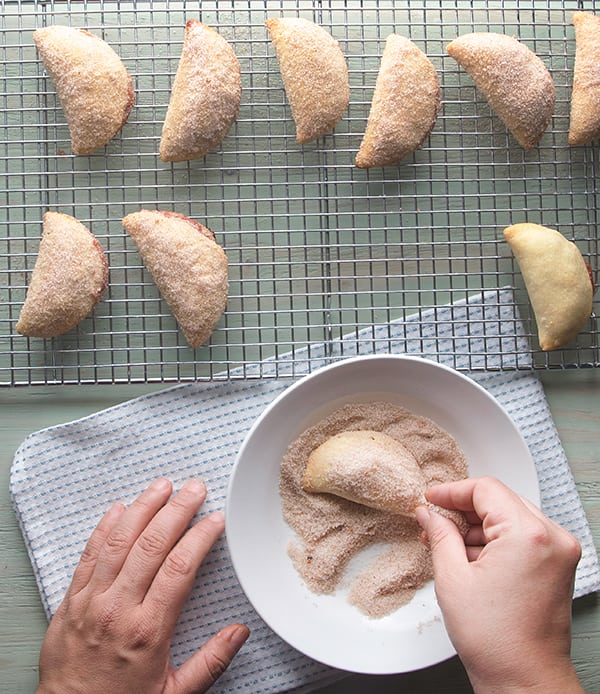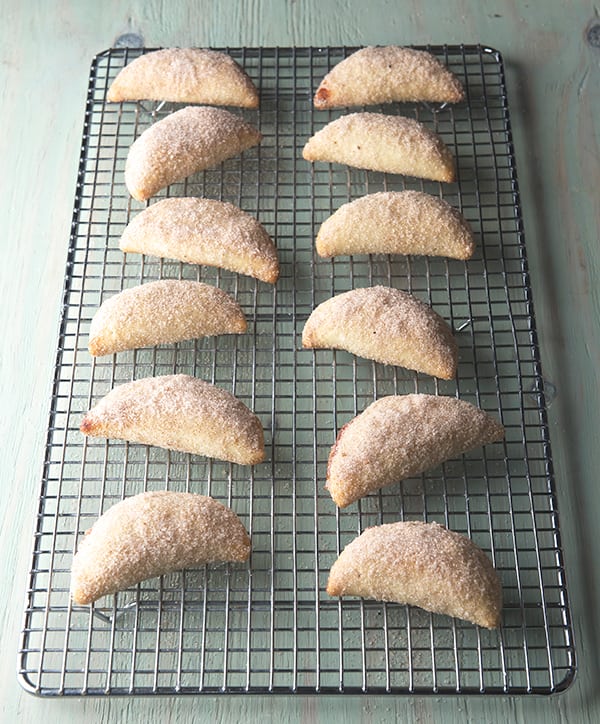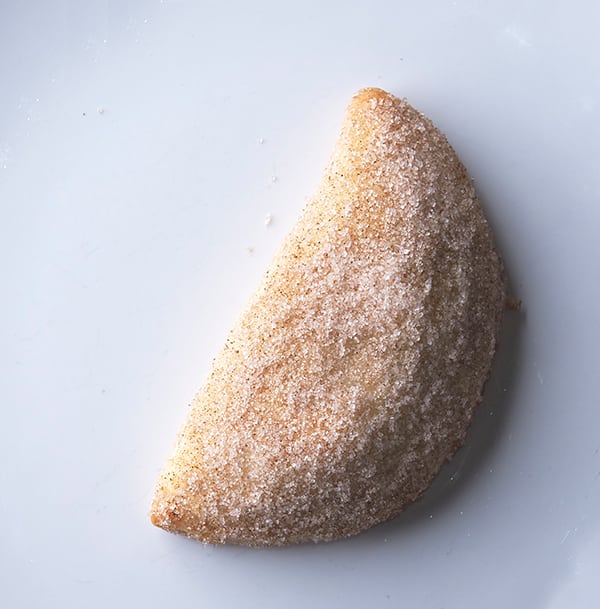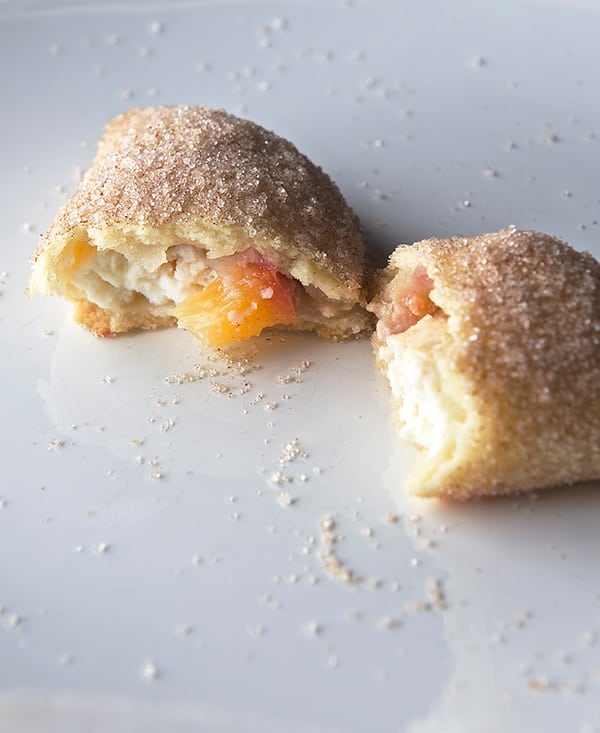 Now, Remember that first empanada you made? Yes, the one that burst out the filling,
that is the baker's treat, eat it while is warm!… Vanilla Ice cream on the side?..Yes, please
Music Pairing:  Peach Trees Rufus Wainwright