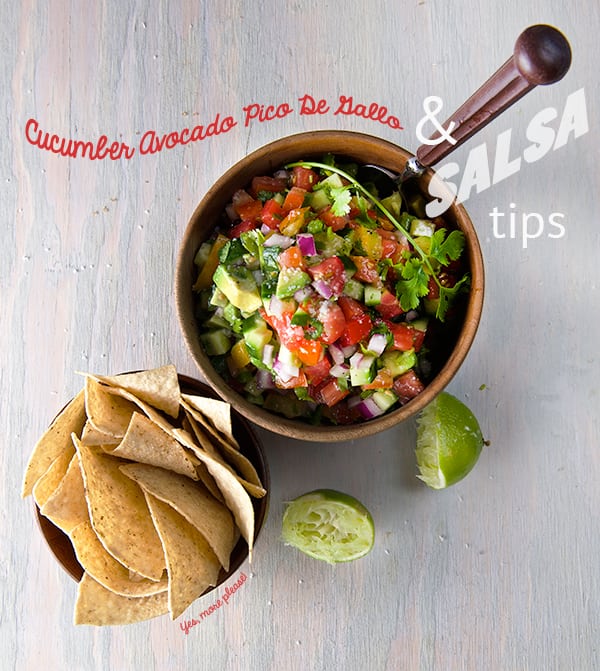 Hello friends, a quick recipe for your weekend. This is a great fresh salsa-guac! It is not a guacamole, it is not your usual Pico de Gallo, its both! The cucumber adds crunch and extra freshness and the avocado adds a bit of creamy goodness. What else could you ask for?… It is a quicky to make just what you need on a long weekend, something fresh to snack on along with some refreshing drinks, perhaps like this fabulous Texas Caipirinha… ehehm…
Besides the recipe which is so easy to make, I would love to share with you a few of my tips when making Fresh chopped Salsa fresca, mostly known here in USA as "Pico de Gallo". Enjoy!
Sharp knife:
Everything has to begin with a sharp knife. Nothing ruins good salsa more than a dull knife. Mushy cuts do not make a salsa very appealing and ruins the texture. So, sharpen those blades, baby!
Tomatoes:
Mix them up! Juliet, Cherry tomatoes, Sun golds, Lemon Boy, Roma, Heirloom, right now is the right season were there is plenty tomato goodness to choose from. 
My favorite Tomatoes in Austin, TX are the ones that Boggy Creek Farms produce. Click here to visit this beutiful Austin Urban Farm is one of the best.
Cucumbers:
English cucumber, or Jade are my favorite since they don't have to many seeds, thin skin, they keep their crispy texture when marinated.
Red Onions:
Red onions  are  sharp in flavor. My advice is after dicing the onions give them a quick rinse, drain them and add them to your salsa. Rinsing them will make them milder by washing away that milky pungent liquid. You, your loved ones and your guests will appreciate the little extra care!
Avocado Hass:
This kind is the creamiest of all avocados. They have a fleshier inside and small oval pit. Choose the ones that are firmer to the touch it should feel like well done steak. These level of ripeness will hold better in this kind of salsa-guac, creamy, not mushy.
Dicing Jalapeños:
Rub a bit of cooking oil in your hands before cutting a jalapeño, this will protect your hands from the spicy burn.
Remove seeds and vein or leave them up to how spicy you want it!
 A good way to know when a pepper is spicy, is to smell the pepper. Cut the pepper length wise. Smell it. If it smells like fresh-cut grass it will be very mild. But, if it smells like fresh cracked black pepper you hit the jack pot is a spicy one. Watch out! maybe you just one one jalapeño in your salsa…
Limes:
Use limes, instead of lemons. They have a sharper acidity that balances great with the sweetness from the tomatoes.
Sea salt:
Why Sea salt instead of Kosher? It tastes fresher and the salt crystals brighten up the salsa flavor.
Fruit:
You can add other fresh fruit if you feel adventurous like Mangos, Strawberries, Green papaya, Pinneapple, Jicama, Peaches, the world is your canvas!
I hope these simple tips help you to get inspired and give a refresh spin to your salsa. Do you have any tips when making salsa? I will love to read about them.
Share them here and shoot us a comment!
Relax and have a great weekend!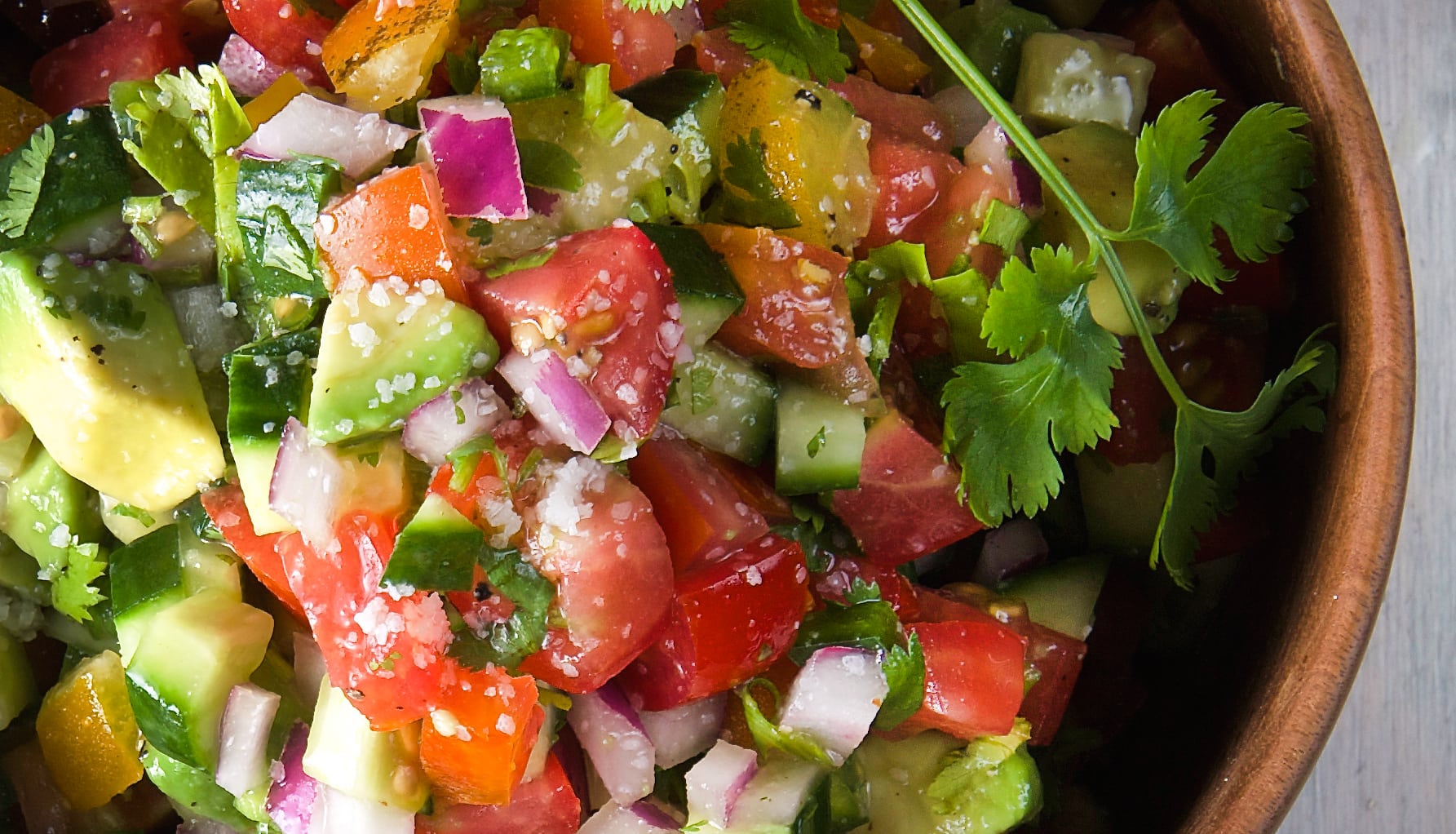 Cucumber Avocado Pico de Gallo Salsa
Makes 1, 2, 3 or 4 people dance!
2 cups diced fresh tomatoes of your choice, check out my tips above.
2 cups finely chopped cucumbers
½ cup finely dice white onion
1 medium size avocado Hass chopped in small cubes
1-2  jalapeños small diced one with seeds one with out.
1 small bunch of cilantro, finely chopped
2 large juicy limes
2 good pinches of dry mexican oregano
1 teaspoon sea salt
Corn Chips… lots of them!
Preparation:
In a large bowl combine all the chopped ingredients, season with salt and add the oregano by rubbing between your fingers like if you where to snap the oregano at it. This warms up the herb and makes it into smaller pieces which flavors the salsa better. Add the lime juice 
toss and serve with corn chips and your fabulous Texas Caipirinha like this on the side…Enjoy!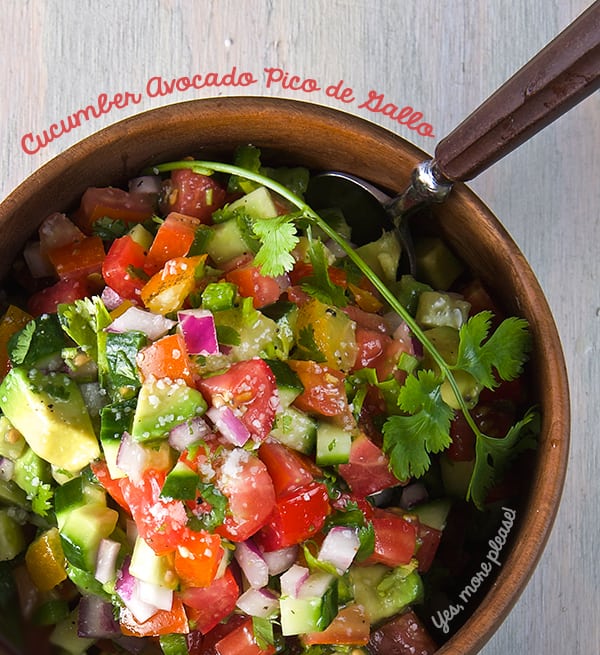 Make your Salsa dance…
Music Pairing: Salsa – Tito Puente