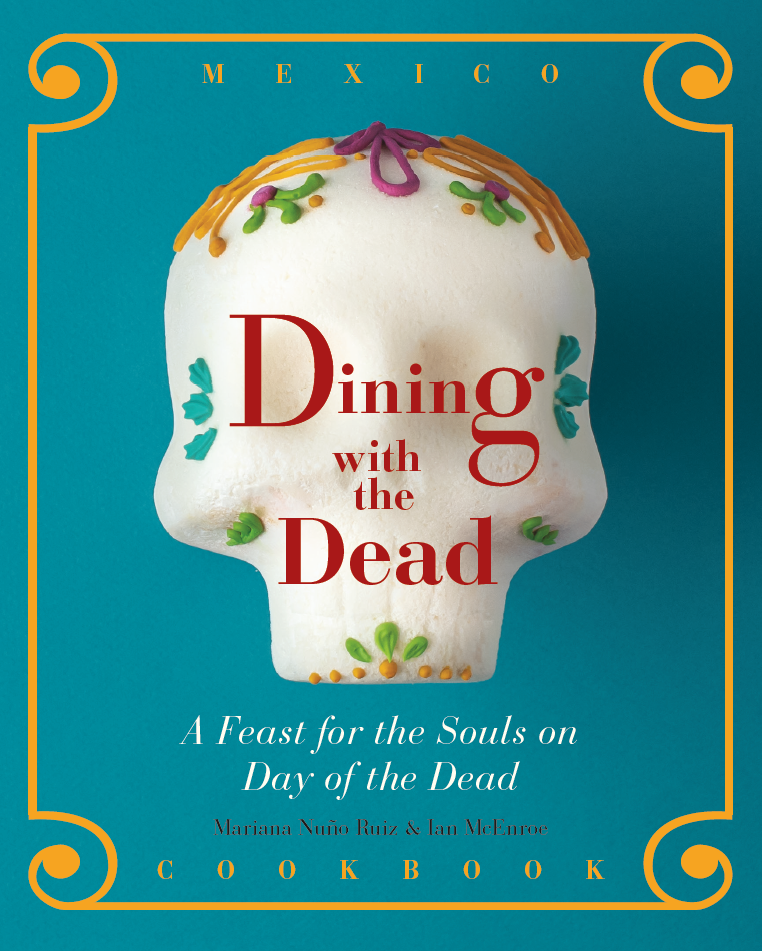 Hello friends!
It has been a long time since we last made a new post on our dear Yes, more please! blog, but finally we are back and with great news!
We want to present you our first cookbook: Dining with the Dead ~ A Feast for the Souls on Day of the Dead
As you know a few years back we announced that we were starting our mission on writing our first cookbook. It all went well, but it took us longer than we expected. And when I say longer I mean it. This cookbook has been cooking slowly and developing its flavors one recipe at the time. A labor of love, dedication, persistence, and it has absorbed almost all our time (and souls).
It was back in 2016 when we embarked on a singular idea: a cookbook that celebrates the food of Día de Muertos (The Day of the Dead) along with its history, traditional Mexican cuisine, and its relationship to the culture of Mexico.
We began with a trip to Pátzcuaro in Michoacán, México, where we photographed and documented the local traditions and cuisine before and during the Day of the Dead. We encountered events and people of unspeakable beauty and sincerity. Then we returned and gathered and recreated family recipes and created our own versions of over 120 recipes including tamales, moles, delicious beverages, and baked goods like Pan de Muerto (just to name a few). We researched and structured the book with a history of the tradition, its origins in Mexico, and instructions on how to participate in the celebration.
After four years of hard work, from traveling and driving to the State of Michoacán in a small flimsy white car, lots of mileage, short budget and travelling to towns and flower fields, cooking, designing the cover, creating the book layouts, editing photos, more cooking, research, writing, documenting, reading, more cooking, creating and fine tuning recipes from personal memories from travels, more cooking, Mercados, test proofing recipes over and over, dozens and dozens of tamales in our freezer, salsas, sweet pastries, breads, baking, more coooking and our dear old electric stove Mildred calling it quits on the middle of our cooking journey,more cooking, learning that our little casita could not have a gas line installed, asking help from our followers and friends to buy a new stove! (thank you so much! Friends), more cooking, rice, beans, drinks, stories, sources, heated arguments, more cooking, editor fights, reconciliations, smiley agreements, more cooking, great ideas, more cooking, fighting for a hard cover and good paper to print the book, more cooking, sending cookies to our editor, than you baby jesus for professional editing!(our editor is a Jedi when it comes to condense and trim a text), more cooking, lighting photos, Ian's magical way to shoot and light photos!, more cooking, mole speckles on the walls, more cooking, glossary, professional indexer help, more cooking, plan recipes, drawing storyboards, gather ingredients, sourcing ingredients, cooking them carefully, because there is no more!, more cooking, photo shooting step-by-step, photo-shooting, beauty shots, more cooking, infinite memory cards, three bottles of lens cleaner, eat the left overs of recipes for the rest of the week… months!, and try, try again, and again, does it needs twice that amount of garlic? or Chile?, more cooking, batterie chargers, write recipe notes, cook-set up- photoshoot-write-eat-repeat, more cooking, back pains, learning that you could design a layout in Lightroom for a book of 384 pages, but that your computer video card will crash and heat up sooo bad that it will shut down every 35 minutes!, more cooking, placing a sticky note on the corner of your monitor so you can remember to save evry 15 minutes!, working with caution, working at night because room was cooler and computer won't heat up so badly during the summers, more cooking, buying a 4 terabyte external drive to be able to save all the rest of the material we generated, more cooking, collaborating with a graphic designer that could translate and make our ideas work in the layouts, more cooking, fights in the kitchen about camera angles, food on the floor-Mariana messed up!, more cooking, finding plates and pots, and pans, to re-create the warmth of a dish, more cooking, finding a real volcanic stone metate in Austin!, more cooking, grinding masa, dramatization, looking for a seller of cacahuazintle corn, sourcing online!, more cooking, budget not even enough and long time gone, more cooking, fonts and design, more cooking, more editor support, tears and joy, and frustration and heat fumes from the chilies, more cooking, vacations? What is that? What-does-that-word-even-means? Can I look it up in the dictionary?, more cooking, …. out of breath now…uff!
After all this work it took a village of three, tres, trois, ëyi, 3, III, focused, passionate, and crazy stubborn people: Ian, Mariana and our editor Aaron… plus ofcourse all the help of our friends and family along the way! They all deserve their own post and I will create a proper letter post to all the gratefulness we have for your help and kindness.
After this odyssey and hard work we finally finished writing our cookbook! We are happy and proud to present you "Dining with the Dead: A Feast for the Souls on Day of the Dead" . We ended up with a big beautiful book of 384 pages with more than 500 photos and over 100 recipes with step-by-step instructions. We thought we had finally reached the peak of the iceberg when our editor sent us the e-mail we all had been dreaming of: "I just sent your book to the printer, congratulations"… music to our ears, it felt like when Moses standing on the ocean with its cane opening a wide road of possibilities!. By the beginning of March 2020, the book was finished and at the printer….And then, Covid-19 struck, shaking the whole world, the lockdown began, and the printing process was frozen.
Now, as the world slowly starts opening-up, we thought we were going to start at where we left by just re-sending the book to the printer and keeping on with the project, but the publisher of our book was greatly affected by the pandemic and is working at a 25% capacity. So, our new and final hurdle remains—to get "Dining with the Dead" printed!
Earlier this year, our editor encouraged us to try to find a way to rekindle our project.
So today, we have a new challenge. To make our book a REALITY, we are working with our editor on a KICKSTARTER crowdfunding campaign, more likely (Kickending, since our project is already done heheheh). When we reach our goal, we hope to soon have our book in the hands of readers who want to understand, love, appreciate, and celebrate this rich and beautiful Mexican holiday, and the traditional Mexican cooking that revolves around it. Hopefully, by reaching our goal in the middle of July, the book will be printed this Fall before the holiday.
Please help us by making a PLEDGE!, and by SHARING our Kickstarter campaign to as many people as possible. We are excited by the possibility that with your help, Dining with the Dead will be the first Día de Muertos themed COOKBOOK, one that we hope will reconect first, second, third, any past, present and future mexican generations with their roots, families and heritage and introduce Mexico's wonderful food and traditions to people from all cultures.
Please check the following link to see the first released book content, recipes, photos, our campaign video, images and some mockups of the book and its content. There are also some great rewards from photo prints and some special items we design to complement the campaign, please click on the following link:
Its great to reconnect with all of you. Let's cook!
Thank you for your time, consideration and all your support.
Here is the link for sharing: