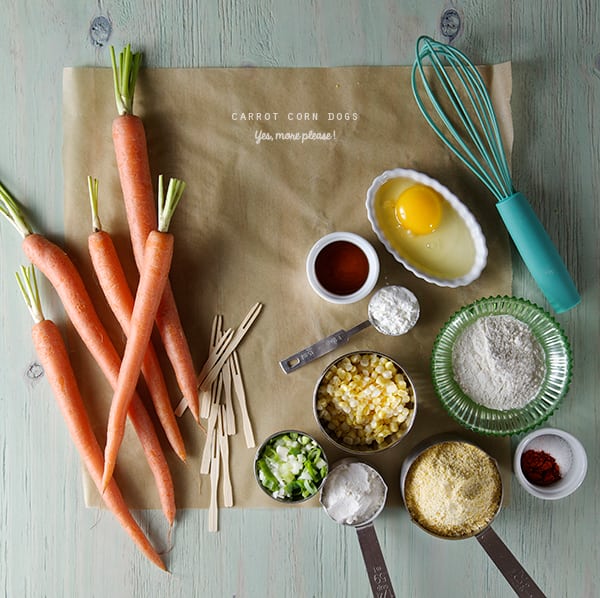 So many carrots too little time… Its carrot bonanza season, rabbits everywhere, and have you started to turn orange yet?… Well I hope not, because this recipe is gonna drive you insane. As you know, despite all the wholesomeness I believe in, I have a weakness for a certain processed food… hot dogs…I know,  its terrible isn't it? I know every fact of how the industry introduced us into this strange tubular meat, but yet I'm still hooked.
So in the search for a less processed option, a friend told me about this place in L.A where they serve sous-vided carrots and make vegetarian hot dogs, how crazy good does that sound?
That's when I had a revelation: How about creating a corn dog, with carrots? Kaz-zam! Done deal. I made them. No, I do not own a sous-vide machine and nor the rest of the mortal cooking souls on earth but if you do , call me we can hang out!; So I oven roasted the carrots, to give some extra flavor and also to pre-cook the carrot. I made the most basic recipe for the batter. But they needed a little extra luv. I wanted a contrast in textures, that thing you crave in a fried object, the crusty salty outside and soft inside.
To that end I added 1 part of rice flour, peas, green onions and corn kernels into the batter.
The result is crazy good!… when you deep fry these babies, they get crusty outside, soft inside, and the peas and corn kernels pop in your mouth with a burst of extra flavor. The carrot center is stellar.
Don't be nervous about deep-frying,  using the proper technique will ensure you  great success. I do not deep fry food very often, so I do not own a deep fryer and I do just fine.
You can easily get great results with the following tips:
Get a thermometer for crying out loud!
They cost around $9-14  no need to break the bank and it is one of the best kitchen investments.
Buy Peanut Oil:
It is the best oil to deep fry, no saturated fats, no smells, no greasy food.
Now a days you can buy small amounts of peanut oil at the super market.
Use a heavy bottom,  6″-8″ diameter deep enamel or aluminum pot. Straight sides for easy thermometer attachment.
And remember safety always come first when dealing with hot oil.*
This carrot corn dogs are great for kiddos and vegetarian adults in need of a little indulgence, Enjoy!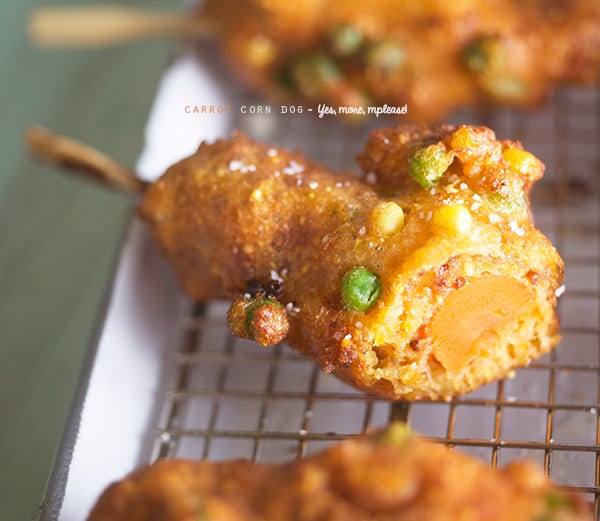 Carrot Corn dogs
Makes 12-16 / 3" mini carrot corn dogs.
6-8 Long, medium thick carrots.
You will need about 12-16 of  3'" long pieces.
For the batter:
½ cup yellow corn flour
(I used Larry's Corn Meal, from organic/non-gmo Coyote Creek Mill corn)
½ cup all-purpose flour
¼ cup stone ground rice flour
2 tablespoons baking powder
½ teaspoon baking soda
1 teaspoon sweet paprika
¼ teaspoon salt
2 tablespoons honey
1 large egg
1/2 cup milk or unsweetened coconut milk
1 teaspoon apple cider vinegar
1 scallion finely chopped
½ cup  fresh corn kernels
¼ cup fresh peas or frozen if you must.
16 oz Peanut Oil for deep-frying.
16 wooden or bamboo sticks.
Utensils:
Long tongs, deep fryer, or candy thermometer, 6"-8"diameter pot  with straight walls for deep-frying, cooling rack.
Preparation Method:
1. Cut carrots into 3"- 4" long. Place them on a roasting pan, season them salt and pepper do not drizzle oil. Roast them at 400F for about 12-15 minutes.
Carrots should not be soft, al dente centers is best, since they gonna keep cooking when frying.
2. When ready, set the carrots aside let them cool completely, then proceed to insert the bamboo sticks.
3. Meantime in a medium size bowl, mix all the dry ingredients, then add all the wet ingredients, mix until well incorporated , small lumps are ok. Fold into the batter corn kernels and peas. Refrigerate for about 10-15 minutes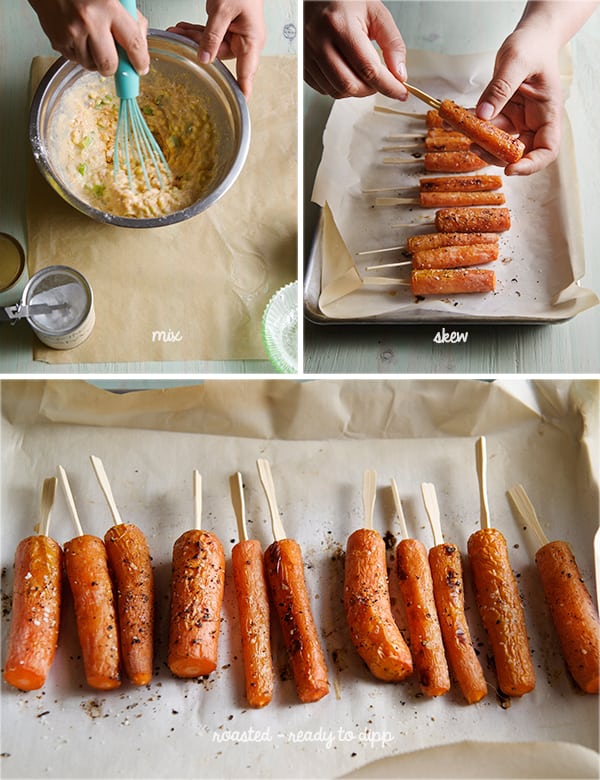 4. Place your chilled batter into a tall glass or jar, this will allow you to easily submerge the carrots into the batter.
5. Prepare your utensils and have everything ready, tongs, cooling rack, batter in a glass, see picture below.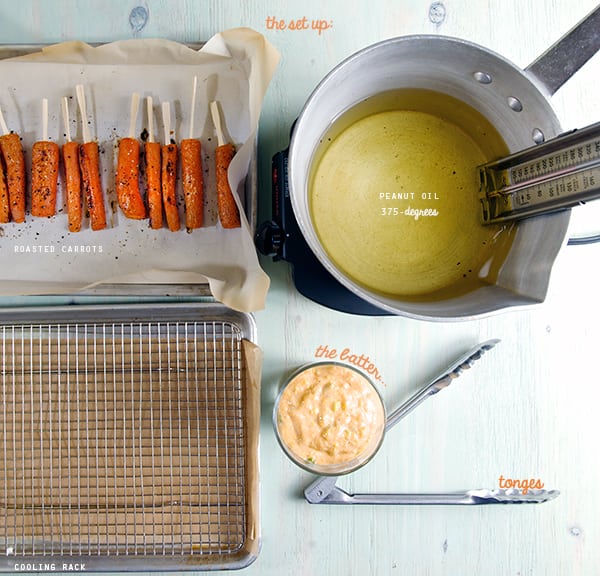 6.  Start  heating the oil. Check the oil temperature 360-375 degrees / 185-190 Celsius.
7. Dip the carrots into the batter, one at a time, holding the carrots from the stick with tongs, carefully and slowly drop it into the hot oil.
8. Monitor the temperature, it should not drop more than 15 degrees, when placing the corn dogs.
9. Do not crowd the pan. Fry 3-4 corn dogs at the time. This will ensure you evenly  golden brown  and well cooked batter.
10. How to know when they are cooked and ready to come out of the oil?  Corn dogs are floating, look evenly golden brown color, the bubbles around them are smaller.
11. Use tongs to take them out. Place them onto a cooling rack. Keep them warm in the oven.
12. Serve warm, with the dipping sauces, or simple ketchup and mustard. Enjoy!.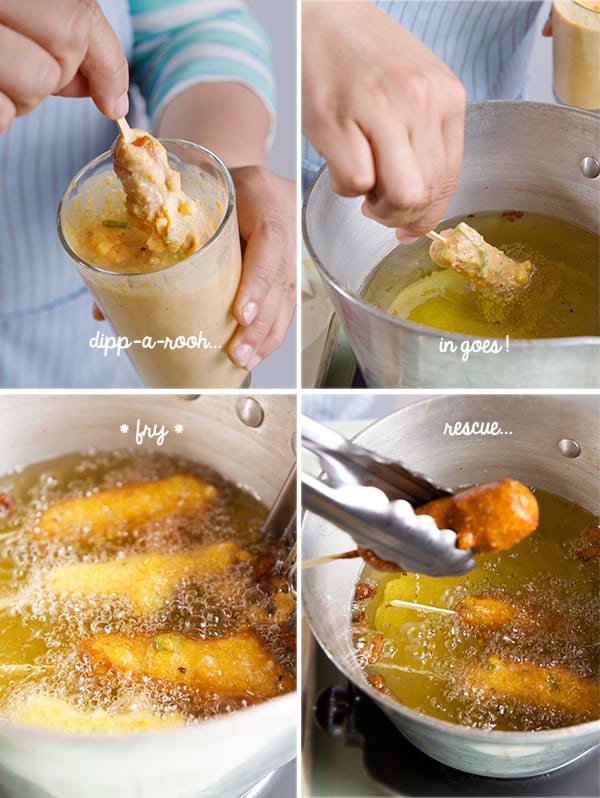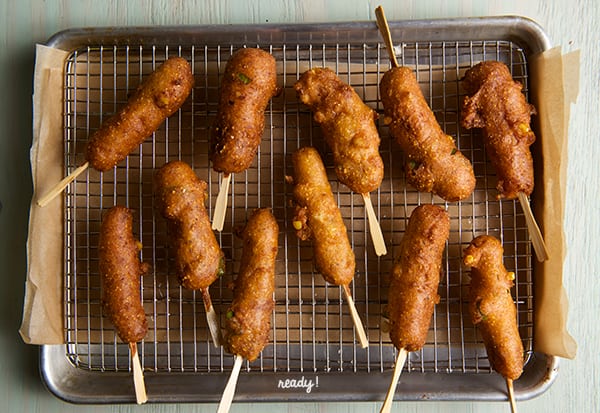 Dipping Sauces:
Curry Ketchup:
¼ cup Ketchup + 1/4 teaspoon yellow curry + ¼ teaspoon rice vinegar = Mix.
Honey Mustard:
2 Tablespoons Honey + 2 Tablespoons Whole grain mustard + 1 teaspoon yellow mustard = Mix.
Dill Yogurt:
¼ teaspoon dry dill + plain greek yogurt + ¼ teaspoon celery salt = Mix.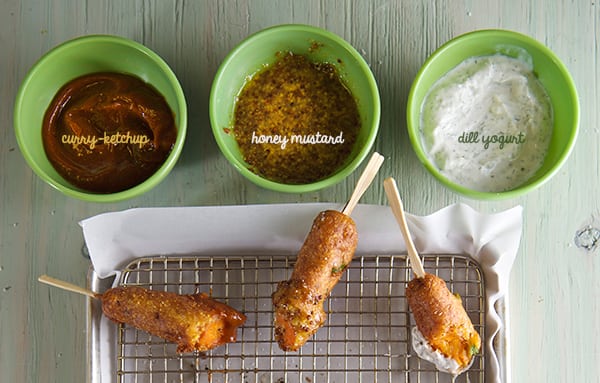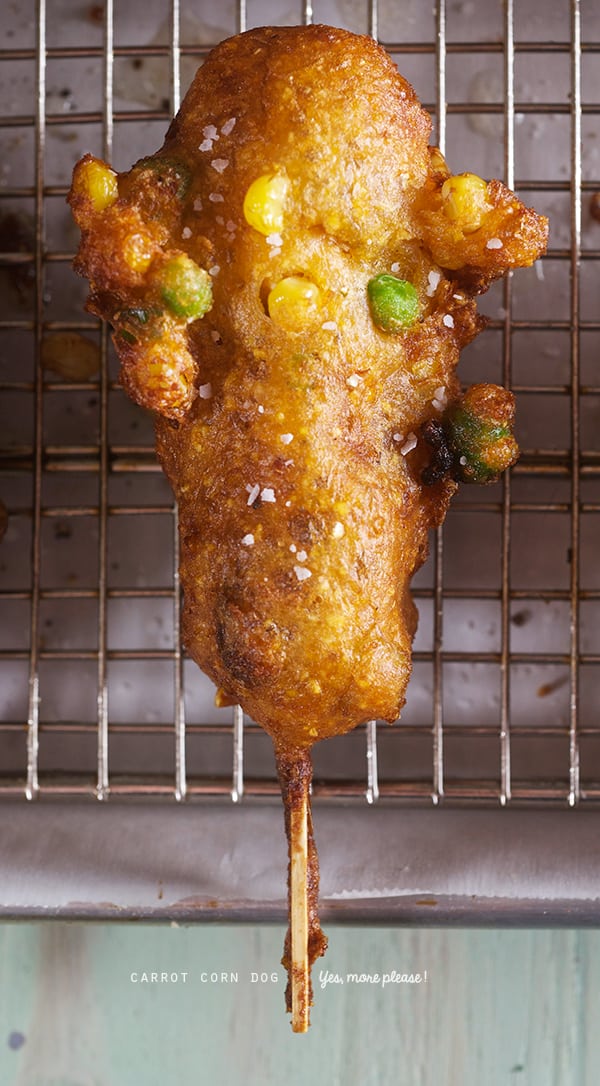 Watch out wacky wabbits!
*Be aware, hot oil at this temperature can inflict a lot of pain and injury so use a back burner on your stove if possible and keep the cooking pot (and its handle) away from children. In fact, I think its best to keep younger children away from the whole process and never let the frying pot leave your attention so you can monitor the oil's temperature and keep the food from over cooking. Deep frying this batter, or anything else, some oil is bound to spatter so use long tongs or a spider to handle the food. This will prevent you from getting burns too. Focus and be on a Zen frying mode. The reward is  scrumptiously good.