With a guiltless dance and a smile on my face I implore you to give this hatch fried chicken a "must try" label. This is my new favorite Hatch recipe.
I used skinless chicken thighs and marinated them in a concoction of yogurt, milk and pureed roasted Hatch peppers until the chicken got tender and flavorful. After a quick drench of well seasoned flour I deep-fried them in peanut oil, making the chicken crunchy crusty, crispy, and tender and juicy on the inside.
Why make fried chicken at home? Because I believe it often tastes better, but also It makes you appreciate what you are about to eat.Nothing tastes more rewarding than making the effort to cook an effortless recipe with awesome results!
Happiness and bliss have been achieved when these Hatch Fried Chicken thighs come out of the pan and onto your plate beside the greenest green green coleslaw. It's a balancing the act of rich and a tangy. You will be dancing from the beginning of the recipe to end of your meal. Its richness is a combination of the dry seasonings and the Hatch peppers' distinctive mild chili note.
I used chicken thighs, they have great flavor and they are so moist that you can use them skinless, But imagine the possibilities!, chicken breast, legs, wings!… quail. Ok… I just got myself in trouble now… I want quail!…
Any way, If you make this recipe, I would love to know how it went and if you enjoyed as much as we did! Juicy, crispy, spicy fried chicken is gonna make you a fried chicken believer.
Have fun!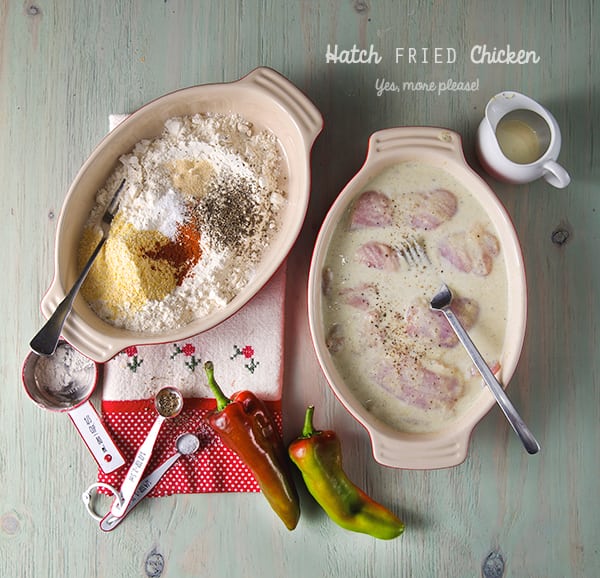 Hatch Fried Chicken
Makes 6 chicken thighs and one little happy dance.
1.5 lbs. of organic skinless chicken thighs
For the marinade:
3/4 cup plain Bulgarian or Greek yogurt style.
2-3 roasted hatch peppers (remove skins and seeds)* check notes for substitutions at the end of the post.
good 4-5 cranks of freshly ground pepper
1 tsp. kosher salt
For the flour drench:
1 cup unbleached all-purpose flour
1/4 cup corn meal
2 tablespoons cornstarch
1/4 teaspoon paprika
1 teaspoon black pepper
1 teaspoon garlic powder
1 teaspoon salt
For frying:
3 -4 cups – Peanut oil (grape seed oil or corn oil will work too.)
A 10″-12″ heavy bottom enamel pan or a cast iron pan for best results.
1 pair of metal tongs
Preparation method:
1. Puree all the marinade ingredients.
2. Pat dry and trim some of the excess fat on the chicken thighs, if any.
3. In a ceramic or glass dish place the chicken thighs and poor the marinade over them, massage them a little bit, place them in the refrigerator for at least 2-3 hours, over night is best.
4. Next day, Pull the chicken out of the refrigerator 20 minutes before cooking.
5. In a ceramic or glass dish combine all the ingredients for the dredging flour.
6. Start heating the oil. I like to start heating the oil at a low temperature, and slowly turn up the heat. This will ensure your oil will not taste burn and is evenly heated.
***Take care to monitor your oil and your kitchen carefully while deep-frying, never take your attention away from hot cooking oil. No distractions!!***
7. While the oil is slowly heating up, with the help of a fork take one piece of the chicken and tap it a little to remove any excess marinade, dredge into the flour, and with a spoon start covering each piece of chicken really well. Set the dredged flour pieces on a clean dry plate. Proceed with the rest of them one at the time.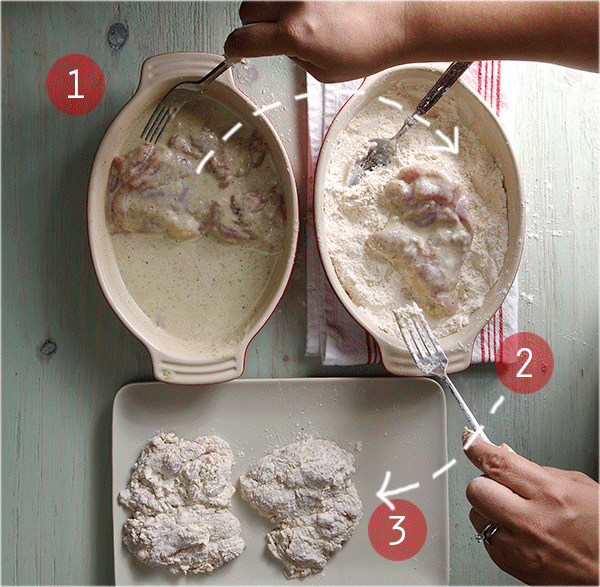 8. Check on your oil. Place a frying thermometer on the edge of the pan, and check for 350F-360F sprinkle a little flour on the oil, you want big bubbles.
9.When the oil reaches 360, start frying your chicken 2 pieces at a time, to avoid lowering down the temperature of the oil. Check the temperature on your thermometer at all times, you want big bubbles around each piece of chicken, and thermometer reads at least 350/360F  to make sure your chicken is not absorbing extra oil, making it soggy and greasy. iaks!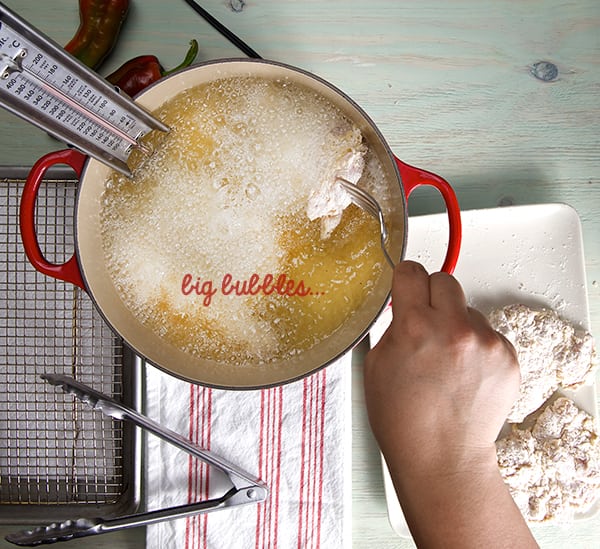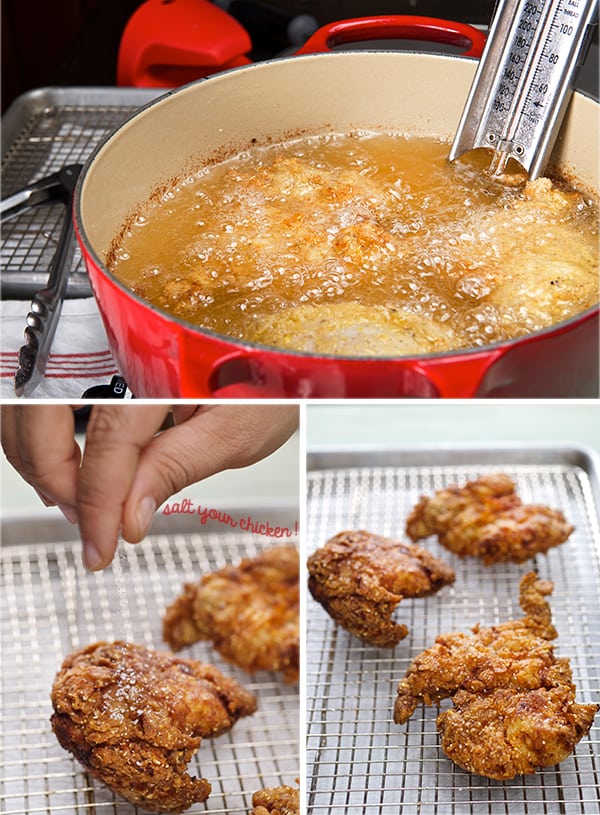 10. Depending on the size of the thighs it will take about 5-6 minutes per side. You want to turn the chicken until you have a rich golden mahogany color on the bottom and the size on the bubbles around the chicken are smaller. This is the right time to gently flip.  Always flip away from you to avoid splatter.
11. Once you flip, lower the temperature a bit to 320F, it might take less time, about 3-4 minutes. Chicken should look golden brown and the bubbles around the chicken are really small. Take the pieces out to drain and check for doneness, the internal temperature of the chicken should read minimum 165F.
12. Drain the chicken on a cooling rack lined on top of a baking sheet and immediately, sprinkle some salt. Placing the chicken on a cooling rack will make sure you the chicken will stay crispy.
13. Adjust the temperature for the next batch and go ahead and fry the rest of the chicken.
14. Ready to eat! Serve the chicken with a great side of coleslaw like this green green coleslaw, check it out is from a previous post, it is tangy crunchy, fresh and so mighty green that I believe it's the best complement for this spicy hatch fried chicken. Also some lemon wedges, if your brave , maybe some extra dashes of tabasco sauce, or any other vinegary hot sauce. Enjoy!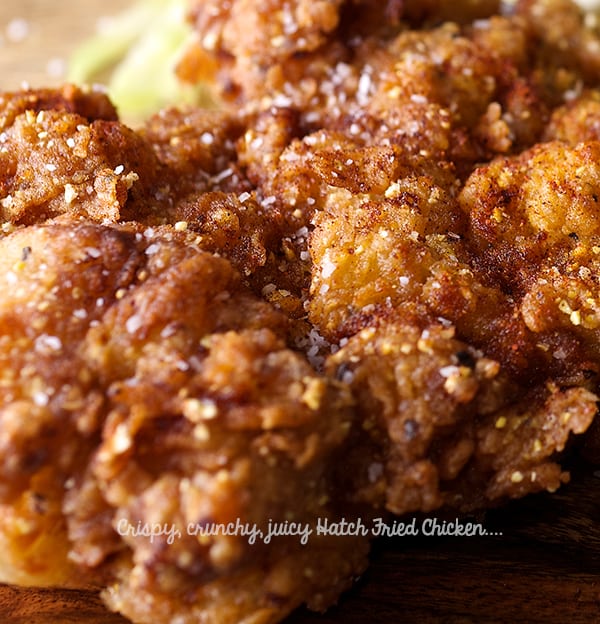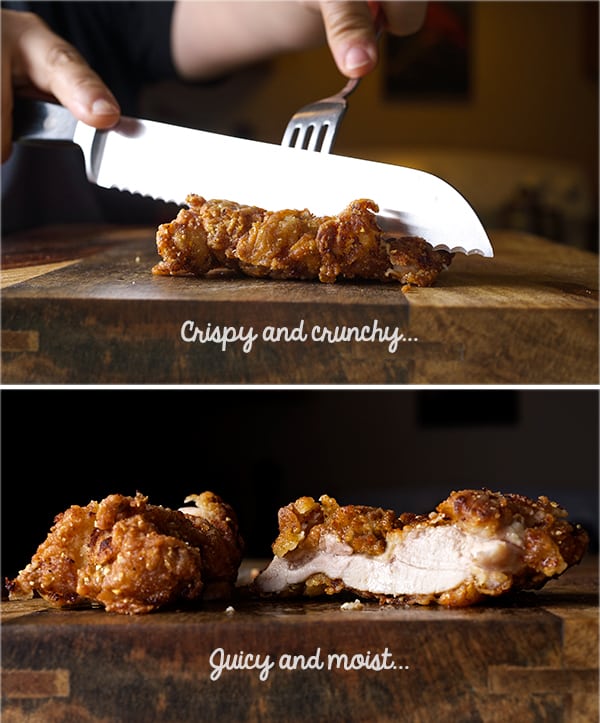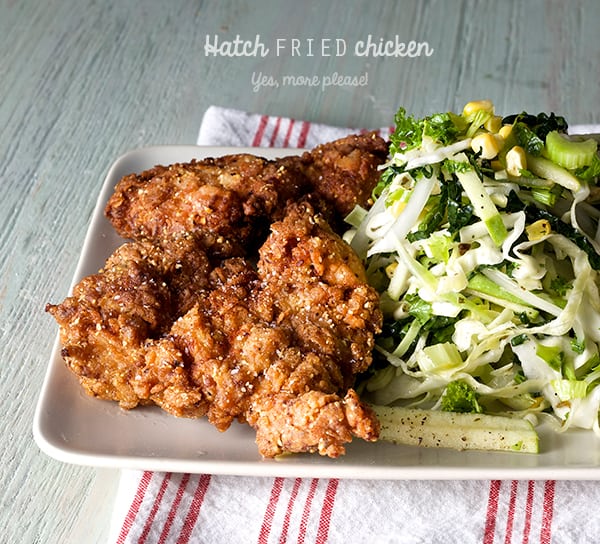 Enjoy!
*Note:
I used fresh Hatch peppers and roasted them. Here in Texas you can find them very easily when in season. If you are wondering if you can use canned Hatch peppers, yes you can. Our dear friend and follower Ed who is from El Paso, Texas and he and his family have cooked with hatch peppers for many generations, suggested me two good brands: Victoria and Santa Fé 'Ole brand (bottled)-Double Fire-Roasted . He assures this brands are first-rate to get when hatch is not in season. Thank you so much Ed, for this great information!…
Remember that freezing the chiles is also a good option. Once you roast, peel and de-seeded them, you can purée, dice them or keep them whole, pack them on freezer bags and freeze them for future recipes. You can even make hatch chile purée ice cubes and add them to soups or stews on the winter season…delish!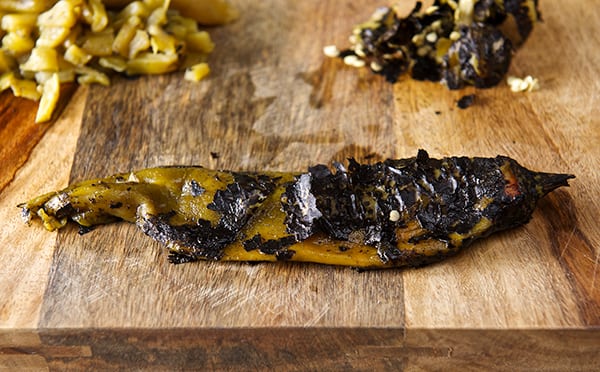 Have fun!!!
Music Pairing: Ella & Louis – Cheek to Cheek