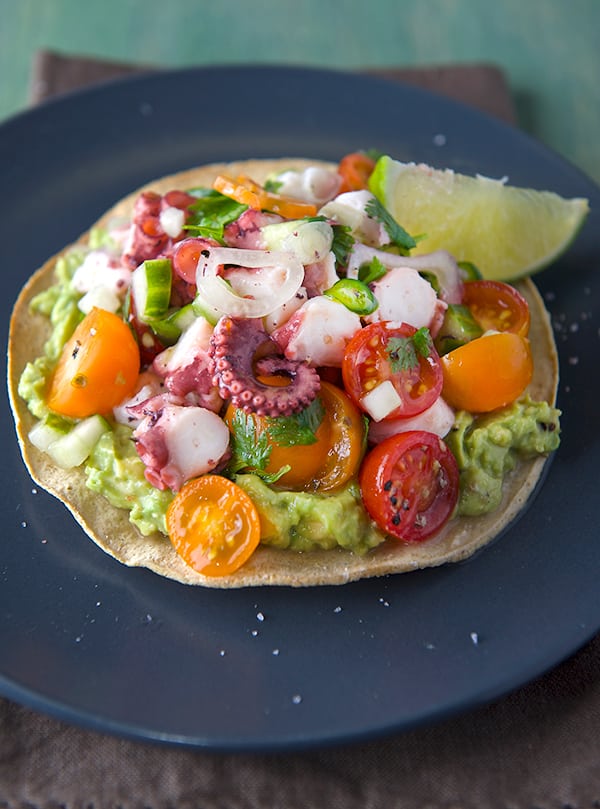 Octopus, the smartest, flexible and unique looking creature of the bottom of the sea. Eight arms, purple skin, side eyes, camouflage expert and a bag of attitude that will ink any snoozy neighbour. Why is this mollusk so intimidating? texture?, tentacles? I think Octopus are phenomenal, lots of personality and intelligent creatures.
Please, Do not judge by appearances this invertebrate is so delicious!. The meat is extra white, when is cooked properly, the texture is tender and mildly fishy, almost sweet. If you are lucky enough to get a fresh octopus you will taste the freshness of the sea water. You will have to tenderize the hell out of it before cooking,  like people from the Mediterranean smash their octopus against beautiful sea rocks right after being caught, or massage them until their arms are floppy and relaxed. But if you buy it previously frozen, from a good Sea food source half of the work is done for you and it saves you from doing the villain job.
If you follow my simple recipe instructions your Octupus will be tender, and flavorful, ready for ceviche, or just a simple drizzle of Extra Virgin Olive oil sea salt, lemon, smokey paprika and you have "Pulpo a la Gallega". But, today, for me on a Summer day, Ceviche is my dish of choice. Trust me on this one.
I chose slightly different vegetables than the commun ceviche, like Cherry and Sun Gold tomatoes, which balance the acidity of the traditional ceviche adding a sweet balance. Also instead of red onions which for me are too strong and can overwhelm the delicate Octupus flavor, I chose shallots, they have a milder, onion and garlic profile that complements the Octupus. A good punch of heat with sharp and bright Serranos thinly sliced, that tickle your tong with out setting it on fire. Fresh cilantro, Mint and seedless cucumbers which add a lot of crunch and freshness to the dish.
If you want to eat like a Mermaid along with your Sailor this Summer, this Ceviche de Pulpo-Octopus Ceviche recipe is for you.
Jazz it up!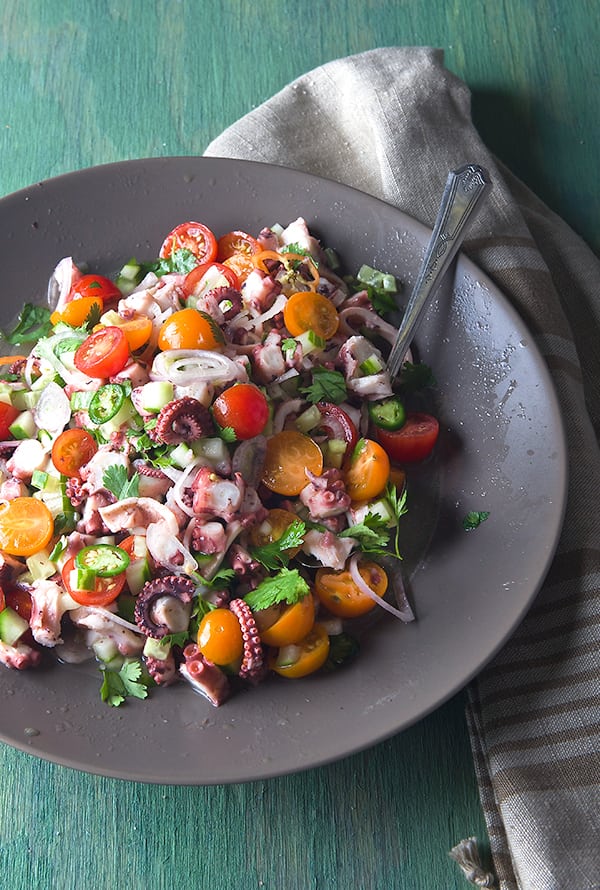 Ceviche de Pulpo-Octopus Ceviche
Serves 2 hungry sailors or 4 mermaids…
2 Medium Octopus, I used previously frozen from …*
3/4 cup Cherry tomatoes cut in halves
3/4 cup Sun Gold tomatoes cut in halves
1/2 English Cucumber, small diced
2 Shallots thinly sliced
1/4 cup chopped cilantro
1-2 Sprigs of Mint just the leaves torned.
1 Serrano thinly sliced
1 Habbanero thinly siced optional
3 Juicy limes = 1/3 cup fresh lime juice approx.
1 lemon, the juice and the zest
1 glug Extra Virgin Olive Oil
Sea salt
Fresh cracked black pepper to taste, optional
1-2 Avocado Hass
Corn Tostadas, or crackers…
Extra lime for wedges
Cholula, Valentina, Hiuichol or Tabasco hot Sauce
* Thanks to Steven, Fish Monger at Whole Foods Market- Domain, Austin for saving me some octopus!
Preparation Method:
1.Fill a large pot with at least 1.5 Gallons of water. Add 1 tablespoon sea salt and 1 large bay leaf. Bring to a boil. Once Water is boiling place the two octopus into the pot and lower the heat to low simmer. Cover pot with a lid and cook for 25-35 minutes.
Cooking times:
Usually this medium-small octopus cook very fast and they are tender. If you decide to use a bigger Octopus, increase the cooking time at least for 1 hr. and 30minutes, depending on the size.
How to tell when is cooked?,Use a fork and prick the wides part of the leg. or in between the leg and head if it feels tender and inserts with no trouble, octopus is done! Remove from hot water into a iced water bowl to prevent overcooking.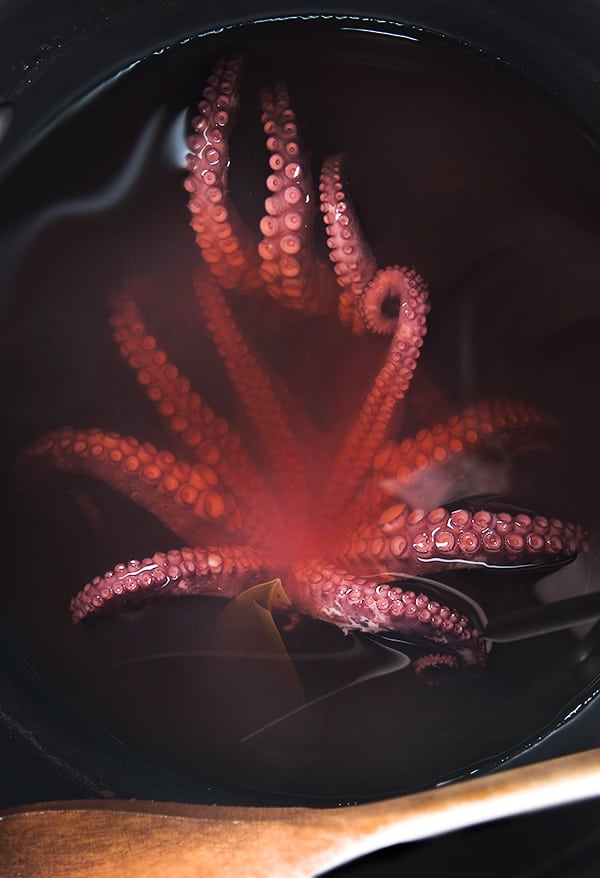 2. Meantime your octopus is cooling off, Chop all your vegetables, do your prep.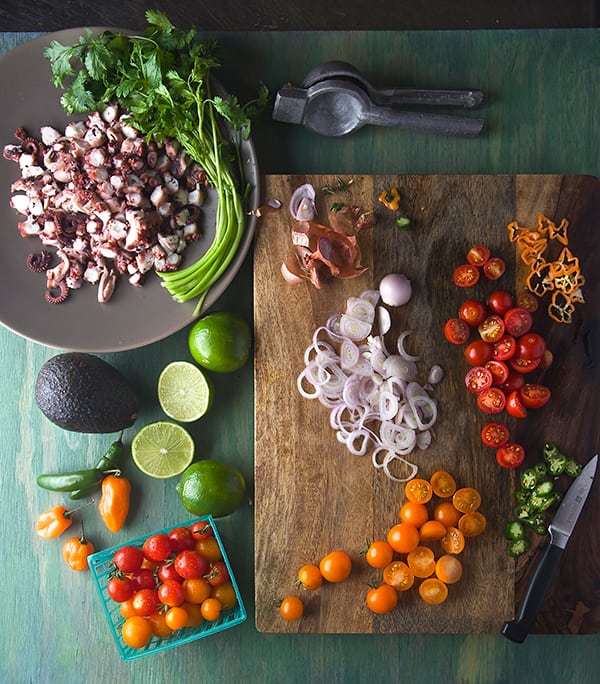 3. Once your octopus has cooled down slice each arm into 1/4 inch to 1/4 inch slices, discard the center and slice the head like if you where slicing a calamari, or into dice, what ever you prefer. Place into a plater and squeeze the lime juice, add salt and olive oil.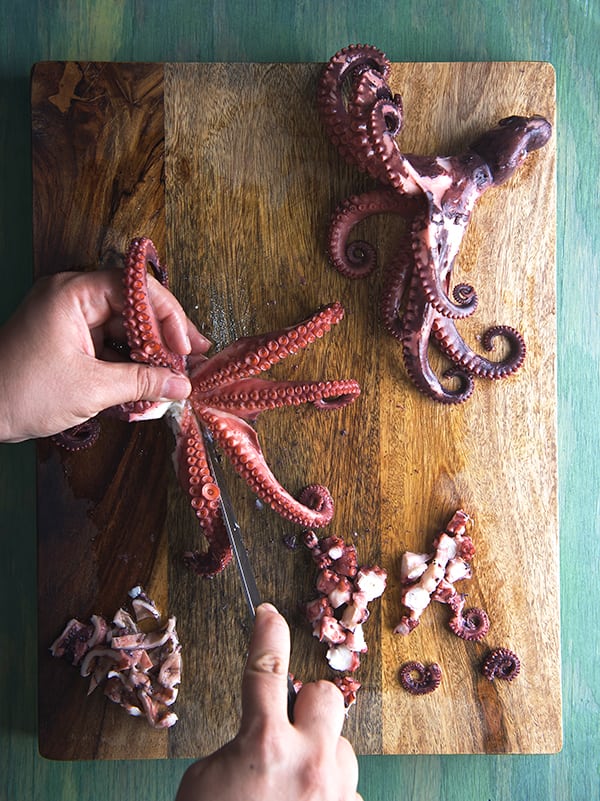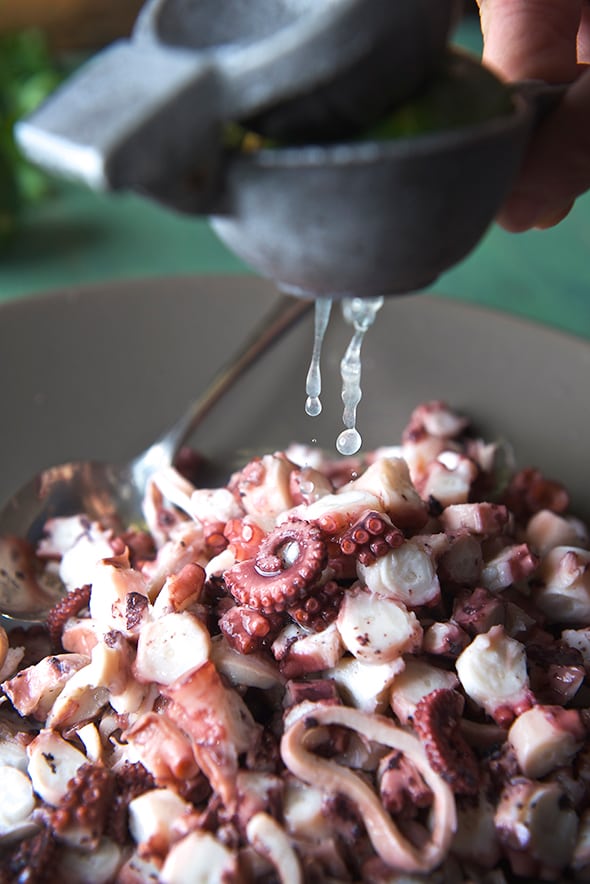 4. Add All the chopper Vegetables, Toss well and live it rest for 15-20 minutes. Smash 1-2 Avocados season with a bit of salt an lime juice. This will be the glue when you built your tostada.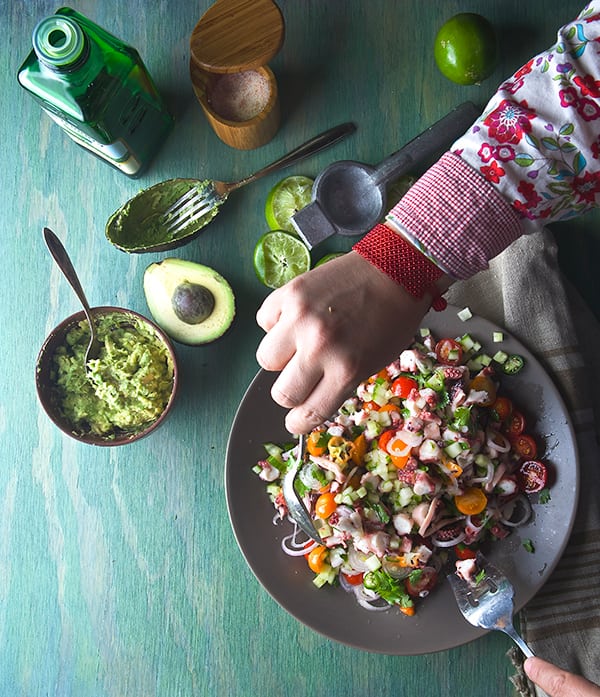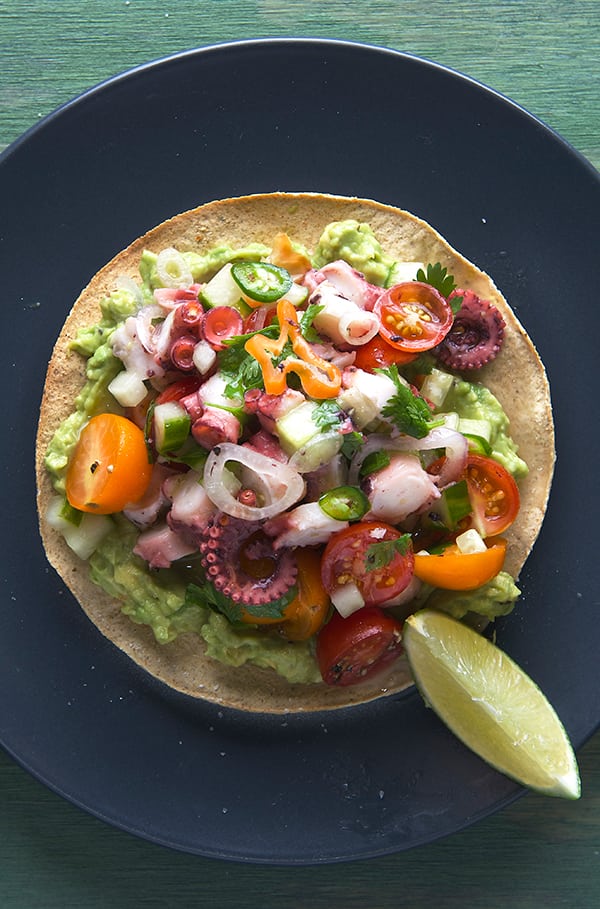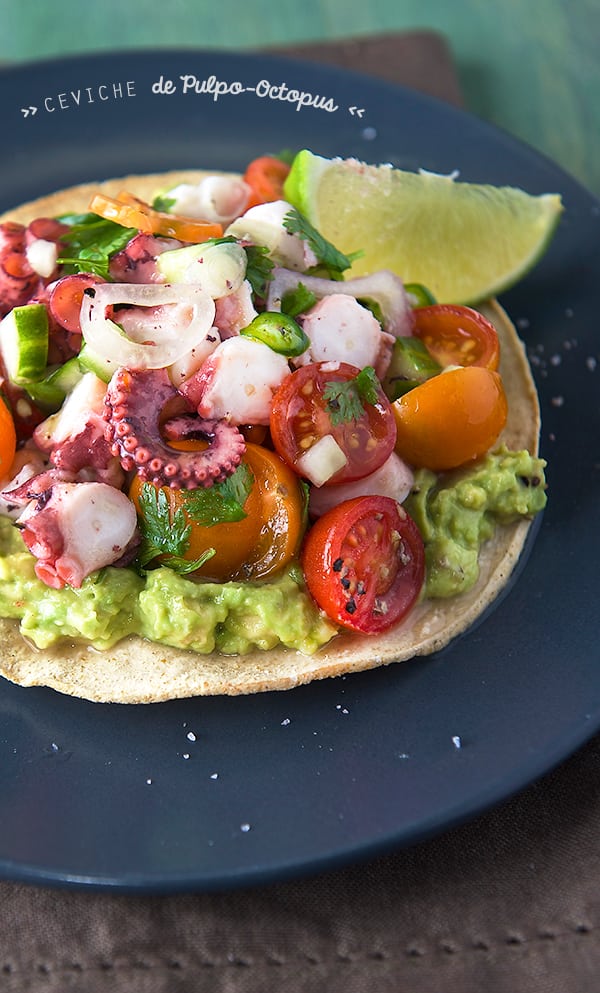 Call all the Sailors, Mermaids and Drummers!
Serve with tostadas and a cold beer…Enjoy!
Music Pairing: Caravan Written by Juan Tizol and Duke Ellington
Version from the movie Whiplash