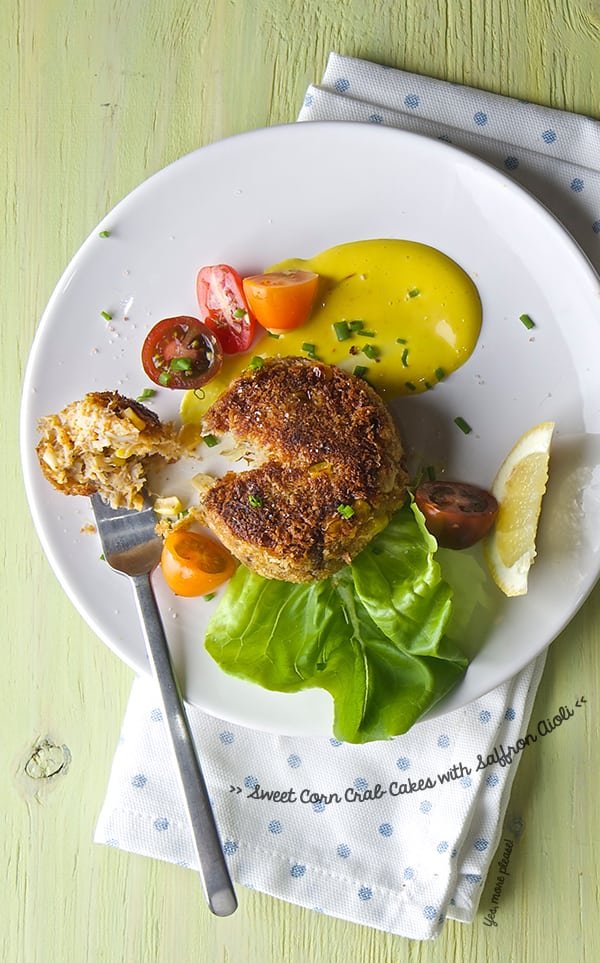 This recipe has a long name but short preparation. Crab was never on Ian's or my menu when growing up, but we really enjoy seafood: Mussels, Oysters, Razor Clams, Lobstah', shrimp, fish… we love seafood the same way we love all food we sea.
So I decided to give it a shot, and make some crab cakes. I always liked how Seafood is prepared in Spain, simple, fresh but there is always an element of kick. Either from the freshest olive oil, a pinch of paprika, garlic, or a simple side of pimientos del padron. There's always that good unexpected accent.
With this in mind I create today's recipe  which combines sweet corn, orange zest, green onion action and sweet Louisiana crab with a delicious creamy saffron aioli with a garlic kick.
The first time I made these crab cakes we just fell in love with their flavor. These subtle flavors are a match made in heaven with the sweet crab. I could go on and on about them, but I think the photos will do the talking…Shhh, They taste even better than they look…
Crispy panko bread crumbs surround the outside of this cakes and a tender flaky and moist inside the crab just sings. The sweet corn kernels add great texture and sweetness. They are serve warm with a squeeze of lemon and the bright creamy saffron-garlic aioli on the side…mmmm, seriously good.
The recipe makes about 10 crab cakes if you use a standard ice cream scoop to portion them. They can also be made with a smaller size scoop and make bite size appetizers, Small to bigger crowds will love them.
If you are in a crabby mode, please consider this recipe as one of your top contenders.
Serve them along with green bib lettuce and some fresh tomatoes, these Sweet Corn Crab Cakes with saffron aioli it is all you need for a great Summer dinner. Have fun!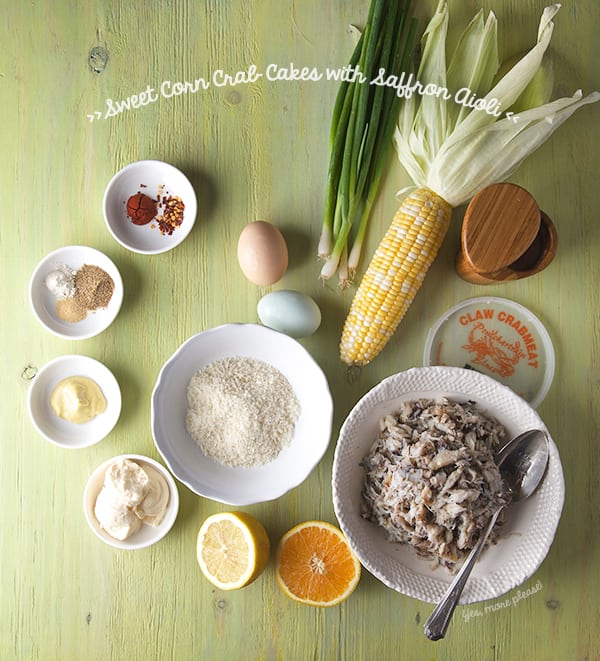 For the Recipe you will need…
Sweet Corn Crab Cakes with Saffron Aioli
Makes 10 /3″ crab cakes
1lb. Crab meat claw or lumps, what ever you prefer *
1 fresh ear of sweet corn, about 3/4 cup kernels
2 green onions, finely chopped only the green parts.
3/4 cup of panko bread crumbs* Glutten free option: use ½ cup old fashion oatmeal coarsely ground.
Condiment list:
3. Tablespoons Mayonaisse
2 eggs
1/2 teaspoon Dijon Mustard
1/4 teaspoon fresh orange zest
1/4 teaspoon sweet Spanish paprika
1/4 teaspoon onion powder
1/4 teaspoon garlic powder
1/4 teaspoon celery salt
1/4 teaspoon white pepper
1/4 teaspoon kosher salt
For breading :
1 cup plain panko bread crumbs * Glutten free option: use rice flour.
For pan frying:
1/4-1/2 cup grape seed oil or any neutral oil of your preference.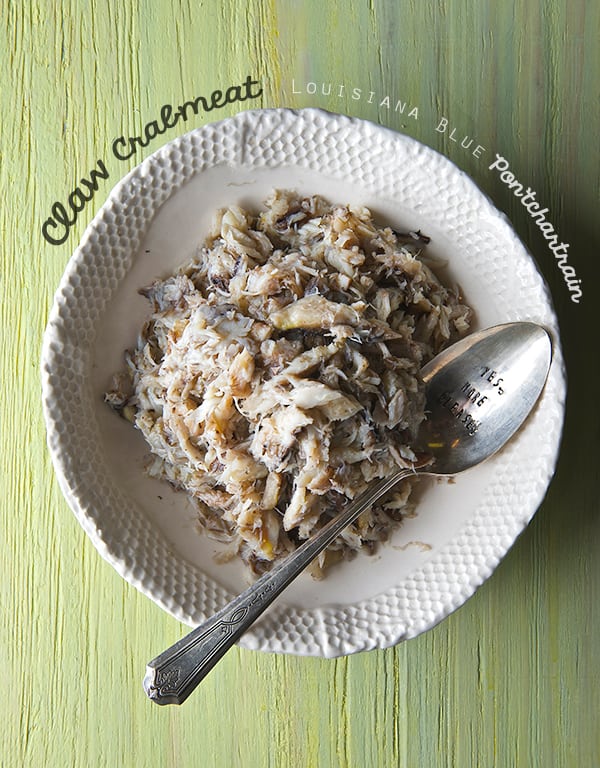 * I used Louisiana blue crab claw meat instead of the luxurious lumps, for two simple reasons:
Number one; One pound of the lump crab is about one Ulysses S. Grant. for that price I rather have somebody else cook them for me and bring them to the table, heheh. But if you are feeling luxurious and Grant be my guest use the Lumps, and invite me for dinner, hehhee.
Number two; I did not want to put a lot of fillers to make a better yield, and mask the flavor. Louisiana has great blue crabs, we live in Texas is near enough to get great quality. I bought this blue crab claw meat at Whole Foods market it was fresh, had great quality and flavor.
Preparation:
1. In a large bowl mix well all the condiments list until you have a uniform mixture.
2. Add crab meat, corn kernels, green onions and panko bread crumbs to the condiment mixture, toss well until well combined.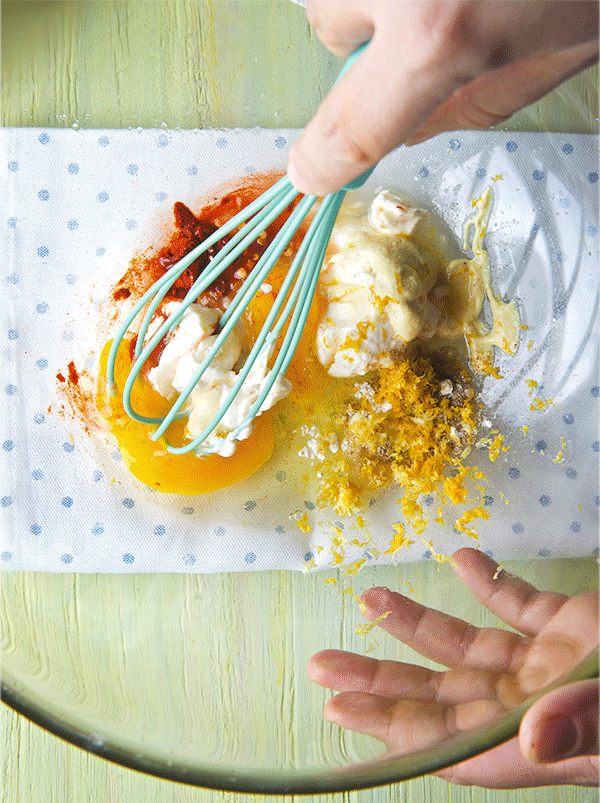 3. Line up a baking sheet with parchment paper and with a standar size ice cream scoop start making balls, one at the time using your hands form the cake and drench in the panko crumbs. Press slightly to form a cake,make sure each cake is evenly breaded and place on the same baking sheet lined with parchment.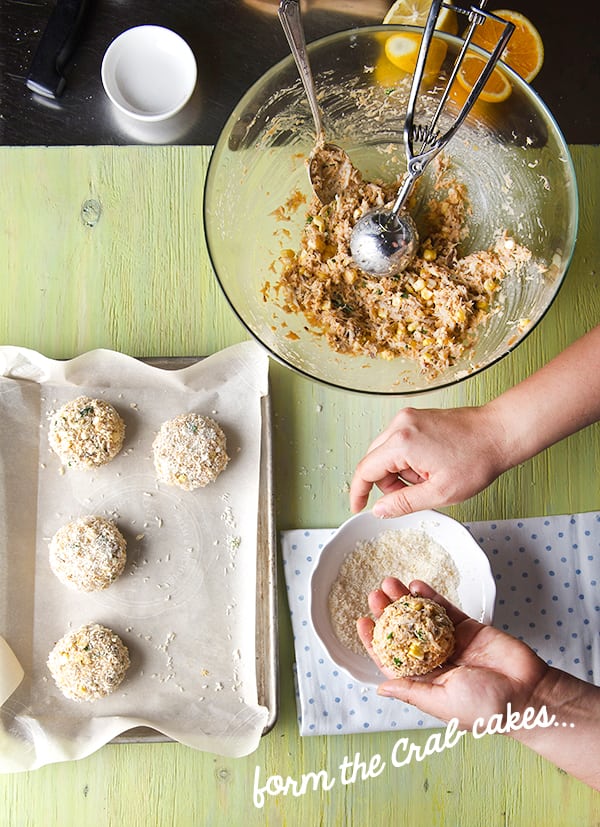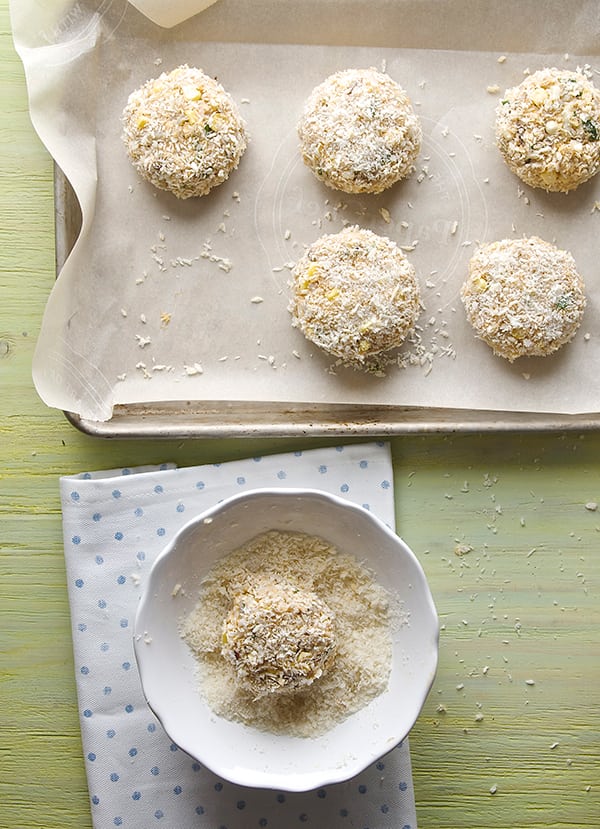 4.Once you shape all the crab cakes, cover the crab cake tray with plastic wrap and place it in the freezer for about 30 minutes. This is an important step so your crab cakes do not fall apart while pan frying them.

5. In a shallow pan heat up some grapeseed oil and pan fry both sides of the crab cakes until golden brown. Return them into the baking pan and bake at 350F for 20-25 minutes.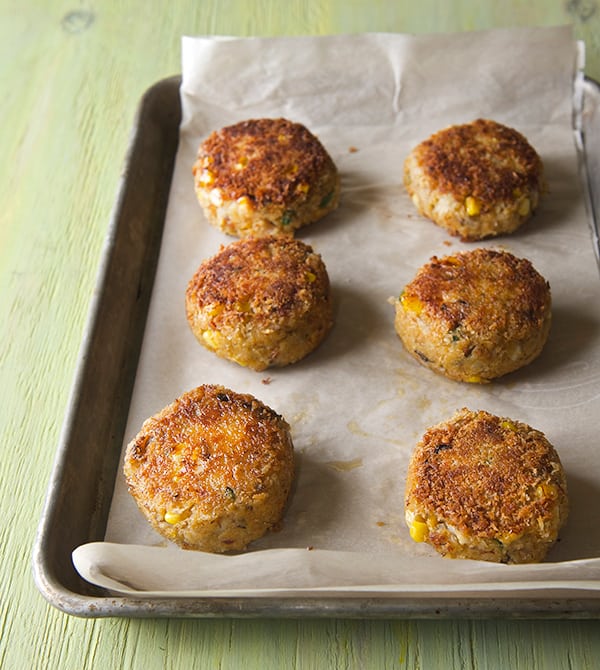 Now for the Saffron Aioli…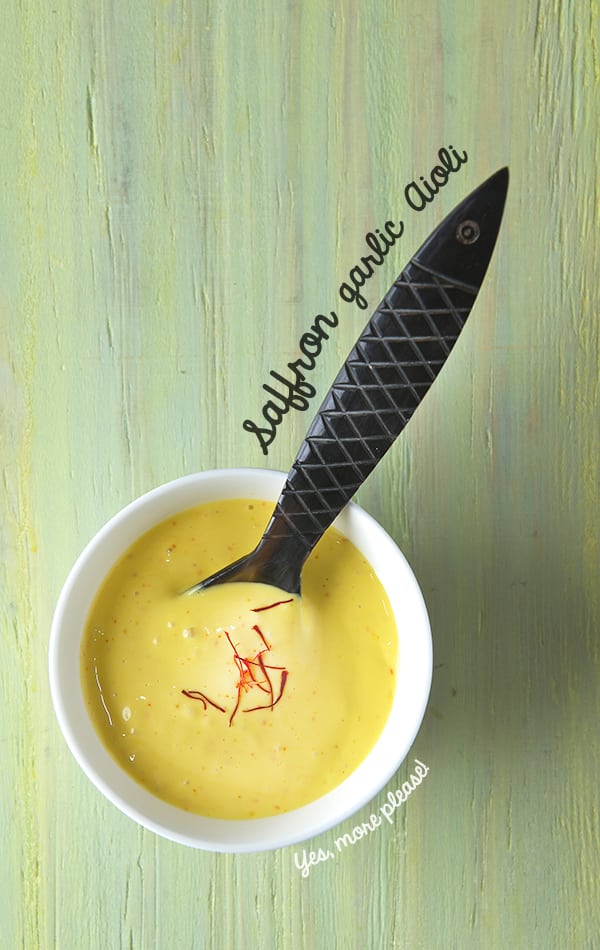 For the Saffron- Garlic Aioli:
1 egg room temperature works best.
1/3 cup Extra Virgin Olive Oil
1 small garlic clove
1 pinch of salt, I used pink Himalayan salt
2 tablespoons white balsamic vinegar, or rice vinegar
1 pinch of saffron threads
Preparation:
Warm up the vinegar and in a small ramiken place the vinegar and the saffron threads to make an infusion. On the glass of the immersion blender, place the egg, the oil, the saffron infused vinegar, garlic clove, and pinch of salt. Whip on high with the immersion blender, for about 2 minutes or less until you have a creamy frothy aioli. adjust salt if necessary. Keep refrigerated it keeps for 1 week. Enjoy.
Serve the Crab cakes warm on a bed of lettuce, cherry tomatoes and one generous tablespoon of the Saffron Aioli a squeeze of lemon and a few dashes of hot Louisiana sauce… Enjoy!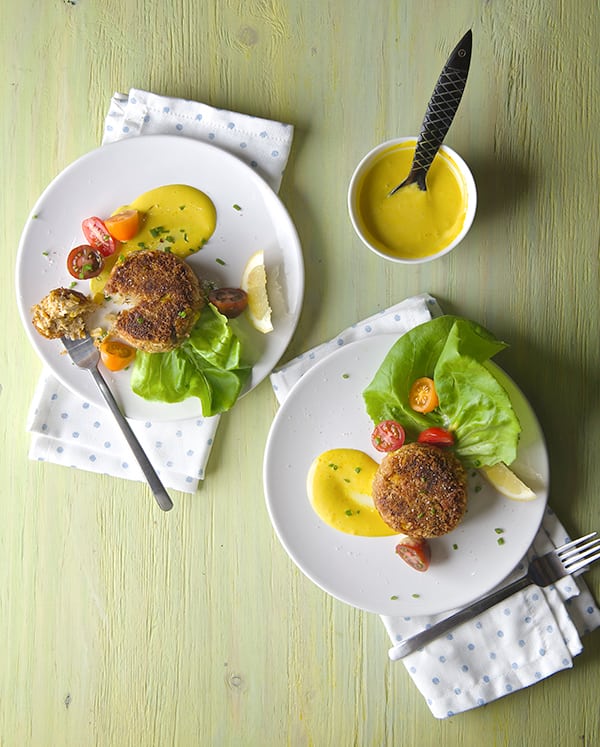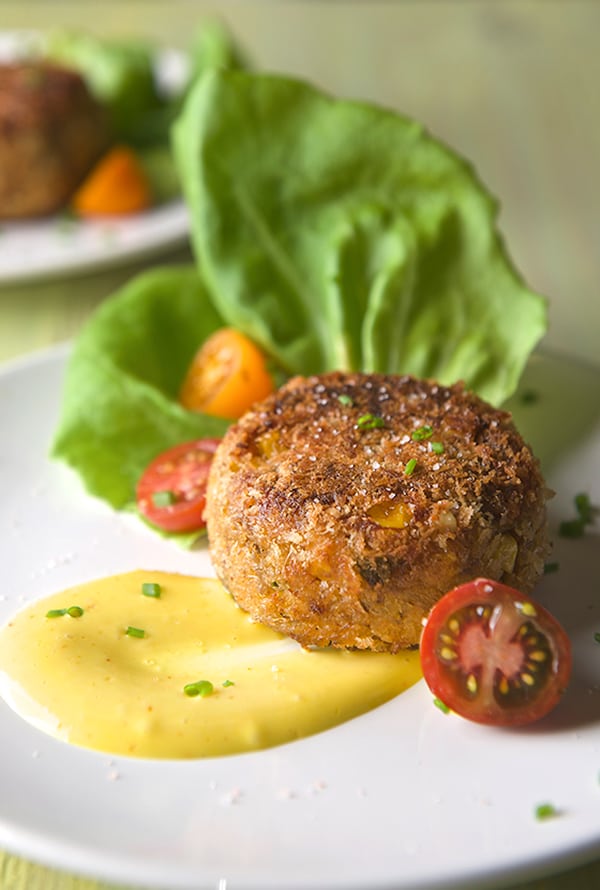 Music Pairing: Muddy Waters-Vintage Delta Blues