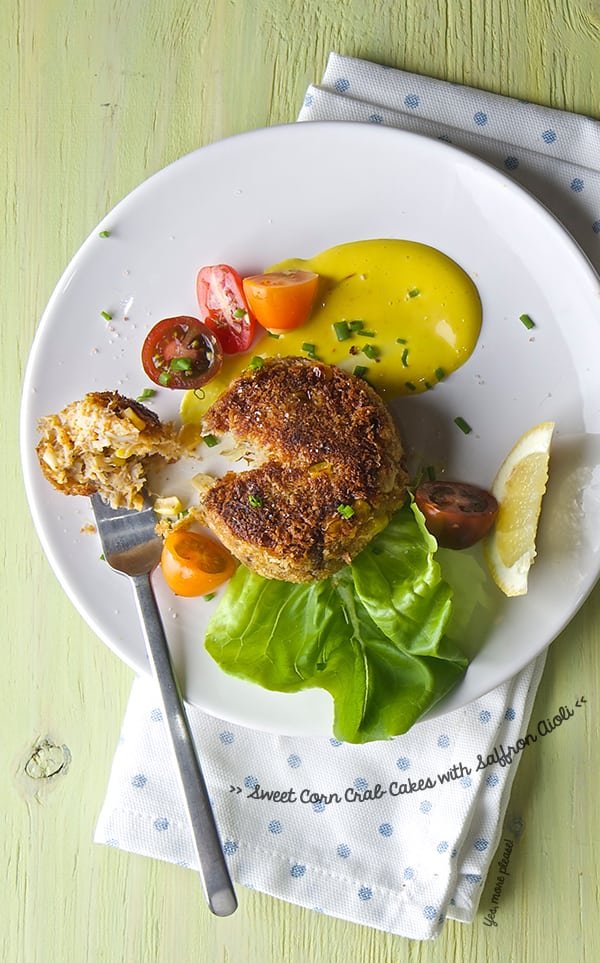 This recipe has a long name but short preparation. Crab was never on Ian's or my menu when growing up, but we really enjoy seafood: Mussels, Oysters, Razor Clams, Lobstah', shrimp, fish… we love seafood the same way we love all food we sea.
So I decided to give it a shot, and make some crab cakes. I always liked how Seafood is prepared in Spain, simple, fresh but there is always an element of kick. Either from the freshest olive oil, a pinch of paprika, garlic, or a simple side of pimientos del padron. There's always that good unexpected accent.
With this in mind I create today's recipe  which combines sweet corn, orange zest, green onion action and sweet Louisiana crab with a delicious creamy saffron aioli with a garlic kick.
The first time I made these crab cakes we just fell in love with their flavor. These subtle flavors are a match made in heaven with the sweet crab. I could go on and on about them, but I think the photos will do the talking…Shhh, They taste even better than they look…
Crispy panko bread crumbs surround the outside of this cakes and a tender flaky and moist inside the crab just sings. The sweet corn kernels add great texture and sweetness. They are serve warm with a squeeze of lemon and the bright creamy saffron-garlic aioli on the side…mmmm, seriously good.
The recipe makes about 10 crab cakes if you use a standard ice cream scoop to portion them. They can also be made with a smaller size scoop and make bite size appetizers, Small to bigger crowds will love them.
If you are in a crabby mode, please consider this recipe as one of your top contenders.
Serve them along with green bib lettuce and some fresh tomatoes, these Sweet Corn Crab Cakes with saffron aioli it is all you need for a great Summer dinner. Have fun!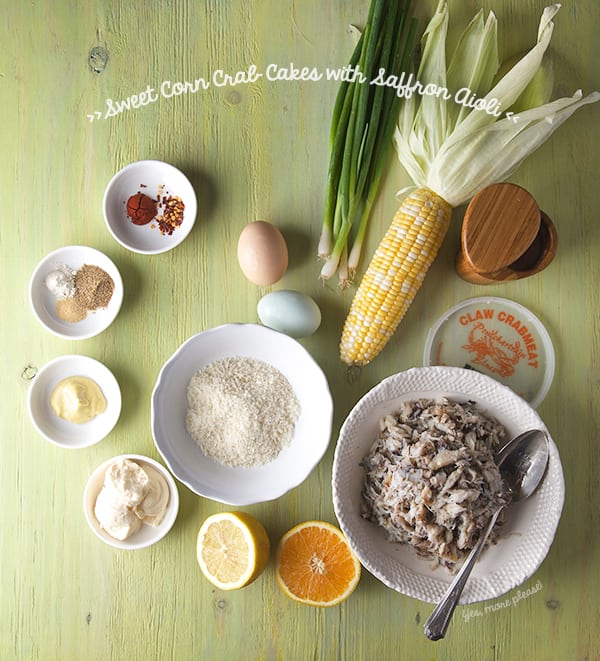 For the Recipe you will need…