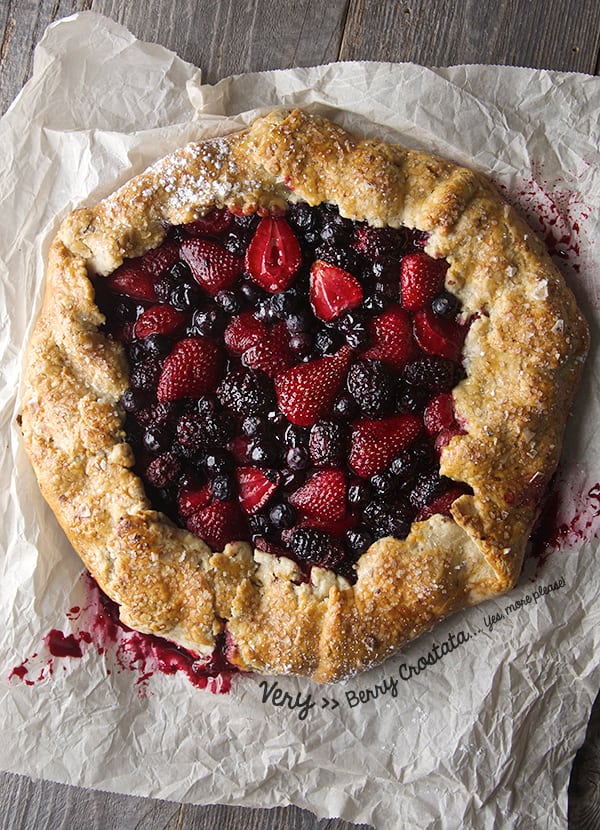 Crostata, Galette, Free form pie, you all know my idilic love with this pastry goodness. Four ingredients for the crust, berries and sugar, never haved tasted so good. Talk about simplicity and mayor goodness. I think I have already 4 crostata recipes on this blog, and I did not even hesitate to add a new variation.
There is a warm gratifying feeling about making this simple crust, using your hands, an effortless crust, that when is baked you can stop smiling. With all this berries in season, you will need so little sugar to enhance their flavor. What is not to crave about fresh fruit baked in a thin almondy crust? I feel like  this crostata is a guiltless pleasure…that leaves more room for ice cream. hehehe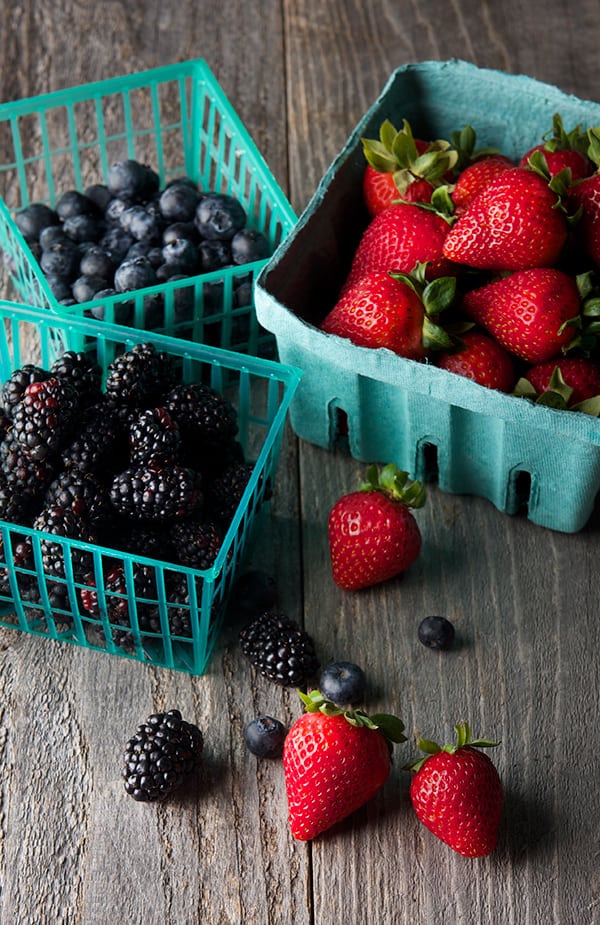 My advice, avoid wasting your time thinking what to do or bake to celebrate this weekend, if you have 15 minutes to spare to make a crust in the morning, 15 minutes to roll and prep,and 45 minutes to careless baking while you relax zipping an ice tea, these berry beauty is all you need for a great Summer afternoon.
I only know, that for this Summer this is all what I want, a slice of this berry crostata slightly warm, with a scoop of vanilla bean ice-cream or a dollop of whipped cream, an ice tea on the side, and sparkling objects on the sky to celebrate the 4th,  5th, 6th…or 28th of July…Enjoy!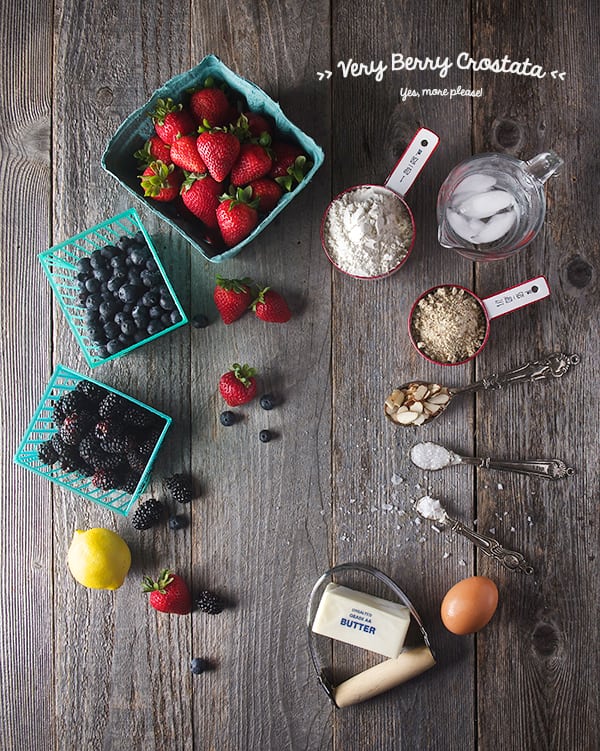 To make the Crostata you will need…
Very Berry Crostata
Makes one 12″-14″ round crostata… serves 8 patriotic enthusiast.
Crust:
2 cups all purpose flour
1/2 cup Almond flour or ground almonds, pecans, walnuts, or hazelnuts
1-3/4 sticks butter
2 good pinches of salt
1-4 up to 1/3 Iced cold water
1 egg + 1 tablespoon water, bitten for egg wash
1 teaspoon turbinado or sparkling sugar and
1 teaspoon Sea salt crystals to top the edges of the crust.
Making the crust:
Place all measured dry ingredients in a bowl and mix. Place the bowl in the freezer. Cut the cold butter into small cubes, have iced water ready to measure. Remove the bowl of dry ingredients from freezer and add the butter. With a pastry blender or your hands, incorporate the butter and flour until the mixture resembles a coarse meal, and the butter pieces are small like the size of a pea. Slowly add the cold water and carefully, with your hands, form a dough that just holds together. Be careful not to over work the dough. 
Once that the dough holds together. Dump the dough into a generous piece of plastic wrap and shape it into a 1-1/2″ disk.(see picture below) Refrigerate for at least 1 hour; you can rush it by placing into freezer for 20-25 minutes, or make it the night before, you are baking. To check some step by step photos check out this link. 
For the filling:
1 pint of blueberries
1 pint of blackberries
2 pints of Strawberries, remove green tops, and cut into halves.
1/4 cup turbinado sugar, maple syrup, honey or regular cane sugar*
the zest of one lemon
1/2 teaspoon lemon juice
2 teaspoons cornstarch, or arrowroot powder.
Mix everything on a bowl. Set aside while you extend the crust.
* You might want to increase the sugar upon how sweet your berries are. I like my crostata on the less sweet side, letting the fruit to shine, specially when berries are in season, they are sweet and delicious, I believe there is no need to add much sugar.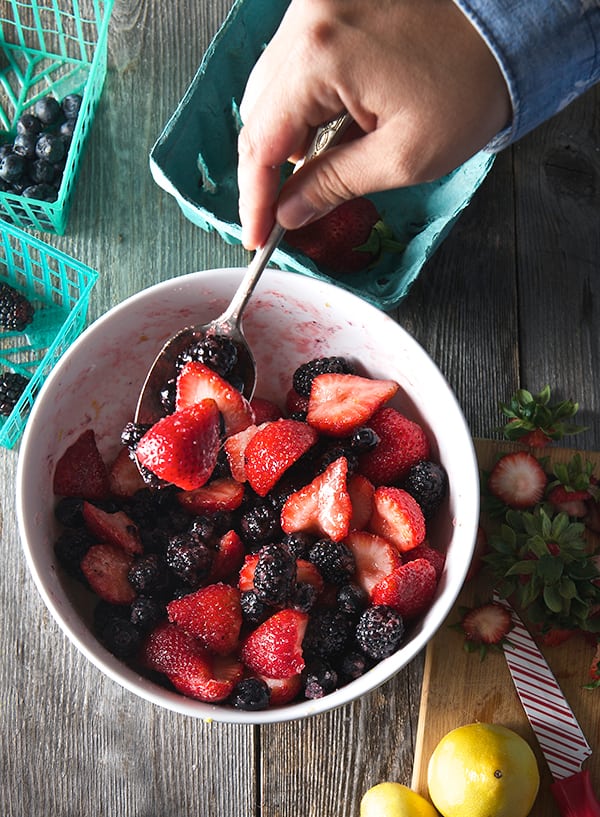 Assamble and Bake:
Start by Preheating oven at 375F / 190 C
1. On a clean surface dusted with flour, roll your crust into a 1/4″ thick / 16″-18″ circle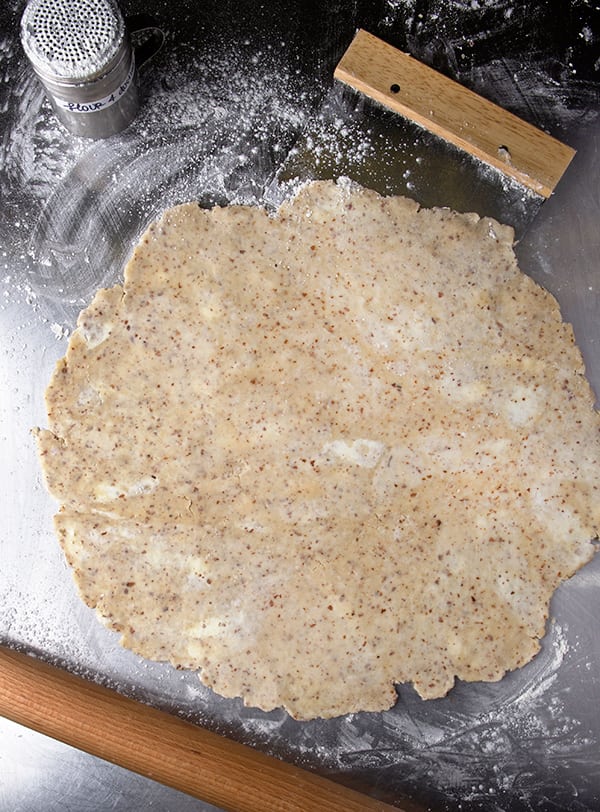 2. Carefully using your rolling pin roll crust and transfer into a baking tray lined with parchment paper.
3. Place the mix berries in the center of the crust, leaving a 2 1/2″ – 3″ margin.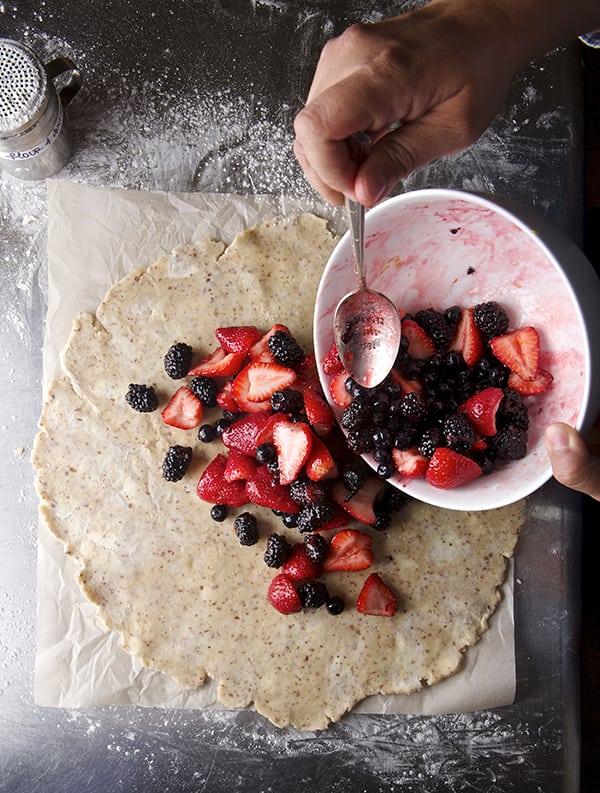 4. Fold the edges over the berries.
5. Brush the edge of the crust with some egg wash and sprinkle the sea salt crystals and sparkling sugar.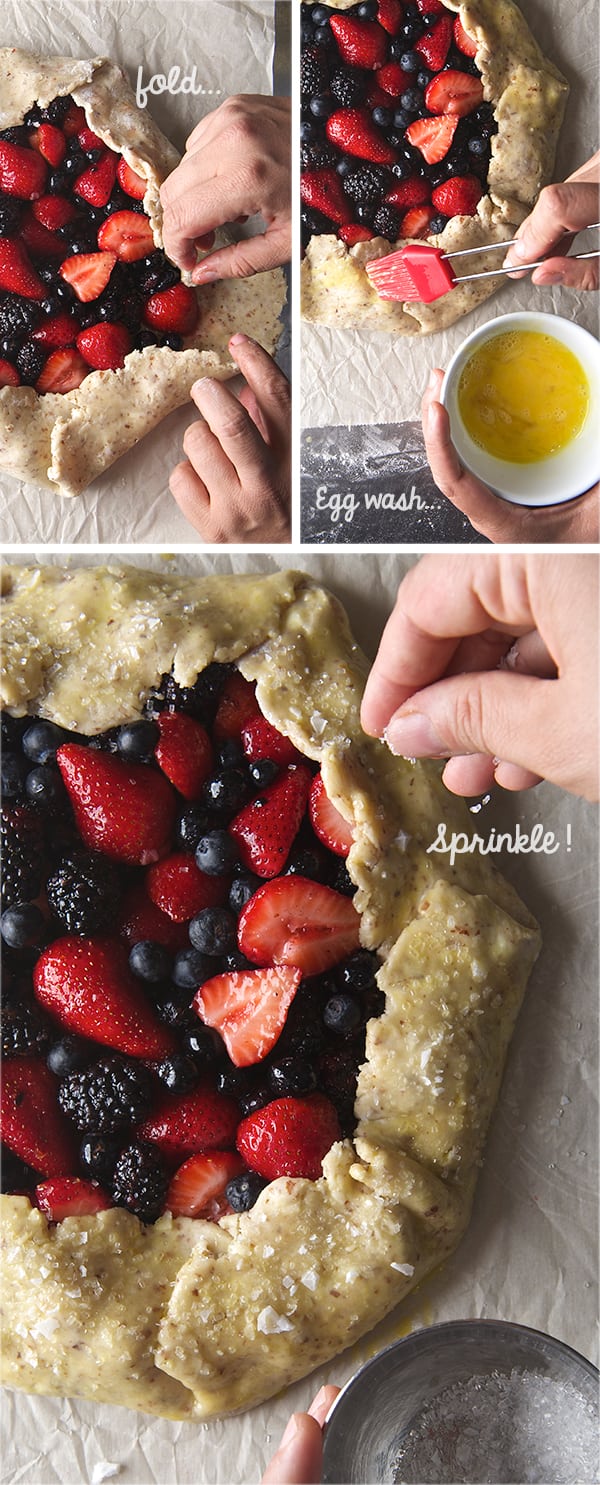 6. Bake on the lower third of the oven for 40-45 minutes.
Note: Some juices might scape out of the crostata, it is ok, do not worry. Use a rimmed baking tray to avoid oven chaos. This is a Rustic looking pastry, sometimes during the baking it looks bad in order to look good… "Everything will work fine till the end" ~ Greg McEnroe
Serve with Vanilla bean Ice cream, Whipped cream, or a spoonful of creamy greek yogurt…Mmm Enjoy!  and  Happy 4th of July!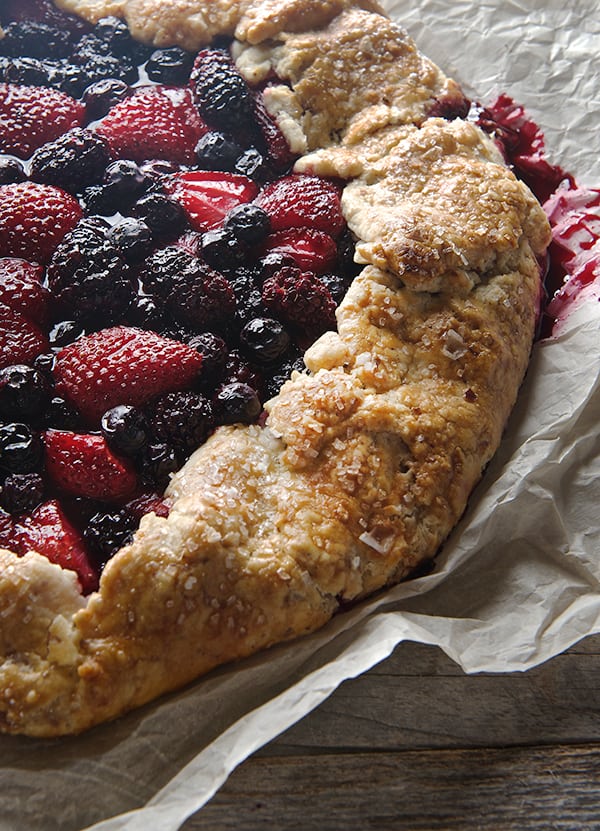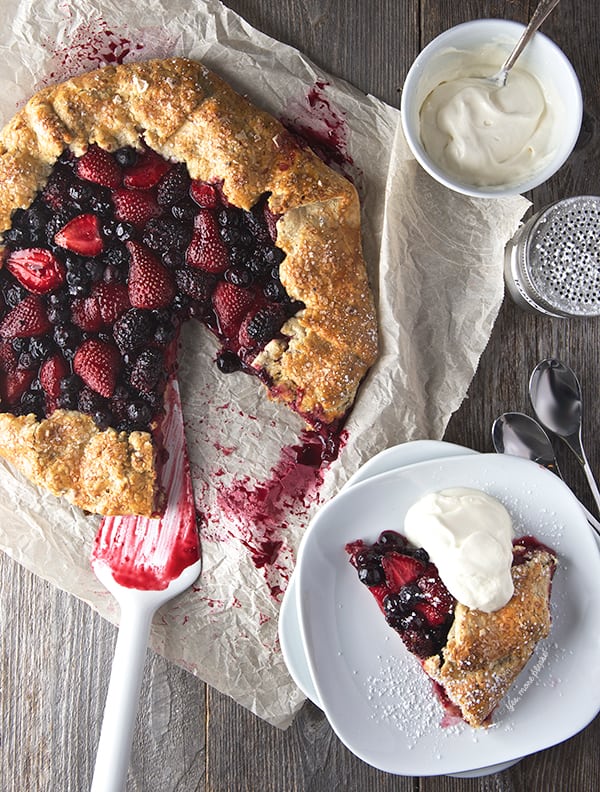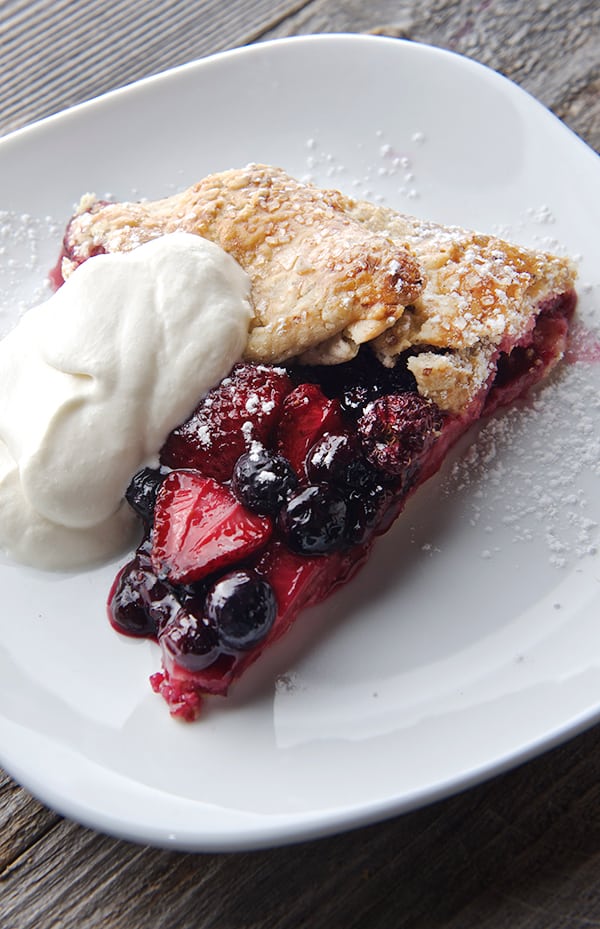 Very Berry Crostata…heck yeah!
Music pairing: Chuck Berry, You never can tell…