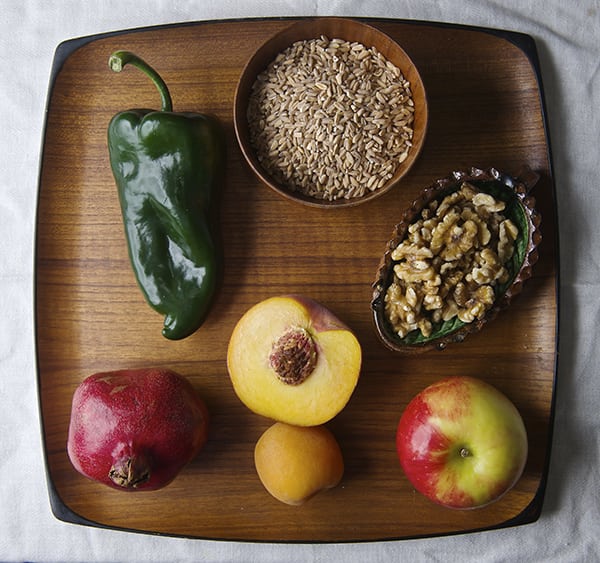 The month of September is the time in Mexico when we celebrate Independence Day, Viva Mexico Goat creatures! That's the way we shout and celebrate along with lots of tequila and food. There are many traditional dishes that are prepared for this celebration, but the one that represent the season and the first celebration of independence is the Chiles en Nogada.
Chiles en Nogada is a regional culinary dish from Puebla. It's origin dates from 18th century and it is considered a recipe of Baroque style, because of the amount of ingredients and the elaborate and detailed preparation. Many tales and stories argue the origin of this dish. In my curiosity of knowing the most accurate story, I found an article written by Eduardo Merlo Juarez*, from the Investigation Center of INAH-Puebla (INAH-"National Institute of Anthropology and History in Mexico) which I found very credible and congruent. He explains that this dish was made in the Viceroyalty period in Mexican history as a dessert. It was created in the month of August with seasonal ingredients from the region; like Poblano peppers, Nueces de Castilla (walnuts), pomegranates, and stone fruits like peaches, apples, pears that the Friars cultivate in the orchards.
The nuns, Madres Agustinas Recoletas of the Convent of Santa Monica were the ones who originally prepared this dish for the dinner that was given in honor of the Military Commander Agustin de Iturbide, who entered the city of Puebla in triumph after signing the Treaty of Cordova in Veracruz. This event granted the Mexican Independence from Spain. For such an important celebration the nuns used as garnish for the first time, parsley for the green and pomegranate for the red to symbolize the colors of the Mexican Flag.
This dish was probably served as dessert, roasted poblano pepper filled with a concoction of delicious stone fruits, that tamed the spiciness of the chile and the creamy sauce to marry the flavors. As in today the chiles are stuffed with a combination of the stone fruits and a 50% ground pork and beef.
There has been no way to track who added the ground pork and beef to make the sweet picadillo which is now traditionally used as filling. Many arguments have been raised about whether they should or should not be covered in the egg batter as in Chile Relleno style; the truth is you can find them both ways based upon preference. The original sauce was made with walnuts, Goat cheese, a little bit of milk, and a dash of sherry vinegar. It is preferable to serve them at room temperature and the sauce is always best served cold.
In this recipe I wanted to keep the essence of the dish and simplify the preparation time without compromising the flavors, I prepared the filling using Farro to make it lighter (and because it has a meaty texture that resembles to ground pork). I maintain the use of stone fruits and spices. And versus the original long cooking method, I added the fruits later on in the cooking process to have contrast in textures. I believe that this recipe is simple enough to make and results in a light entrée for you to serve, rich in flavors, culture and tradition.
Viva Mexico!!!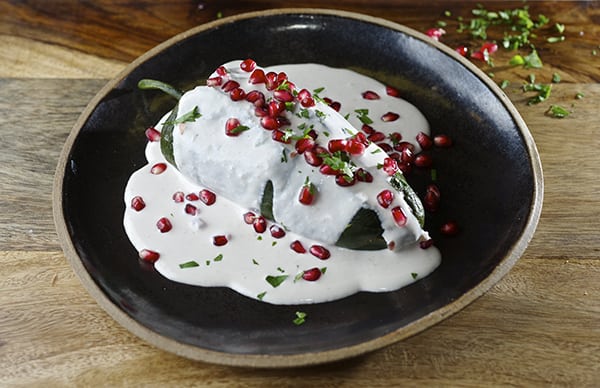 Chiles en Nogada – Poblano Peppers stuffed with Farro and Walnut Sauce Vegetarian
Serves 4
Roasting the Chiles:
4 Poblano peppers roasted, deveined, and de-seeded* (reference in below photos)
In a baking sheet pan lined with aluminum foil place the poblano peppers and rub them with a little canola oil and sprinkle some sea salt. Roast them for about 3-4 minutes per side at a 450 F pre-heated oven. It is best to char them on the stove over direct flame because it gives them more flavor. In this case I do not own a gas stove or a torch (sad, sad…but the oven method works great to easily remove the skins) I did not grill them. I think the flavor of the smoke charcoal would be too overwhelming for the filling.

Making the Filling:
2 cups of cooked Farro (or brown rice will work too)
1 apple chopped in small cubes
1 Bosc Pear chopped in small cubes
1 Peach chopped in small cubes
1 apricot chopped in small cubes
½ cup golden raisins
½ cup roasted almonds
½ medium size red onion finely diced
1 garlic clove
2-3 tablespoons canola oil
1 teaspoon of sherry vinegar.
Mexican cinnamon ground
a pinch of ground clove.
A pinch of white pepper.
Directions:
Start by adding your Farro to a small sauce pan with a little canola oil and sauté it until slightly golden brown. Add 2 cups of water and let it come to a boil, then reduce the heat, cover and let it simmer. Add a pinch of salt. Keep an eye on it since you want to leave it a little under done for the best texture and flavor. Once it is cooked, spread the Farro on a platter to stop the cooking process and to release some of the moisture. Let it cool for about 10-15 minutes.
Meantime, chop the rest of the ingredients. Now that you have everything ready, heat a sauté pan with about 2 tablespoons of canola oil, sauté onions and garlic and cook for about 2 minutes. Next, add apples, pears, almonds, raisins, sherry and spices cook for 2 minutes. Add the Farro and sauté for another 2 minutes. Then add the peaches and apricots. Adjust salt and pepper. Remove from stove and let it cool to room temperature before stuffing the roasted poblano pepper.

For the Walnut Sauce:
6-8 ounces of Goat cheese
1 ½ cup of Walnut halves soaked and twice rinsed.
1/4-1/2 cup of milk
a dash of sherry vinegar
a pinch of sugar.
Directions:
Blend everything until smooth and refrigerate for about 30 min. before serving
The traditional recipe calls for peeling each walnut by hand…I have not a lot of patience for this process, however I found that if you soak the walnuts in hot water for 20 minutes, and rinse them twice,it removes almost all the bitterness from the skins.(see picture below)

Garnish with:
Finely chopped Parsley
Pomegranate Kernels (see photos for easy peel and kernels extraction pomegranate)

To serve:
Start by stuffing the poblanos, arrange them on a platter or in individual plates, cover them with the walnut sauce, garnish with pomegranate kernels and finely chopped parsley.
Traditionally they are serve in Talavera plates from the state of Puebla.
I chose this beautiful stoneware plate with an iridescent brown-black glaze made by a Local Artist her name is Barbara Breyfogle she has her own studio and makes one of a kind handmade stoneware pottery. She has been making pottery since 1974. In some of her pieces she uses lace and nature to stamp some designs on her plates and serving platers.You can find her and her beautiful creations at Boggy Creek Farms on Saturdays from 8-1 pm. Or send her an e-mail: [email protected]……Thank you Barbara!!

VIVA MEXICO!!!