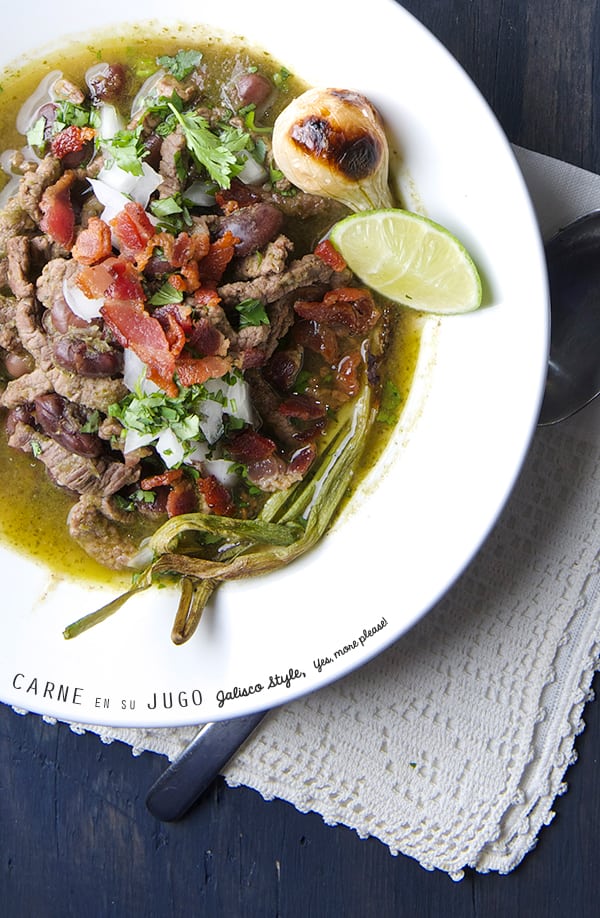 This recipe is dear to my heart. A traditional dish from the city I was born: Guadalajara, Jalisco Mexico. It brings me lots of memories from my Mom's cooking. You see my Mom is not an avid cook; but the dishes she prepared for my brother and I when we where little, where always prepared in a delicious manner, and well seasoned with love. This is one of my Mom's best dishes for sure.
Now, how can something so simple and humble as a combination of beans, meat, and a simple broth can be so darned good? I do not know, but once you make sense out of this combination of ingredients that seems to want to be a guisado, but is not a guisado, and wants to be a soup, but its not a soup, once you prepare it, you will understand why I like it so much.
What is not to like about thinly sliced juicy meat, flavored with a little bacon, simmering in its own juices, along with fresh cooked beans and their broth, some herbs, chile and tomatillos? The result it is far better than it reads, or than it looks. It is a loose stew. Perfect for the transitional weather, when you almost want it to be Fall or Winter but its not there yet. And of course it is a must make dish on a rainy or cold weather day. Easy to prepare, one pot situation.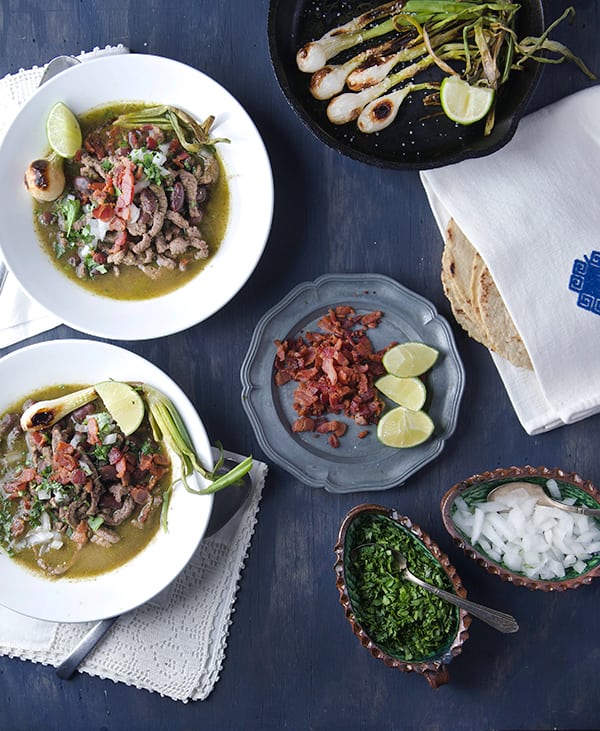 In Jalisco, there must be almost be one recipe for each family, and this recipe its no exception. Keeping with the traditional elements on the dish, and having my Mom's version in mind, I just went with the Cadillac version.
Yes, this is the Cadillac of the Carne en su jugo. I used Texas Wagyu sirloin tip thinly sliced. When braised, this sirloin tip, is tender, it holds a great texture, and flavors the broth richly and heavenly with a good balance of fat.*For the beans, I used Rio Zape from my favorite Heirloom beans from Rancho Gordo; deep flavor, creamy and the broth that this beans produce when cooked is dark and rich, adding more flavor and dept to the broth. A couple slices of organic Applewood bacon enhance the flavor of the broth, the bacon fat makes a great fond to the broth base, and the crunchy bacon bits are used to garnish the dish when served, adding texture and a sexy appeal.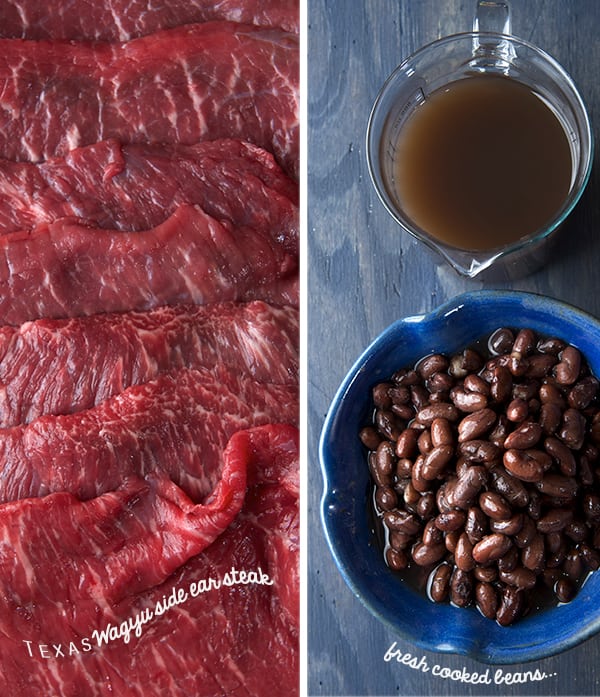 For the rest of the dish, I used the same fresh ingredients as the traditional recipe, a hint of tomatillo, onions, garlic, Serrano and lots of cilantro like my Mom use.
The result its the coziest bowl of juicy meaty-beanie stew. It is served with little white onions "cebollitas cambray" that have been chard, fresh cilantro, fresh white sharp onion, lime juice, corn tortillas maybe some queso fundido on the side. I mean this is a serious family meal, yet easy to make and a crowd pleaser.
* Special Thanks to Kristen and Ryan from Salt & Time Butcher shop, for always providing great help advice, and service. I love this place, if you are serious about your meat, please visit this remarkable quality meatery and start making your meaty dreams come true…
So let's start cooking!…For this Carne en su Jugo you will need…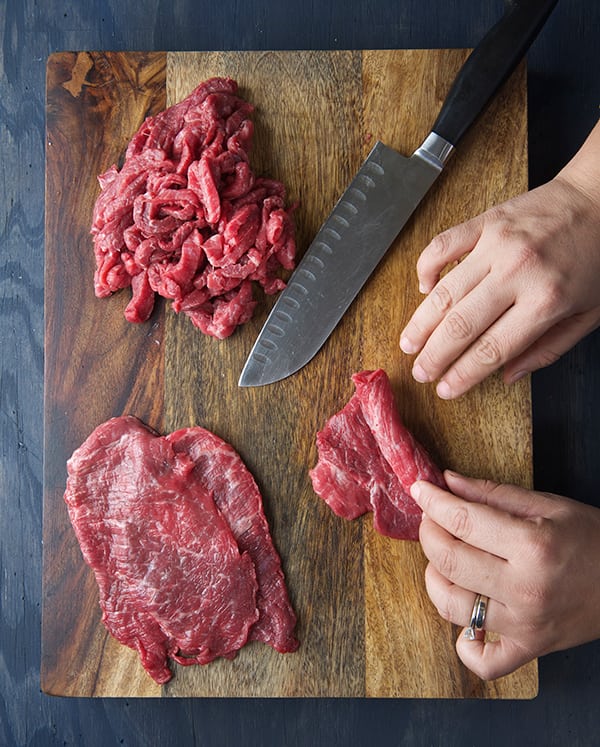 Carne en su Jugo Jalisco Style
Serves 4 Tapatios 6 Gueritos or 2 Texans….because everything is bigger in Texas.
1 lbs. Texas wagyu sirloin tip thinly sliced
4 slices applewood bacon
4 cups of freshly cooked beans,
I used Rio Zape Rancho Gordo, Pinto, Flor de Mayo, can be a good substitution, sorry canned beans are not a good substitution for this recipe.
1-1/2 tablespoon Worcestershire sauce
1 cup bean broth from the beans you cooked.
4-6 cups water
½ white onion
1 garlic clove
3-4 small-medium green tomatillos
1 chile serrano fresco
1/2-bunch of fresh cilantro
Salt and pepper to taste.
Garnish with:
½ white onion small diced
½ cup finely chopped cilantro
2-3 limes cut in quarters
The reserve crunchy bacon pieces.
Corn Tortillas is a must!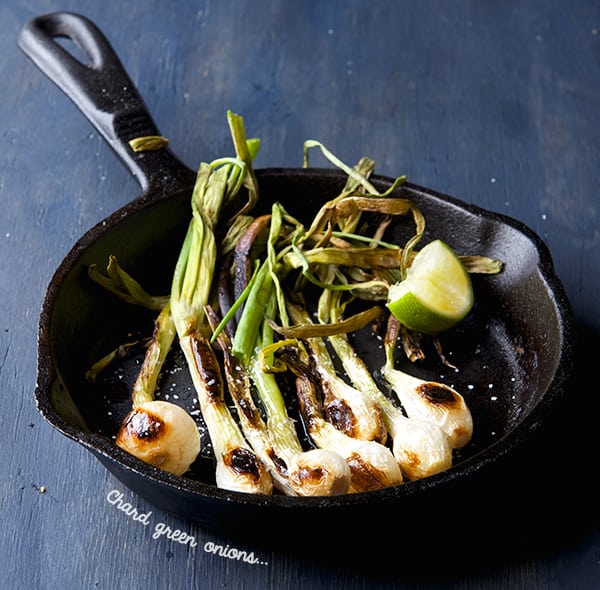 For the chard onions:
8-10 round green onions
1 tablespoon bacon fat
Place onions on a small cast iron pan, or a baking sheet lined with foil paper, roast slowly until chard rotate them every so often, until the have char blisters all around.
Preparation Method:
1. In a large enameled pot, saute the bacon until crunchy. Remove the bacon bits, place them over a paper napkin and remove some of the bacon fat, leaving about 2 tablespoons on the pot.
2. Add the thinly cut meat, season with salt, pepper and a few dashes of Worcestershire sauce.
3. As soon you see juices coming out of the meat, start removing them with a ladle and set them aside in a little ramekin, to be used later on the dish.
4. Keep removing the juices as the meat cooks, toss every now an then, until the meat starts browning.
5. Meant time, into the blender, in goes the tomatillos, garlic, onion, Serrano, cilantro, and 2 cups of water, blend well until liquid, then add another 2 cups of water, blend. Set aside.
6. At this point your meat should be a little brown and the bottom of the pot has built some delicious fond. Add to the pot, the bean broth, the tomatillo cilantro, onion garlic, serrano blend, and the reserved meat juices that you where reserving all along.
7. Add a pinch of salt and pepper to taste. Cover with a lid and low simmer for 20-25 minutes.
8. Check on the meat the broth should be lose but with enough body, taste the meat for tenderness. If meat still a bit tough, simmer for another 10 minutes, add a bit more water if necessary. Usually this will depend on the type of meat you buy. Since the meat is cut into thin slices, there is no biggie.
9. Once the meat is tender, and the broth is on point, add the cooked beans, adjust if it needs more liquid. Bring the broth to a rapid simmer until the beans warm up. Turn off the heat, and Ready to serve!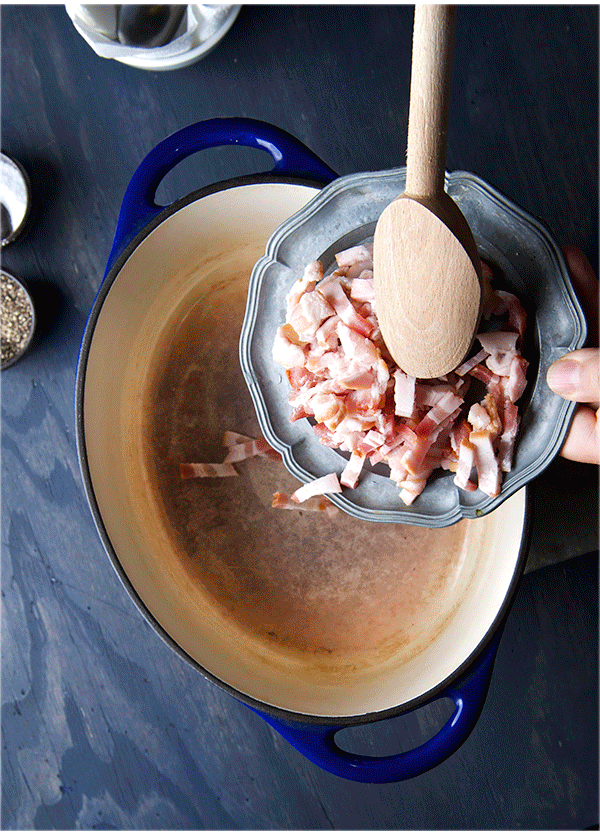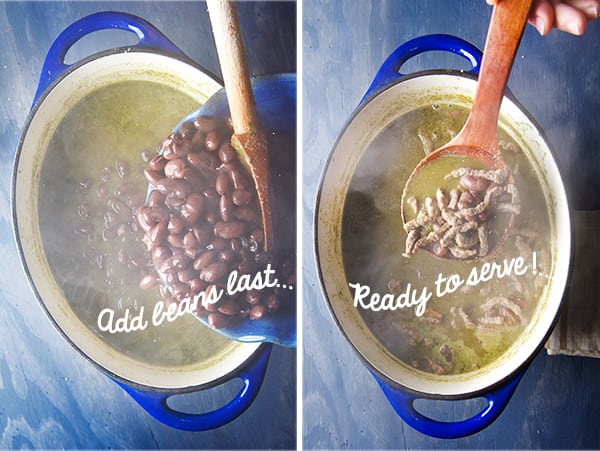 Serve on shallow bowls, with a good ladle of the broth and garnish with the raw chopped onions, cilantro, the reserved crunchy bacon bits, a squeeze of lime, and one or two chard onions on the side. Warm up your tortillas, if you want to make your own, check our easy and fun corn tortilla recipe here…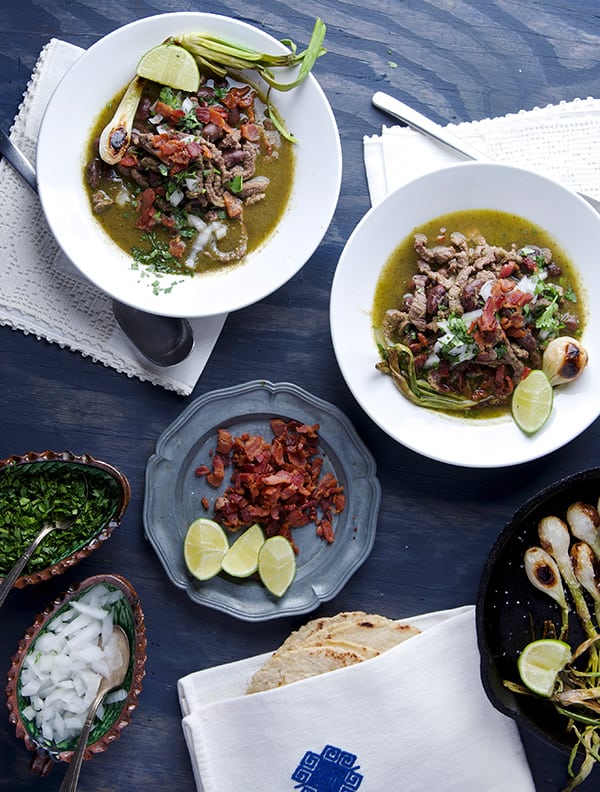 I think Carne en su Jugo might be Jalisco's equivalent elixir version of America's Yankee chilli, or Vietnamese pho, this is how popular the dish is in Guadalajara specially on rainy days, and fall. There are a lot of restaurants that specialize in this dish, if you ever visit Guadalajara, Jalisco, visit Kamilos 333, this has been a favorite restaurant of my family since I was a kid. Later on in life I had the wonderful luck to meet the family owners behind the restaurant, and I can call them my friends. Rumi-antes! xoxo.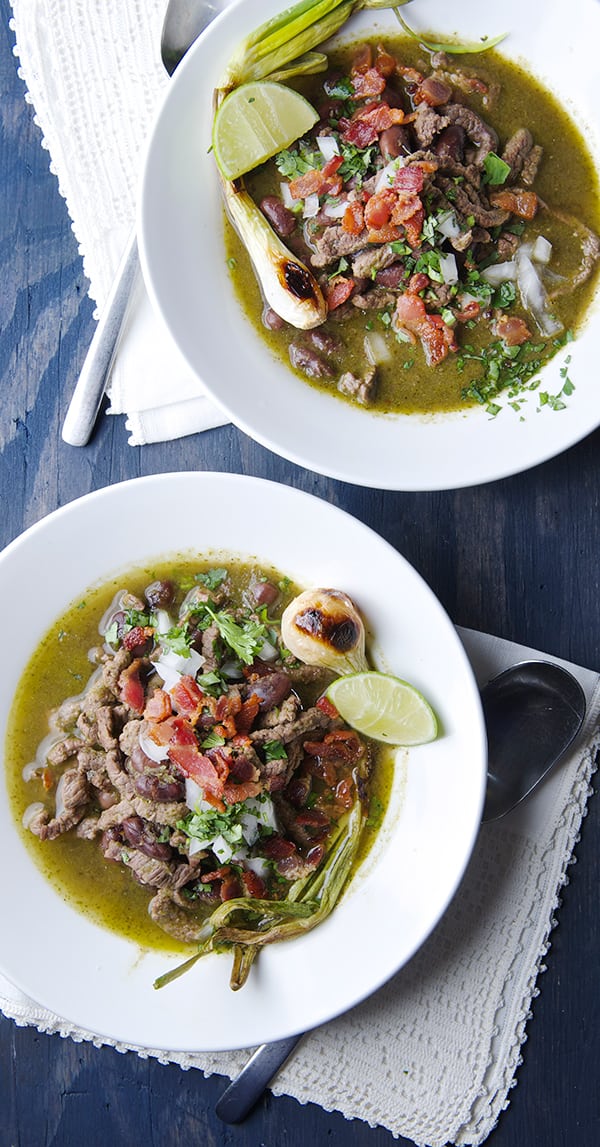 It is with great pleasure to share this recipe with you. I want to share a little of the good and great memories of my Mexico.
Mom, for me, your Carne en su Jugo will always be the best! Thank you for cooking for us, xoxo.
Music Pairing: Mamy -Las hermanitas Navarro