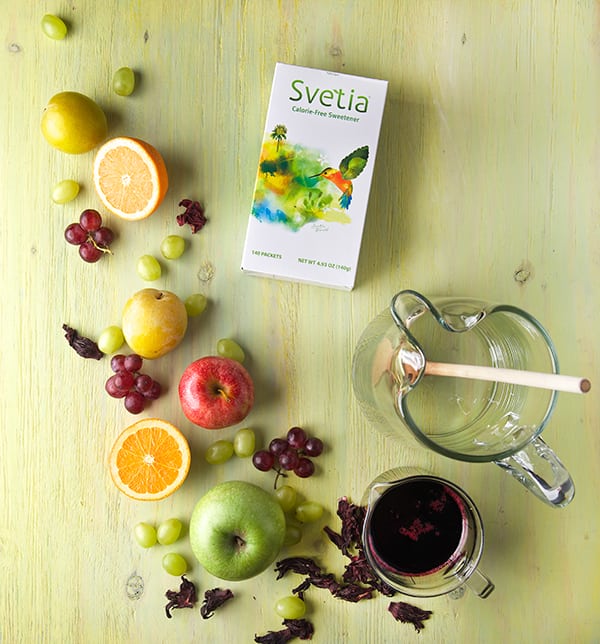 While growing up, Hibiscus-Jamaica agua fresca was often the drink of choice to refresh on a Summery day.  I remember my mom and grandma buying the dry flowers in bulk. Hibiscus-flor de Jamaica or Roselle should not be confused by the ornamental hibiscus plants, these ruby red flowers come from a different plant scientific name Hibiscus sabdariffa which are dried and used in many preparations, from sweet to savory dishes. The flavor profile of this Hibiscus is highly acidic, almost citrus like. It contains high doses of vitamin C and a unique flowery citrus flavor that is just right for refreshing drinks and tames the thirst on hot summer days. For me, growing up in Mexico, Agua fresca de Jamaica was my "cool"aid.
With this in mind and thinking of something refreshing and fun to drink, I thought of making a fruit punch, or the good Sister of Sangria. This Hibiscus Mint Fruit Punch  just got loaded with lots of fresh fruit, and SVETIA sweetener which makes this Fruit punch the good sister of Sangria, or the healthiest Agua Fresca!
I found SVETIA by chance at the grocery store, I gave it a try and I think is a good option to naturally sweeten up drinks and beverages. It is Stevia based and it has a minimal amount of real sugar just to cut the edge of the natural bitterness of Stevia.
I think its a good naturally derived alternative. Check their website for more information click here SVETIA
We are almost on the last weekend of Summer, what a great way to refresh with a refreshing not-too- sweet Fruit Punch. Combined with fresh fruit its almost an afternoon snack itself.  Chunks of crisp apples, juicy slices of orange, Frozen grapes and plum cuts, or plums that you nibble as you drink are refreshing and fun to eat. I freeze some of the fruit, so your drink stays cool longer with out watering down the flavor. Other great additions of fruit could be strawberries or blackberries. I just stick to the ones I use in Sangria.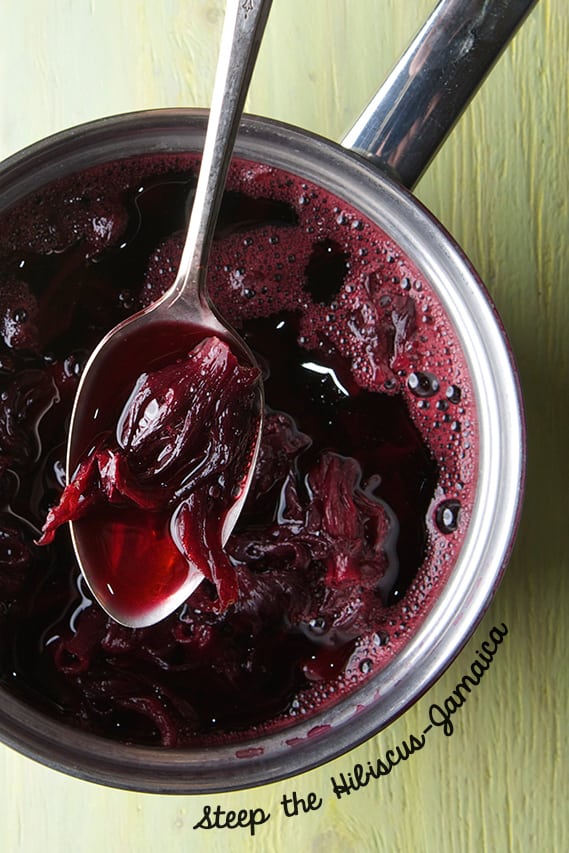 To make this Punch will need…
Hibiscus Mint Fruit Punch
Makes a 12 cup pichel Serves 4-6 thirsty souls
6 fluid cups ice cold water
1 cup dry hibiscus flowers, plus 2 more fluid cups of water to make the concentrate.
1 teaspoon dry mint
1 fluid cup orange juice
1 whole orange sliced and cut into quarters.
2 plum cots, or red plums cut into wedges
1 green apple diced in medium cubes
1 fuji, or pink lady apple dice in medium cubes
1 cup seedless grapes red or green or both
3-5 Envelopes of SVETIA Sweetener, according to your taste.
2 cups Ice cubes
Notes: Use fresh juicy fruit, what ever is best in season available. Also, instead of dry mint tea, use fresh mint, hierbabuena or if you are in Texas Sweet Marigold would be great. I'm getting a plant soon!
Subsitutes for SVETIA: Coconut Sugar, Honey or agave nectar.
Directions:
1. Wash chop and dice your apples, oranges and plums.
2. On a tray place all the diced fruit except the apples on a single layer and freeze. (It will take about 20-30 minutes appox. to be frozen)
3. Mean time Bring to a boil 2 cups water, add 1 cup dry Hibiscus flowers and the dry mint. Simmer for about 3 minutes, cover with a lid and set aside to let it steep and cool off. Once is cool down, strain the liquid, you will have around 1-1/2 cups.
4. On a 1 galon pichel add the 6 cups of water, and add the SVETIA to sweeten.
5. Add the Hibiscus-mint concentrate, orange juice, diced apples and all the frozen fruit. Stir well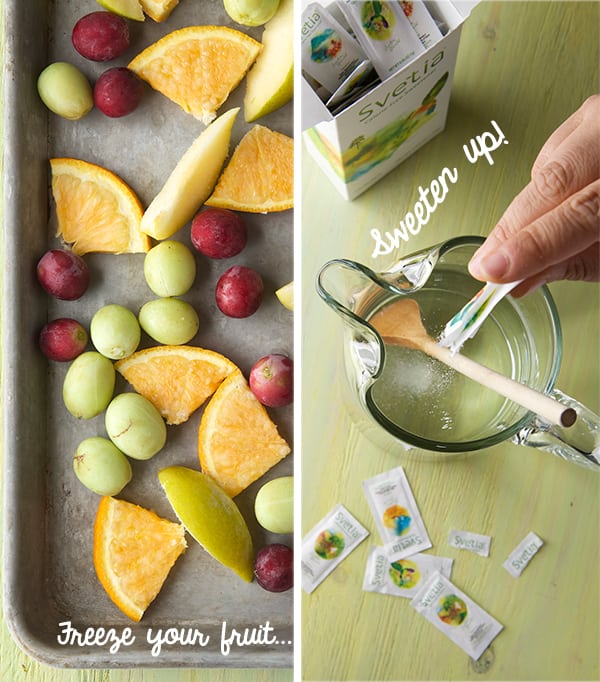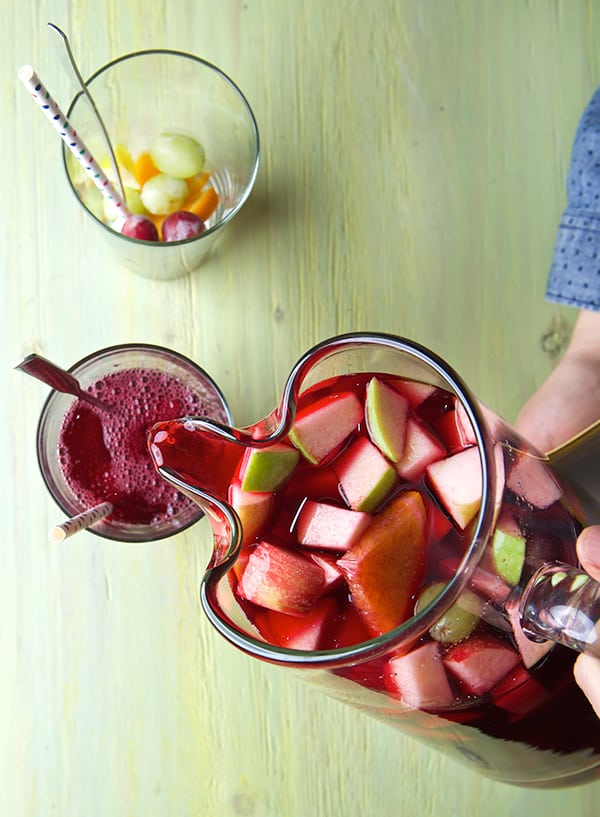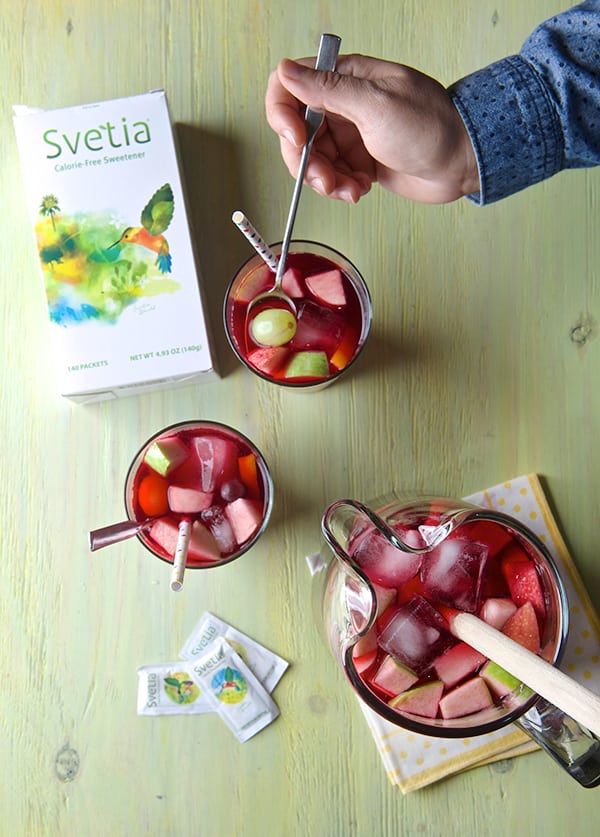 Serve on Chilled tall Glases, a straw and a long spoon or bamboo skewer to nibble the fruit as you drink.
Refreshing!
Last  chance to get your Summer Fruit Punch groove, Enjoy!
We received compensation in exchange for writing this post. Although this post is sponsored, all opinions are my own.
Thank you SVETIA for providing the product and sponsorship .