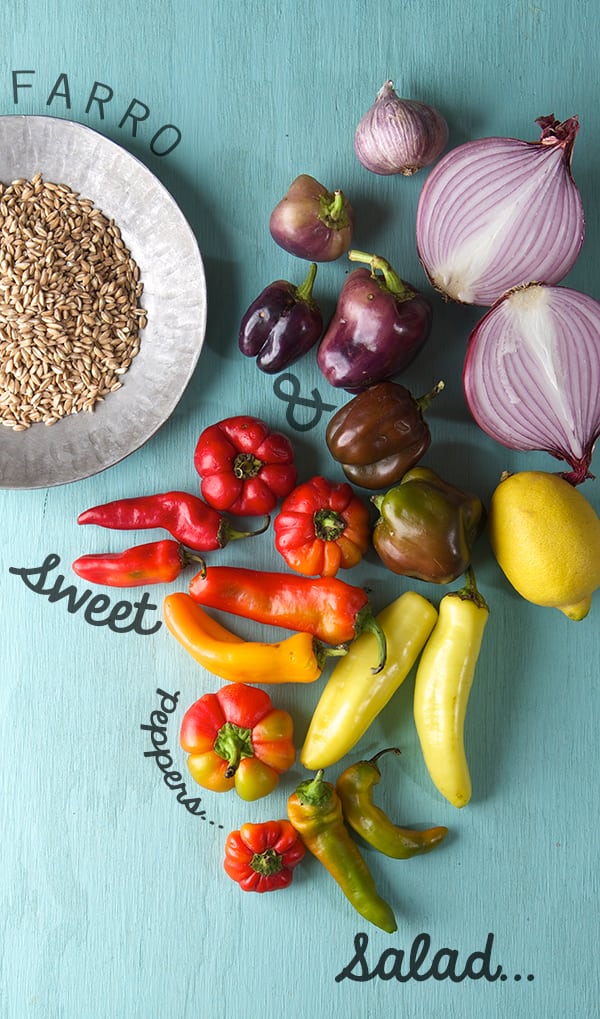 Sweet peppers are what you can find at the markets in Austin, Texas right now. Beautiful varieties, colorful, different shapes and sizes. Perhaps one or two sassy ones among the bunch, but mostly they are fleshy, sweet and flavorful.
For me, grilling these kind of sweet peppers bring the best flavors in them. The sweet mild flesh with the charred pieces of skin are what inspired me to make this salad. We love to grill at this time of the year when it does not feel like you are grilling your self over, September its a better Grilling Time for us.
So what to do with all these chard sweet peppers? I combined them with the most handsome Italian grain of them all: Farro, my favorite grain, because of his nutty flavor,  great bite and texture. This gigolo of a grain has to become part of your pantry. I cook farro the same way I cook pasta, in lots of water and a couple of pinches of salt,  for about 20-25 minutes. Once its cooked, I strain the water, air dry it, and while still warm I add a sensible vinaigrette, of green grassy extra virgin olive oil along with a generous splash of red wine vinegar for a bright flavor. Coriander seeds, garlic, salt and pepper where my flavors of choice for this grilled salad.
Last but not least, I added grilled Sweet Peppers, grilled red onions, some fresh celery for crunch and sprinkled some bulgarian feta to add some salty and creamy texture. It is a great hearthy salad.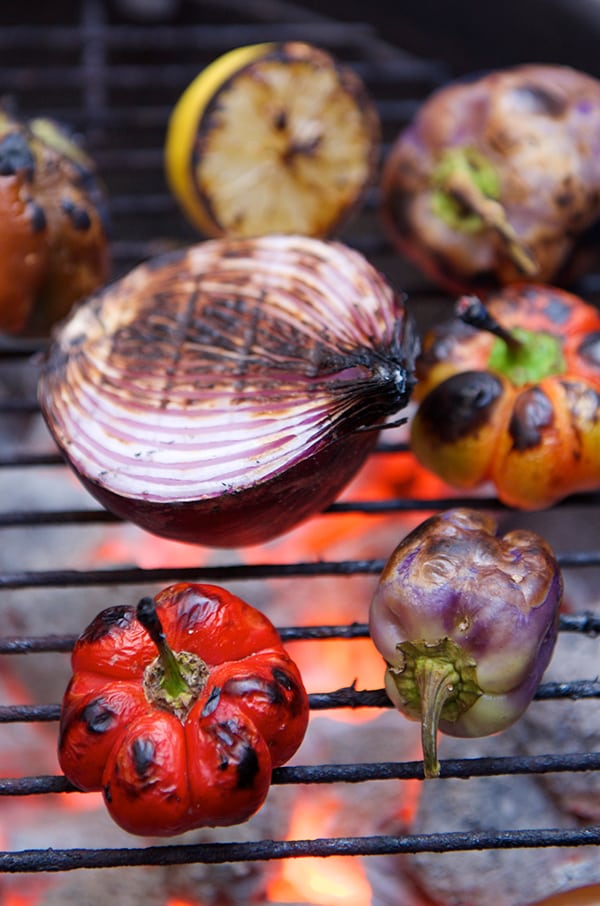 This Sweet and Handsome Farro Salad will flirt with lunch or dinner, the perfect match for roasted or grilled, chicken, pork or lamb. If you are feeling not so carnivorous, put an egg on it. This Farro salad best companion was a glass of red wine, we had a good Tempranillo and some Lamb Loin chops on the side. It was a great end of the Summer welcome Fall dinner.
Enjoy!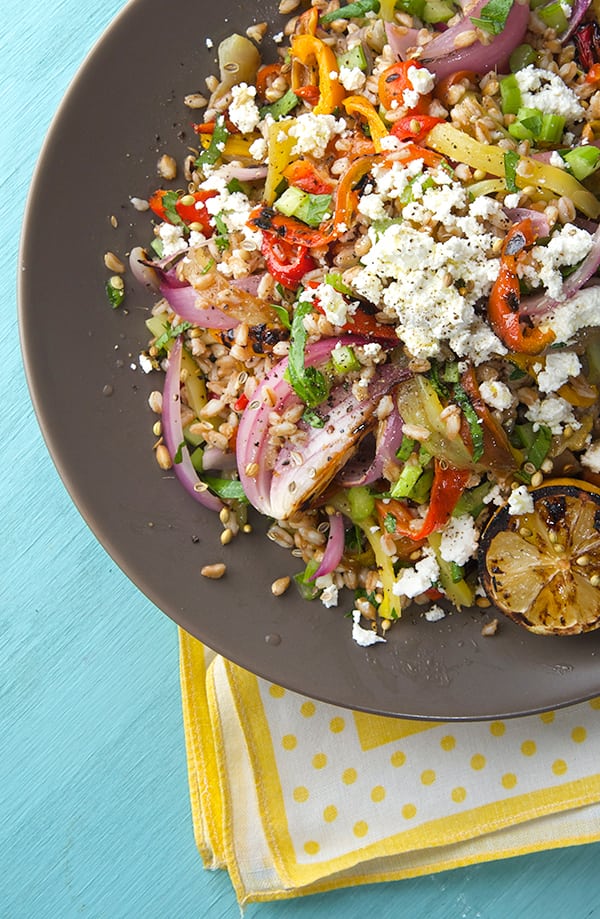 Sweet and Handsome Farro Salad
Serves 4-6 Italian portions
1-1/2 cup dry Farro
18-20 Sweet peppers any kind, any color, mix and match.
1 large red onion
1/2 cup chopped fresh celery, include the leaves
For the vinaigrette:
1/2 to 1  teaspoon coriander seeds, toasted and coarsley chrushed
1 small garlic clove finely chopped or smashed through a garlic press.
1 teaspoon honey
1 lemon, grilled and juiced.
1/3 cup extra virgin olive oil
1/3 cup red wine vinegar
Salt and pepper to taste.
In a mason jar place all the vinaigrette ingredients, close jar with the lid on tight and shake-shake shake…then ready to use.
Bulgarian Feta crumbs to top.
Chopped Mint or Texas Marigold (optional)
Preparation Method:
1. On a large pot filled with water, and 2 good pinches of salt, add Farro, bring to a boil and cook for 20-25 minutes. Taste for doneness. Drain water and air dry on a colander.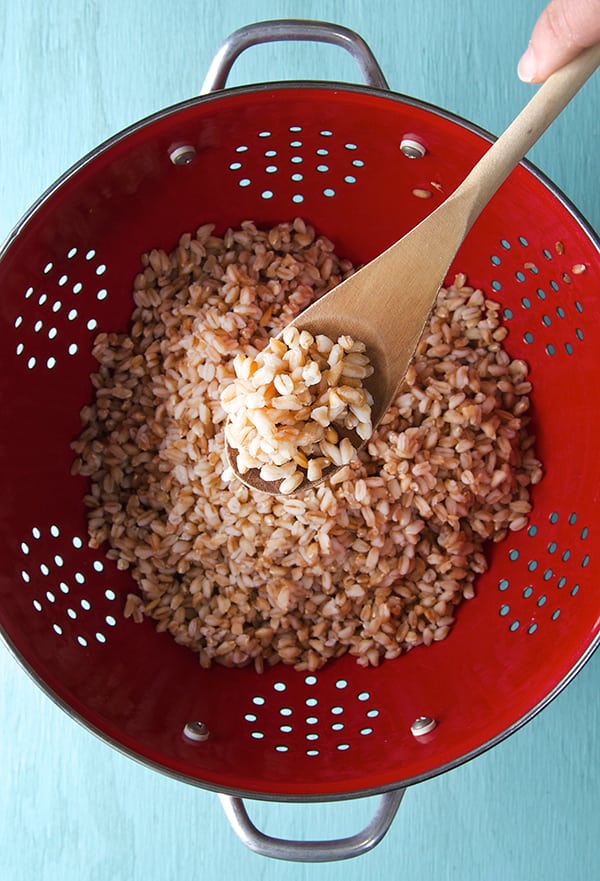 2. Grill red onion and sweet peppers. Once the peppers have cool enough to handle them, peel them, remove seeds and cut into stripes.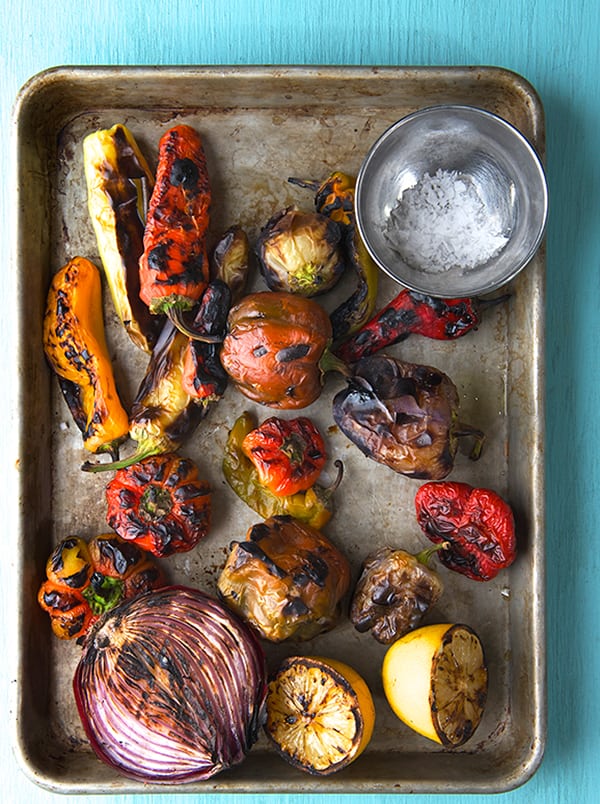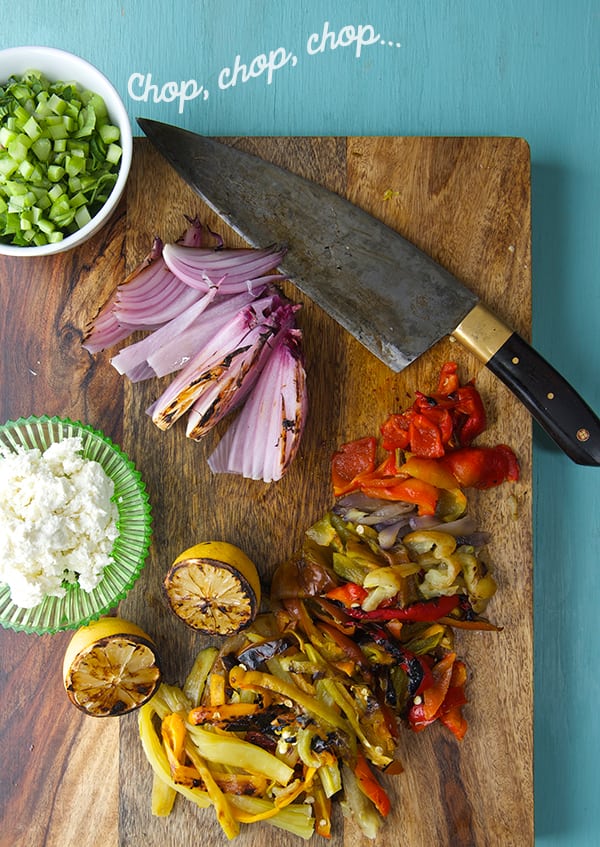 3. On a large plater or a bowl, combine the cooked farro along with all the vinaigrette, the sweet pepper stripes, grilled onions, celery, mint, salt and pepper. Use your hands, toss well. When ready to serve sprinkle the feta crumbs.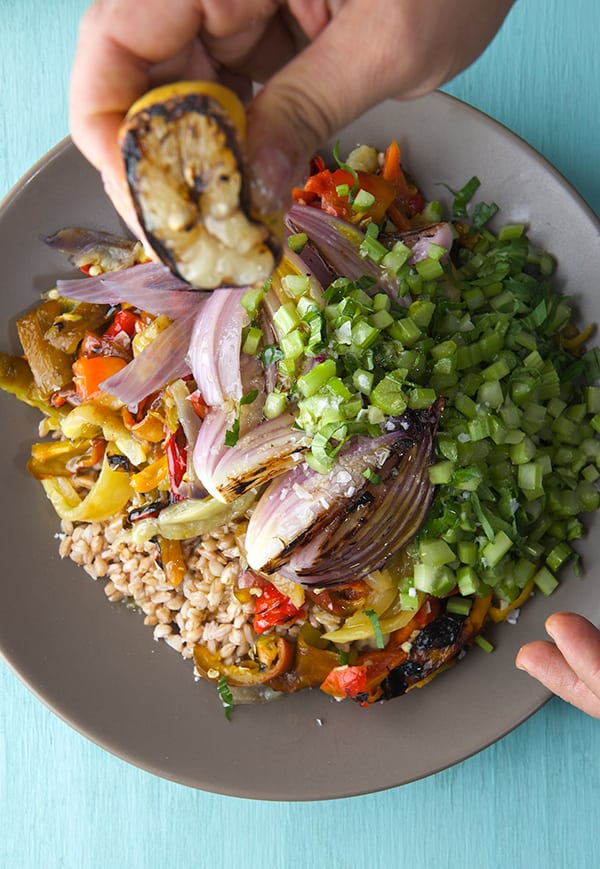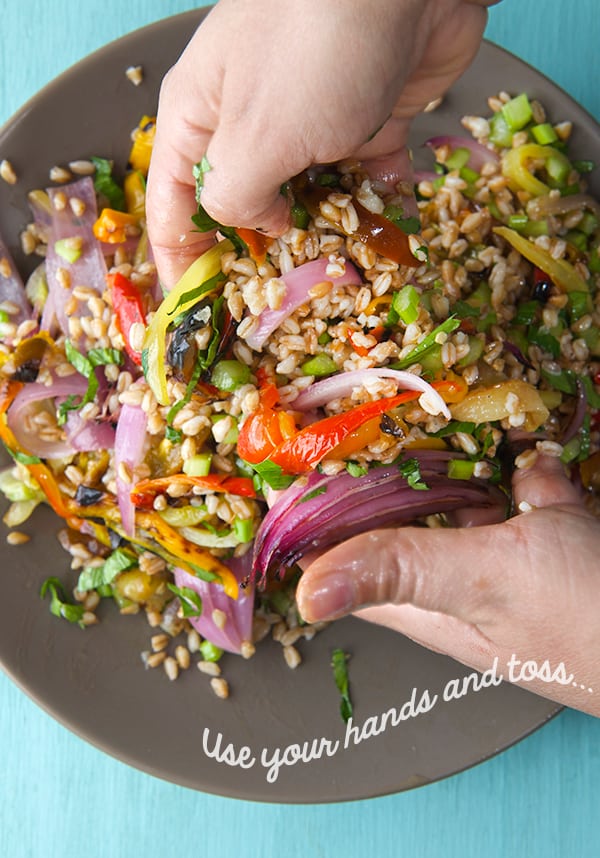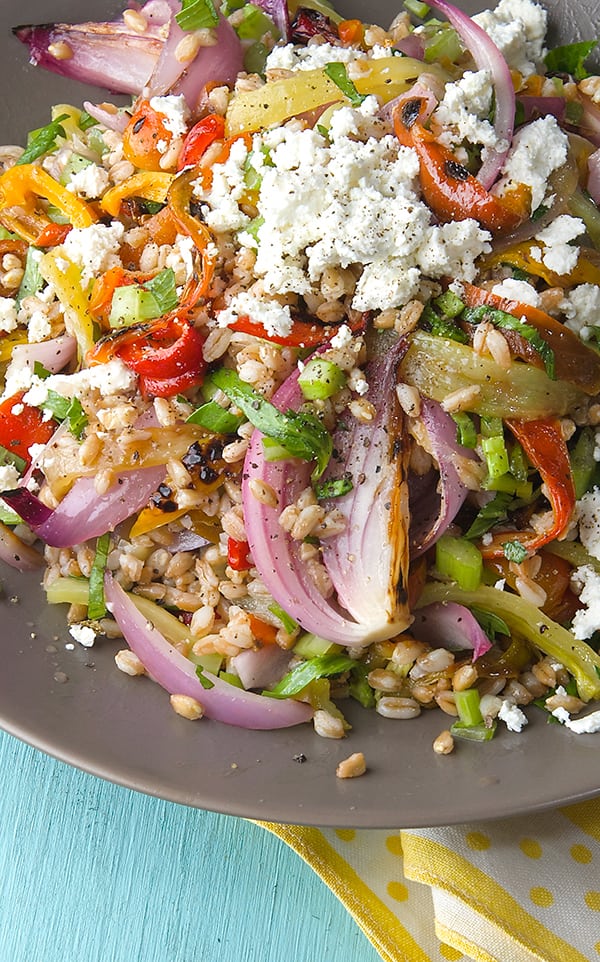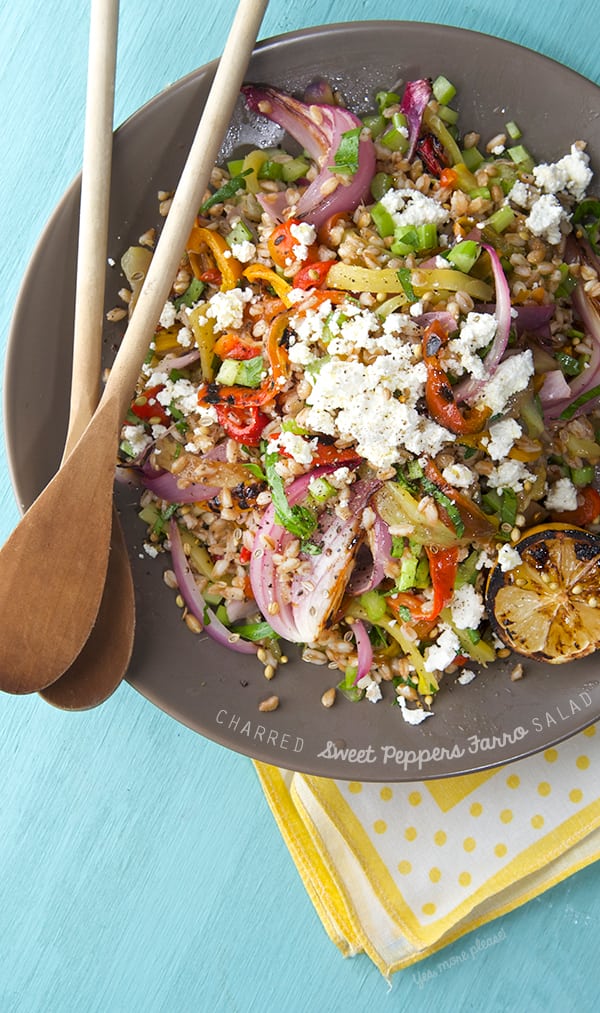 There is nothing like great ingredients, treated with respect, paired and cooked right and you will have a heck of good dinner!
Enjoy.
Music Pairing: I'm Just a Gigolo- Louis Prima