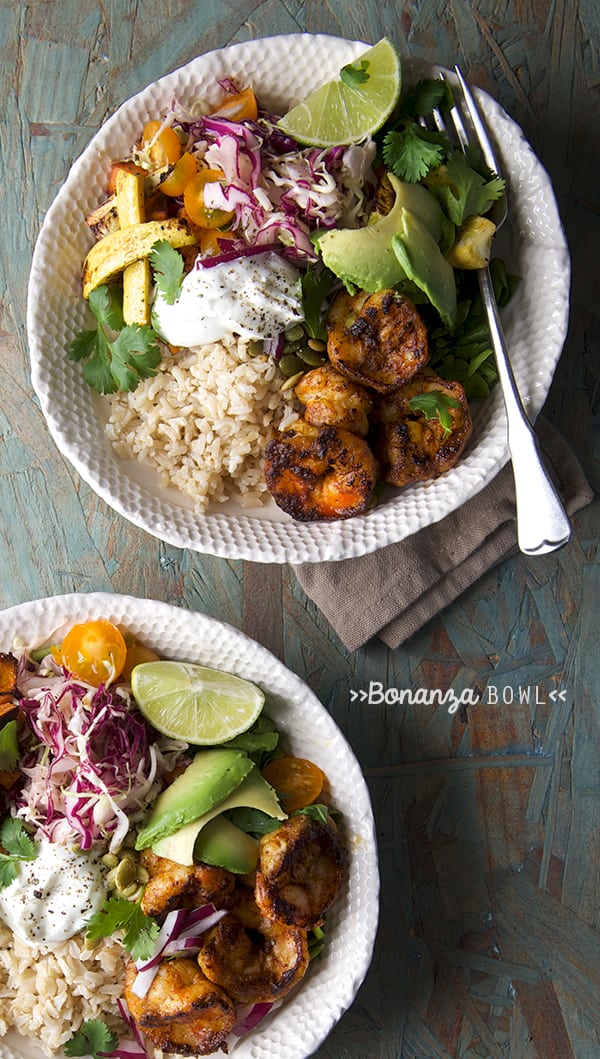 One Zucchini, one sweet potato, 1/3 of avocado, 11 cherry tomatoes, some spinach, the heel of a red onion and 2 pieces left from different cabbages, that was what I had in my fridge.
It happens to every fridge. These lonely rangers, the forgotten vegetables that get a little sad and tired looking. You really do not have a plan for them but you know you better eat them before you reload your fridge. All this bits and ends not enough for a complete recipe, you know how it feels when you have potatoes, but not butter, you have pasta but no sauce, or garlic but not oil sometimes your cooking just gets stuck. Some times you have to shake up your fridge and pantry to see what comes out of it.
This is the kind of Non-recipe that saves you. Sometimes if your fridge feels like this, its contagious and you'll find that your Pantry has the same dilemma. But when your cooking bulb goes on, this bits and ends can be transformed on a blink of an eye and will turn into, perhaps the best dinner of the week.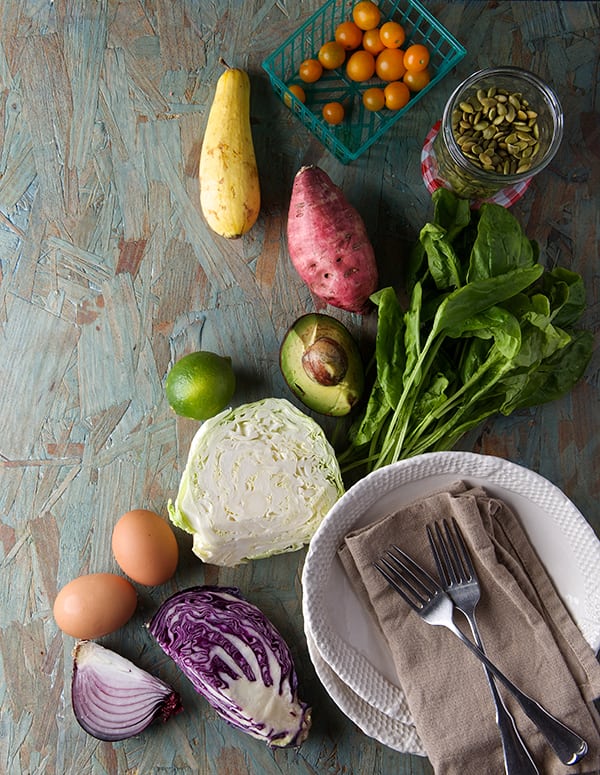 I did a quick pantry search, and spotted the last brown rice on the jar and some pepitas. I cooked the brown rice using my pasta method, lots of water and then strain the rice, voila you have the perfect separate grains very efficient and anti-gluppy rice. If you are a rice glupper this is the method to the madness.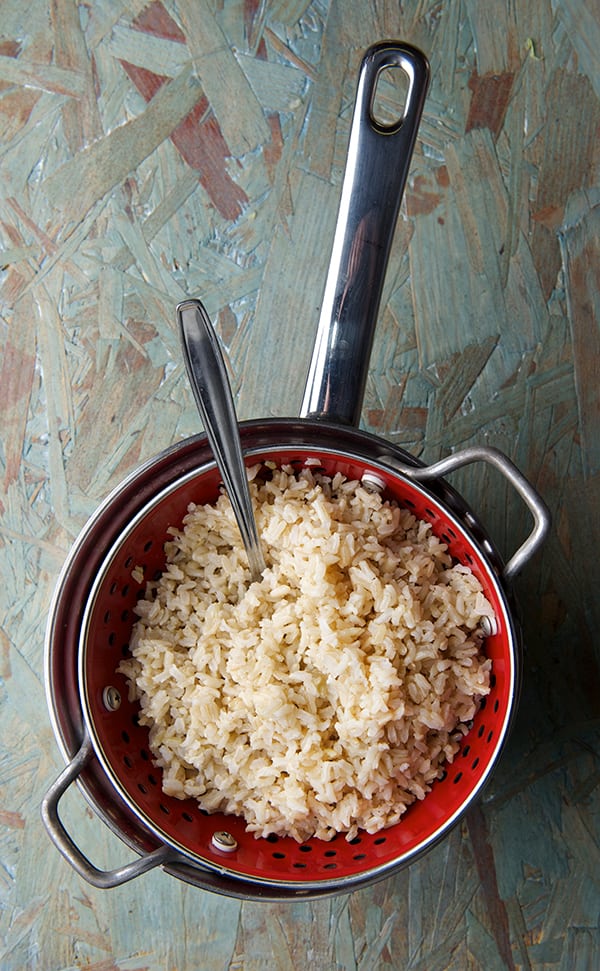 While rice was cooking, a quick look into the freezer and I had some left over shrimp from last week yes!…Please, do not get discouraged if there is not such a big freezer catch for you waiting in the freezer, remember there is always an egg waiting to be sunny side up into a bowl like this. Tofu, cheese, left over roasted chicken, lentils, every protein sings well on this bowl.
I knew I did not want to spent to much time cooking all this puzzle, so I thought on the simplest cooking like sauteeing or quick pickle that yield maximus flavor with minimal efforts. Next, Shredding the cabbage adding some dashes of vinegar, honey and tabasco, salt and pepper for a quick pickle. It took me about 2 minutes. I chopped some spinach, halved cherry tomatoes for freshness. Then cubed sweet potatoes and zucchini quick sautéed with olive oil salt and pepper until a bit charred.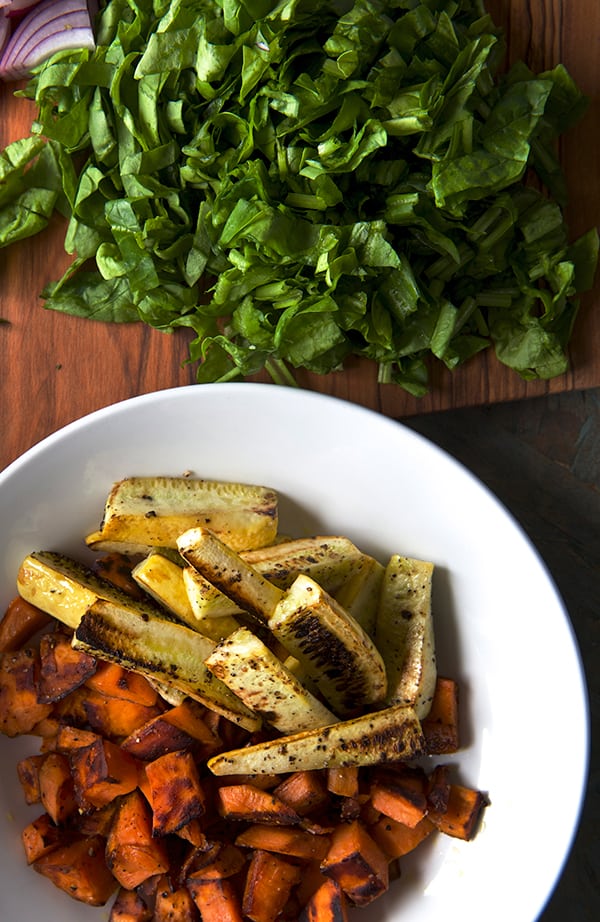 Using the same pan I sautee the shrimp along with some ancho powder and spices for a punch of flavor.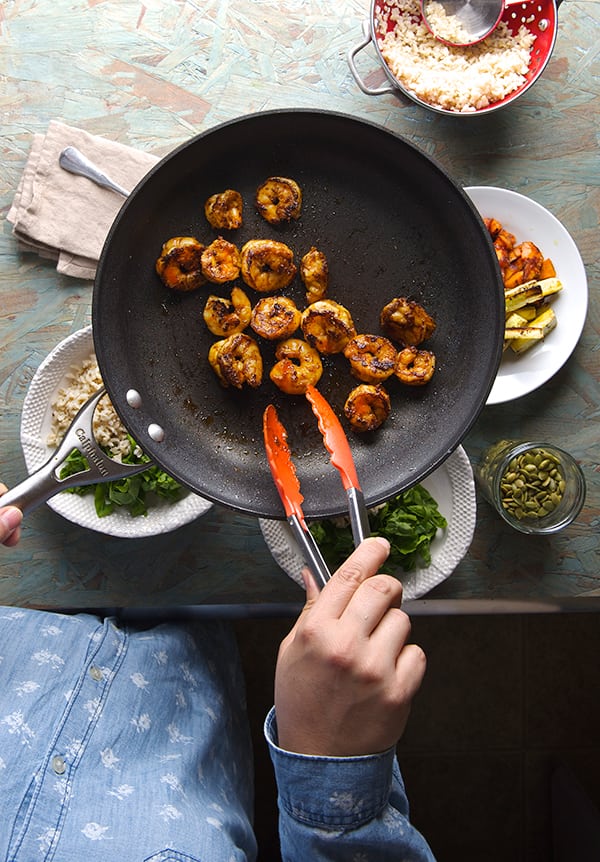 Before serving, I seasoned the rice and plate everything on a bowl a squeeze of lime, a blap of creamy yogurt a dash of hot sauce. A one heck of a good one bowl dinner!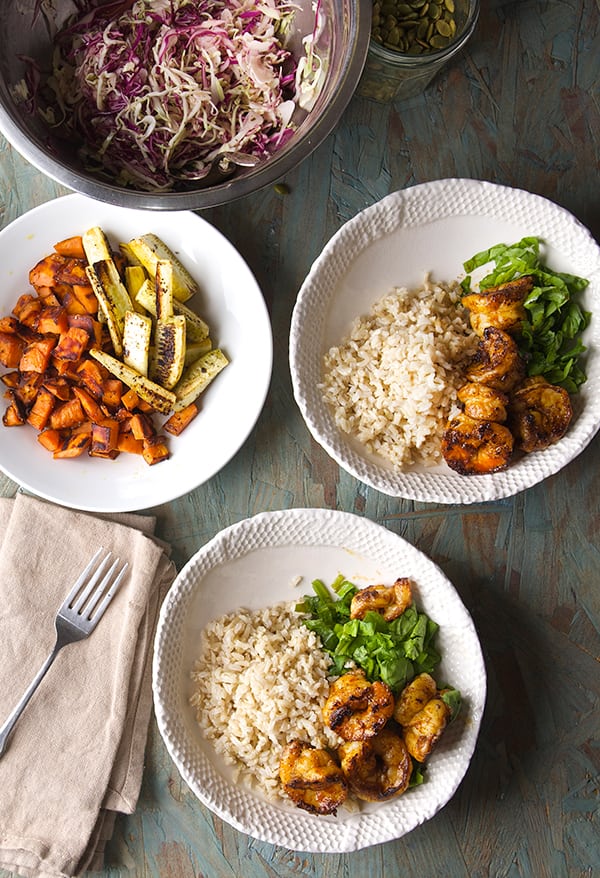 Beside loving the eclectic vegetable chaos, what I love the most about this one bowl its that every bite taste different. What could feel like bits and ends become a feast of flavors, textures and colors. In less time that you imagine, you will find yourself eating even better than if you would have planned. A truly Bonanza Bowl.
Maybe, next week you will find yourself waiting and craving to put your left overs together…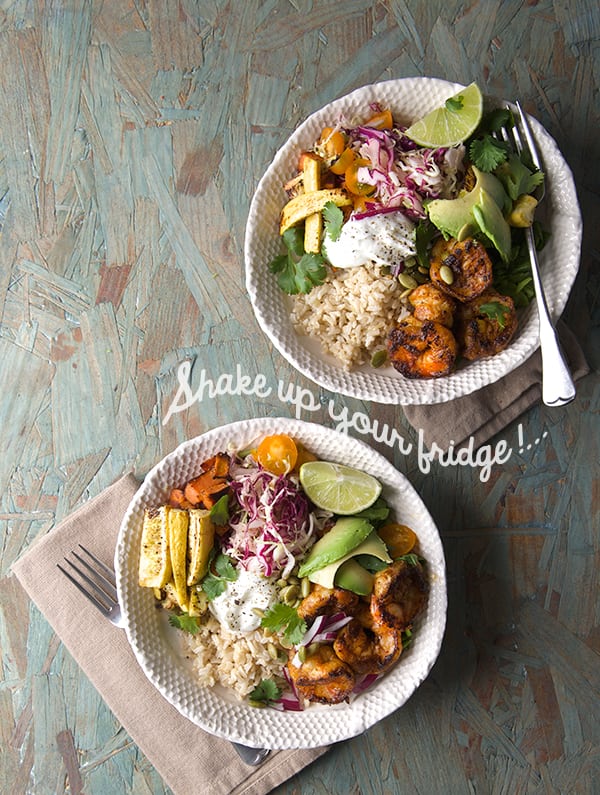 Bonanza Bowl
Serves 2-3-4 stretch it by adding an egg…if you have them…
I started by cooking the Brown Rice.
About 3/4 cup brown rice, I always cook my brown rice like pasta, in lots of water just using less salt. It cooks about in 25-30 minutes. I drain the rice and let the steam take care of the excess water. I used a dash of comino, garlic and salt for the rice.
Then I chopped into cubes the sweet potato, and sautéed. Zucchini chopped in long pieces and quick sautéed.
The awkward pieces of Cabbage Red and green, I shredded and season with a couple of dashes of tabasco, some honey, 2 good pinches of oregano and rice vinegar, for a quick pickled flavor.
Chopped a bit of Red onion and spinach, halved some gold tomatoes, avocado and lime wedges.
Once I had all this vegetable situation ready, I seasoned the shrimp with about a teaspoon of paprika, ancho chili powder, garlic and salt and sautéed them using the same pan from the zucchini and sweet potato. For a more efficient clean up future.
Shrimp or egg or tofu or chicken or tuna, or what ever you have left over roasted chicken,etc..
I served everything on a bowl sprinkled some sea salt, some fresh cracked pepper, a blap of greek yogurt. Done dinner was served in about 20 minutes.
With all our spear time, we indulged and took our dinner bowls up stairs to the TV room and watched a good ol' movie…
Which movie???!!!…oh! Lordy… Casino Royale 2006 hehehe
Have fun with your left overs!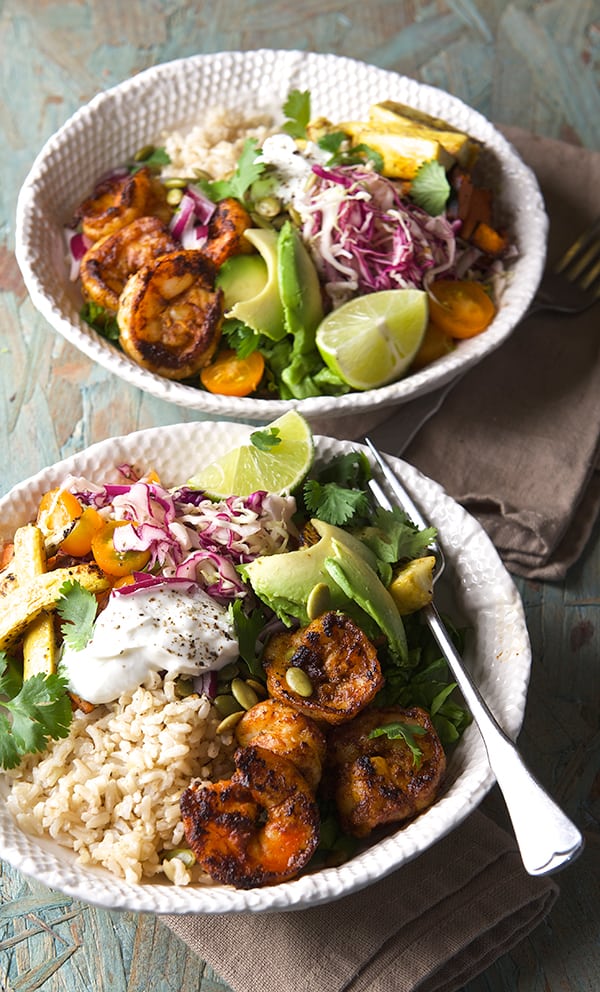 For the double 00h! on this Bowl:
Movie Pairing:  Casino Royal James Bond