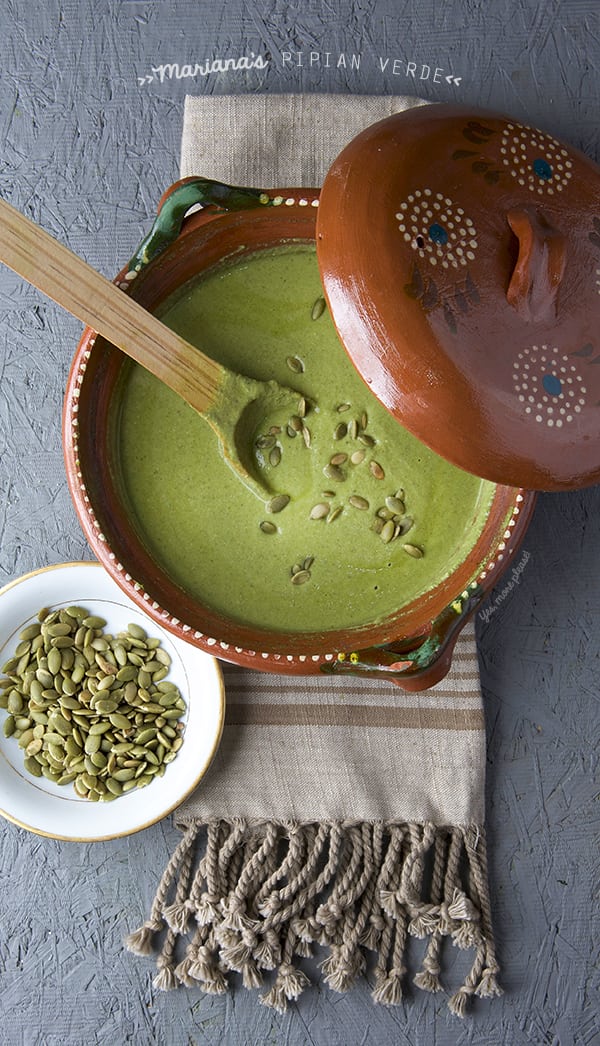 One of the most iconic and traditional Mexican dishes, Mole Poblano, gets all the fame and glory, but what about the rest of the Moles? There are at least another 7 moles from Oaxaca, imagine that is just one state… equally delicious, easier, different chiles and seeds combinations, seasonal, upon what is available in different regions and Grandmas', Moms', and Aunts' taste. Each family has their own traditions, style and way to prepare them. Which one is more authentic?.. The one that is more you-er than you. I do not like to refer to a dish as authentic, I believe its more about tradition. Unless we go authenticating Grandmas, Moms and Aunts out there…unless it's a Picasso painting.
Tradition is what a dish should reflect. The way and manner it was prepared in your family, at a place in time and history that has carry on within. That's what resonates more with a recipe, like that yellowish piece of paper that has butter spots and crunchy edges, you can barely read from your grandmas handwriting, and that you have slightly adapted because of personal preferences but its done and evokes you memories and flavors that ground you, and hold a spot in your family history.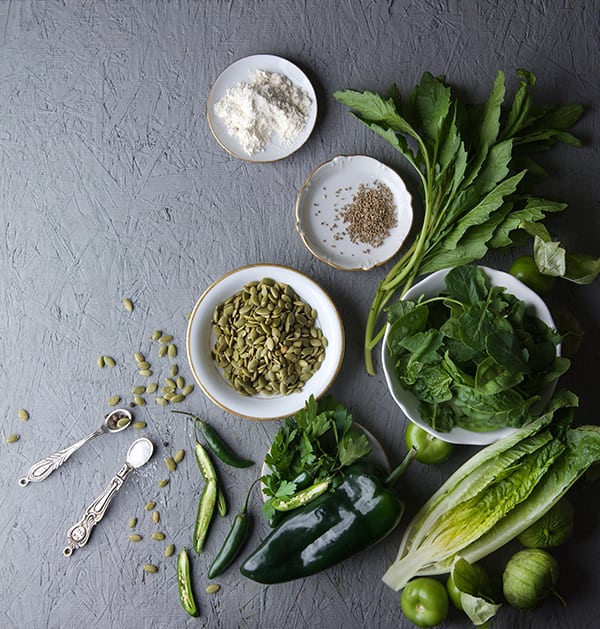 In this case Pipian Verde it is not part of my family history, nor was traditionally made at home, but it is part of my culture and my Mexican flavors. I've always admired this dishes for the complexity yet so warm and comforting flavors. This Pipian Verde tells my story as a cook, the way I've adapted and embraced flavors in a foreign country, and the eagerness to rescue my Mexican cooking flavors.
My Pipian Verde recipe its my own translation of this traditional Mole. Not only on flavor, but also with a simpler method and an updated way to prepare it at home.
With all intention of show casing the pepitas flavor, the herbaceous distinctive smell and color, I used what is best available in austin, Texas, the city I currently call home. I thought about herbs and ingredients, that will mimic the flavors in a new refreshing way. Light, velvety and bright flavor with a hint of heat that will warm the back of your throat. This is my recipe for Pipian Verde, adapted for what I could best find in my city. If you decide to make this recipe, be fearless, do it with the best ingredients you have, use your instincts, adapt. I will assure you it will be the best Pipian you've ever had. Youer than you.  After that, you will fall in love with this green mole.
This mole is the beginning of my own traditions.
I hope you enjoy it and embrace the anewness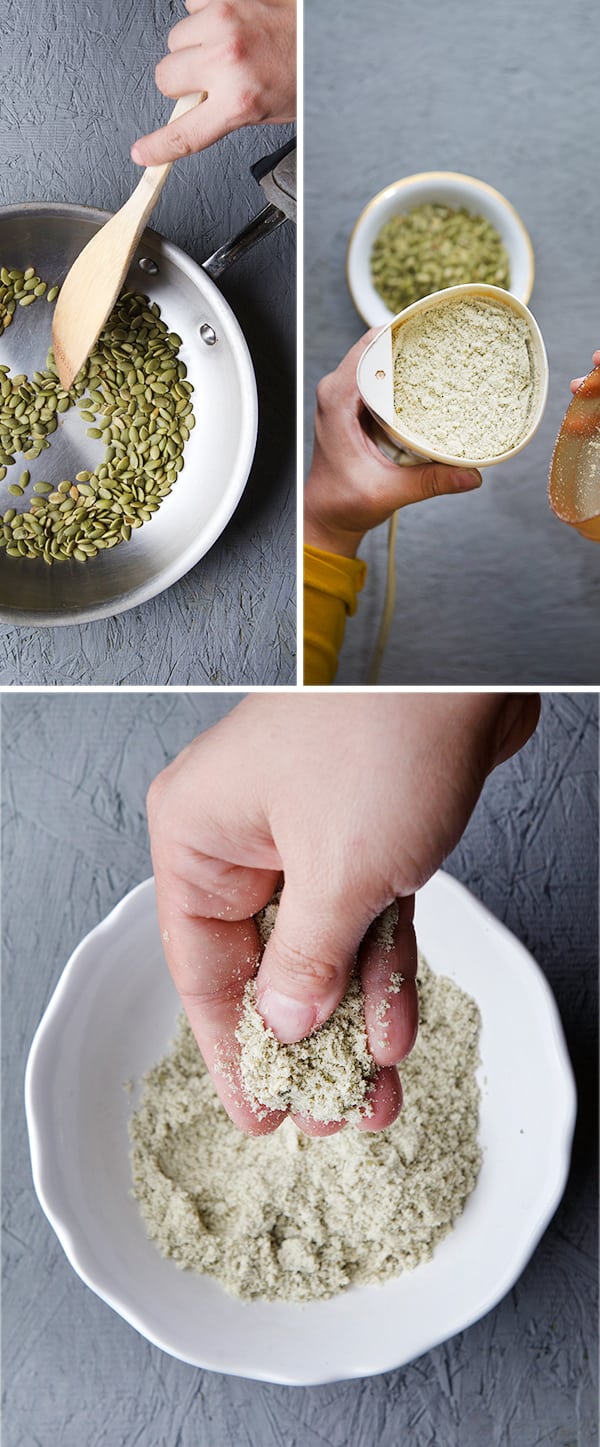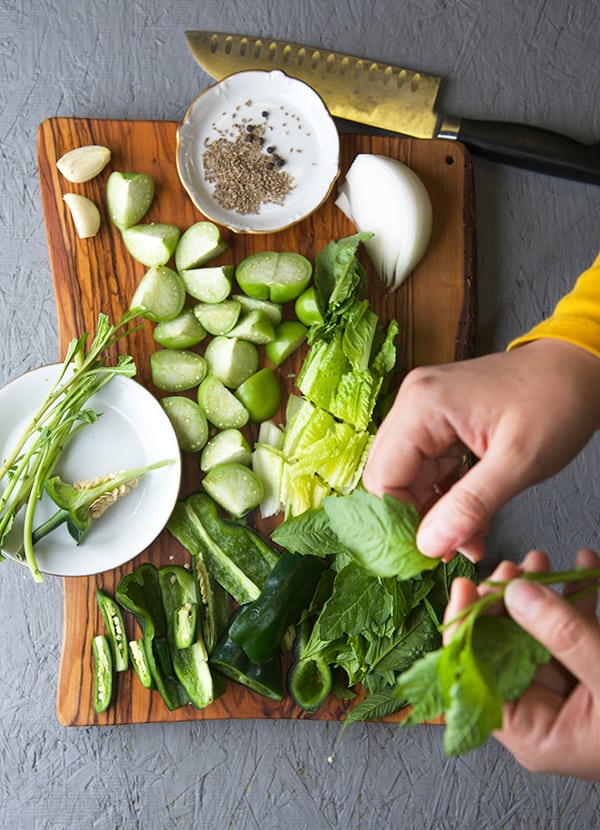 Mariana's Pipian Verde
Serves 6-8
The unique flavor of toasted pepitas, chiles, corn masa and herbs give this beautiful bright green Mole a lighter quality and a velvety sauce. It is absolutely outstanding combination with any white fleshy fish, shrimp, chicken, turkey or roasted vegetables and root vegetables, like zucchinis, sweet potatoes, mushrooms, mirliton, carrots, rutabagas, parsnips… among others. Because of the amount of fresh herbs this Mole taste better the day its made, and it will hold for the next two days in the refrigerator.
¾ cup raw pepitas, toasted and finely ground*
8-10 (upon size) green tomatillos
2 medium poblano peppers chopped and de seeded.
3-4 Serrano peppers
¼ medium sized onion
2 garlic cloves
1/2 cup up to 1 cup slightly packed, fresh epazote leaves**
¼ cup parsley leaves
½ romaine heart lettuce
2 cups baby power greens, like spinach, kale, arugula, mustard, chard.****
½ teaspoon anise seeds toasted
¼ teaspoon cumin seeds toasted
6 peppercorns
1 teaspoon kosher salt
A few drizzles of extra virgin olive oil
3-4 cups chicken stock***
4 tablespoons white corn masa harina, diluted in 6 tablespoons water or chicken stock.
Notes:
*I used my spice "coffee" grinder to pulverize the toasted pepitas. Pulsing on a food processor might work too.
** Smell and taste the epazote, if this is the first time you use it, taste it it has a minty-liquorice flavor. If it is to strong for you, start by adding ½ the amount, adjust to your tastebuds.
*** I made my chicken stock using a small whole chicken. I usually add to my stock, 1 carrot, ½ onion, 1 long celery stalk, 1 teaspoon thyme, 1 teaspoon oregano, 1 large bay leaf , salt and pepper to taste. It is easy to prepare, you make the most of your ingredients, using the stock and the chicken.
****Why baby greens? because they are tender and the flavor will not mask the nutty delicate pepita flavor.
For Vegan version: Use a roasted vegetable stock, preferable to add extra flavor.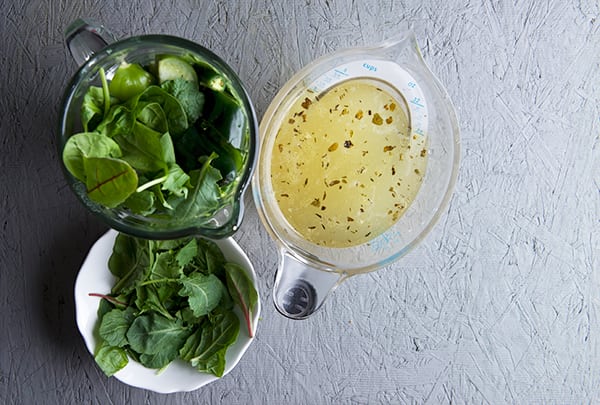 Preparation Method:
1.In a blender add the chopped tomatillos, poblanos, serranos, onion, garlic, epazote leaves, parsley leaves, romaine lettuce, power baby greens, toasted anise seeds, toasted cumin, peppercorns, salt, 1 to 1 1/2 cups of chicken stock and a drizzle of extra virgin olive oil, and blend well for about 3-4 minutes until pureed.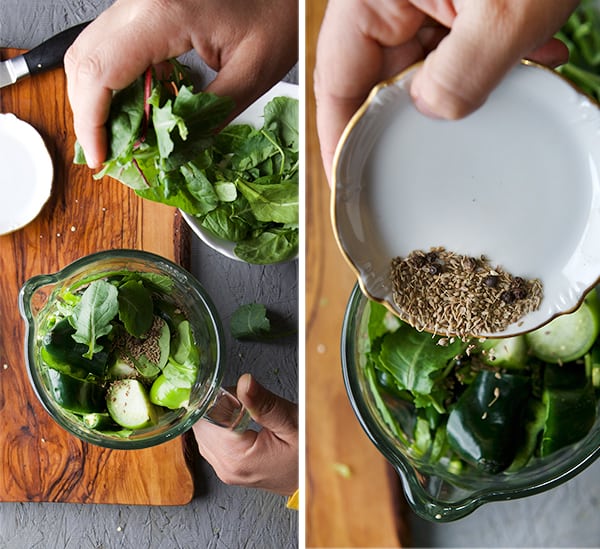 2. On a 7 QT. clay or enamel Pot, drizzle some extra virgin olive oil. Once it starts to ripple , carefully add the green blended concoction. It might splatter so use an apron. Stir, and let low simmer for 10 minutes. Remove any white foam that comes to the surface. Stir now and then.
3. With the help of a whisk incorporate into the green sauce the pulverized toasted pepitas little by little to avoid clumps. If the sauce is getting to thick add one more cup of warm chicken stock little at a time. Chicken stock has to be warm so the mole do not break and separate.
4. Gently whisk, and add the diluted masa harina little at the time. And add another cup of the chicken stock. Whisk gently. And let the mole on a gently slow simmer for another 10 minutes stirring now and then making sure you scrape the bottom to avoid hot spots. As it cooks the mole will thicken, If the consistency its to thick add more chicken stock, little at the time, you want a creamy consistency, that will cover the back of a spoon.
5. At his point I used my immersion blender and blend for 1 minute until smooth and velvety. If you don't have an immersion blender you can use the food processor or a blender. Please, be really careful and cautious when handling hot sauces into the blender.
6. Taste for salt , adjust if necessary let it simmer at the lowest.
7. Serve warm over a piece of chicken, pork, white fish grilled or sauteed, or any Vegetables. Be generous with the sauce, cover the entire surface, and maybe a little more. Garnish with toasted pepitas, a side of brown rice, or your favorite garlicky rice pilaf. Enjoy!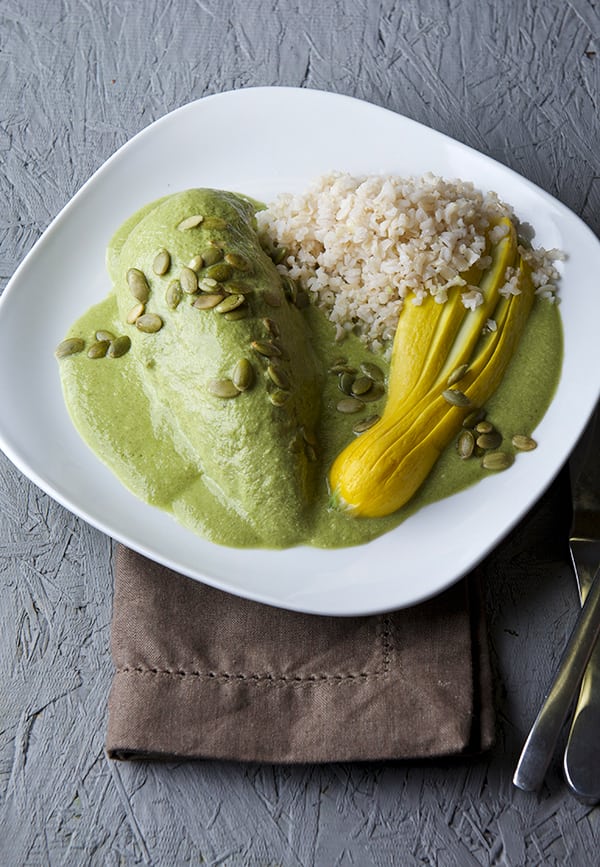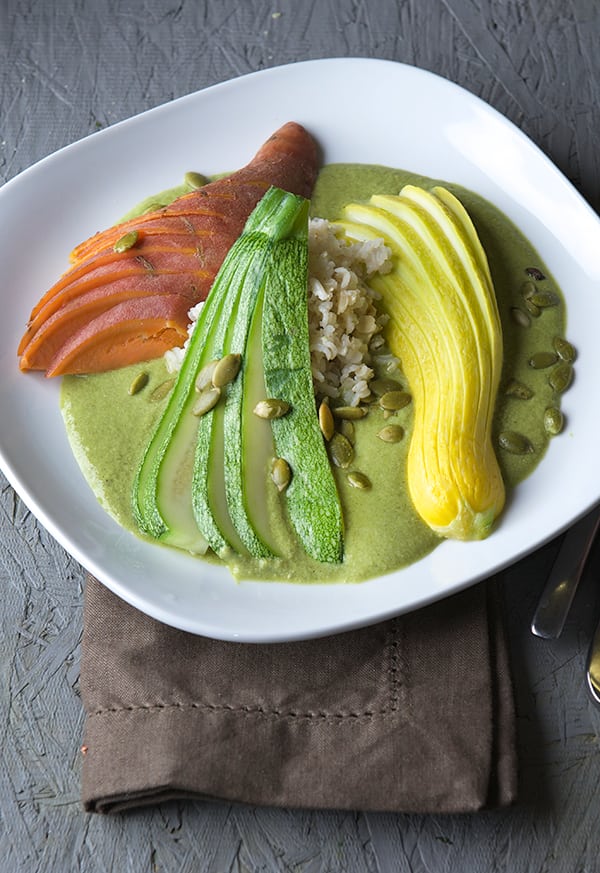 Interested on cooking this delicious Pipian Verde and learning other 2 moles with me?
Come and join me at Kitchen Underground headquarters for a Moles and Mezcal Cooking class
Pipian Verde * Mole Amarillo * Mole de Novia
For registration and more information about this class: Kitchen Underground
"Para todo Mal un Mezcal, y para todo Bien… también!"
Looking forward to see you there!…
Any Class suggestions, Yes, more please! shoot us a comment…
Music Pairing: Luis Cobos Huapango Popurri