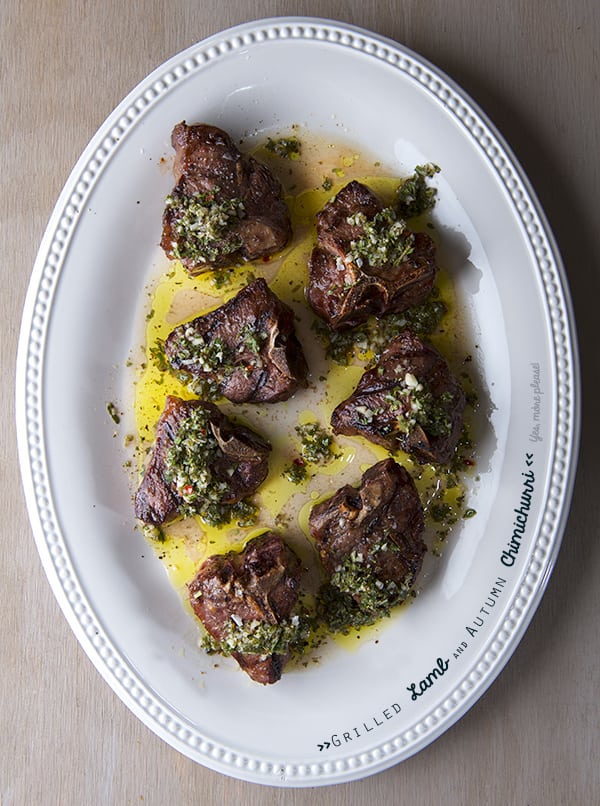 This recipe is one from our grill. It was inspired by that fire kiss char flavor one gets from cooking over coals. Francis Mallmann, one of my culinary heroes, discovered his true culinary craft in his birthplace, Argentina. He embraced his roots, and cooks from the primal force: Fire. Taming this element is what he does best, his instincts and knowledge based on French disciplinary techniques gives him the perfect alibi to be one with fire. It's his passion, intuition, and adventurousness that make him the king of char. I had the opportunity to meet him at the presentation of his book "Seven Fires" here in Austin, Texas. Its a cookbook I can recommend to anyone who wants to explore and understand open fire cooking.
It wasn't until I tried his technique on my own little grill that I experienced Mallmann's big flavor world. Besides discovering and loving the char flavor, one of my favorite recipes from his book is the Chimichurri. It is made, gaucho style with fresh herbs married to the extra virgin olive oil and a salt solution called salmuera. This kind of chimichurri is not the one that resembles pesto, the herbs are finely chopped transforming the oil and brine into a magical loose herbed infusion in which you can taste all the herbs in harmony and discord at the same time.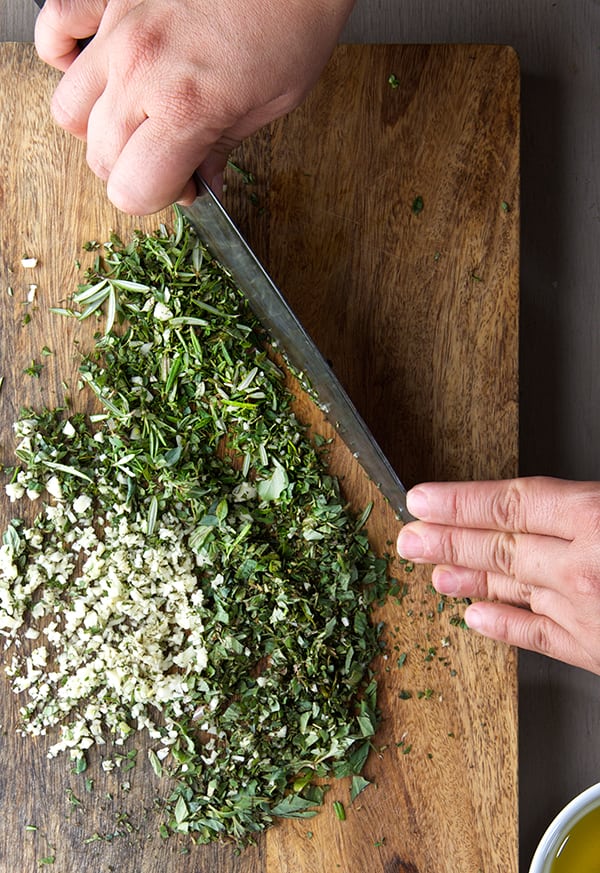 Inspired by his Chimichurri texture and flavor, I used Texas herbs to prepare mine. We sometimes forget that Fall season has a great variety of herbs to offer like Rosemary, Thyme, Oregano, Sage. The flavors on this chimichurri are deeper, woodsier, and Autumnal with a punch of garlic, hint of spice, and a bright note from the red wine vinegar. This Fall Chimichurri can be drizzled onto any roasted vegetables, added to flavor rice, used as marinade, mixed into cheese or even added to any warm lentil or bean soup for an extra kick!…eggs, salad, as an empanada companion, a spoonful into mashed potatoes, sweet potatoes or pasta?…Yes, please!
Fall and Winter are my favorite months to grill. To me, grilling makes more sense when starts to cool down. You prepare your charcoal and warm up by the cooking fire. Two weeks ago we had pleasantly lower temperatures, so I geared up and grilled these Lamb Loin chops with sea salt, black pepper, and a little extra virgin olive oil over a hot grill fired up with mesquite charcoal. There is a great deal of comfort in a fall-winter grilling session and I enjoyed it a lot. Although the next day it was 90 degrees as it often happens to be here in Austin, Texas. When the cool weather arrives, or the mood strikes, fire up the grill for a delicious lamb feast.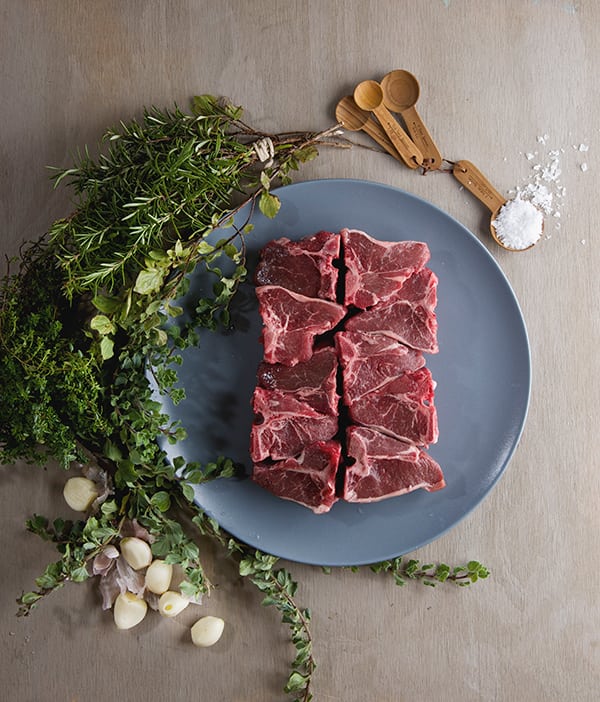 Grilled Lamb and Autumn Chimichurri
Serves 4
Adapted from Francis Mallman "Seven Fires"
Autumn Chimichurri
1-1/4 cup water and 1 teaspoonful sea salt.
4-5 Long sprigs Rosemary needles only about 1/3 cup
12 Sprigs Thyme remove leaves forms steams about 1/2 cup
2 long sprigs Oregano about 1/4 cup
4 fresh Sage Leaves finely chopped
4-5 garlic cloves finely minced
1/4-1/2 teaspoon Red pepper flakes
Fresh black pepper
1/2 cup extra virgin olive oil
1/4 Red wine Vinegar
Zest of one lemon
Preparation:
Start by preparing the Salmuera: Bring one cup of water to a boil, add salt until dissolved and reduce until you have 1 cup. Set aside to cool down.
Chop all your herbs along with the garlic, and add them to the salmuera while still lukewarm. Add the red pepper flakes, black pepper, extra virgin olive oil, Red wine vinegar, lemon zest toss well and transfer to a glass jar with a lid to let marinate. If preparing the same day, 1-2 hours before dinner will do, although Chimichurri It is best if it is prepared the day before, keep it on the refrigerator, and remember to take it out a few hours before dinner to get the best flavor out of it.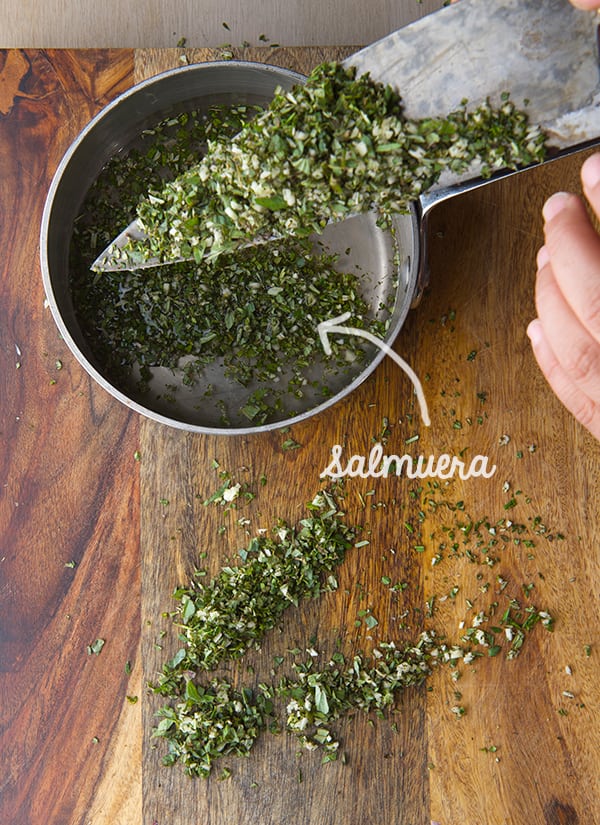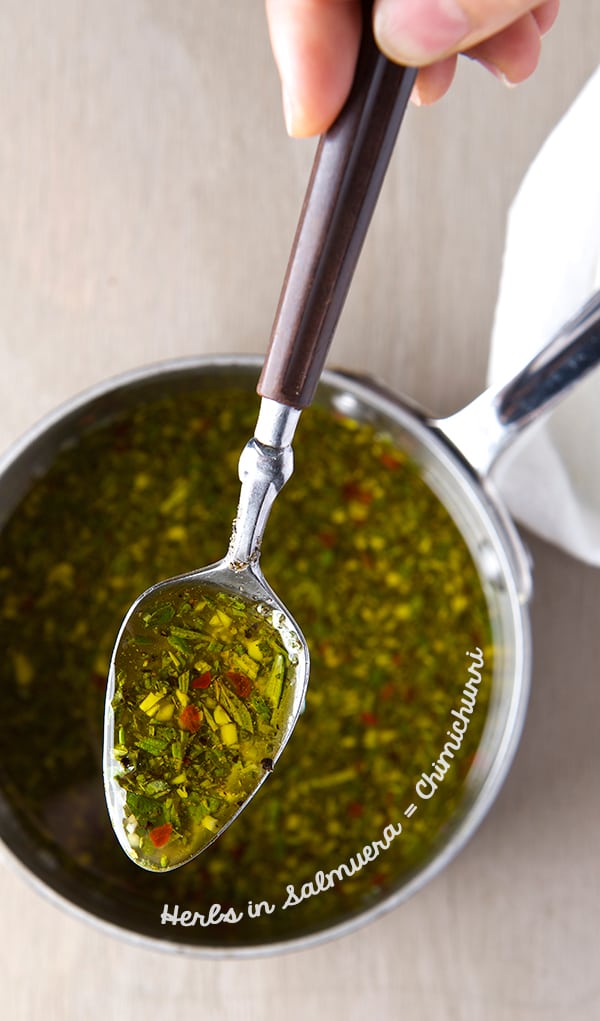 For the Grill:
10 Lamb Loin Chops Room temperature. Remember its always best to bring your protein at room temperature before cooking, it cooks more evenly and gives you tender juicy meat.
Extra Virgin Olive Oil
Salt and Black Pepper
Natural Lump Charcoal, Mesquite
1. Fire up your Grill, dividing it into a hot hot area, and a medium-low heat.
2. Brush the lamb chops with extra virgin olive oil, both sides, sprinkle some sea salt and black pepper.
3. Place the lamb chops into the hottest area of the grill , about 1" inch apart from each other. Let them develop that char and seal about 4-5 minutes, depending on the thickness and temperature.
4. Once they easily release, flip to the other side for 3-4 minutes. Move them to the indirect medium-low heat area of your grill and let them finishing cooking for another 2-3 minutes for a nice pink rare center. Give them another minute or little longer to your desired doneness. About 115F internal temperature for rare, 120F for medium-rare and 130F for medium. Lamb tastes is best on the pink side, better flavor and texture.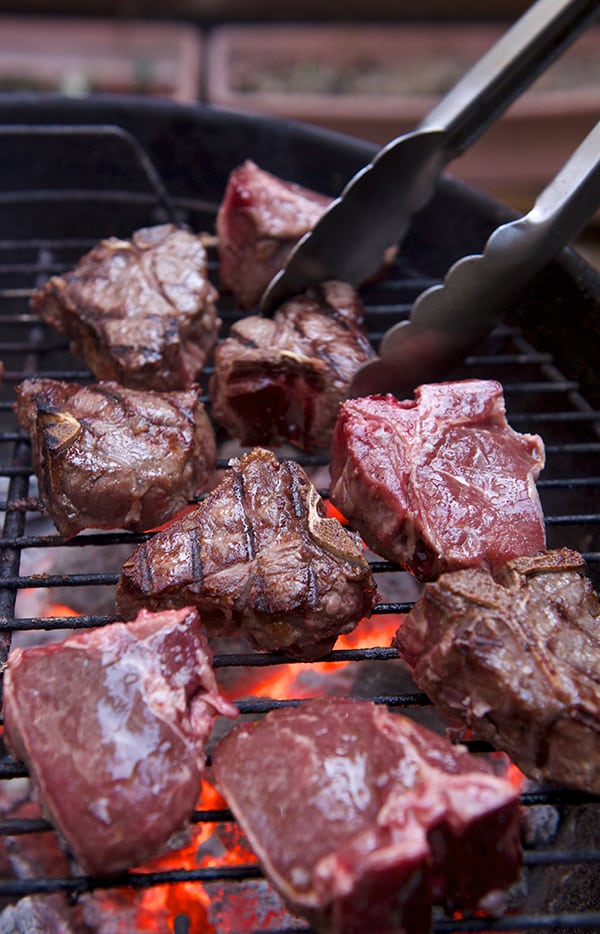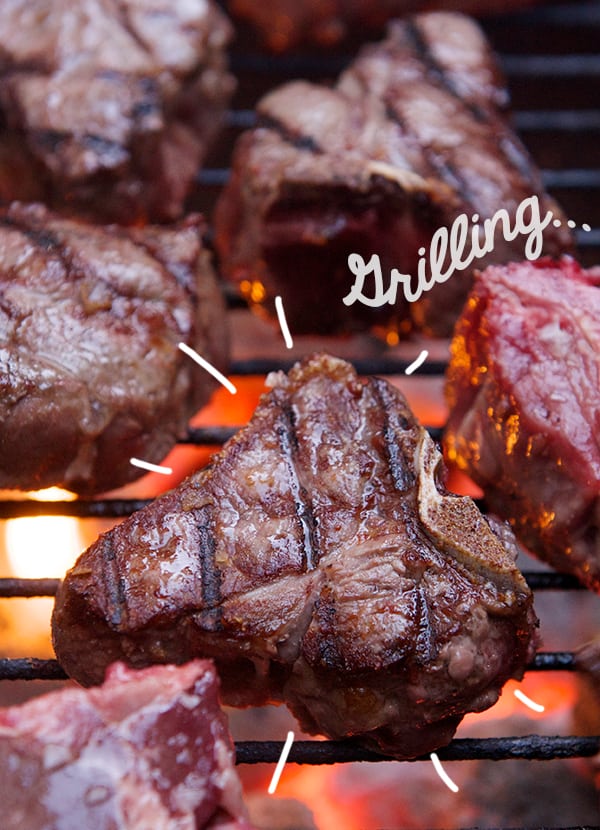 Remove from fire, transfer them into a platter and let them rest for 7-10 minutes on a warm area. Before serving add teaspoonful of chimichurri on each lamb chop loin. Take the rest of the Chimichurri for seconds and what ever you do, please make sure to have plenty of crusty bread like ciabatta or chapas to clean up those juices on the plate. Enjoy!
A great side dish could be this Sweet and Handsome Farro Salad…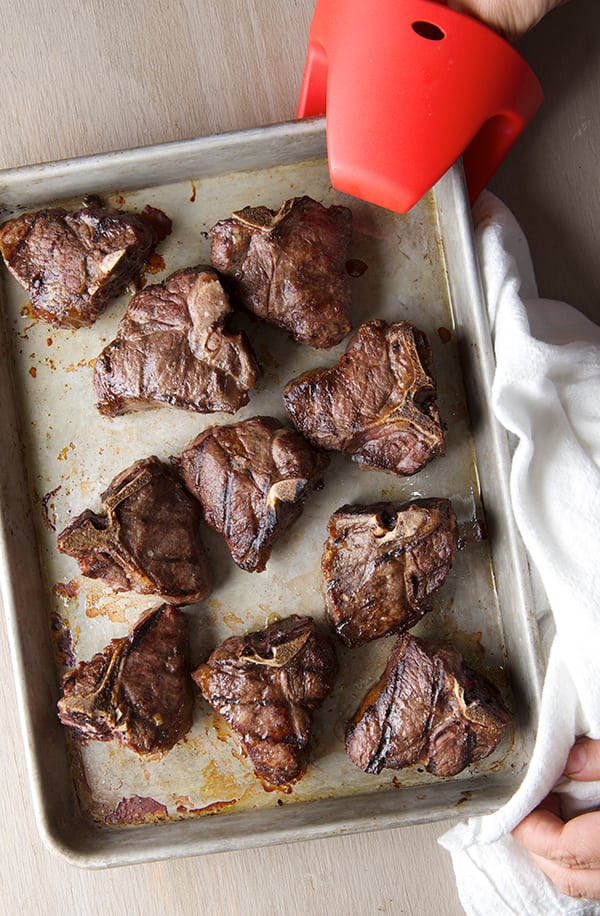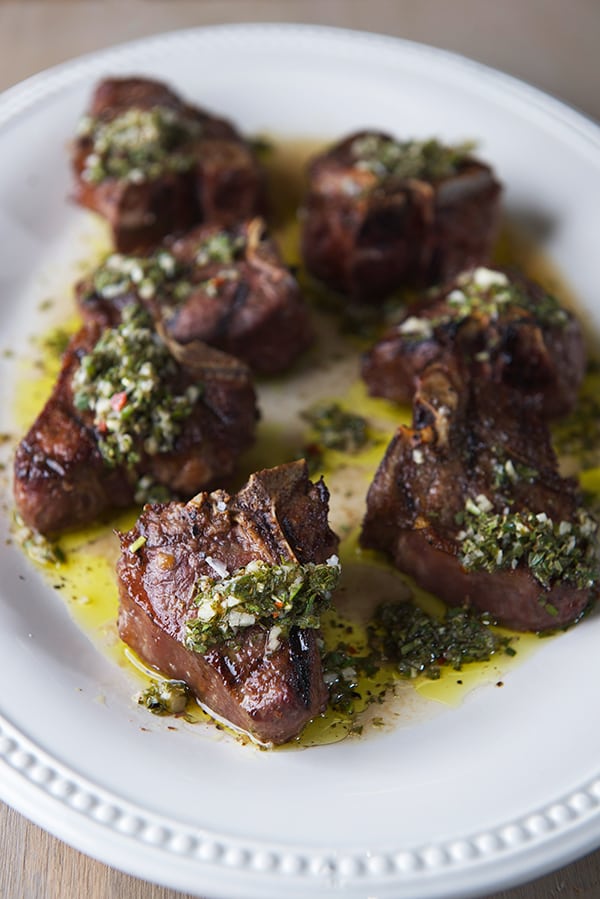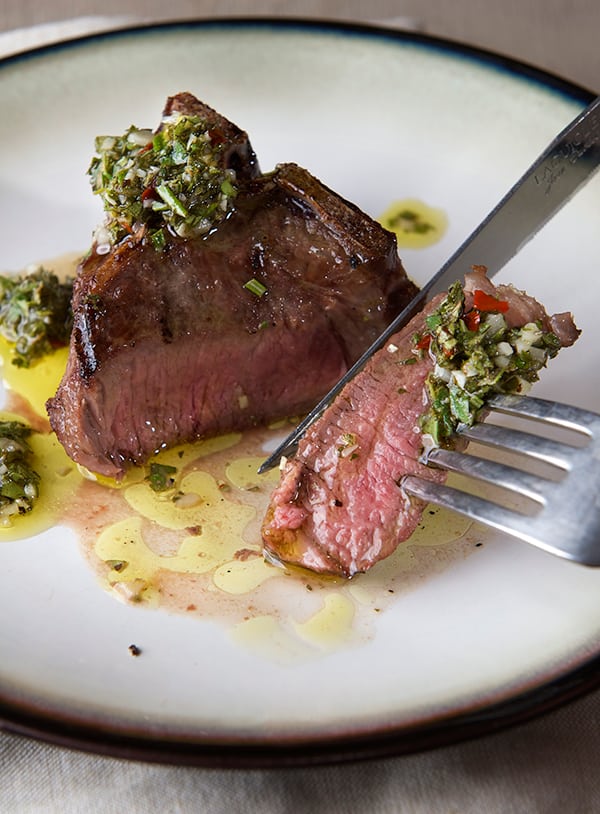 Grilled Lamb and Autumn Chimichurri
Music Pairing: Astor Piazzola ~Las Cuatro Estaciones