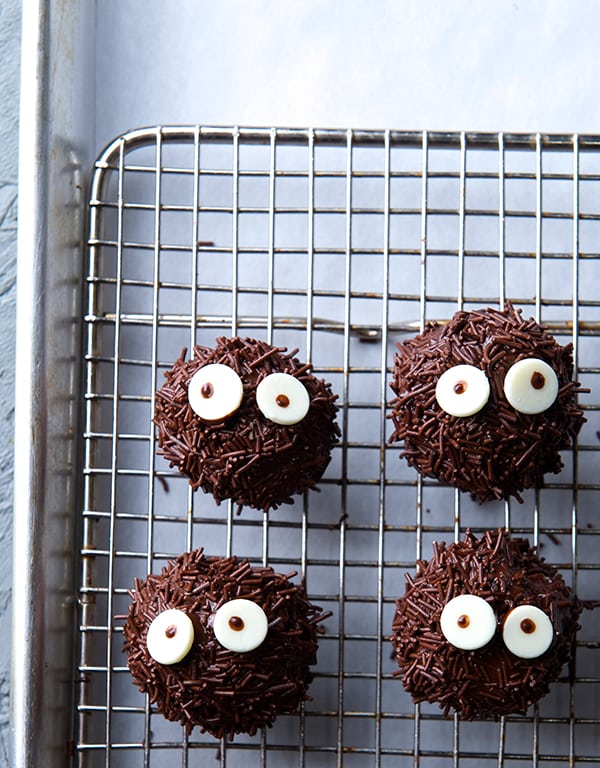 Susuwataris are my favorite creatures from the Japanese film creator, producer, screenwriter, animator, author, and Magna artist Hayao Miyasaki. He is one of my favorite people in the world (area); his imagination, and ability to create amazing stories from common daily situations always amazes me.  If you have not seen his movies please do yourself a favor and watch them all. To name a few of my favorite movies from Hayao Miyasaki-Studio Ghilbli: Castle in the sky, My Neighbor Totoro, Poco Rosso, Spirited away, Howl's Moving Castle, Ponyo, Princess Mononoke, to name a few.
Now, what are Black soots, Dust bunnies aka Susuwataris? In the first movie, Spirited Away, they appeared as lil workers in a boiler room. They have arms, legs and inquisitive eyes. They make a squeaky murmuring sounds when excited, and dissolve into powder (soot) if crushed. They are the cleansers of evil spirits.
They also appeared in the movie My Neighbor Totoro playing the role of dust balls in an abandoned house, where the main characters were moving. Susuwataris in this movie are mainly an optical illusion caused by moving quickly from light into darkness. Like the same effect at night when you turn the lights on your bedroom to go to sleep, if you quickly look into the corners, you might me able to see them. Despite their appearance, Susuwataris are good creatures in the movie, mainly they make sure that the family that is moving into the new house is composed of good people. And everybody knows that good people makes their own candy for Halloween… hehehe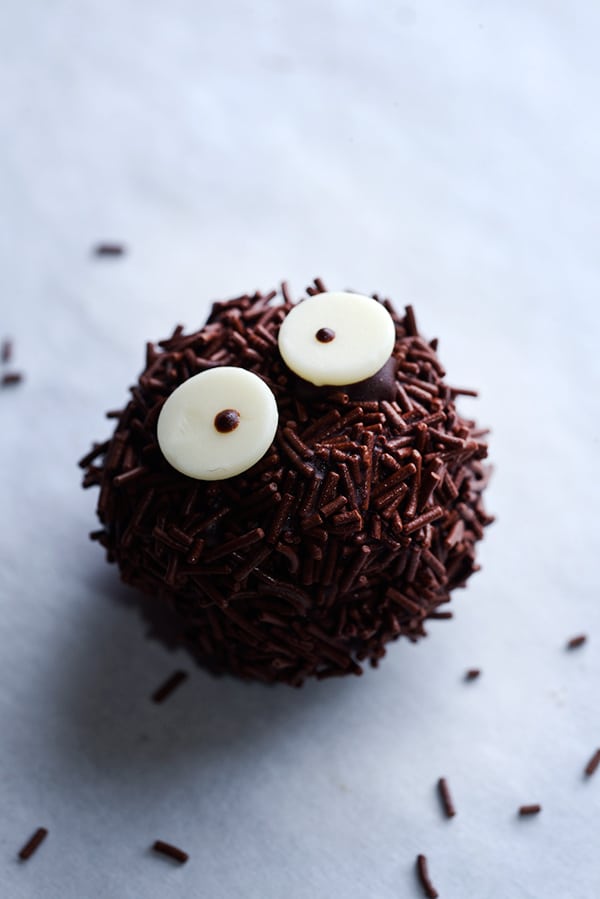 I must warn you, if you decide to watch any of Hayao Miyasaki movies you will get addicted to them, just like you will with these Chocolate Coconut Pecan balls. These lil chocolate creatures are not only cute, they taste ridiculously good. Collect a very few ingredients and you will be in homemade candy making land for this Halloween, or any chocolatey weekend. Making these creatures is as easy as 1-2-3; mix dry ingredients in a bowl along with the infamous "Dulce de leche" or Cajeta. Wet your hands and press some of this mixture into small balls, cover in melted dark chocolate, toss into dark chocolate vermicelli sprinkles, add a pair of crazy white chocolate eyeballs…Refrigerate… Bite. Eat. Repeat. What is not to like?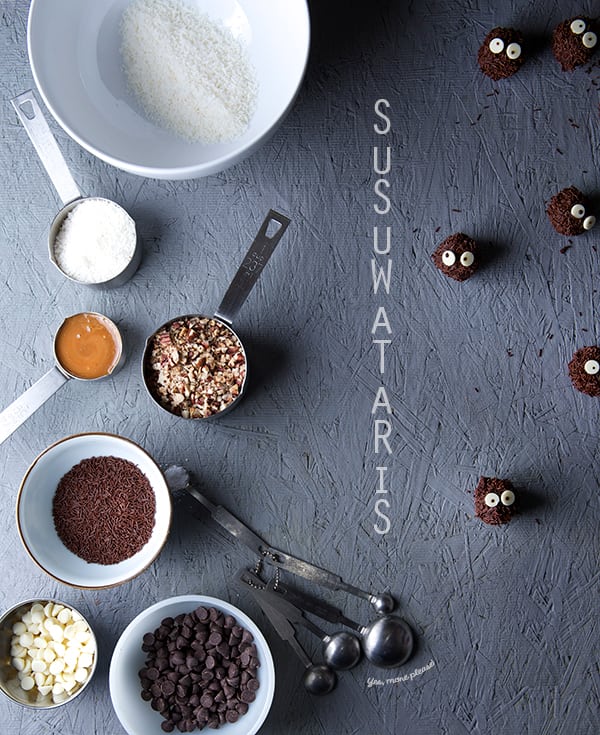 Here is what you need to make them:
Chocolate Coconut Pecan Susuwataris
Makes about 14-16
1 cup fine shredded coconut, like the one is used to make Macaroons
1 cup toasted and finely chopped pecans
1 good healthy and generous pinch of kosher or sea salt.
5 Tablespoons Dulce de leche*
4 oz. Bitter sweet Dark chocolate chips 70% my preference.
1 teaspoon coconut oil
1 – 2.6 oz frisk of Dark Chocolate Vermicelli, I used Indian Tree brand, Callebaut or Barry will be awesome!
2 Tablespoons white chocolate chips for the eyeballs
1 bamboo skewer
* I used Cajeta Coronado, its a Mexican brand. or you can make your own by boiling a can of condensed milk submerge the can of condensed milk into a pot filled with water, boil for about an hour. set a side remove can from water until water is cold. open the can and you will have dulce de leche.
Preparation Method:
1. In a bow, mix fine shredded coconut, toasted and finely chopped pecans, salt, and dulce the leche, mix well until you have a sticky mixture they holds together when you press.
2. Wash your hands, and set a little water bowl aside you. Wet the tips of your fingers and grab about a tablespoon of the mixture, press and shape into a round ball the size of a 25 cent coin. set on a tray lined with parchment paper, and proceed with the rest of the mixture until you have about 14-16 balls.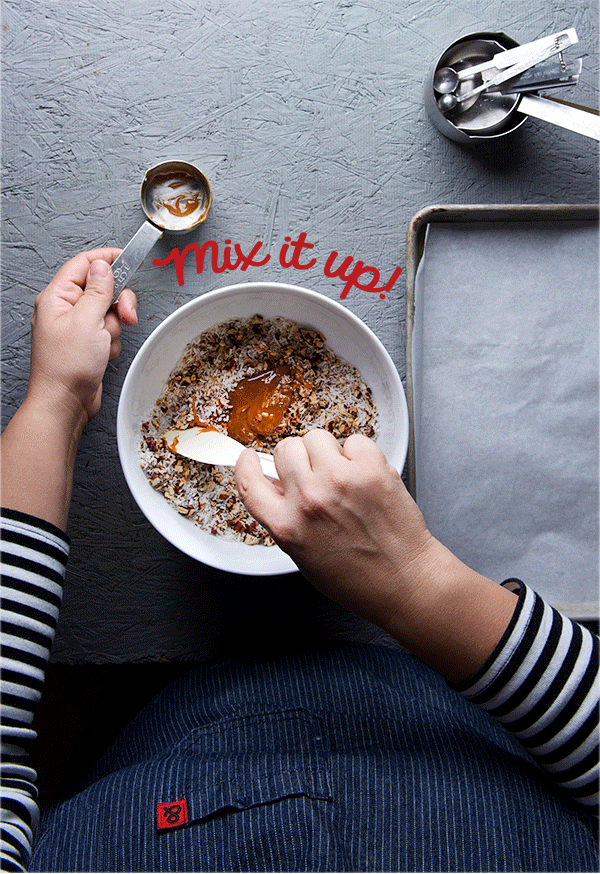 3. Place them into the refrigerator. Mean time melt your chocolate. Place the chocolate chips and the coconut oil into a double boiler until melted and smooth.**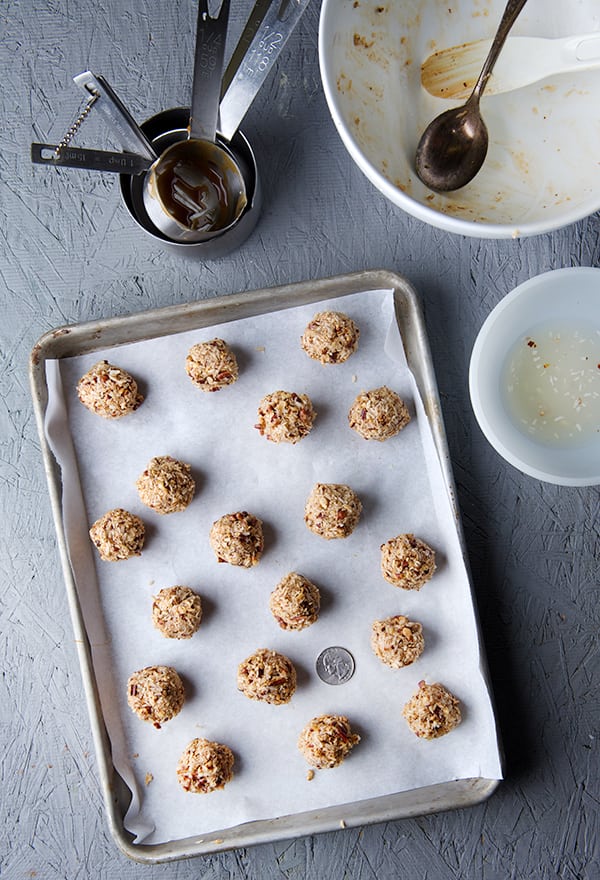 4. Remove the coconut balls from the refrigerator and dip them in to the melted chocolate cover well and tap to remove the excess chocolate. Dip about 4 and place them into a cookie rack. let the chocolate set a bit.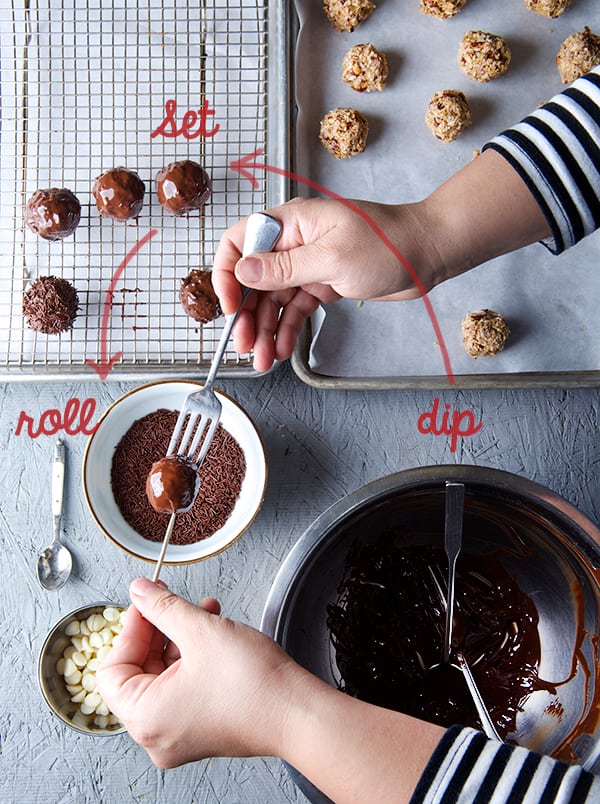 5. With the help of a fork and a tooth pick, toss each ball into the chocolate vermicelli one ball at a time. Use a spoon to help toss the ball until well covered. transfer the ball into the wire rack.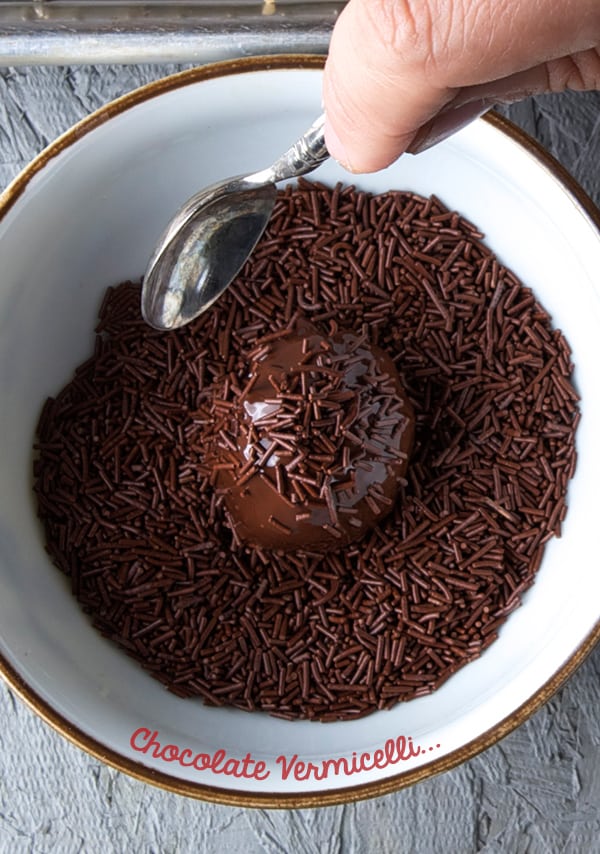 6. once you cover them all, use some of the left over melted chocolate to glue the white chocolate chips as eyeballs. place them flat side up, close together. Then with the help of a bamboo skewer using the flat side end, dip in chocolate and gently tap a dab into the flat withe chocolate chips to make the dark pupils. Make them with crazy eyes, give them some character, have fun!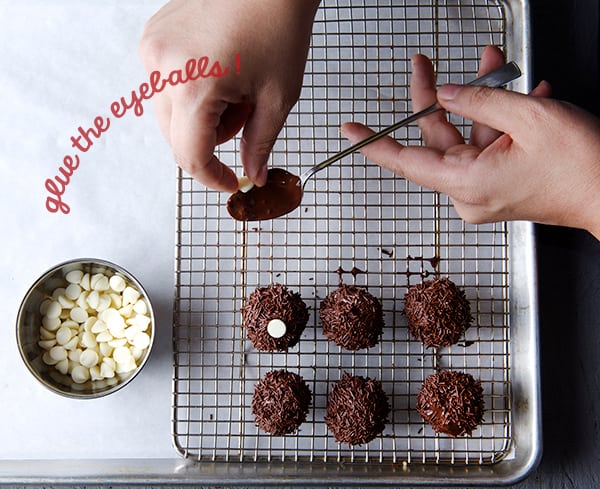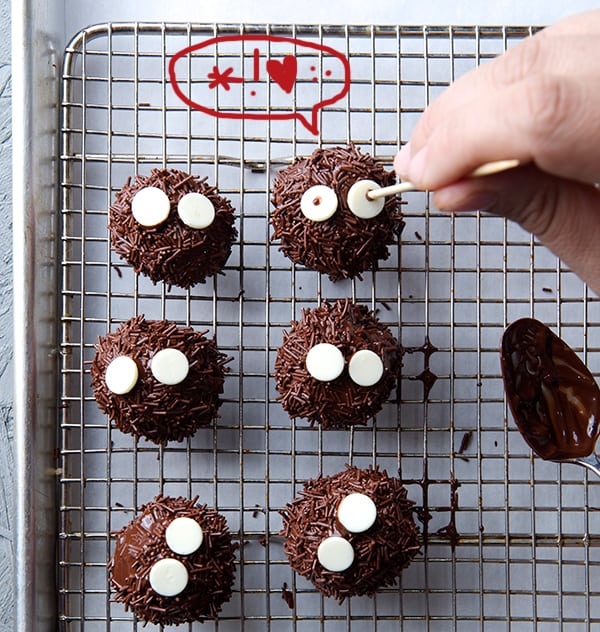 Place them into the refrigerator for 15 minutes or until chocolate is hard. Now eat them while you can! they will be gone on a blink of an eye, Spooky enough yet funny and delicious…Just make them, bite into them and go nuts about this all natural lil halloween snacks!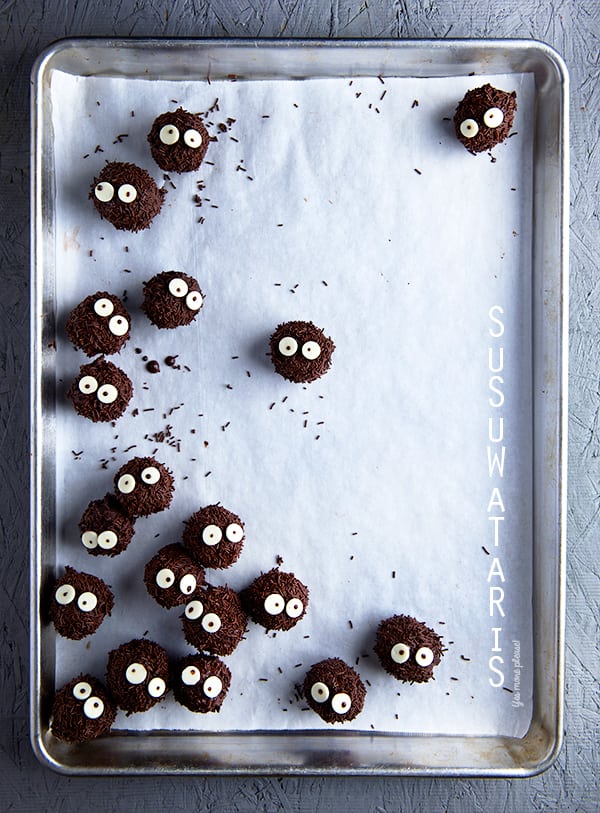 Spooky Notes: 
Remember the rules when melting chocolate:
If using a double boiler, do not allow the top bowl to touch the water, this will prevent the chocolate to over heat, and burn.
Let the chocolate chips and coconut oil warm trough before mixing, this will prevent clumps when melting.
If the chocolate gets to warm it will thicken up, making it clumpy it will not feel runny even if its to warm.If this happens to you, remove from double boiler and allow to cool down until temperature drops and its runny again.
If you are melting chocolate in a microwave do it on a glass bowl, use medium low temperature, heating the chocolate 2-3 seconds at the time. Stir 2-3 seconds -Stir-Trust me on this one chocolate burns very easily!…that's why I prefer the double boiler…
It is very easy to improvise a double boiler, use a small pot with 1 inch of water on the bottom and place a bigger diameter glass pyrex bowl, or a stainless mixing bowl on the top. The key is that the top bowl should not touch the water. It is the steam what will melt the chocolate. Have fun!
Happy Halloween!