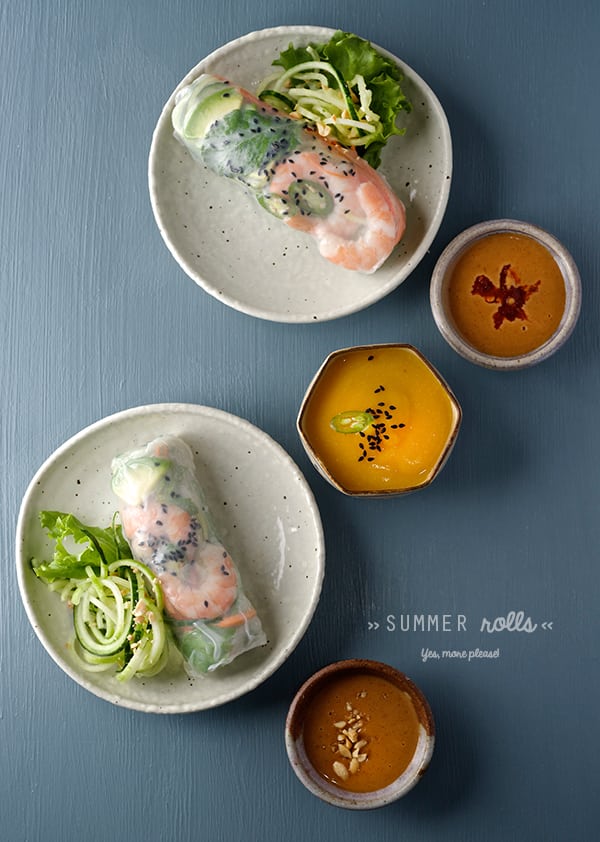 The noodles in my head are fried. August in Texas is no joke. Our Thermostat is on a bi-polar rampage. We are trying to deny the existence of such a thing called "electric bill". We better stay still and attempt to use the stove much less on these days. Its sad but true, I'm not even craving BBQ or to go out for lunch or dinner when the temperature outside reads 90 F degrees even at 9:00pm. I'm Summernating!
So whats for lunch and dinner these days? The freshest crunchy vegetables, cucumbers, carrots, jicama, crispy lettuce, and thin rice noodles cooked in less than 4 minutes. Summer rolls or Gỏi cuốn which translate in "rice paper rolls, are found all over in East Asia and Southeast Asia cuisine. A fine sticky rice paper is the wrapper which holds vermicelli rice noodles and vegetables. Usually these Summer Rolls are served as a popular appetizer. Odds are you have had them if you eat in Vietnamese or Thai restaurants here in the U.S. But why not make them for dinner as the meal itself?
So what are you going to need? You can find the round rice paper at almost any supermarket with an ethnic foods aisle. Or of course you can shop for them in Asian markets or Wholefoods. They are very inexpensive. If you can't find them, well you can easily order them online if you are Summernating like me.
These rolls are filled with julianne fresh vegetables, vermicelli noodles and a lean protein, usually shrimp or pork. I used in-season ingredients like fresh cucumbers which I spiralize to create noodles. If you don't have that handy apparatus you can use a Juliane peeler or your handy-dandy knife skills to make fine vegetable strips of your carrots and lettuce. In this version I added avocado and shrimp.
In addition of the traditional peanut sauce, I prepared a dipping Mango-ginger sauce to make them fresher and add a bit more sweetness. These Summer Rolls are what I'm craving these days.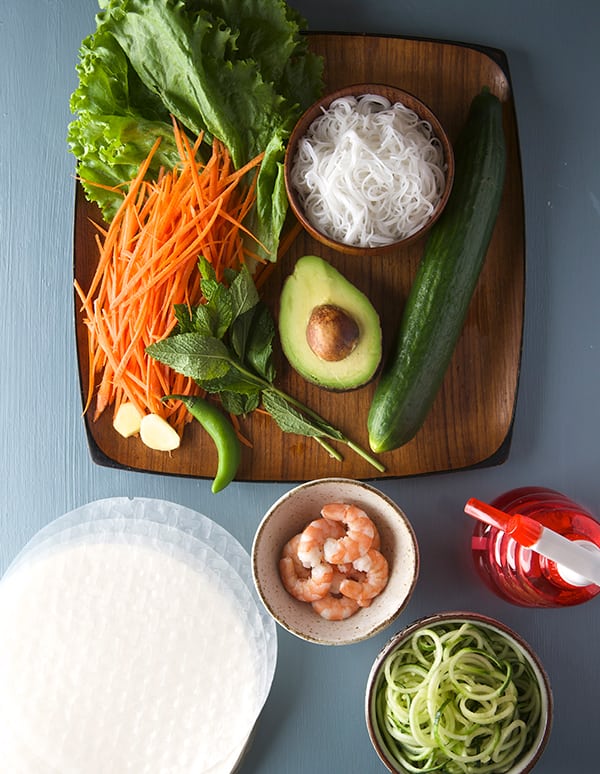 Preparation of these rolls is a sticky affair but I have a nice trick which helps. If this is the first time making Summer Rolls my best advice: "Do Not" follow the instructions on the package, Heheehe. Everything will be easy after that…
Most of the packages and cookbook instructions out there which (for this roll-up process I call them "des-tructions") call to dip the rice paper in water, to soften and rehydrate. Then to carefully transfer this world's stickiest, see-thru, delicate, rice paper film into a wood surface or a plate… Let me tell you, this is sticky fingers, crinkled edges, tear apart of a nightmare.
To avoid this situation, I will share with you my secret weapon to make these Summer Rolls, roll easily. I use a spray bottle.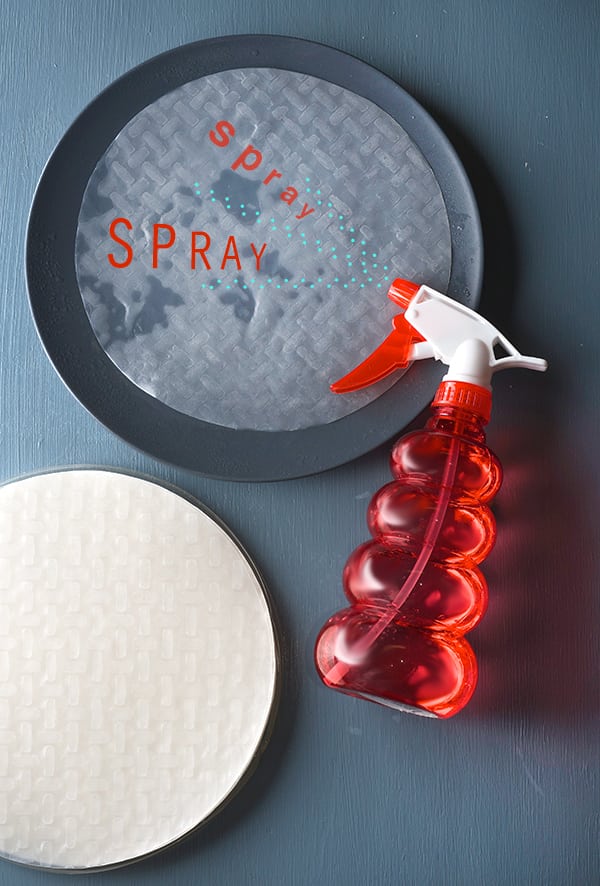 The way I do it is as follows: I place the dry rice paper on a flat round plate. I spray the plate and I spray a couple of times onto the rice paper. Using the tips of my fingers, I distribute the water evenly. Leaving the rice paper onto the same plate is gonna be prepared. This makes for no-transferring nightmares. By the time I place the fresh vegetables, rice noodles, mint leaves, add the shrimp in the center, the rice paper is pliable. Then I spray a little water into one edge of the rice paper and start to peel the rice paper in order to start rolling. It is as easy as peeling a non-stick sticker. The roll-up is smooth and easy. 1-2-3-4 fold, the similar way to wrap a burrito, check out the easy step-by-step roll up photos ahead.
For the dipping sauce I made the traditional spicy and peanut for Ian and I made a Mango-ginger sauce that is my favorite now. ( Between you and this screen, Ian and I chomposaurused about 4 rolls each!…yes, shamelessly, happy and refreshing dinner…shshsh!)
I hope you like this recipe its fun to make, pull out your spray bottles and start rolling up these babies. enjoy!
To make these Summer Rolls you will need….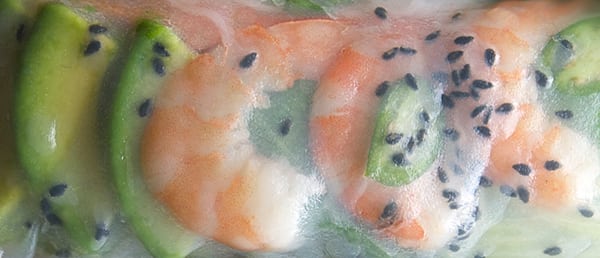 Summer Rolls with Mango Ginger dipping Sauce
Makes 8-12 rolls
2 carrots, cut into fine julienne*
2 English cucumbers, cut into fine julienne
3 sprigs fresh mint
1 avocado
1 Serrano or Thai pepper, optional
1 Head of Leaf lettuce
16 Medium shrimp cooked, see notes for instructions**
4 cups rice vermicelli noodles cooked follow package directions.
1 package of 8" Rice Paper rounds
1 round plate
1 Spray Bottle filled with drinking water.
Notes:
*To cut the Carrots and cucumbers, I used my Julienne peeler, or you can use your Spiralizer.
** Boiling the shrimp with shells on will make the shrimp stay flat. Simmer the shrimp for 3-4 minutes tops. Drain and shock them in iced water to avoid over cooking them. Peel and cut in half length wise.
For the Mango-Ginger Sauce:
1 cup fresh mango, about 1 large meaty mango.
1/2" fresh ginger
2 teaspoons seasoned rice vinegar
1 teaspoon fish sauce
Place everything on a blender and puree.
For the Peanut Sauce:
2 heaping tablespoons organic pure peanut butter.
1 tablespoon Hoisin Sauce
2 teaspoons seasoned rice vinegar
1 teaspoon honey
4-6 Tablespoons water upon desired consistency.
In a small bowl, stir well all the ingredients except the water. Once you have a smooth paste, add water, one spoon a the time, until desired consistency.
If you want this sauce spicy add:
2 teaspoons of Sambal- chili garlic paste sauce, or Sriracha sauce.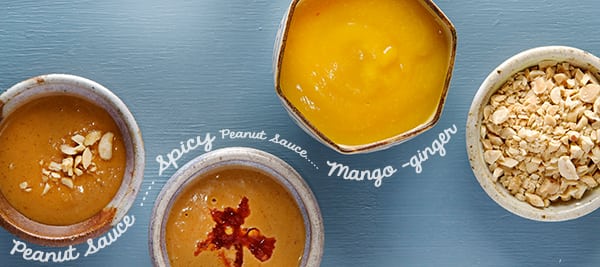 Directions to Roll up:
1. Make your sauces. Gather all your ingredients cut chopped and ready to roll.
2. Start by spraying water 4 times onto your round flat plate. Then place one sheet of rice paper on the plate and spray another 4-5 times. With your finger tips rub and distribute the water evenly all over the rice paper.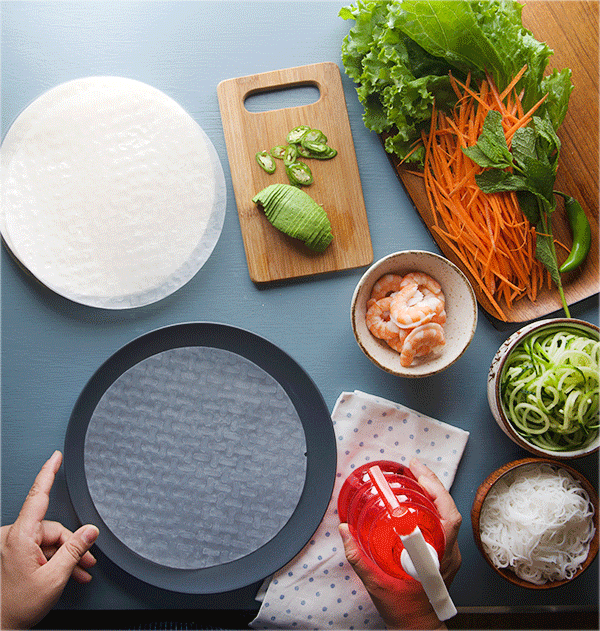 3. About ¼ inch from the edge of the rice paper, Start placing the vegetables. First place a piece of leaf lettuce, then a few vermicelli noodles, cucumber noodles, a bunch of julienne carrots. Place the Shrimp halves pink side down on top of the rice paper. Add mint leaves, shake some black sesame seeds, Serrano slivers, and avocado slices.
4. Spray a little mist on the edge of the rice paper too start peeling and rolling. Peel and pull gently the rice paper parallel to your ingredients, and cover the first pile of vegetables.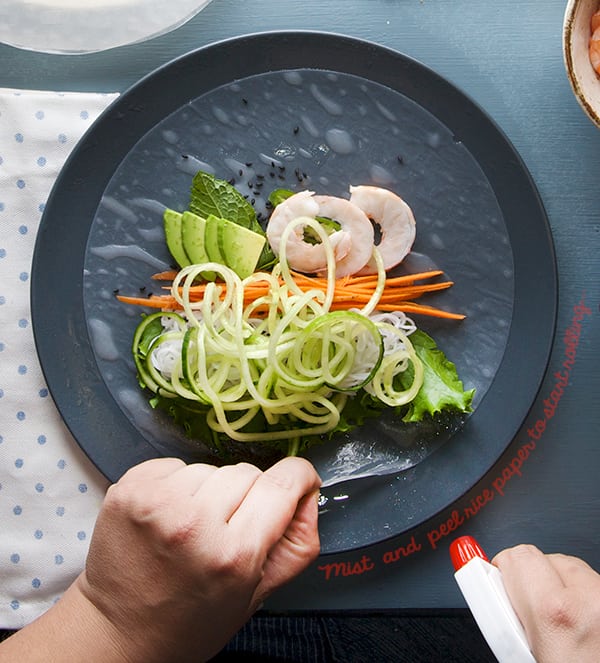 5. Fold over the right and left side of the rice paper, to tuck over, and roll forward. Keep rolling forward until you have sealed the edge. Usually it takes 3 folds to a complete roll. See picture.
It is like making a bundle, wrapping a burrito or wrapping a present. 1-2-3-4!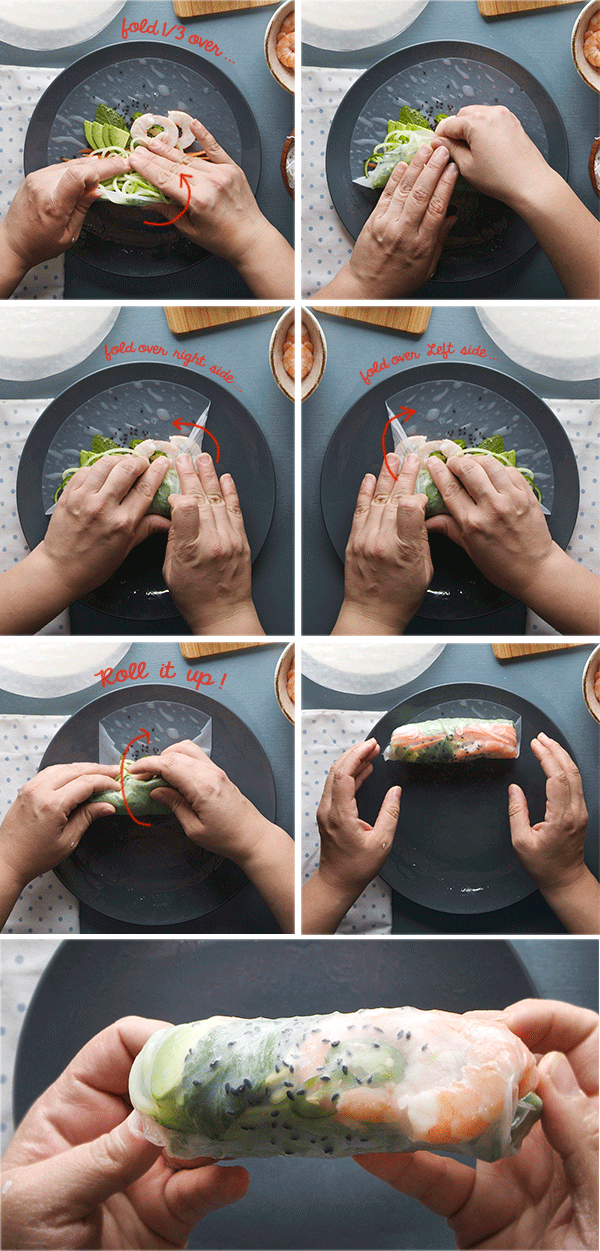 Tip: It is a bit tricky when you start rolling. Do not worry if you pull to hard or the rice paper tears or if you have holes into the rolls. If this happens, It happened to me, I just placed another piece of rice paper and re-rolled the injured roll. No biggy. Keep on rolling.
6. Dampen your hands, in order to grab the roll and place the Summer roll over a bed of lettuce or on single plates. Do not pile them up, the rice paper will tear apart.
When ready to serve, pour sauce into individual dipping dishes. Dip, eat , repeat.
Have fun and Enjoy!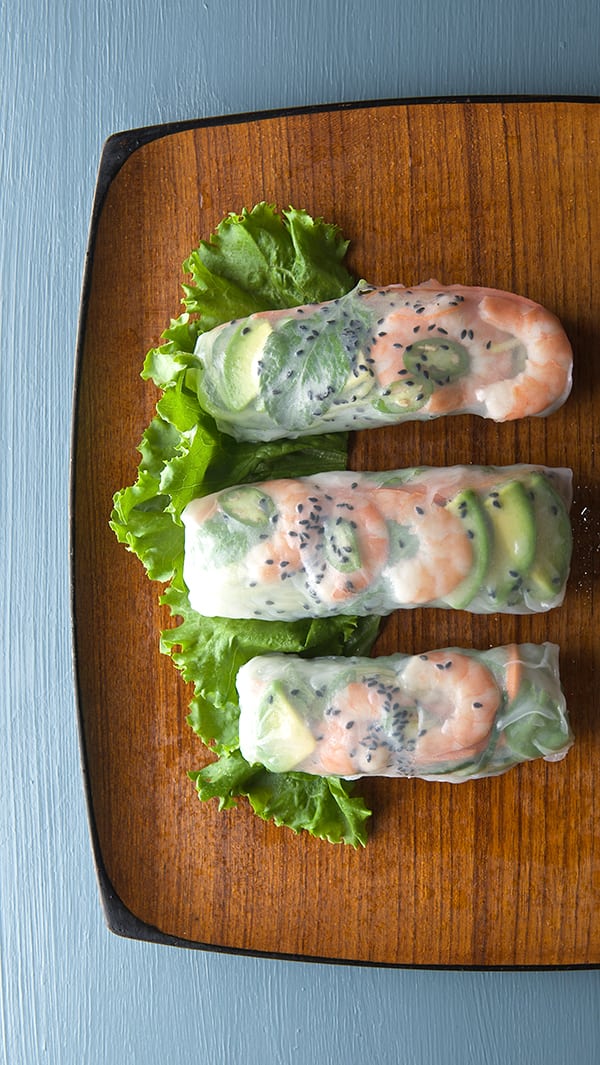 Stay fresh!
Music Pairing: WILCO- "Star Wars" Full album