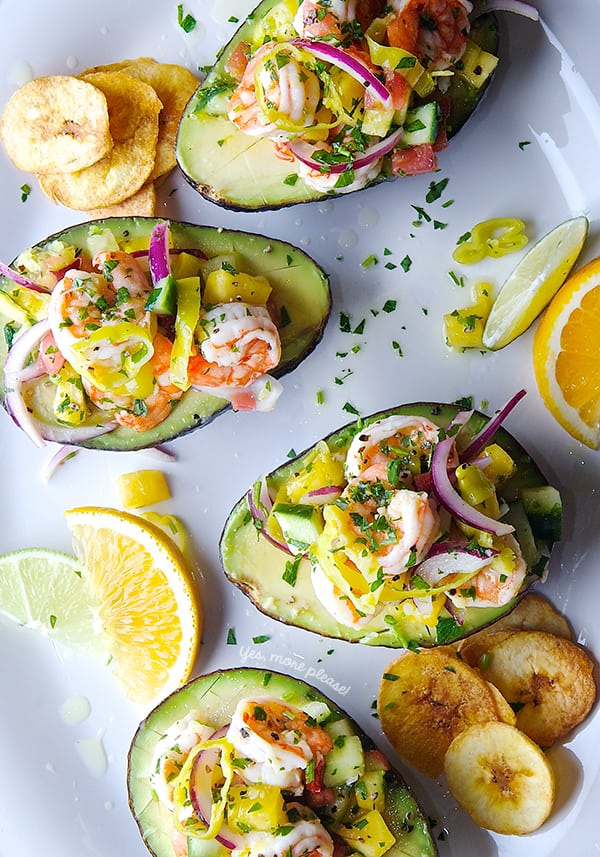 After a rainy, muggy and wet Spring, Summer arrived early here in Austin.
Temperatures are on the rise and bright sunny days with blue skies are here. Vacation time is upon us. This means get out of the kitchen!!! Enjoy the outdoors, and whether you are planning a vacation to the beach a picnic or a staycation at home, there are always ways to enjoy this great weather.
This recipe is a fresh and light option, for gatherings, entertaining, or to take to a picnic or just to enjoy by the pool, patio or in the comfort of your house watching your favorite movie or reading a book. The goal is to relax and enjoy something fresh and delicious and pamper yourself.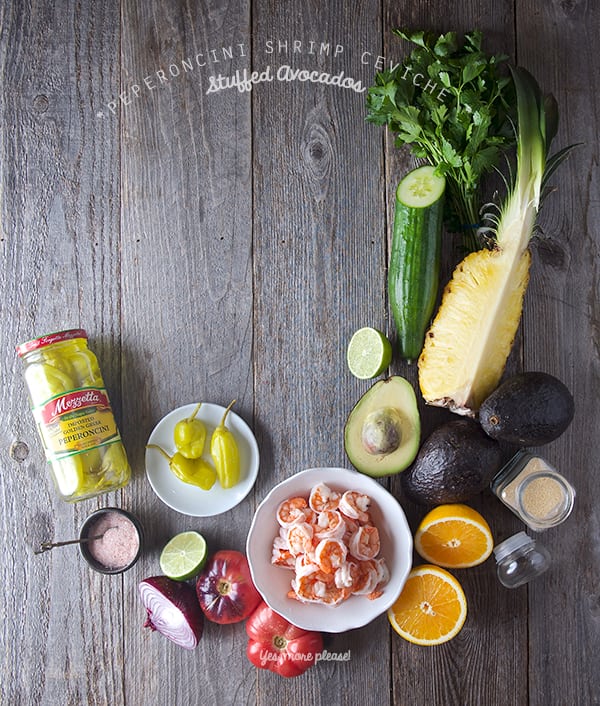 These stuffed avocados are a party on a plate. The Peperoncini Shrimp Ceviche is out of this world a punch of flavor, fresh, light and serving it on avocado halves makes it just irresistible. All the delicious summer flavors: cucumbers, pineapple, onions, limes, orange juice in combination with a pepper kick from the peperoncinis and the creamy avocado make this recipe a win win situation.
Healthy? Yes, indeed. Fun to make? Yes! Peperoncini Shrimp Ceviche Stuffed Avocados It is just what you are craving on your Summer vacation.
Good music, refreshing drinks, a relaxing attitude and these are all you need to bring the heat and enjoy your Summer vacation… Let's cook!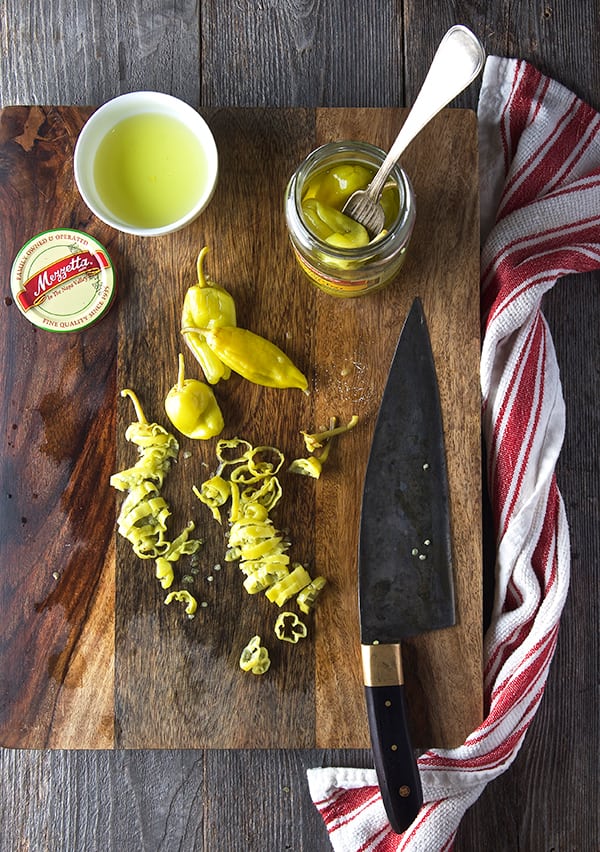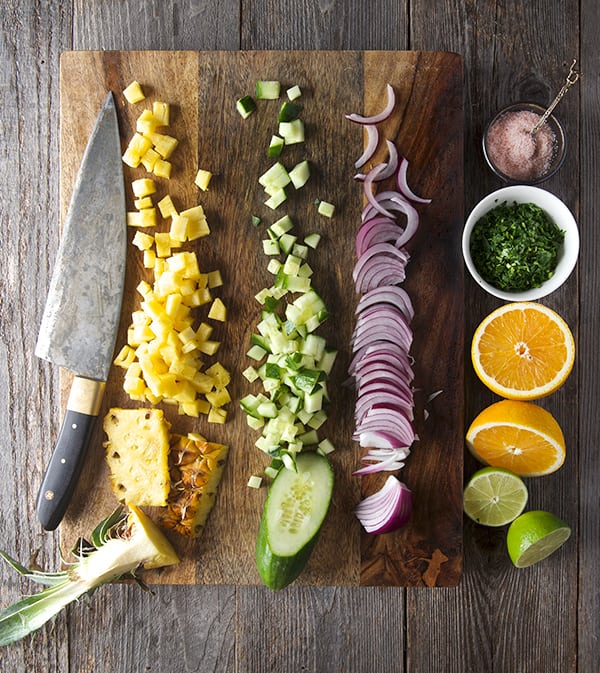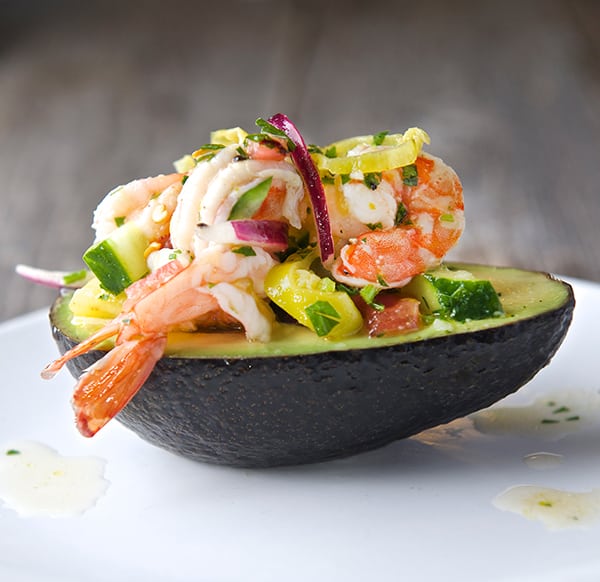 Peperoncini Shrimp Ceviche Stuffed Avocados
Serves 4 to 6 with a bit of left over to refill the avocado halves.
2-3 Medium Avocados Hass is the preferable variety from Mexico (check the sticker!)
1 pound small medium shrimp peeled, deveined and cooked.
1 small tomato small diced
½ english cucumber small diced
1 small purple onion slivered
1 cup fresh pineapple small diced
8-10 pieces of Peperoncinis sliced.
¼ cup parsley finely chopped
2 glugs or 3 round drizzles of ExtraVirgin Olive Oil
1 lime juice
1 small orange, the juice and the zest
2 tablespoons of the peperoncini brine
¼ teaspoon garlic powder
¼ teaspoon celery salt
2-3 good cranks of fresh Black pepper
Pink Himalayan salt to your taste
Preparation:
1.In a medium size bowl combine all the chopped vegetables, shrimp, and the sliced peperoncinis. Add the lime juice, the orange zest and juice, 2 tablespoons of the peperoncinies brine, extra virgin olive oil, garlic powder, celery salt, Black pepper and one or two pinches of Pink Himalayan salt to taste. Toss throughly, cover, refrigerate and let marinate for at least 30 minutes.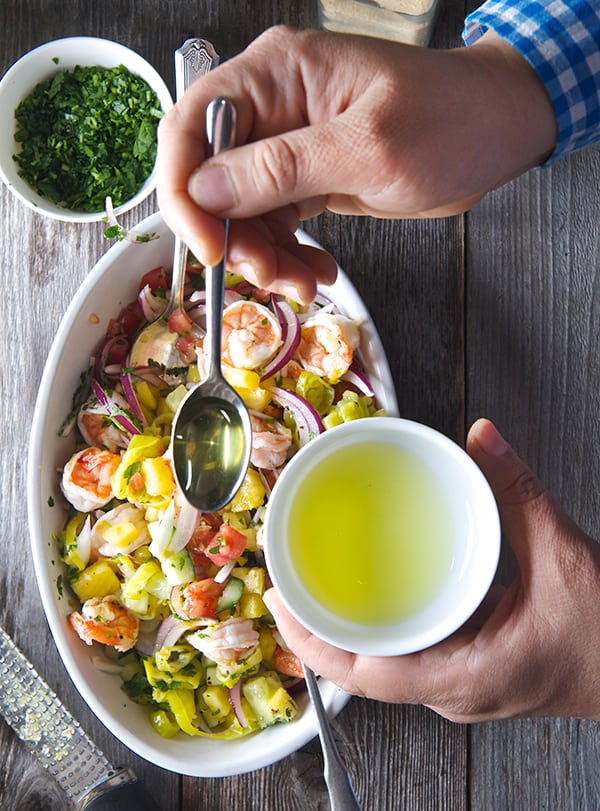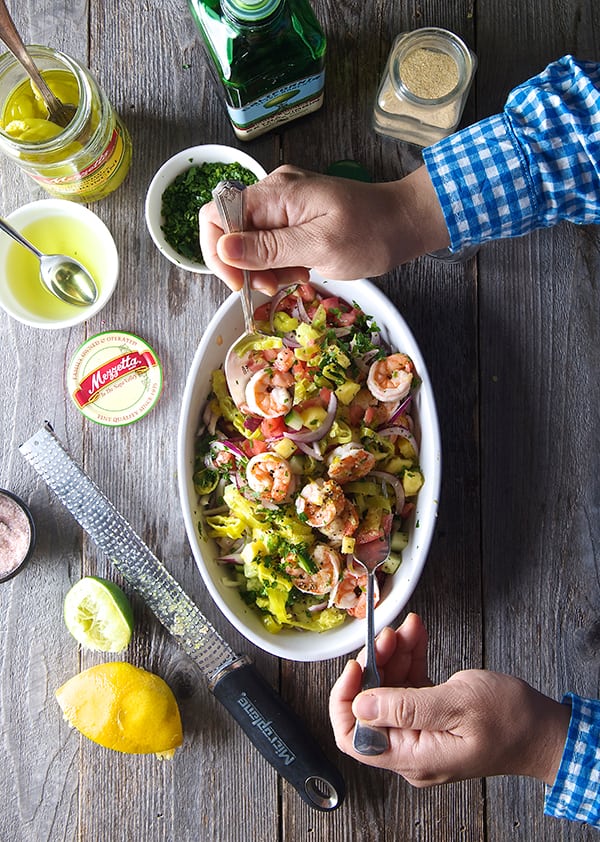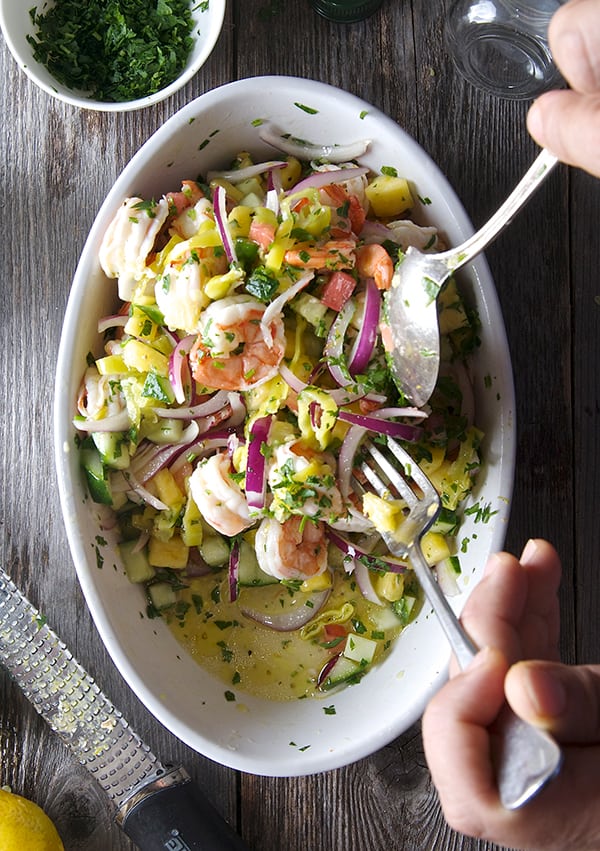 2.When ready to serve, cut Avocados in half length-wise, remove pit, and slice a sliver from the backside of each half to flatten the rounded side and make them stable on the plate. With a paring knife carefully cut the interior of the avocado into a grid. This will help to make it easier to eat.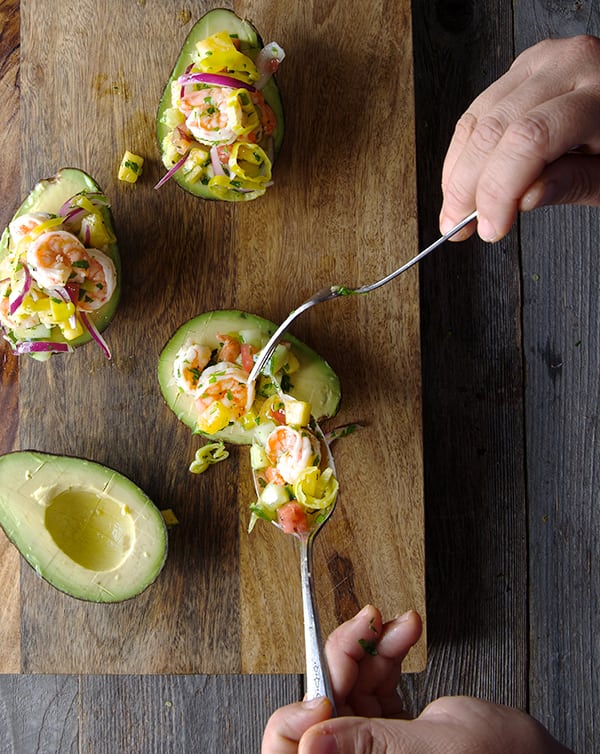 3.Drizzle some lime juice and a little pink salt, on each avocado half place them on a serving platter and stuff with the Peperoncini Shrimp Ceviche. Garnish with lime and orange wedges, plantain chips or water crackers, Enjoy!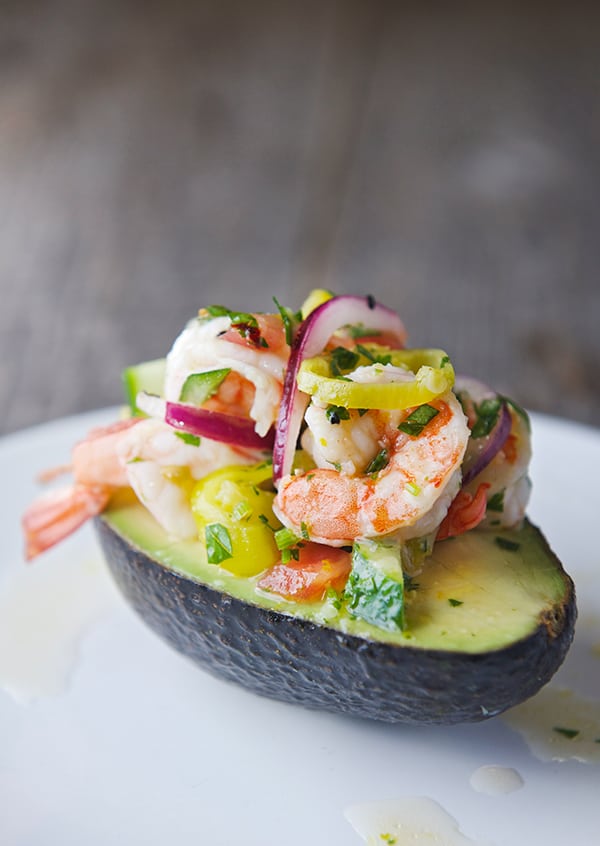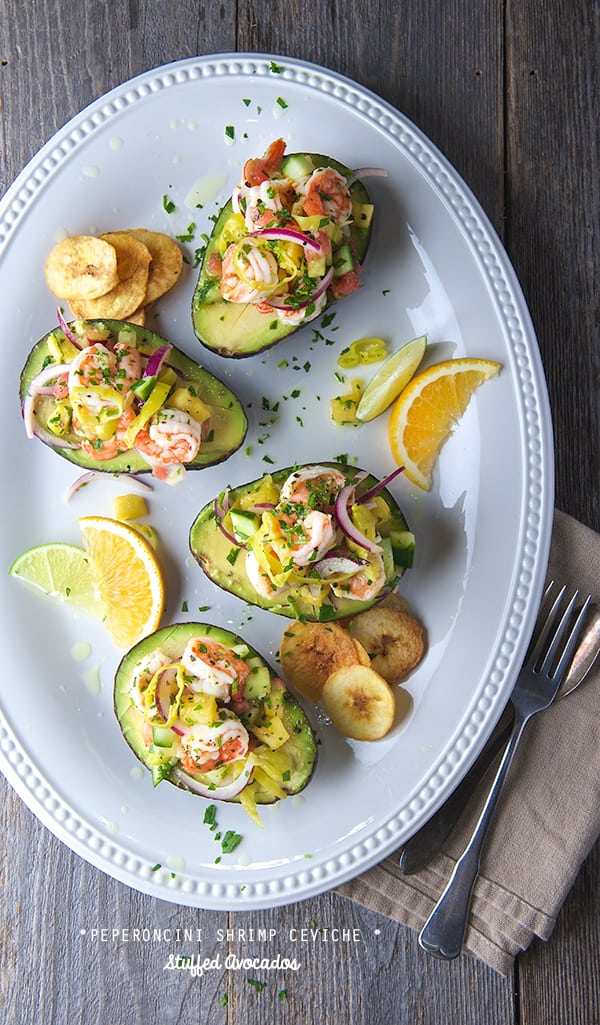 Welcome the Summer!
If you are on Vacation mode, weather if it is staycation, the beach, pool party or a picnic this give away is for you!
Thank you to Mezzetta for sponsoring today's post and inspiring us to try your delicious peppers!
Music Pairing: Zorba The Greek `original Sound track from the 1964 Movie
https://youtu.be/66dJoVawkb8
Disclosure: This is a sponsored post. The Mezzetta company sponsored it and compensated Yes, More Please! via a cash payment, gift, or something else of value to write it. Regardless, Yes, more please! only recommends products or services we use and believe to be good fit for our readers. We are disclosing this post in accordance with the Federal Trade Commission's 16 CFR, Part 255: "Guides Concerning the Use of Endorsements and Testimonials in Advertising."