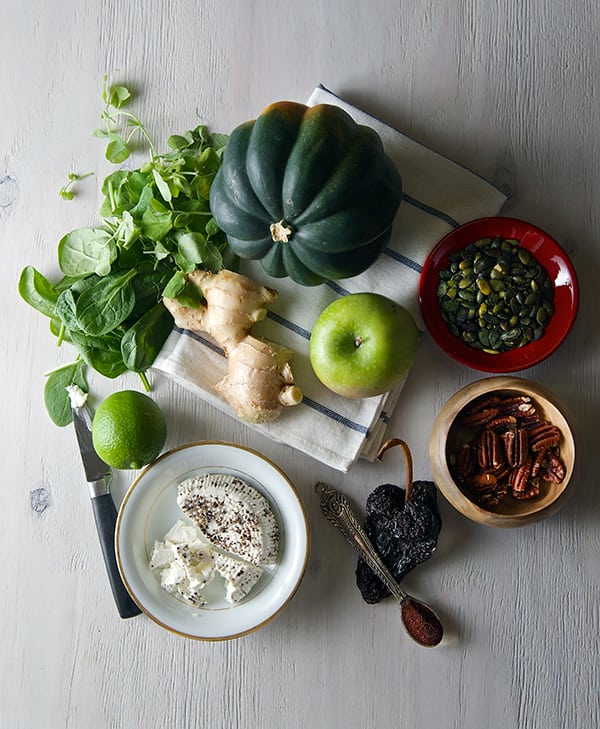 Full winter here in Austin! Yeah!!! I love cold weather and with it the delicious and comforting warm salads.
This scrumptious Warm Acorn Squash Salad is a great dish to keep up with the winter calories. If you know what I mean… I'm saving calories to spend them at Christmas… hehehe
Imagine a roasted wedge of acorn squash, topped with baby spinach watercress, green apples, toasted nuts, creamy goat cheese drizzled with a slightly warm lime-ginger-ancho chilli vinaigrette… super easy, and comforting. This recipe will make you crave salad in the winter.
So, keep warm and I hope you fall in love with this easy and healthy dinner. Enjoy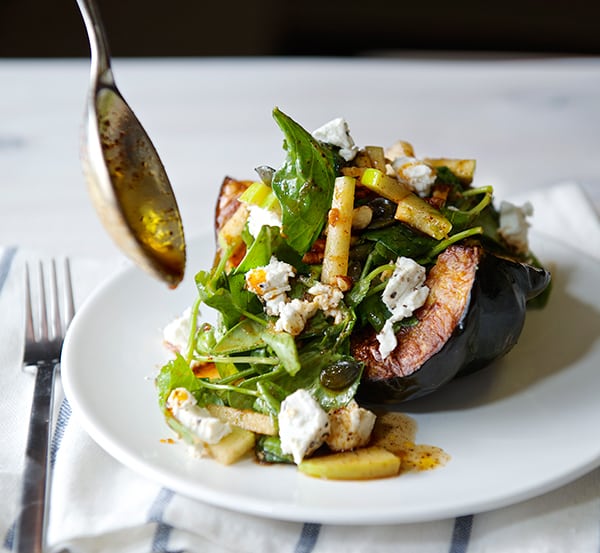 Warm Acorn Squash Salad
Serves 4
1 acorn squash cut in 4 pieces
4 cups spinach
2 cups watercress
1 granny smith apple cut in long match sticks or similar.
¼ cup toasted chopped pecans
¼ cup salted toasted pumpkin seeds (pepitas)
4-6 oz goat cheese
For the warm vinaigrette:
2 Tablespoons Extra Virgin Olive Oil
2 Tablespoons Agave nectar
1 teaspoon ancho chilli powder
2 teaspoons freshly grated ginger
The zest and juice of one lime
½ teaspoon salt
Preparation:
1. Place the 4 acorn squash segments in a baking sheet lined with parchment or aluminum foil, salt and pepper, Roast at 450F for about 25-30 minutes, checking half way thru, rotate the pan. And bake until fork tender.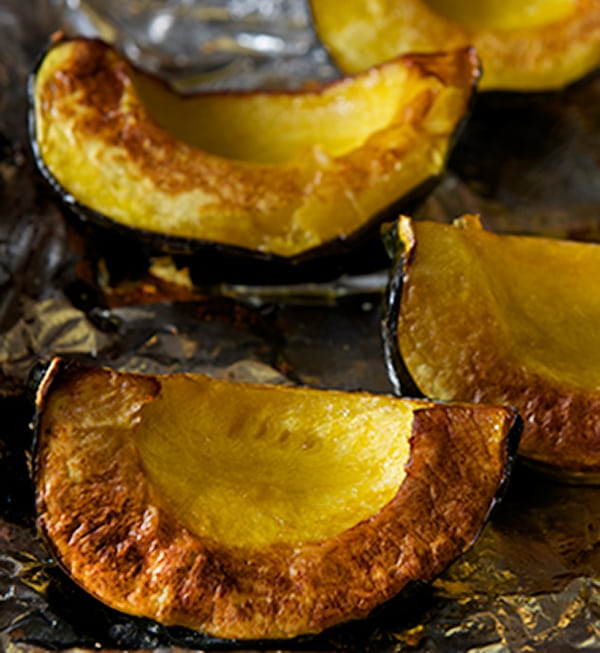 2. In a salad bowl combine, the spinach, watercress, cut apples, toasted pecans, toasted pumpkin seeds.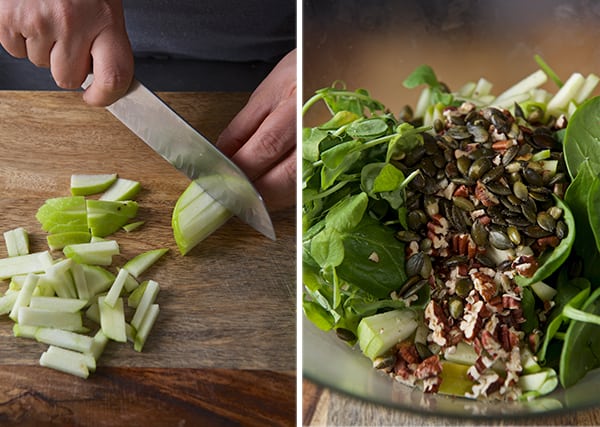 3.To make the vinaigrette:
Slightly warm the Extra Virgin Olive Oil (warm to the touch). Add agave nectar, ancho chili, ginger, lemon zest, lemon juice and ½ teaspoon of kosher salt, whisk until well combined. Or place all this ingredients into a small clean glass jar and shake. The warm oil will marry the flavors and develop the aromas, as well to cozy up your greens.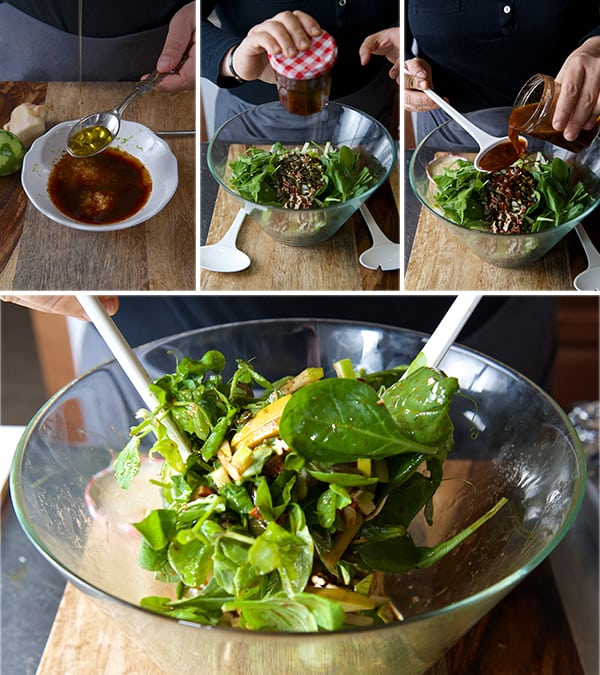 4. Once the Acorn squash is roasted, toss the salad with some of the dressing, and top each acorn squash wedge with the salad.
5. Crumble some goat cheese and drizzle a little more of the vinaigrette.Enjoy!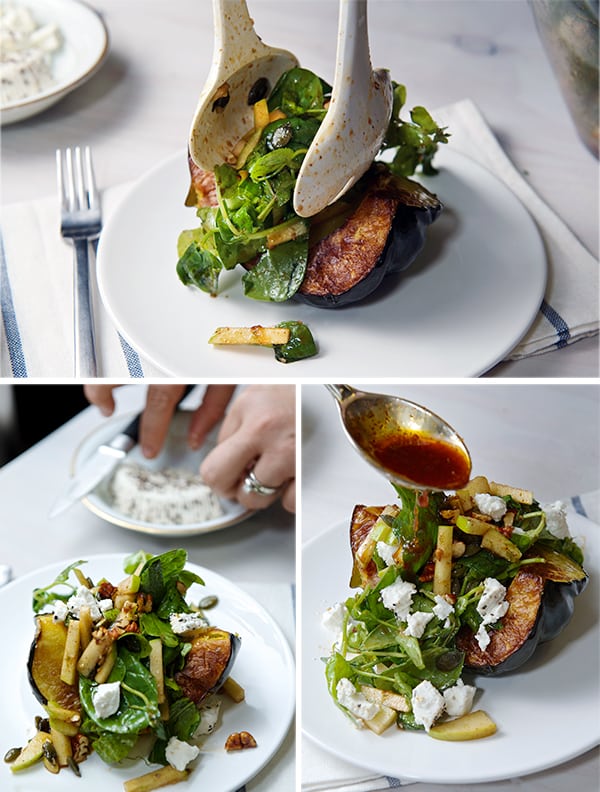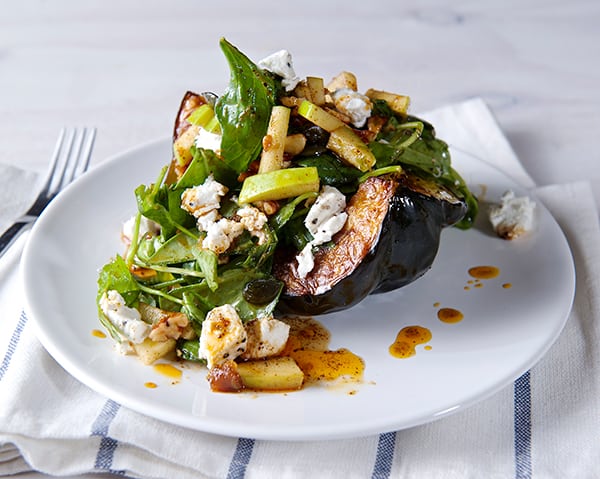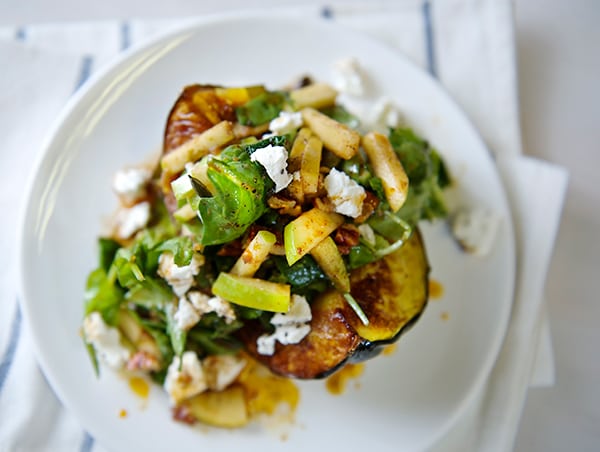 Warm Acorn Squash Salad…warm up!~