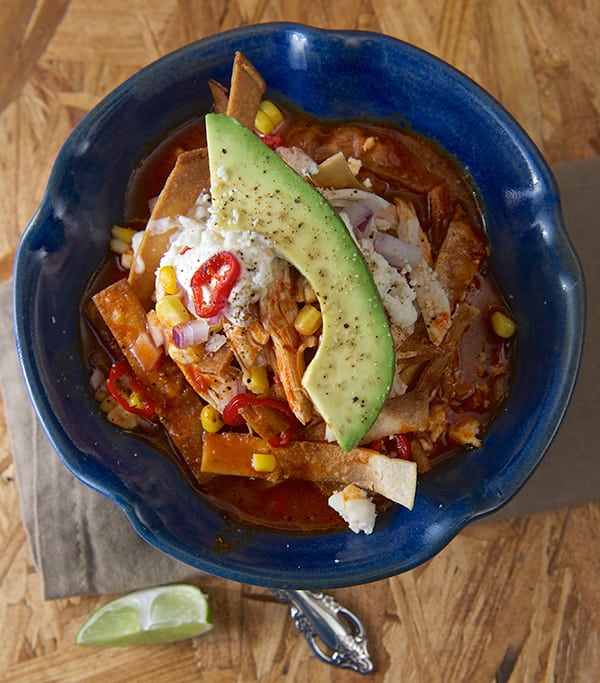 In this global world we are living, what is authentic anyway?…
I think as I get to know more people from different backgrounds, cities, expatriates, cultures, beliefs, culinary eccentrics, purist, creators; the more I conclude that authenticity is not a place, a language, a heritage, a culture, or a belief.
I think authenticity comes from within. Who you are at this right moment, in this place and at this time; and the one that you want to become…. that's authenticity for me.
It reminds me of a monolog phrase in the movie "All about my mother" from Almodovar's
and one of the characters in the movie quotes the following:
"… because you are more authentic the more you resemble what you've dreamed of being" – "La Agrado's" monologue (All About My Mother) Almodovar.
And you are wondering what does this has to do with tortilla soup?,
In the culinary world, I've always questioned myself about what is considered an authentic dish? Perhaps it is the dish that resembles more to the people who created it?
For example, If you are from Mexico; is the soup that your grandma prepares more authentic, than my grandma's soup?.. No, I really don't think so.
I believe you embrace the flavors that make you happy and satisfy, that make you re- create a memory a flavor, an aroma and you create the soup you want to eat and share with your loved ones… It will be hard to imagine Mexican grandmas cooking for the authenticity sake! I believe you can cook along the way with tradition and make it your own with a few touches.
In this Chicken Tortilla Soup, I wanted to evoke the aromas, textures, flavors, freshness, from the cooking style in Guadalajara, Jalisco the city I'm originally from. This soup re-creates a little memory of my home city, easy on the condiments and full of flavor…
I hope you like the soup as much as I do. So let's cook!. Enjoy.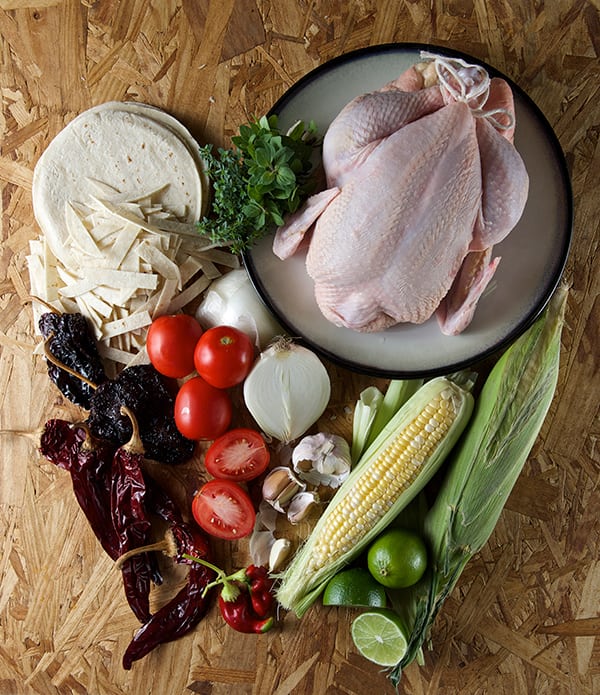 Chicken Tortilla Soup "Mariana Style"
Serves 4-6
For the chicken stock:
1 whole chicken 3.5-4 lbs. I'm in love with the chickens from Smith & Smith Farms
1 medium size with onion
2 carrots
2 celery stalks
1 roma tomato
1 head of garlic
3-4 sprigs of thyme
2-3 sprigs of fresh oregano
1 teaspoon dry epazote or mint
1 tablespoon of salt
1/4 teaspoon black pepper
2 ears of corn- cut the corn of the cob
(my preference is white corn if I can find it, but yellow is ok too)
For the sauce:
2-3 dry Pasilla chiles slightly toasted
4-6 dry Guajillo chiles slightly toasted
1-2 dry Arbol Chiles slightly toasted
4 Roma tomatoes
¼ piece of onion
1 garlic clove
4 tablespoons of corn or sunflower Oil
Salt and pepper.
4-5 cups Chicken stock previously made… or the best option you have available.
Garnish with
8-10 Corn Tortillas cut into 1/2-1/4" wide strips.
½ to ¾ cup Canola Oil
1 ripe avocado, cut in slices or cubes
1 cup queso fresco crumbled
½ cup Mexican style crema or Creme fraiche
½ cup diced onion
2-3 Limes
2-4 dry Arbol Chiles toasted with a little bit of oil, until they look dark. (see photo below)
Preparation:
1. Start by preparing your chicken stock on a 7-8 qt pot. Place the whole chicken and add all the stock ingredients, add water enough to cover the chicken. Bring to boil and then lower down the heat to a slow simmer cover with a lid and cook for about 45 minutes.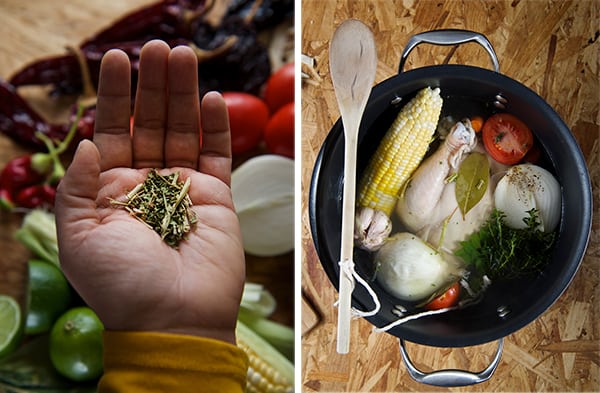 2. Mean time slightly toast your chillies on a pan, small comal or cast iron pan.
3. In a small pot boil the toasted chillies and the tomatoes.
4. Once they are soft, place the chillies, tomatoes, onion & garlic into a blender or food processor and puree.
5. Using a strainer, strain the chilli puree to eliminate the seeds and pieces of skin. (see picture below)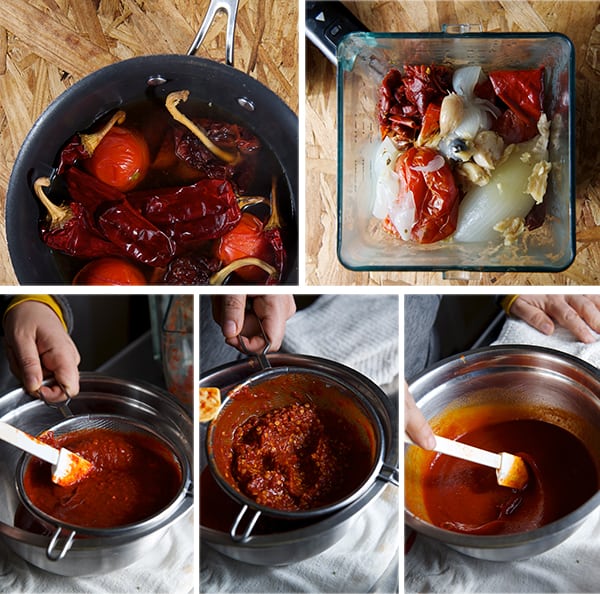 6. Cut and Fry the tortilla strips. Once fried place them on a plate with a paper towel to remove the oil excess. Sprinkle with salt while they're warm.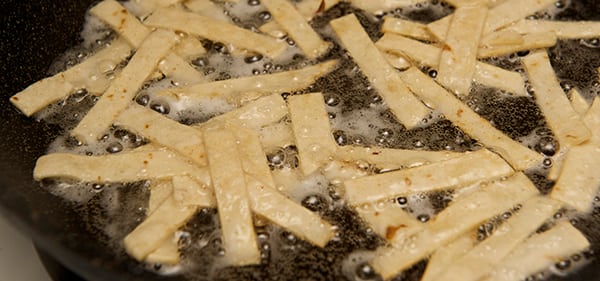 7. Check on your chicken stock, the broth should look translucent, no foam on the top, vegetables soft and onion translucent, chicken fork tender. If it is done remove at least 4 cups of chicken stock and strain. Take out the chicken, place it on a bowl and cover with some aluminum foil wait a bit until ready to handle, remove the skin and shred the chicken.
I usually use about ½ a chicken to serve 4. you can save the rest for tomorrow's enchiladas…hehehe
8. In a medium size pot add 4 tablespoon of canola, or sunflower oil, once is rippling hot add your chilli-tomato puree, and cook the sauce in medium low for about 4-5 minutes.
9. Add chicken stock, and corn kernels season with salt and simmer for about 10-15 minutes.
10. Taste the soup for salt and paper.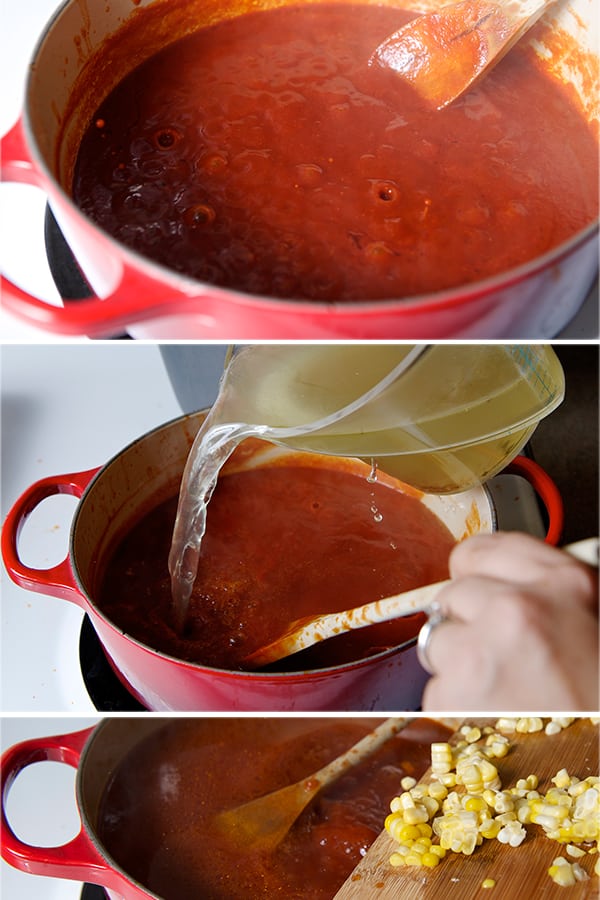 11. Chop and prepare your garnishes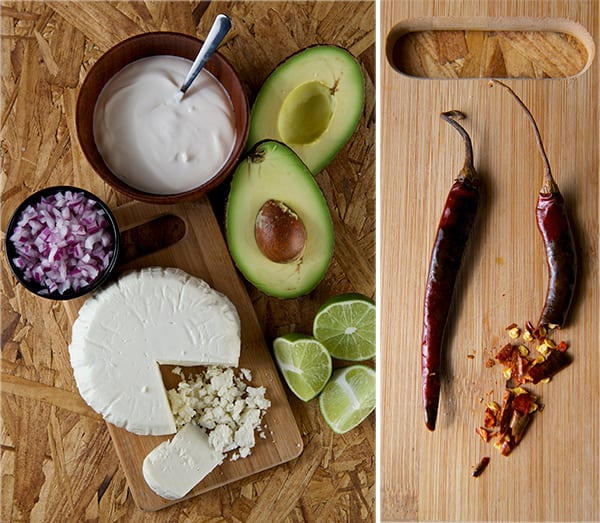 12. Serve on a deep bowl place the shredded chicken 2 to 3 ladles of the chilli broth place a good handful of the fried tortilla strips, and garnish with the cream, crumble cheese, avocados, and some of the chile de arbol fresh or toasted with a little oil for more heat.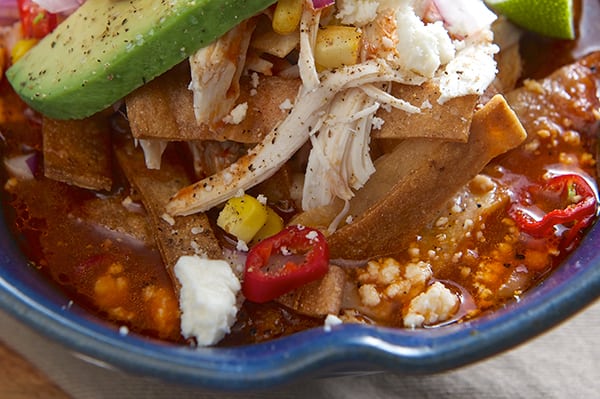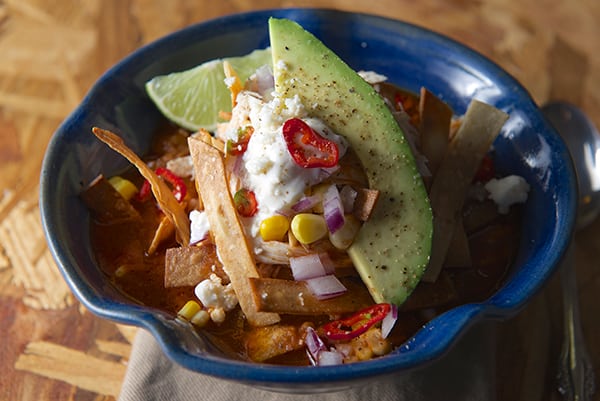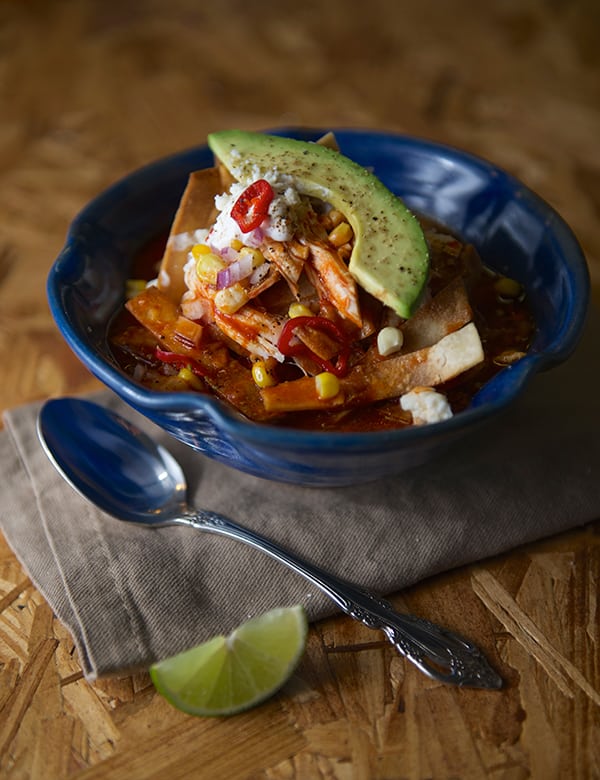 ENJOY!!!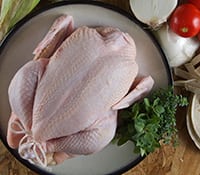 I'm in love with the chickens from Smith & Smith Farms, it is a small family operated farm, they specialize in pasture raised meats that are hormone and antibiotic free. They raise Dorper Lambs, all different breeds of laying hens, Cornish Rock meat chickens, Red wattle hogs, and Broad Breasted White Turkeys. All of the animals on their farm are free range and roam around every where! They are all as happy as can be, and you can taste the happines when you cook them. Delicious!
If you live in Austin, check their website for hours and farmers markets locations at: http://smithandsmithfarms.webs.com