Hello!, I hope you had a great Holiday, we would like to share our Thanksgiving with friends day with you.
This year Ian and I were very grateful to have had spent it with two great friends, Andrea and Arin, who they share the love for cooking, we had a blast!.
We decided to go with a not so traditional menu, with room for the turkey to be invited.

"Friends are the Family we choose for Ourselves" -Edna Buchanan
 Our Thanksgiving Menu
November 2013
~ Breakfast Brunch ~
Spanakopita/prasopita
Leeks, spinach, feta, eggs, butter all wrapped in a layered fillo crust.
Recipe from Arin's Yaya
~ Tea time & games ~
Corn Cookies
Recipe from Momofuko's pastry chef
Crabapples, ginger and Rum warm Cider
Andrea's and Mariana's concoktion
~ Dinner ~
Applewood Smoked Turkey
Recipe by Arin & Andrea
Braised Beef short ribs in red wine sauce
Recipe by Mariana & Ian
Robuchon style mashed potatoes
~
Corn bread with smoked gouda and poblano peppers
by Mariana's grandma Ana recipe
~
Watercress, watermelon radishes, spanish radishes,
roasted beets & carrot salad
blue goat cheese crumbs with orange vinagrete
by Mariana.
~ Dessert ~
Pumpkin pie with pecan praline topping and whipped cream
by Mariana
. ——————————————– .
We started our day early, Ian prepared for us his fabulous Cappuccinos he can make killer chinos;  once we were awake, Arin and Ian started the fire for the smoker and place the turkey in the smoker, Meantime Andrea and I prepared some breakfast tacos (a small bite) before Arin started to make his fantastic Spanikopita torte, a recipe from his Greek-grandmother.
Later for brunch, we had a slice of spanikopita and Cider to warm up, played board games and had a cup of tea and freshly baked cookies, It was a chilly day in Austin, 34F/54F…
Around 4:30 we started making the side dishes, short ribs were done, gravy, and mashed potatoes. Andrea and I baked the cornbread.
Everything went smooth and fun. Ian had fun taking photos, all the  ingredients, excitement and cooking action.
Finally around 5:30 we were ready eat…What a great experience, cook, share, laugh, eat and drink!
Even though we miss our family and we where thinking about them, we are very grateful to have had the joy to spend this holiday with friends…
Thank you Arin and Andrea… Now,  whats for X-mas LOL!

The smells were driving Sophia a little crazy!
(Sophie is our little dog it is an Italian greyhound)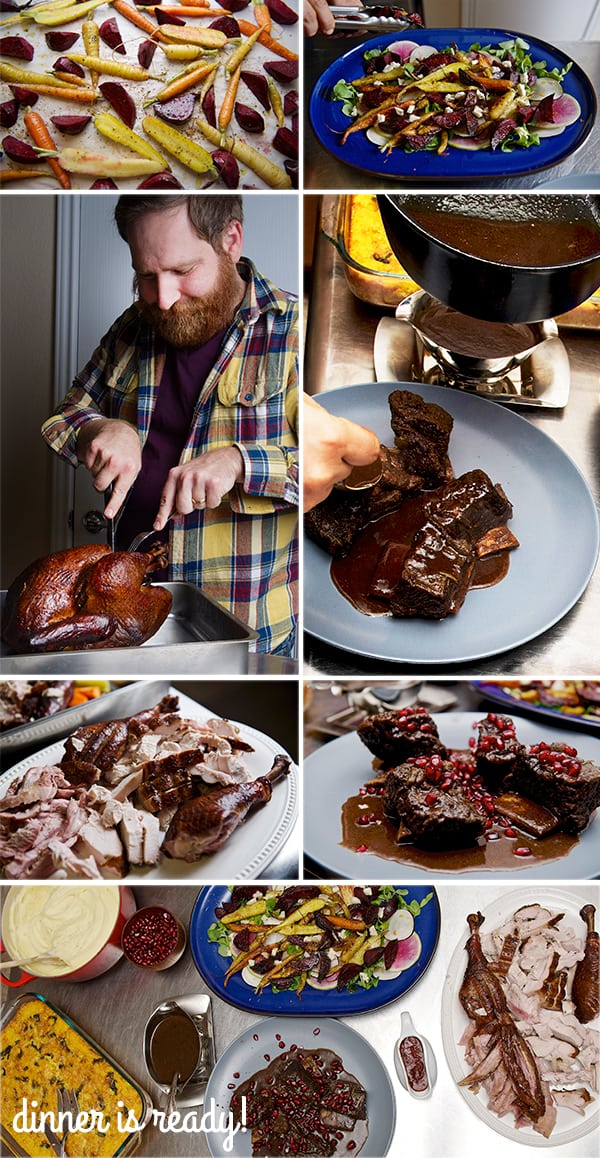 There is always room for dessert….

So…what's for X-mas???