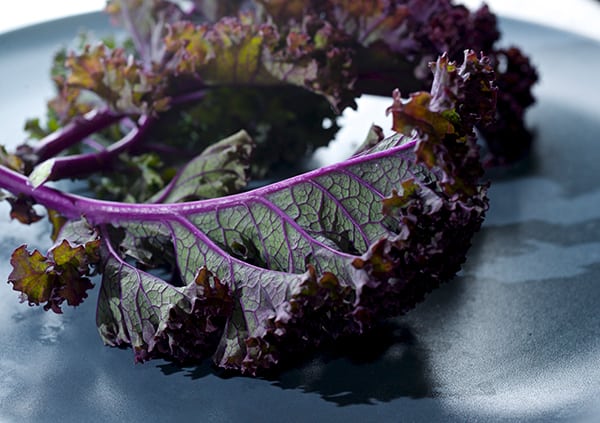 Feeling blue?…Have some greens!. Kale is the number one power green, full of nutrients and rich in flavor.
If you wonder what the color green should taste like… it tastes just like kale.
It's high percentage in Beta carotene, Vitamin K, vitamin A, Vitamin C, manganese, iron, potassium, calcium and fiber, make it the king of the greens. The season for this green is Autumn and Winter.
Kale salad will lift up your mood and give you plenty of energy through out the day.
There is Curly Kale, Dino Kale, Premier, Redboar, Siberian, Walking stick kale, Red russian, Kamome red, *sight and I assure you I'm missing more varieties, this are just a few of the ones I know and I've tried.
I remember the first time I tried Kale it was a bit intimidating, I felt like I was eating some prehistorical plant; it is a bit hard to chew when is raw and most of the varieties develop their nutrients and are easier to digest when they are steamed.
I've tried different cooking methods, some favorites of mine: Curly and Dino kale make great baked chips, Kamome is great for steaming it holds its shape beautifully, and the Redbor Kale I love it in salads like this because it adds great texture, I usually cut it or tier it in small pieces because is easier to chew, the vinaigrette helps to tenderize the leafy texture and what is great is that kale will not wilt when you add the vinaigrette.
Kale and Lentil Salad with Honey- Mustard Vinaigrette is a nutritious  and delicious combination. Kale, lentils, walnuts for some crunch is just what you need to boost your energy. This salad Makes a great Lunch or a light dinner side dish.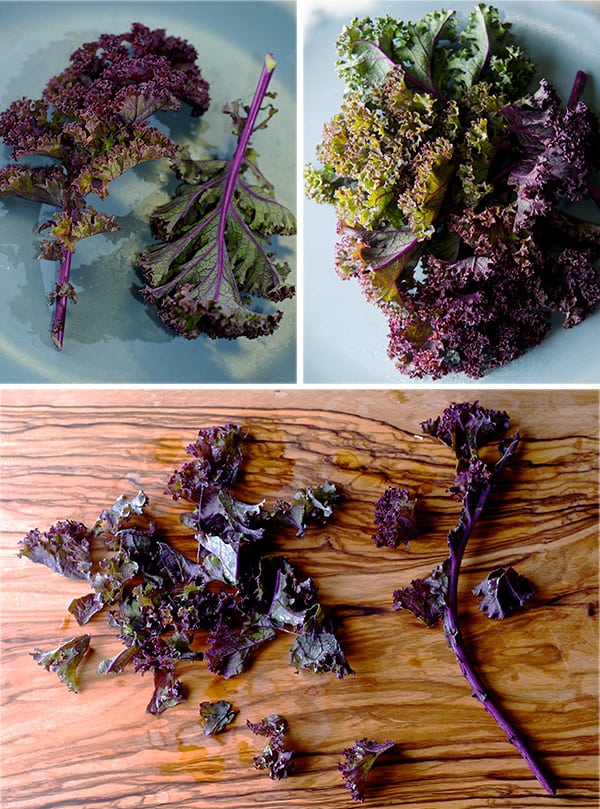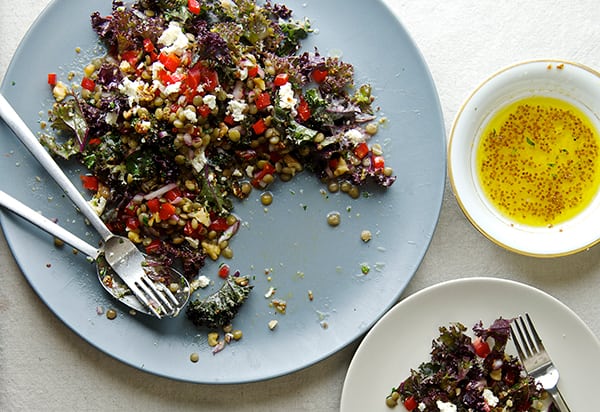 Kale and Lentil Salad with Honey- Mustard Vinaigrette.
Serves 4
4 cups of Redbor kale (washed and pad dry) ( you can use Dino Kale )
2-3 cups of cooked green lentils*
1 small red onion finely chopped
1 red bell pepper finely diced
1/4 cup chopped walnuts
1 tablespoon of finely chopped parsley
A couple of tablespoons of Bulgarian Feta cheese
Honey- Mustard vinaigrette
2 teaspoons of whole grain mustard
2 tablespoons Extra virgin Olive oil
¼ cup rice vinegar
3 tablespoons of honey or ambar agave nectar.
the juice and zest of ½ lime or lemon.
Fresh ground pepper to taste.
*How to cook Lentils?
These green Lentils are best cook in lots of salted water, just like pasta. Bring water to a boil add 1 generous teaspoon of kosher salt and a Bay leaf. Add the lentils, bring back to a boil and cook for 5 minutes, then lower the heat to low and gentle simmer you barely want to see little bubbles on the top. Cook for another 15-20 minutes with no lid. after 15 minutes check on doneness. I like mine al-dente, specially for a salad like this, I want them with a bite. So I usually remove from heat at 15 minutes and cover them for another 10 minutes. Strain them and let them air dry for a few minutes on a single layer in flat tray.  I usually serve this salad with barely warm lentils, I love the texture and comfort.
Directions:
Start by removing the stems of the kale leaves and breaking the pieces into small bite size. In a small bowl whisk the vinaigrette ingredients. In a platter, layer the kale, lentils, chopped onions, red bell pepper, parsley and walnuts. Drizzle over the mustard vinaigrette. Mix and top it all with crumbled feta cheese.
Serve the salad at room temperature. It is also great in a pita with some Greek yogurt or served in avocado halves!!!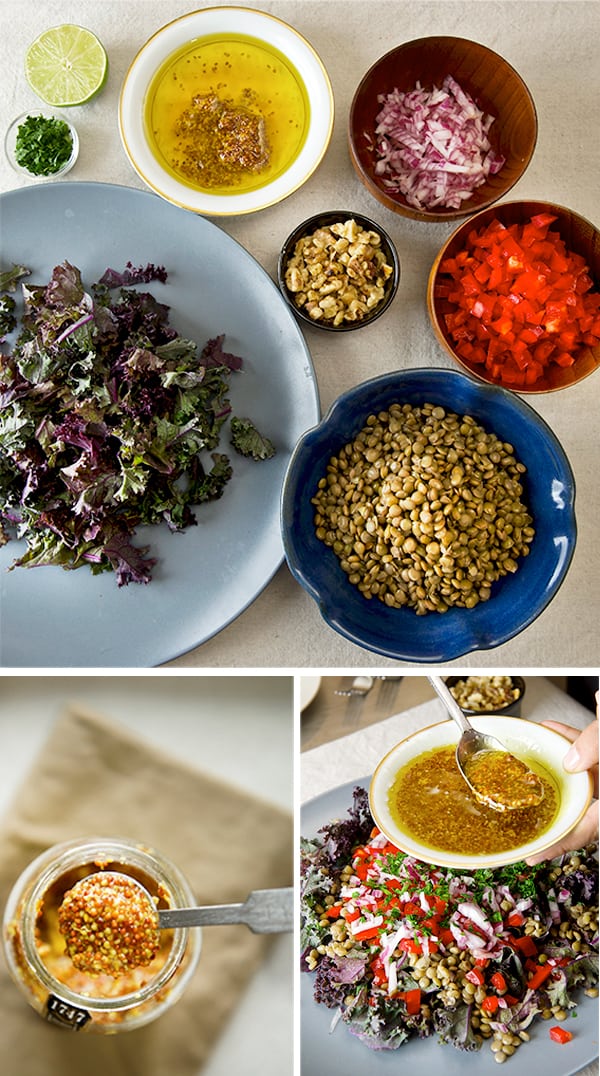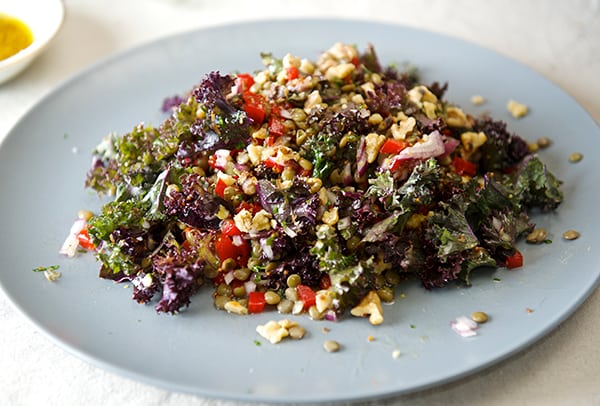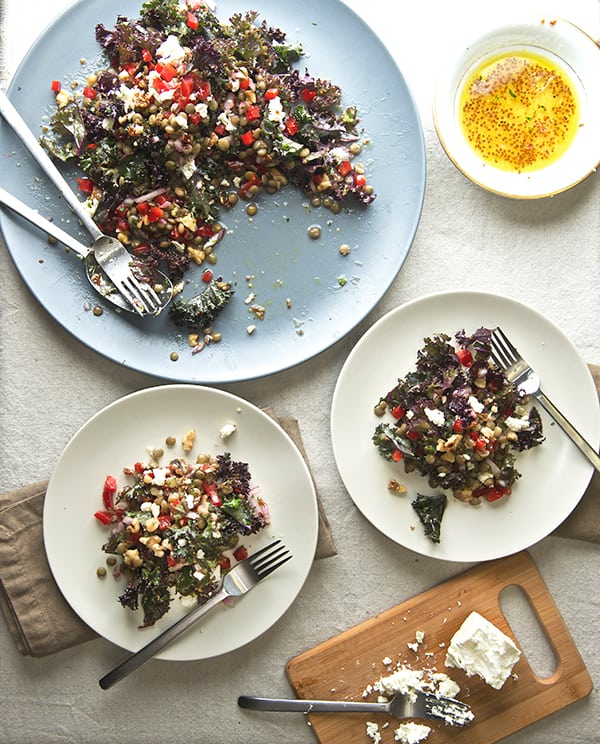 Enjoy!
Music Pairing: Don't Worry be happy – Bob Marley