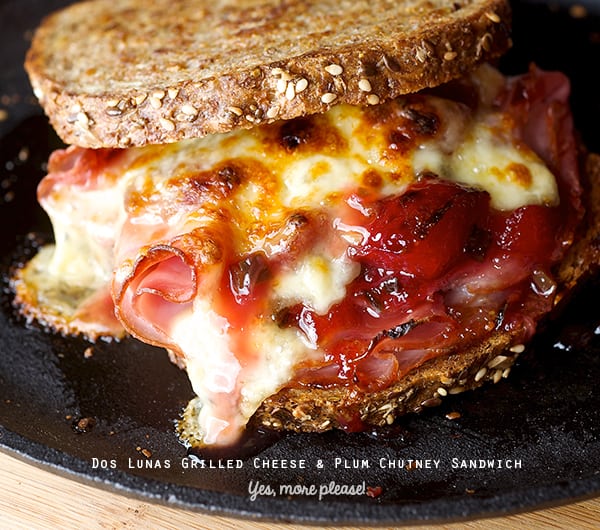 Red juicy plums got me in trouble this time. I saw them at the market and when I grabbed them I could feel the juicy flesh of the fruit. I bought some and ate 3 on the way home, and then I went back to the market and bought some more. I think too many… so what to do with an extra pound of plums? "Chutney!", I open my fridge what else did I have available? Oh! Yes, jalapenos! No matter what, I always have fresh jalapenos in my fridge.. (ask Ian) A little spicy green chile will always save you and kick up the flavor of any meal. I had some ginger (not too shabby) some cinnamon (great spice and aromatic) I was not even thinking about it when I realized I was already making the chutney… My mouth waters.. Juicy and sweet red plums chunks, a hint of spice from the jalapeno, aromatic cinnamon and fresh ginger to brighten up the flavor! The kitchen smelled like a sinful geisha wardrobe. (oops rewind that!) It smelled great, so I had to try it… where? In what? With what?… On a melted ham and cheese sandwich! Oh yes my friends, a sinful combination. One more time, before my eyes something so simple can become so ridiculously good.
Although, to be honest the major protagonist of this sandwich act, is the Classico cheese from Dos Lunas.
I first sampled Dos Lunas cheese at our local farmer's market and I loved it from the start. Its made by a local artisan cheese maker named Joaquin Avellan, a Venezuelan transplant who missed his families' cheese so much he began to make his own here in Texas. He makes several varieties from local UNPASTUERIZED cow's milk. This allows his cheese a greater complexity of flavor which is normally ruined by heat when the milk is pasteurized. Due to regulations, unpasteurized cheese can only be sold in the US after being aged two months, hence Dos Lunas (Two Moons).
I chose his 'Classico" cheese for this recipe because of its melting qualities and particular flavor. This cheese  has some nutty notes and taste like the grass in Schulenburg, Tx where 60 happy cows produce the milks that this amazing cheese is made off. Its creaminess greatly complements the plum chutney and smokey salty ham. This cheese Its also great as a stand alone to eat all on its own. If you're curious about picking up some of this 'Classico cheese', follow the link at the end of this entry.
This delicious spicy plum chutney over melted Dos Lunas Classico cheese piled on some thinly sliced smoked ham on sprouted wheat bread will send you over the moon…or two.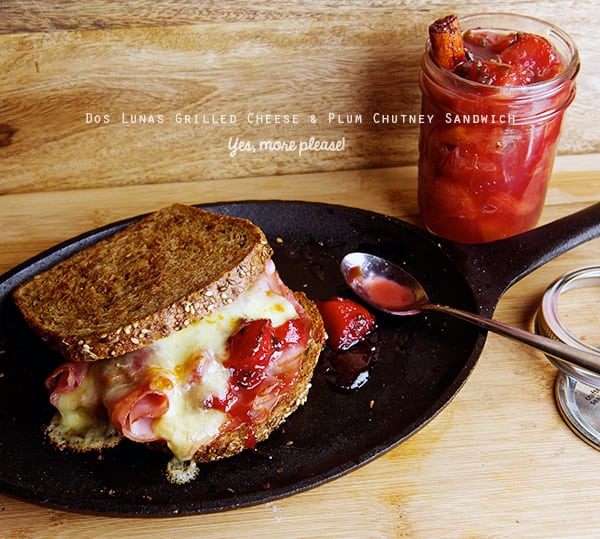 Dos Lunas Grilled Cheese & Plum Chutney Sandwich.
Makes 2
4 tablespoons of Red Plum, jalapeno chutney Enough cheese to make you smile!…I used Dos Lunas Classico it melts beautifully!, if you are not in Austin, Texas, you can use: Emmental, Swiss or Baby Swiss.
4 thin slices of smoked ham or Bavarian ham.
4 bread slices ( I used 7 seeds-sprouted whole wheat bread)
2-4 tablespoons of butter.
Vegans & Vegetarians: You can use any firm tofu, it will be fantastic if you saute the tofu to give extra crust. And shredded carrots with a little bit of sea salt to substitute the ham.
Use any Vegan margarine spread or coconut oil to give the bread a crusty top, It will be a fantastic sandwich!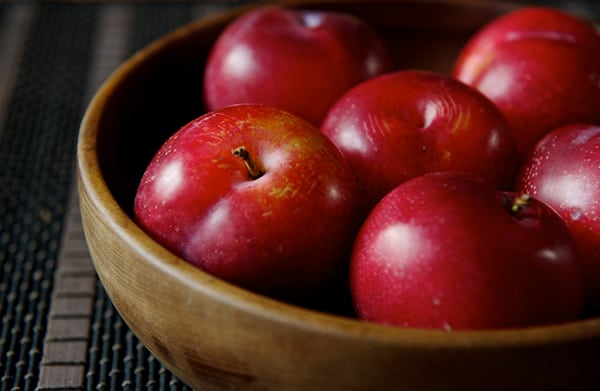 Red Plum – Jalapeno & Ginger Chutney
Makes 2-3 cups
8-12 ripe Red plumps pitted and cut in quarters and eights.
¼ cup sugar (mascabado, or raw)
6 tablespoons of agave nectar
1 teaspoon of olive oil
1-2 small diced jalapenos
1-2 teaspoons of fresh grated ginger
1 teaspoon apple cider vinegar
1 stick of mexican cinnamon
A dash of ground clove.
Making the chutney:
Over medium high heat in a stainless steel pan place the plums, sugar, agave and cinnamon stick. Let the plums warm trough about 4-5 minutes. Once that the sugar and agave start looking bubbly, add the grated ginger, diced jalapenos, cider vinegar, olive oil and the dash of clove. Let simmer for about 5-6 minutes, until the juices look translucent and some of the plums have started to get soft and you can smash them easily with a spoon. Turn off the heat and set aside.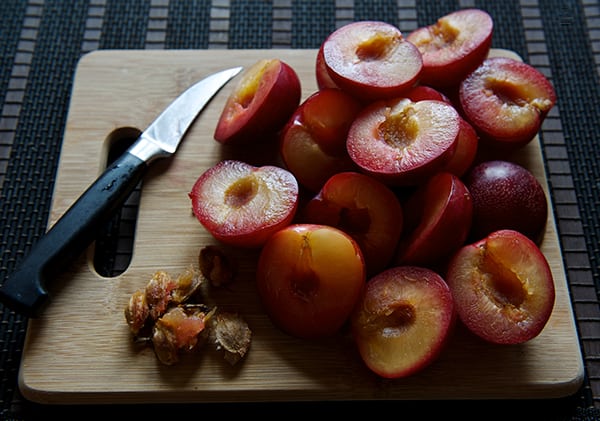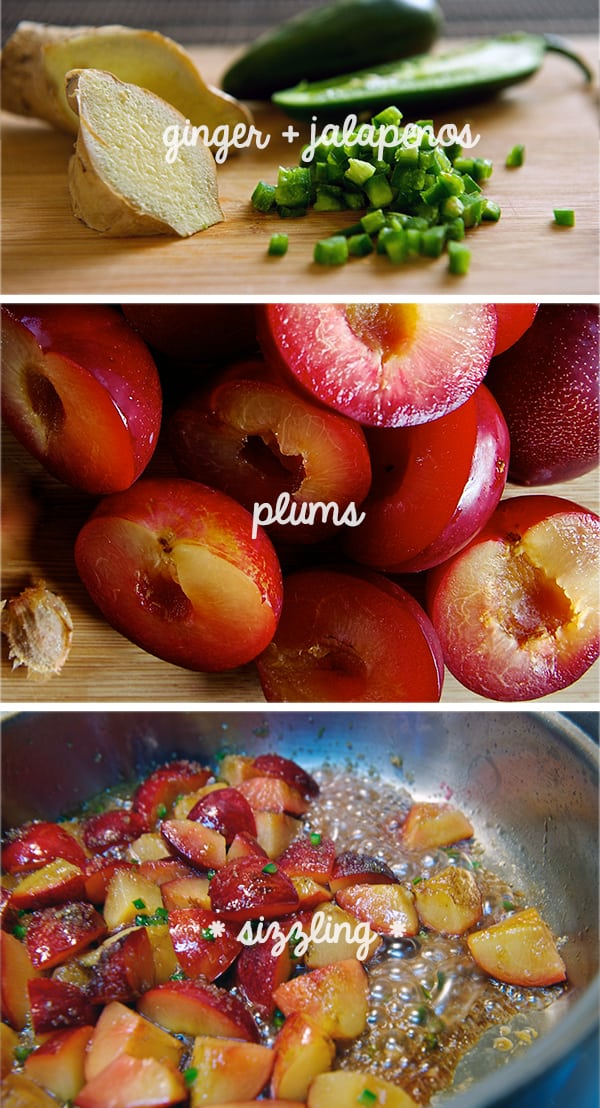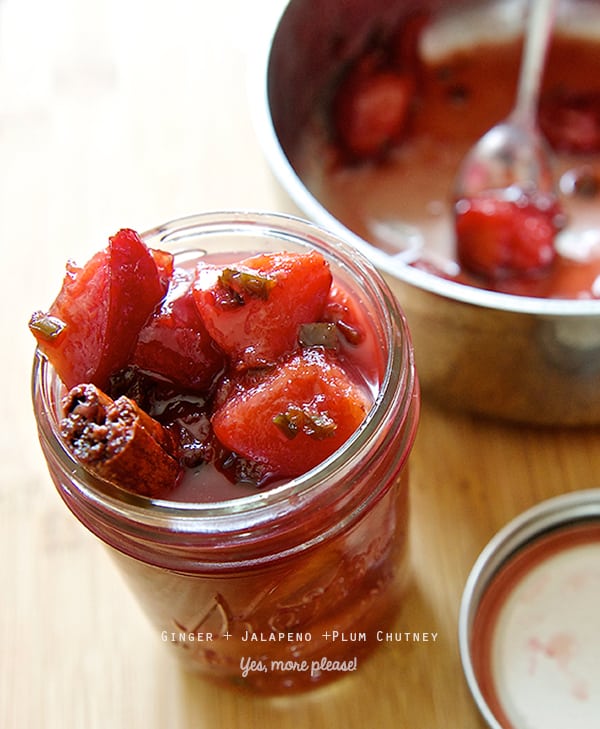 Built your sandwich:
Spread butter one side of the two bread slices and place in hot griddle or pan. Build your sandwich on one slice starting with the ham, then 2 tablespoons of the chutney then cover with sliced Dos Lunas cheese. Toast the bread slices in the pan for 2-3 minutes until the buttered side gets color. Then place the pan under the broiler for about 2-3 minutes. Finally top the melted cheese and other ingredients with the plain toasted slice to create your sandwich. Eat while very warm!!! A nice glass of beer or milk will go great…enjoy.   To learn more about Dos Lunas and how to get some of their cheese:  www.doslunascheese.com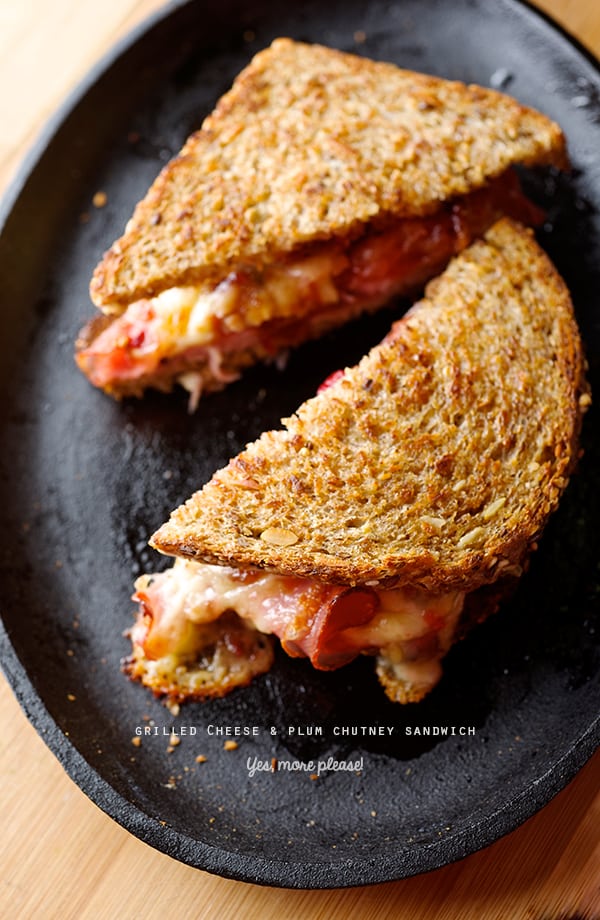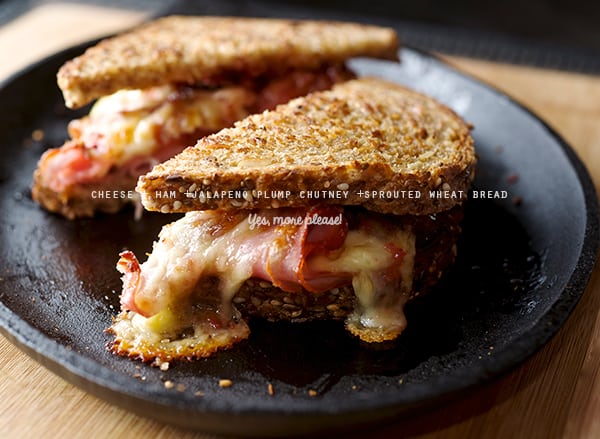 To learn more about Dos Lunas and how to get some of their cheese:  www.doslunascheese.com
The cheese used in this recipe was donated by Dos Lunas Cheese….Thank you Joaquin!