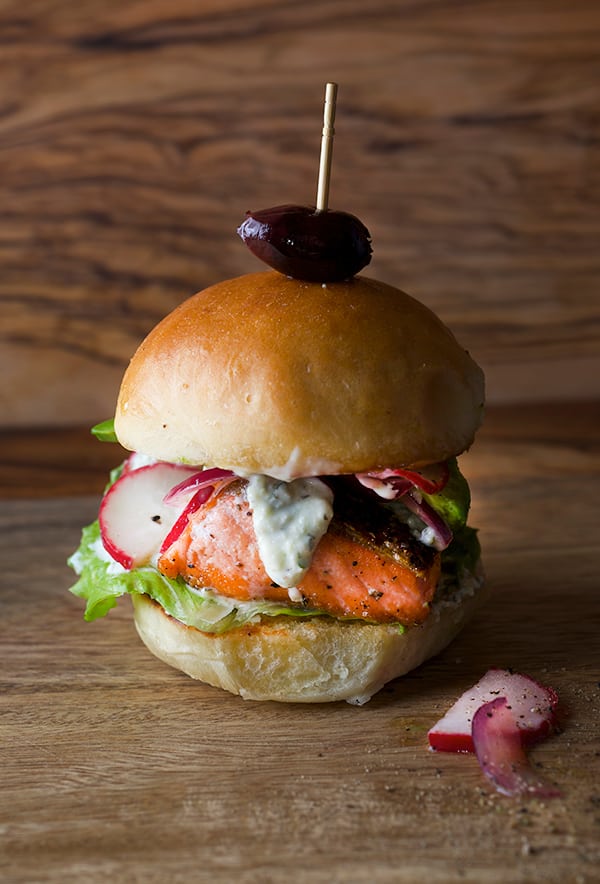 The title says it all, Salmon Sliders… what's not to like about a small handmade bun filled with seared salmon and topped with yogurt, cucumber, dill sauce? That's what I call a healthy way to have my buns. This recipe is great for entertaining, pool parties, or a late brunch. They taste great room temperature or right out of the oven.
Making the buns might sound very elaborate, well it's not! 45 minutes, so easy you will love to make them. You do have to plan ahead of time, but like I said the results are incredible, 100 % worth it to make them. These mini buns are so light and flavorful you are not gonna want to use store-bought any more…
It is so relaxing to knead the dough by hand and enjoy the process. While the dough is proofing you can finish up the prepping for the burgers and in less than you think you will have the best sliders ever. Baking this babies one day before will work too…the beauty of slow cooking.
The buns recipe make about 12-14 mini buns, feel free to combine sizes, I made 2 -5"inches diameter and 8-3"mini buns. I wrapped the extra buns in plastic wrap and freeze them I think the will be good for about 4 to 6 weeks on the freezer, for future Salmon Sliders.
I hope you enjoy making them as much as I did! Have fun.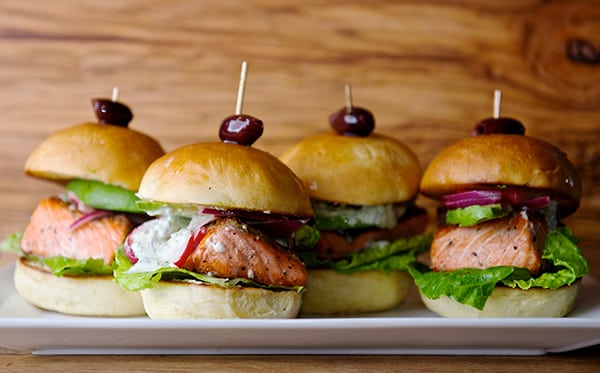 Salmon Sliders with yogurt-cucumber-dill sauce
To make 4- 8 mini sliders
1 – 2 pound Salmon fillets cut into 2"x 4" pieces or the best size you can(see picture below)
Path them dry and salt and pepper them both sides right before cooking.
1 recipe of Mini slider buns ( see below)
½ red onion
4-6 Radishes
2 tablespoons of rice vinegar , salt and pepper to taste
1 ripe avocado in slices
3-4 Lettuce leaves
¼ cup Kalamata Olives
6-8 Long bamboo skewers
For the yogurt sauce:
1 cup Greek yogurt
½ English or pickling cucumber
1 tablespoon of dry dill or 2 tablespoons of fresh.
½ teaspoon fresh ground pepper
¼ teaspoon sea salt
¼ teaspoon celery salt
1 small garlic clove
the zest of one yellow lemon
Place everything on a blender or using a hand blender purée into well combined. Keep it chilled.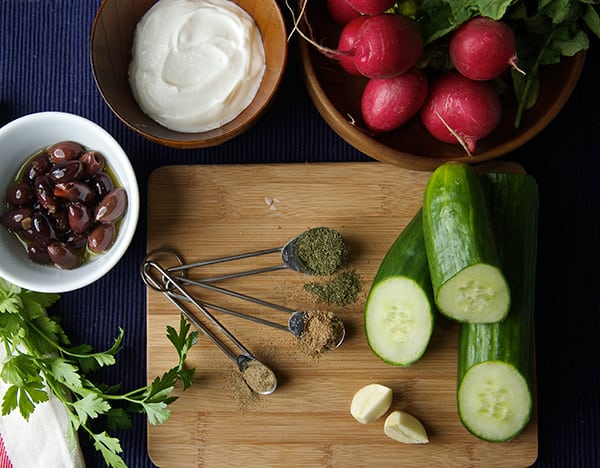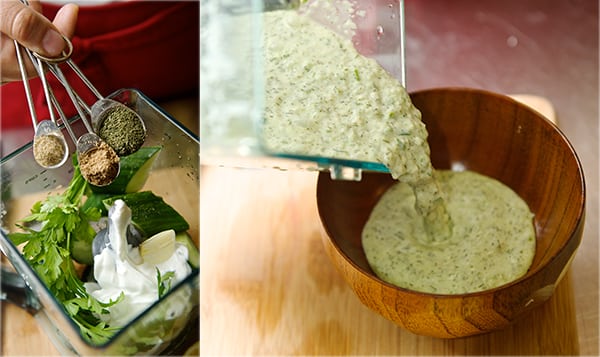 Slider Buns
Makes 12-14 / 3"- mini buns
½ cup luke water
½ cup luke warm whole milk
1 tablespoon active dry-yeast
2 tablespoons of sugar
1 teaspoon kosher salt
1 large egg room temperature
3 tablespoons of sunflower oil (butter, coconut oil, extra virgin olive oil are good substitutions)
3 1/2 cups unbleached all purpose flour
2 tablespoons of butter
Directions:
1. In a Large metal bowl pour the warm water.Sprinkle the active dry-yeast and sugar. Let it stand for 5 minutes until yeast is dissolved.
2.In a medium size bowl combine the luke warm milk, egg, oil, salt whisk well. Add this mixture to the yeast and combine.
3.Add the flour to this mixture one cup at the time while mixing with your hand or in a stand mixer fitted with a dough hook. Knead for 3 minutes until mostly combined.
4. Place the dough ball into a surface dusted with flour and start kneading it with your hands against the counter in folding movements for about 5-8 minutes min. The dough ball should look smooth and soft. (I've find the hand method works best. you can tell when the dough is ready by feeling it and the warmth of your hands helps develop the yeast.)
5.Proceed to shape the dough into a ball, and divide into 12-14 pieces. Shape each piece into a ball. Start by forming a tight ball with each piece using your hand like a scoop against the counter, making circular movements. Place them about 2-3 inches apart into a baking sheet lined with parchment paper giving them enough room for proofing. Cover with a clean cotton kitchen towel and let them rise for about 30 minutes.
6. Preheat the oven 400F/200C
7.Once they have doubled in size, brush them with egg wash and sprinkle some sesame seeds. If you don't care for sesame seeds, just brush them with butter or olive oil.
8.Place baking sheet on the middle rack of your oven and bake the buns for about 12-14 minutes or until deep golden brown tops and bottom.
Your kitchen by now smells like heaven!!!
Pull them out of the oven let them rest for 2-3 minutes on the tray and then transfer them into a cooling rack.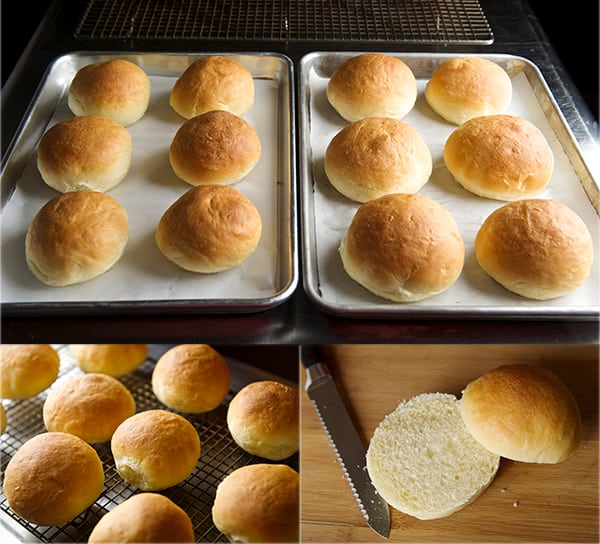 To Assemble:
On a very hot skillet sauté the Salmon fillets about 2-3 minutes per side leaving the centers slightly pink. Set them aside.
Thinly slice the red onion and radishes and combine them in a small bowl adding a little rice vinegar salt and pepper.
Cut the slider buns in half and slightly toast them , start assembling the sliders.
Place the bottom bun , lettuce , salmon , yogurt –cucumber-dill sauce, radishes and onions place the bun top and with a long skewer passing and olive through it and secure the mini buns…. Time to eat!
*Assembling the sliders in this order will prevent the bun to get soggy. Always use the lettuce as bun protector.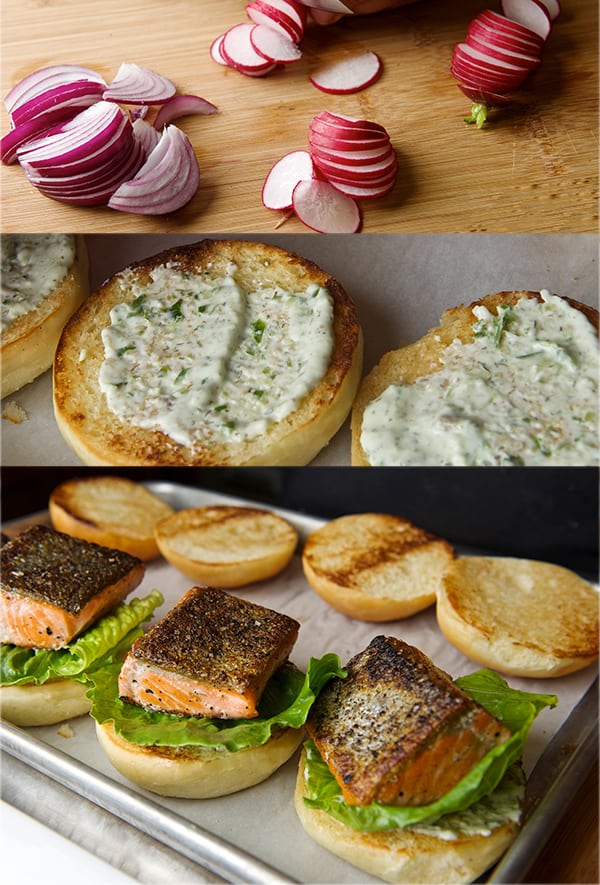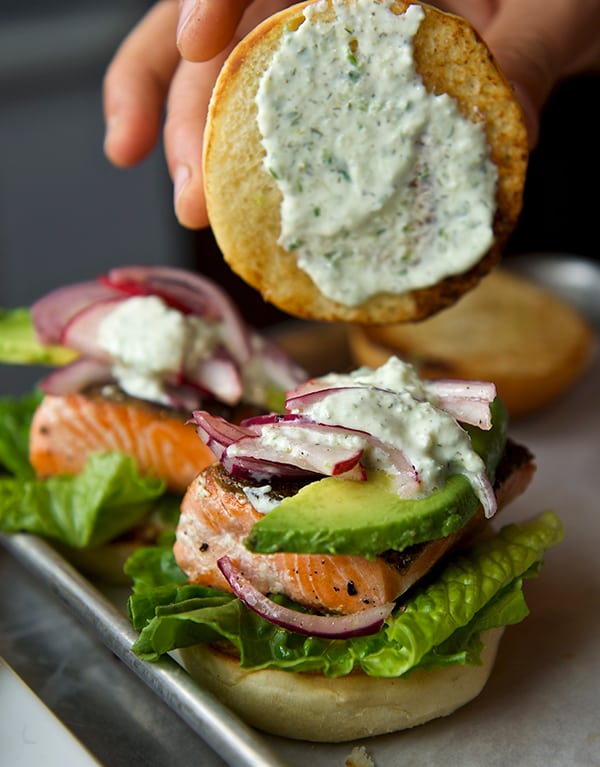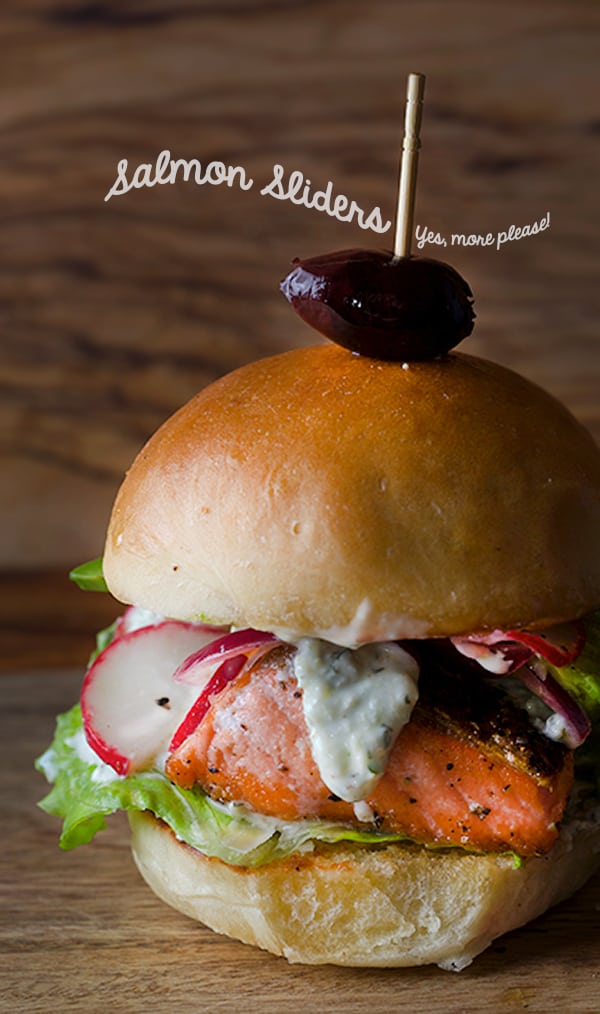 Salmon Sliders with yogurt-cucumber-dill sauce ~ Yes, more please!