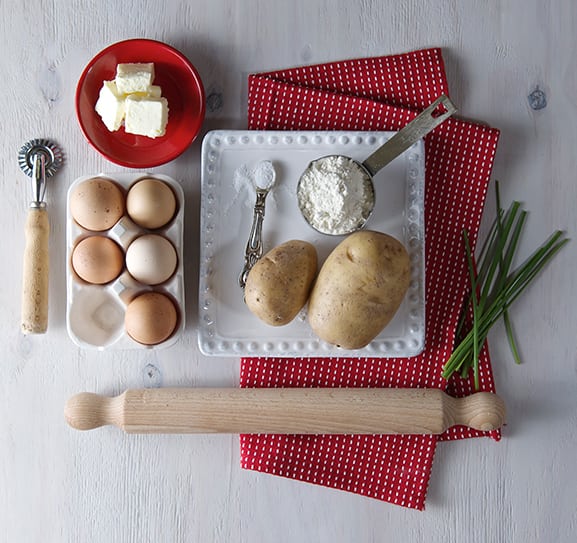 Scottish Potato Scones, or Potato Tatties are simply delicious clouds of light and fluffy potatoes baked in a griddle. They are especially popular in Scotland and the Isle of Man as a breakfast staple.
Ian introduced me to this simply delicious Scottish scones. The recipe has been in his family for a long time. His grandma passed the recipe onto his mother and his mother used to make them when he was a little child. Ian remembers dearly how Betsy used to make this Potato Scones for him and his siblings. Eating them with butter and strawberry jam was a delicious treat!
Based on this childhood memory we were determined to find the recipe and make them…Of course with no luck on our side, we could not find any trace of recipe, so we had to start by scratch. I think I made about 11 batches of these puppies before Ian said" that's it", these are the ones, these taste like the ones she used to make!…Hurray!!! I was thrilled that based on a memory of flavor, taste and texture we were able to found the recipe. We felt so happy, that  from now on we will embrace this as our Christmas breakfast.
There are many, many ways to make a Scottish Potato Scone, believe me, we tried every single ratio of potato-flour-butter. Until  Ian said: this it it! they taste just like the one's Betsy made! (Im sure they are not as good as the ones she made, moms have their special touch, but I will keep practicing!) In this recipe case, they are a little thinner than the average ones, they have soft and light consistency, its like a pillowy thicker potato-flour tortilla, not salty, nor sweet, which makes it the ideal breakfast scone.
To make them as a whole breakfast, we decided to serve them with Ian's fantastic creamy eggs and smoked salmon. We put a  little twist on one of our favorite breakfast recipes from Gordon Ramsey, he makes this similar creamy eggs and serve them on a toasted croissant topped with smoked salmon. what's not to like right?… well, wait until you try this scones, I think it is a great and dainty pairing.
What we wanted to achieve with this recipe is to recreate a hearted memory. We both come from small families and sometimes is hard to get together; people are far away, work can distract.  And when it comes this time of the year, there's always the need to create our own memories and make things that remind us that no matter what, the people we love will always be with us in memory and heart.
Every Christmas we try to make something special to remember Ian's mother, Betsy, who left us on a Christmas Eve. She absolutely adored Christmas time, she used to find us thrifty quirky funny  presents that will make us laugh or need the un-needable! she also loved decorating and cooking for the family.  Since then, we have been making a special dish, decoration and playing music to commemorate her. We love and miss you Betsy!
This year this is our tribute to her, and we proudly wanted to share the recipe with you.
Merry Christmas!, Happy Holidays!
May this season be filled with love and great memories.
Ian and Mariana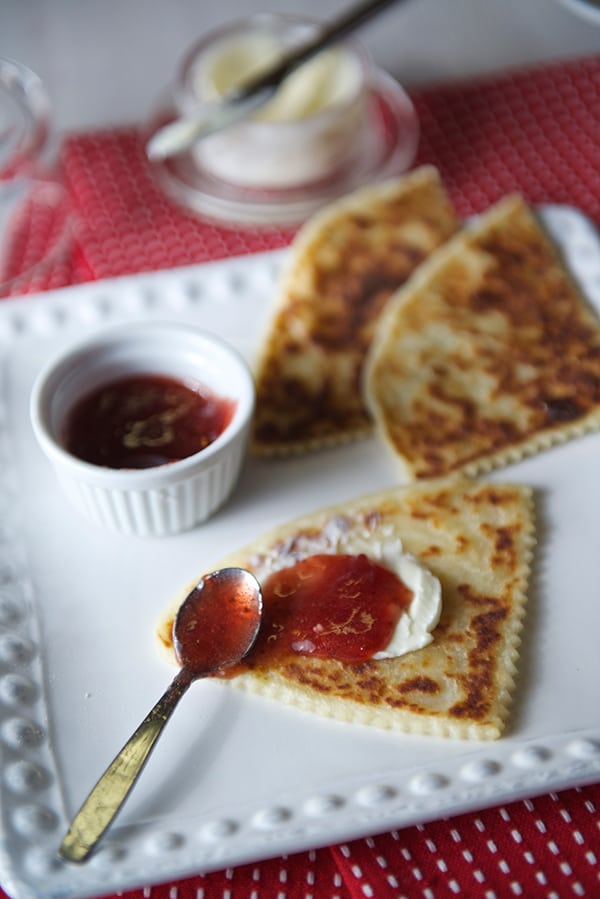 Betsy's Scottish Potato Scones
Makes about 16 triangles, serves 4 or 2 Celtic creatures
2 medium size potato (Equivalent to 2 cups when mashed) like Maris Piper, King Edward or Yellow potato.
1 cup all purpose flour + more to dust and roll
4 oz good irish butter I used Kerrygold, or Organic Valley
1/2 teaspoon baking powder
2 healthy kosher salt pinches
Method:
1. Steam the potato, skin it, cut in cubes and with the help of a strainer or a ricer puree the potato into a medium size bowl.
2. Add Butter and mix with your hand until incorporated
3. Add Salt and Flour and mix with a wooden spatula until you feel you need to use your hands in order to get all the flour incorporated to the dough.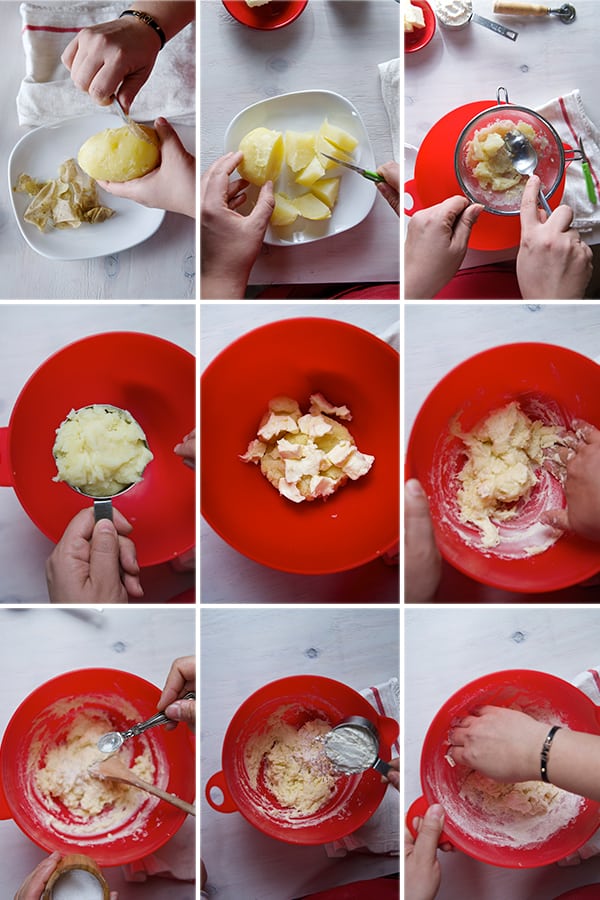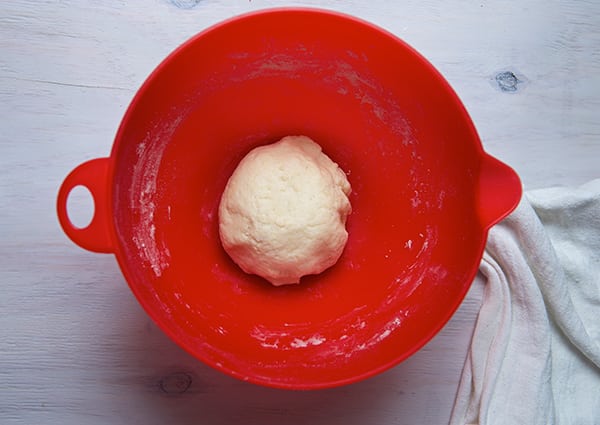 4. In a lightly flour dusted surface, softly Knead the Dough in folded movements for about 2 minutes. Shape it into a ball and divide into 4 equal pieces. Roll each piece about 6" diameter and 1/8-1/4 inch thick disk. With a pizza or ravioli cutter, gently cut the disk into four pieces.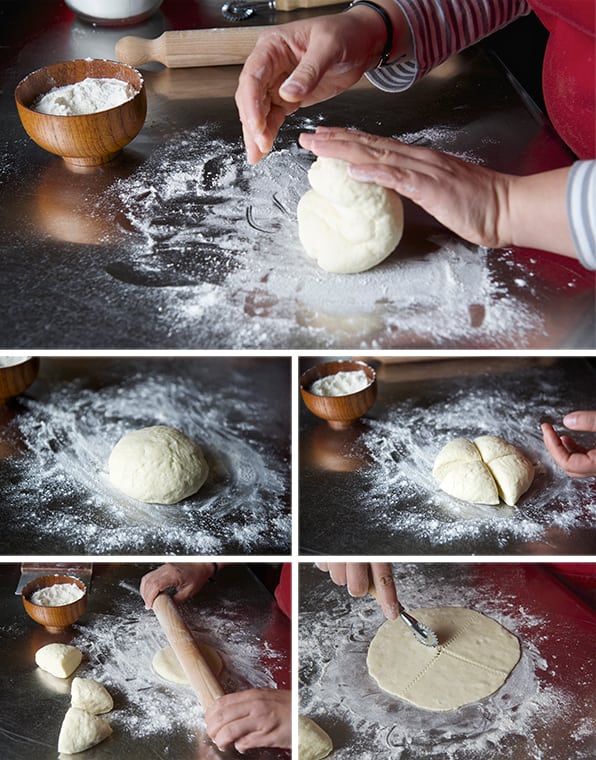 4. Warm a cast Iron Griddle using medium-low heat. Oil a paper towel and lightly grease the griddle. Place the 4 triangle Scones and cook them about 3-4 minutes per side. The way to know when to flip them is when they start forming air pockets, watch your heat, they cook better in medium low, some cast iron pans can hold a lot of heat so you might have to adjust for a lower setting during the cooking. Is kind of like Pancakes, The first batch is not so good, and after that everything cooks beautifully!
5. Serve warm.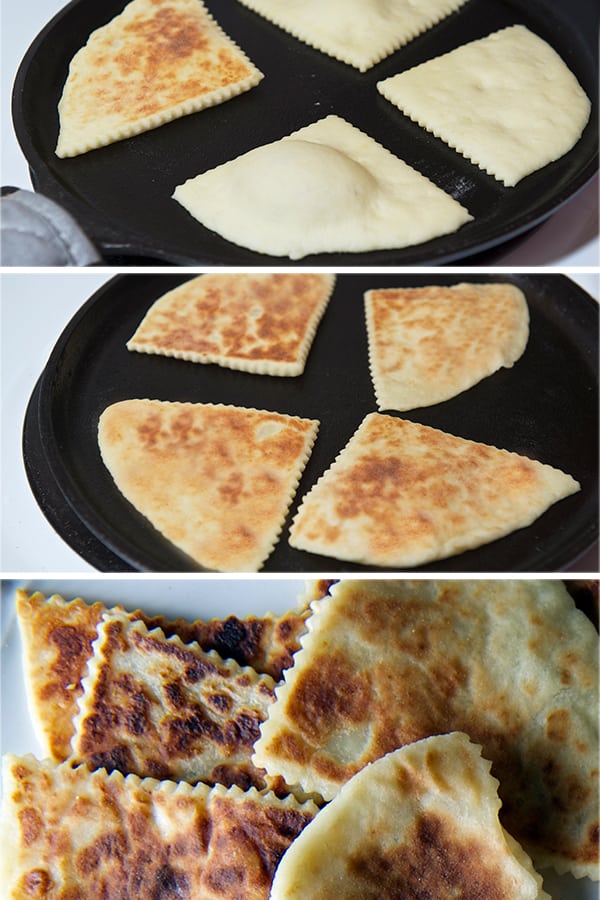 "Betsy's scones where soft , light and pillowed, with a bit of chewy like a  flour tortilla"
…That's how Ian describe them.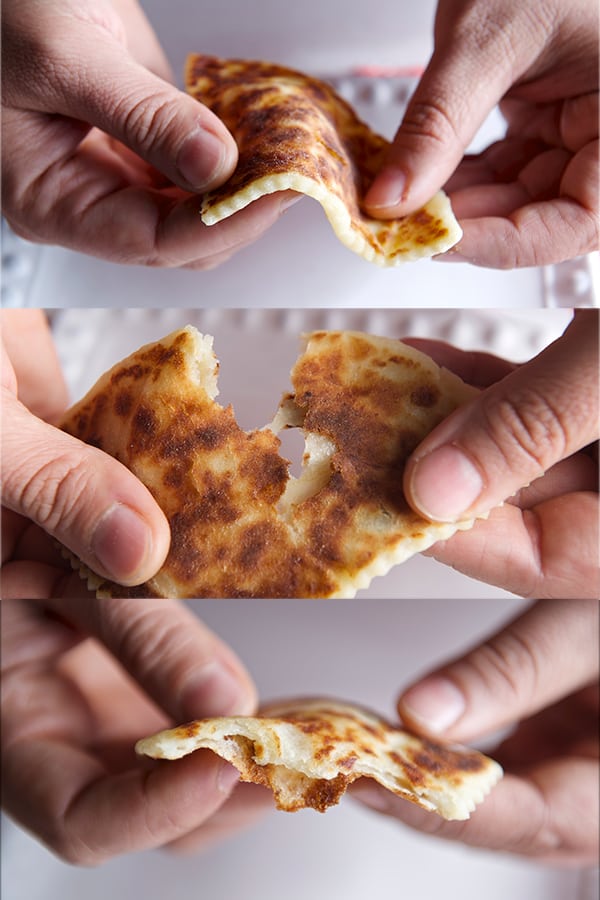 Ian's Creamy Eggs:
Serves 2
When it comes to eggs it really does makes the difference to use the best quality you can.
Organic free range , thats what we use, Smith & Smith farms, Boggy Creek Farm if you are in Austin this are ones of the best!
4 large Eggs
1-2 Tablespoons butter
A splash ah-roo of heavy cream.
Salt and fresh cracker pepper to taste.
These eggs are really easy to make, but they require all your attention, its all about stirring slowly at all times until they start to curdle. Be sure to start the eggs at last. Once you have your table set up, the scones made, plates warm, smoked salmon in the table, chives ready, coffee on the table. Yes it is this crucial you have everything ready, so you can enjoy the eggs as creamy and warm as possible, since they change their consistency as you eat them. The consistency of these eggs is like a creamy custard with small curdles of egg, soft and tender, they just melt in your mouth. Salt and pepper is added at last to prevent though egg whites.
So, -ready-; set …GO!
Method:
In a small-medium non-stick pot, over a low heat melt 1 tablespoon of butter very gently.
Add the 4 eggs and whisk gently until well incorporated.
With a wood or rubber spatula, start stirring the eggs in circles, at all times.( As if you where gently whisking)
Until they start to curdle, add the second tablespoon of butter keep stirring, remove from heat and add a small splash of the heavy cream ( keep stirring) place them back into the heat, for about 6-8 seconds, and transfer them into a warm ramekin or ceramic dish. Serve immediately Add salt and pepper to taste.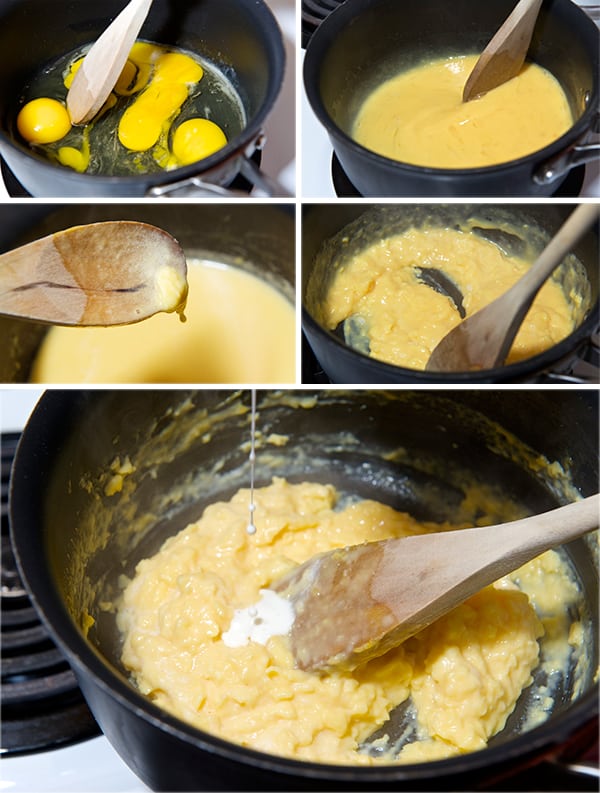 Serve: Over 2 or 3 scones, a couple of tablespoons of egg and top it with the smoked salmon and chives. Enjoy!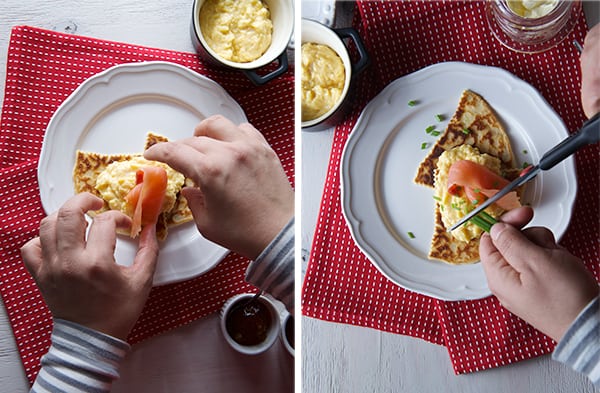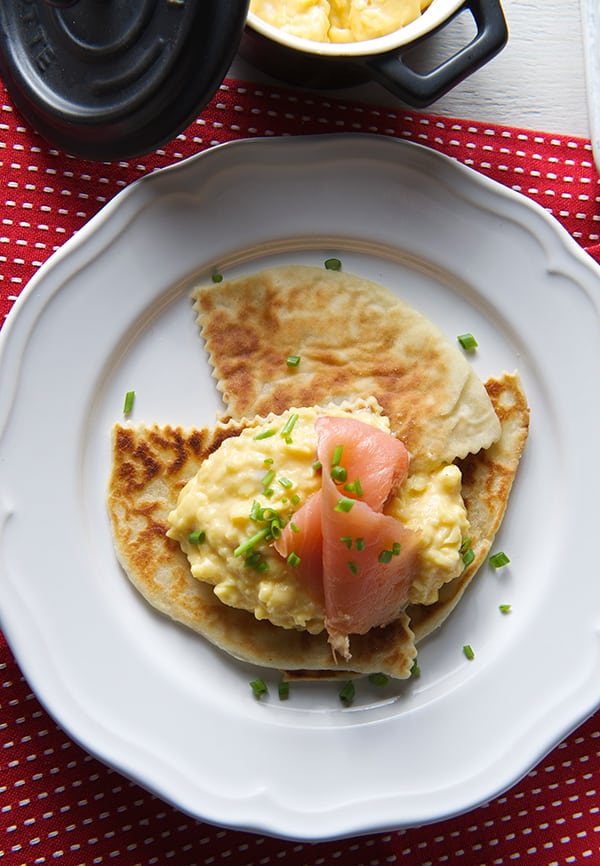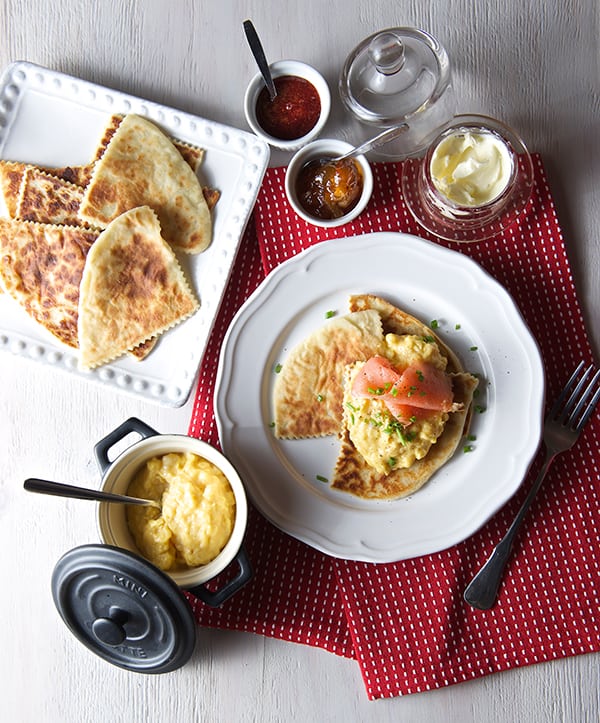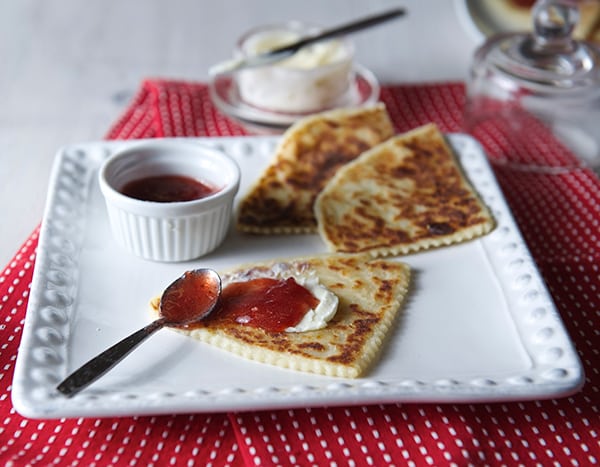 Merry Christmas!!!