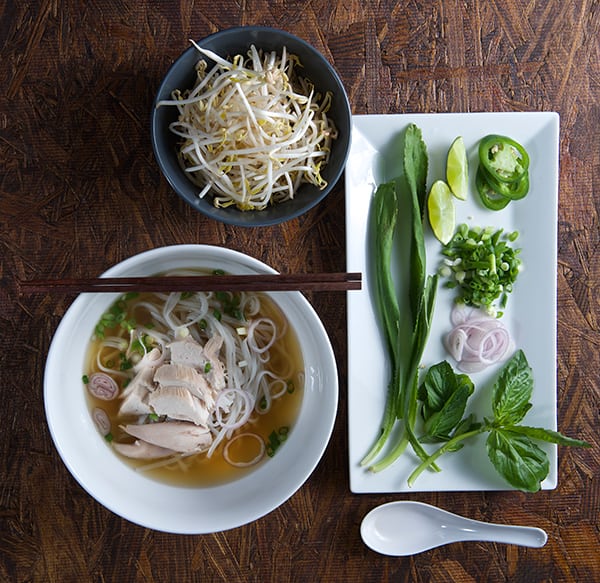 One of the dishes that can be found in almost every culture is chicken soup. Chicken dumplings, Chicken noodle soup, Mexican Caldo de Pollo, Avgolemeno (Greek) , Penicillin (Jewish), Kerala (Indian), French using aromatics and herbs, German creamy chicken and potato soup. You name it, Chicken soup is the queen of soups.
Vietnamese cuisine features one favorite chicken soup, Pho Ga Vietnamese Chicken Noodle Soup . This cosmic broth can bring the use of all your tastebuds at once. There are two styles of this soup; Pho from Hanoi- phở bắc or "Northern Pho" and Saigon Pho-phở Sài Gòn from the south, both have two ingredient variations. Pho Ga (Chicken), Pho Bo (Beef).
Hanoi Pho uses a wider noodle, lots of green onions, vinegar and spicy chilies to garnish the dish. Saigon Pho uses a thinner noodle. The broth has lots of aromatics and slightly sweeter taste. For garnish they use a wide variety of fresh herbs, soy bean sprouts, lime, and chilli "rooster sauce" (Sriracha).
Saigon style is the one I'm more familiar with. I've made a little variations on this recipe. Usually Chicken Pho "Pho Ga"is served with a clear broth flavored with charred onion, ginger, and coriander seeds. While the Beef version "Pho Bo" the broth has notes of cinnamon, cardamom, star anise, and of course the flavor of roasted bones intensify the broth.
I added a few more notes to my chicken broth to accent the chicken flavor and give a little more depth of flavor. I hope you enjoy it. I think it is a fantastic dish, light and great for January with its cold weather. This would be a good recipe for a weekend since it requires a couple of hours worth of preparation and cooking. Now with all the big holiday dinner parties and big calorie dishes gone, I'm craving lighter dishes with a punch of flavor and fresh herbs or vegetables, Pho Ga Vietnamese Chicken Noodle Soup is my cosmic route.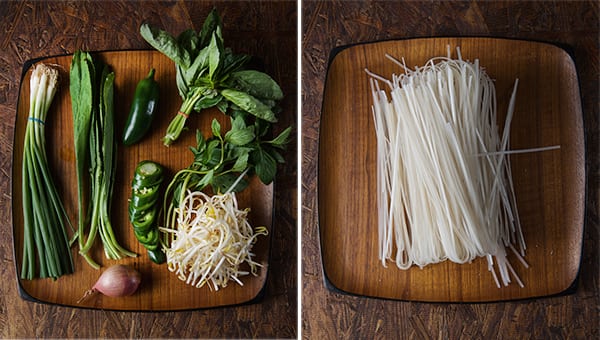 Pho Ga Vietnamese Chicken Noodle Soup
~Saigon Style~
Serves 4-vietnamese portions
For the Broth:
1 ½ medium large yellow onion
1-2 fresh ginger arms about 3 inches long (choose the plumper ones.)
1 whole chicken 3.5-4 lbs. (2-2.5 Kg)
2-3 lbs. extra chicken parts like wings, backbones, neck or any other bony chicken parts.
(if you do not have the time or prefer the short route you can buy no-salt or low sodium organic chicken stock, you will need about 32 oz which equals 1 quart jug of stock)
I cook organic chickens which I purchase locally from the good folks of Smith & Smith farms:
smithandsmithfarms.webs.com
4 quarts of water
5-7 star anise (around 30-35 picks)
10-12 cardamom pods
4-6 cloves
1 tablespoon Coriander seeds
2 sticks Saigon cinnamon
½ teaspoon whole black pepper
2 tablespoons turbinado sugar
1/4-1/2 cup fish sauce (I like this kind)
1-1/2 tablespoons sea salt
1 piece of cheese cloth and cotton string or a large tea ball.
For the Bowls:
1 1/2–2 pounds small flat rice noodles (bánh phở), dry or fresh
Cooked chicken, sliced or shredded at room temperature
1/2 yellow onion, sliced paper-thin, rinsed in cold water, soaked for 30 minutes and drained
or 1 shallot thinly sliced.
4 to 6 scallions, thinly chopped include greens
1/3 cup chopped fresh cilantro, leafy tops only
To Garnish:
4 cups soy bean sprouts
10 to 12 sprigs mint
10 to 12 sprigs Thai basil (if is not in season you can use regular)
12 to 15 fresh culantro leaves
2 or 3 Thai, serrano or jalapeño chiles, thinly sliced
2 or 3 limes, cut into wedges
"Rooster sauce"- Sriracha.
Method:
1. Rinse the ginger pieces with the skin on and cut the onions in half leaving the skins on. Place them in a cast iron pan and roast them in the oven at 450F/230C for about 15-20 minutes. Broil them for 2-3 minutes to charred the outside. If you have a gas stove, use direct flame until well charred. Set aside to cool them and peel and remove the ginger and onion skins.
2. Toast your spices, star anise, coriander, cinnamon sticks, cloves, cardamom pods, pepper until they start to release their aromas. Using a piece of cheese cloth, a linen bag or a large tea ball, make a pouch and attach this to the pot making sure the bag is immerse in the water.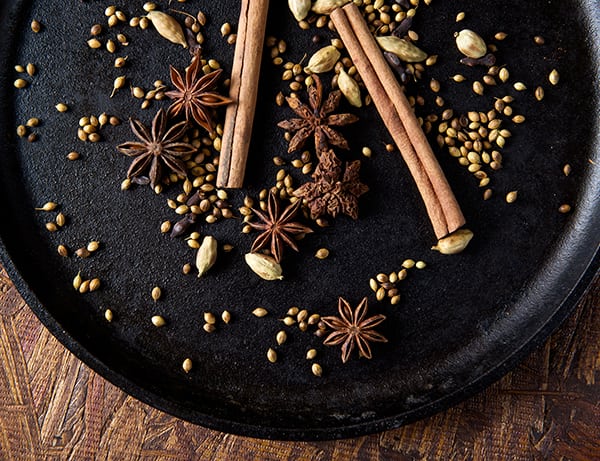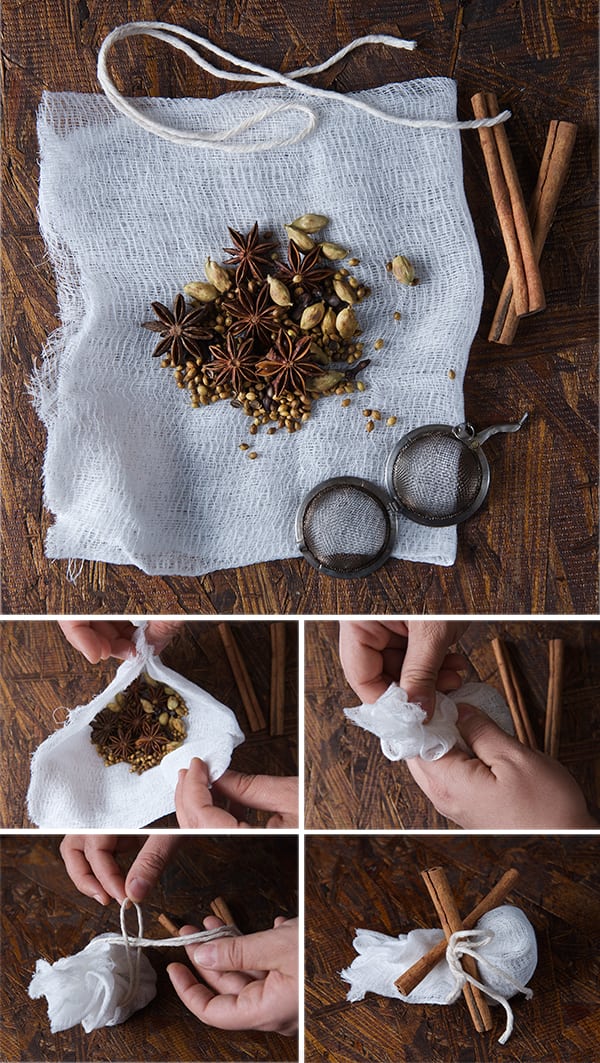 3. Rinse chicken inside and out roughly with warm water. Pat it dry. In a large pot add 4 quarts water.
Add your chicken and let it simmer for 15 minutes. Clean and remove the foam that forms on the top constantly until it no longer forms .This will ensure you to have a nice clear broth. At this point add the pouch of spices, the charred onion and ginger, add sugar and fish sauce,
4. If you are using the extra chicken parts, par boil them in a separate pot for about 15 minutes. At this point toss the water, rinse the chicken parts and add them to the main pot along with the whole chicken. Bring to a slow simmer and simmer uncovered for about 25 minutes. Using a ladle remove any extra foam that might form from the chicken broth. Once that the broth is cleared, cover and simmer for at least 15more minutes.
5. Short Alternative: There are a lot of good quality organic chicken broths available at the super markets. If you prefer to use something already made my only suggestion would be to buy organic and no-salt added or low sodium so you can control the amount of salt in your broth If you are using this route , just add the 32oz. jug of chicken broth to the main chicken and water pot. Bring to a slow simmer with the whole chicken, the pouch of spices, the charred onions and ginger. Simmer uncovered for about 25 minutes. Using a ladle remove any extra foam that might form from the chicken broth. Once that the broth is cleared, cover and simmer for at least 15 more minutes.
6. At this point, the chicken is cooked it should feel firm and juicy. Use a pair of tongs to grab the chicken and transfer it to a large bowl. Rinse the chicken with cold water and drain well. Cover and set aside for 15 to 20 minutes until it is cool enough to handle. Meanwhile, keep the broth at a steady simmer.
7. When the chicken is cool enough to handle remove all the breast meat, leg and thighs keep the flesh in big pieces so it does not dry out, cover with plastic wrap, refrigerate. And remember to bring it to room temperature before assembling your noodle bowl.
8. Return carcass and all other attached parts to the stock pot and keeping in it under slow simmer. Cook the broth for at least one more hour. Adjust salt.
9. Strain the broth through a fine mesh sieve, discard the solids. Use a ladle to skim the broth if it has to much extra fat. Usually if you are using an organic chicken the fat content is way lower than chickens that had been in a faster grow diet. That's why I will 100% recommend you to use an organic chicken which have less fat and stellar flavor! Return the broth to the stock pot and keep it at a slow simmer. At this point you should have about 4qts to 16 cups of broth left.
The broth should look translucent amber color, glistening and a bit saltier to compensate and balance the saltiness when you add the noodles.
10. Slice, chop, rise and dry your herbs and garnishes, place them in little side dishes on the table so everybody can customize their soup.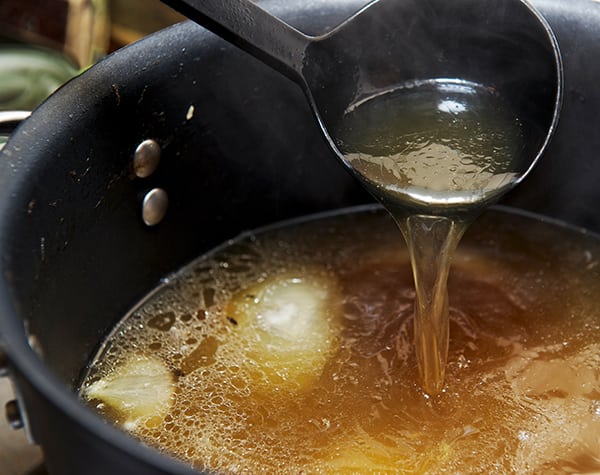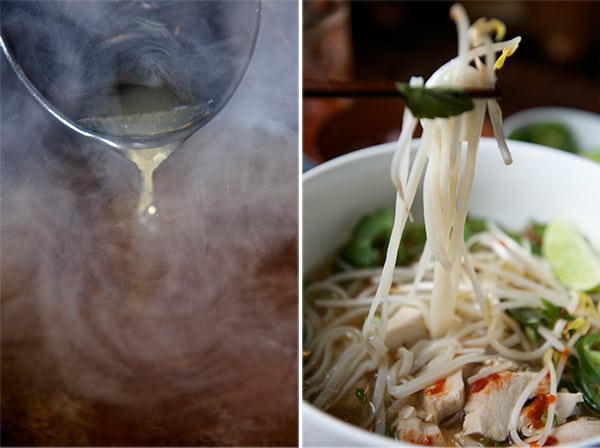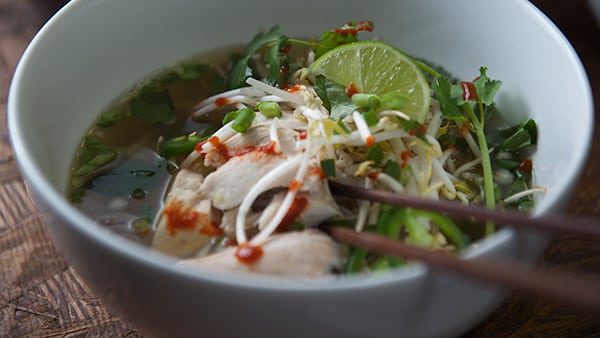 Assembling the Pho Bowls:
1. For dried noodles: cover them with hot tap water and let soak for 15 to 20 minutes, or until they are pliable and opaque. Drain in a colander.
For fresh rice noodles: untangle them, place in a colander, and rinse briefly under cold running water.
2. Slice or shred the chicken removing the meat from the leg bones, remove the skin. Set aside.
3. Warm your bowls in the oven at a low temperature make sure your bowls are oven safe. This is an extra step, but very important if its cold and you want your soup to stay warm longer when its served. I love my white authentic ceramic pho bowls they keep my soup warm!
4. In a large pot bring enough water to a boil and blanch your noodles. Strain them in a colander. And serve immediately into the bowls. (For best results follow the directions on the package. The key point is to leave them al-dente they will keep cooking in the broth when served.)
5. In a warm bowl place the blanched, strained, noodles, top with slices of chicken, sprinkle some green onions, finely sliced yellow onions or shallots, crack some fresh pepper. Add 2-3 ladles of the simmering hot broth or until the broth covers the noodles. Serve immediately and top with the extra garnishes at the table. Enjoy!!!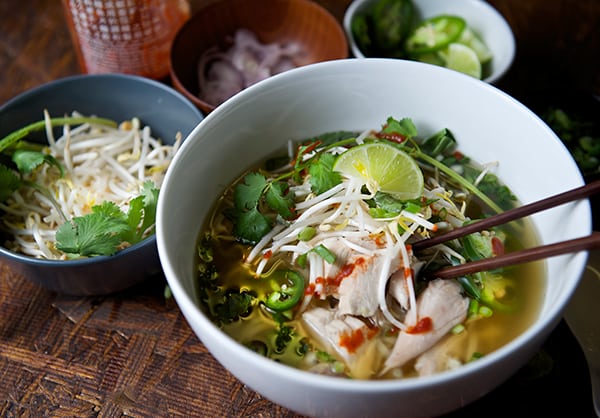 Warm up!