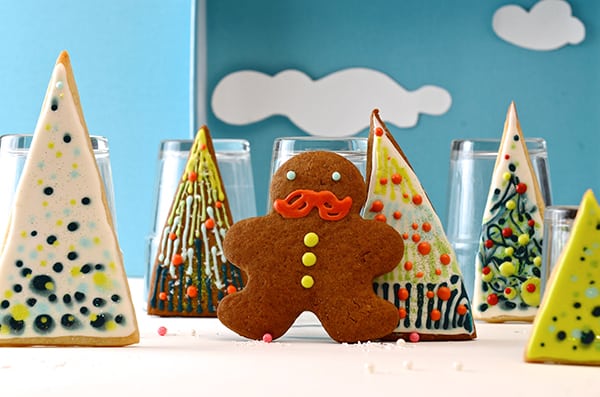 Here comes Santa! When you bake cookies expect anyone to come around them: kids, gnomes, reindeer, elves, gremlins, dogs, cats, ants, aunts grandpa's, grandmas, fuzzy teenagers, obnoxious neighbors, you name it! Everybody loves cookies…And since its Christmas lets share some cookie love!
Here is my recipe for Ginger Men. Why whole wheat? I love the nutty flavor that this flour gives to the ginger cookie. Not a fan of whole wheat?… You can substitute white flour but you might have to adjust and add ½ to 1 cup more flour.
I love to make these cookies because the house smells so good and kicks up your Christmas Spirit.
I owe you the photo steps, Ian has had an overload of work and for me, it its a bit hard to shoot with floury hands, so I made some drawings to illustrate a couple of steps. If you have any questions please send me a comment I will guide you.
I'm certain that these cookies are so easy to prepare you'll have no trouble at all!
Enjoy!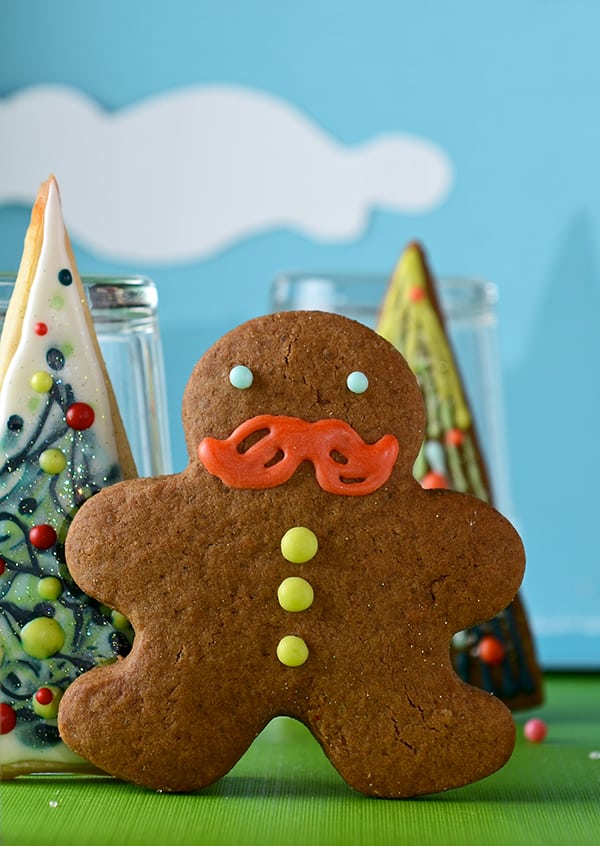 Whole Wheat Ginger Men Cookies
Makes 2-3 dozen depending on the size of your cookie cutter.
4 cups whole wheat flour ( I used King Arthur 100% organic whole wheat flour)
1 teaspoon baking soda
1/2 teaspoon baking powder
1 teaspoon kosher salt
¾ cup Butter
¾ cup organic blackstrap molasses
¾ cup brown sugar
Spices:
2 teaspoons ground ginger
4 teaspoons cinnamon
1 teaspoon allspice
1/2 teaspoon ground cloves
1/2 teaspoon freshly grated nutmeg
1 tablespoon fresh grated ginger
3 large eggs
Preparation Method:
1. In a medium size bowl whisk together flour, salt and baking soda.
2. In a medium-sized pot, over medium heat, melt butter, molasses, brown sugar and all the spices until well combined. Set aside and let the mixture cool down.
3. Once this mixture has cooled down whisk in the eggs one at a time.
4. Add the flour mixture one cup at a time and incorporate with a spatula in folding movements until well combined do not over mix.
5. Divide the dough in two and place each half of the dough into a cookie sheet lined with parchment paper. Flatten as much as you can and shape into a rectangle, and then place a second piece of parchment paper on top. Follow the next steps before chilling.
Now, in my opinion, the best technique to use is from Martha Stewart. No doubt, she is the queen of cookies right? What is this technique about?,basically you roll the dough before chilling, about 1/4"inch between two pieces of parchment paper. It helps using two wood dowels along the sides to ensure an even thickness of the dough slab.
This technique is great, because not only will speed up the process of chilling the dough to about 1 hour, it also leaves you with 2 or 3 cookie dough slabs ready to cut. I love this simple trick, because it saves you the step of having to deal with rolling a cold hard dough. Once you roll the dough in between the parchment papers, just transfer this sandwich into a cookie sheet.These simple step make it so much easy to transport back and forth from the refrigerator or the freezer to chill the dough.
After 1 hour, Remove from fridge and peel the top parchment paper and start pressing your cookie shapes. Remove the negative dough space. This will leave you with a tray ready to bake, no need to deal with misshaped cookies or trying to transfer them as you cut. Its so easy! check this lil drawings it might help…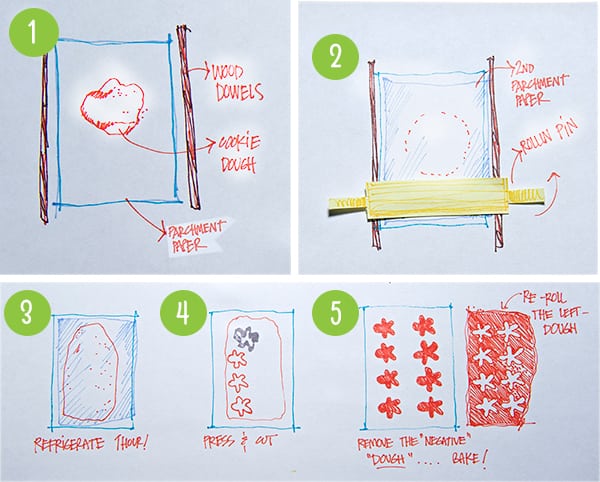 Preheat your oven to 350 degrees.
Bake for 7-10 minutes. Bigger cookies might need 10-12.
Remove cookies from the oven and let them cool on the sheet for 2 minutes before transferring them to a wire rack to cool completely before icing.
Something to consider: When choosing a cookie cutter try to avoid intricate shapes or in the case of this Ginger man use a Ginger man with an evenly shaped figure so the cookies bake more evenly.
Icing:
1 cup powdered sugar
¼ teaspoon lemon juice
1-1/2 teaspoon meringue powder or dry egg whites.
Mix the powdered sugar and meringue powder together.Add the lemon juice to this mixture and whisk well until slightly pasty. At this point you can divide the icing and add a little food coloring. I like to use natural colorings like this kind.
If the icing is too thin, add more powdered sugar, if it's too thick add a drop of lemon juice.
Use a piping Bag, or squeeze bottles to decorate.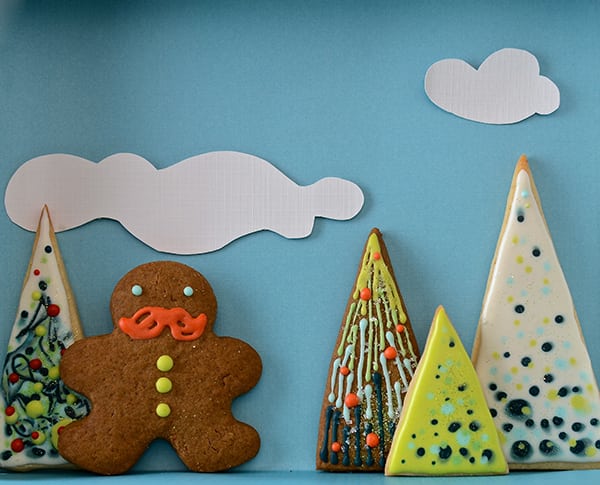 ~ Have fun! ~
Music pairing: Santa Claus is coming to town-Ella Fitzgerald