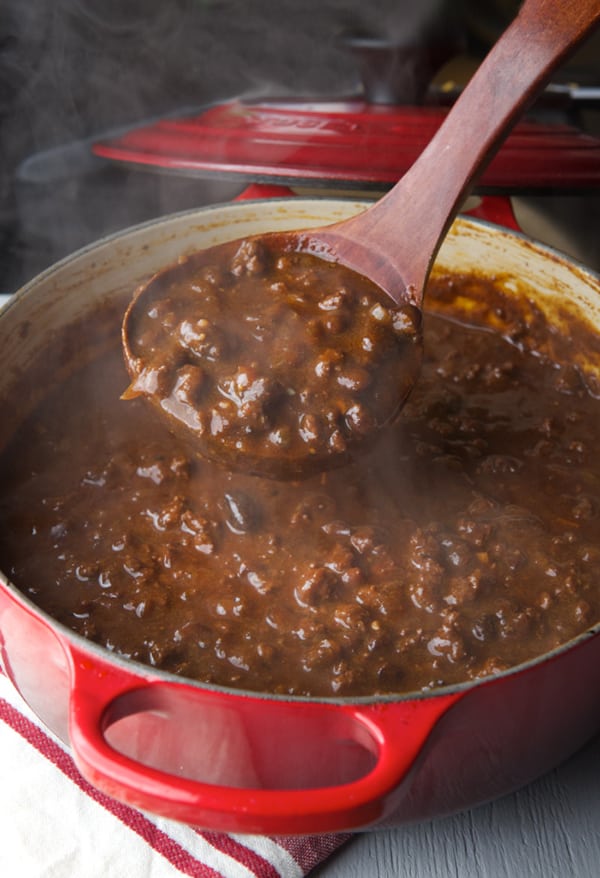 Probably this recipe may offend a few of our Texas cooks. Please don't let the title of this recipe scare you away… Bare with me, you, dear Texans.
This chili with beans recipe is what results of a marriage, between a South Mexican girl and a Northern Michigan boy. My chili has to have beans. As you know we live in Texas, which I believe there must be a written law somewhere about no beans in chili. We hope we don't get into trouble, but if we do, with all your respect, heck yeah!, I want a pot of this trouble for any given Texan winter night.
I'm using Ground Bison full of rich meaty flavor, lots of character and the right amount of fat. To complement the ground bison, I used a type of black bean called Rio Zape. They are a bit larger than black beans, meatier, creamy and with a very earthy flavor, than when cook it produces the most delicious cloudy broth. I love this bean flavor win combination with all the chili spices. A dash of Apple cider vinegar to brighten up the chili powders it's must. Garnish with sour cream, onions, and Colby cheese. A side of freshly baked cornbread is the perfect accomplice. This Yankee-Mex chili has a great depth of flavor, from the ancho chile, a bright mild spiciness from New Mexico chili powder and a hint of lingering spice from a dash of cayenne pepper. Its well balanced flavors and the right consistency will warm up your inside out. Let's cook!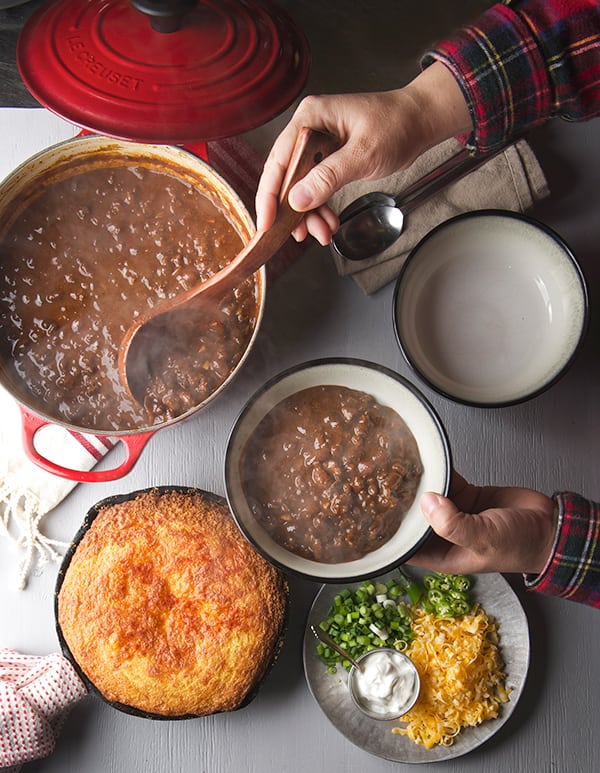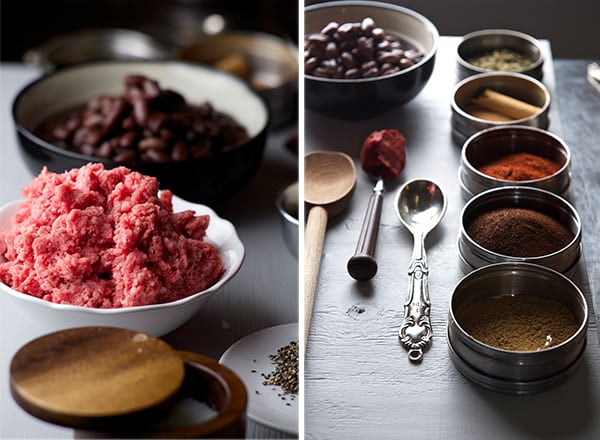 Yankee-Mex Bison Chili
Serves 2-4 Yankees and maybe 1 exiled Texan.
3 tablespoons corn oil
1 large white onion diced
3 garlic cloves finely chopped
2 lbs. 90%-10% lean Ground Bison
4 dashes Worchershire sauce
1 teaspoon salt
1/2 teaspoon Black Pepper
1/2 teaspoon ground mexican comino
2 heaping tablespoons Ancho chili powder
3 heaping tablespoons New Mexico chili powder
1/4 teaspoon cayenne pepper
1 tablespoon tomato paste
1/2 teaspoon dry mexican oregano
2 pinches mexican cinnamon powder
About 2 teaspoons grated piloncillo*
1 tablespoon apple cider vinegar
1 bay leaf
2 cups beef broth, sodium free.
2-3 cups Rio Zape or Black beans cooked*
2 cups of the Bean broth. If you cooked your beans reserve the broth. If you are using canned beans, rinse the beans discard the liquid and substitute for 1 cup of beef broth, sodium free and 1 cup water.
2 tablespoons corn masa harina, diluted into one cup of the broth above.
For Garnish:
Sour cream, Colby cheese shredded, green onions or red onions diced, fresh sliced jalapeño or serranos.
Serve with Skillet Sweet corn Bread. Recipe follows. Or this Corn bread muffins or this honey-jalapeño corn bread.
Preparation Method:
1. In a cast iron enamel pot, sauté the diced onions until translucent. Add finely chopped garlic, sauté until fragrant.
2. Add Ground Bison, break the ground beef into small pieces with a wooden spatula. Add worcestershire sauce, comino a bout 1 cup of the beef broth, salt, and pepper. The liquid will help the ground beef to separate into smaller pieces. Stir constantly until liquid has evaporated in half.
3. At these point the meat looks juicy, lose ground texture and glistening. Sprinkle the ancho, New mexico, and Cayenne chili powders evenly. Stir until the ground bison has a dark red and all meat its well covered into the chili powder, add the tomato paste until well incorporated. Sauté for 2-3 minutes. Add dry oregano, cinnamon, grated piloncillo, vinegar, and toss well briefly.
4. Add the 2 cups of bean broth, bay leaf, toss well, bring to a simmer and let simmer for 8 minutes. Toss every now and then.
5. Dilute the corn masa harina into one cup of beef broth until no lumps. Add this mixture to the chili, while stirring to avoid clumps. Simmer gently for another 8-10 minutes stirring now and then.
6. At last add the cook beans, add a little more beef broth if needed. Taste and adjust salt. Simmer for another 5 minutes until beans are warm and the consistency is like a lose gravy. At this point you decide if you prefer a more lose chili or a gravy like consistency. Cover with a  lid and Keep chili warm, let all the ingredients talk to each other. before serving. Meantime start baking the corn bread! Recipe follows…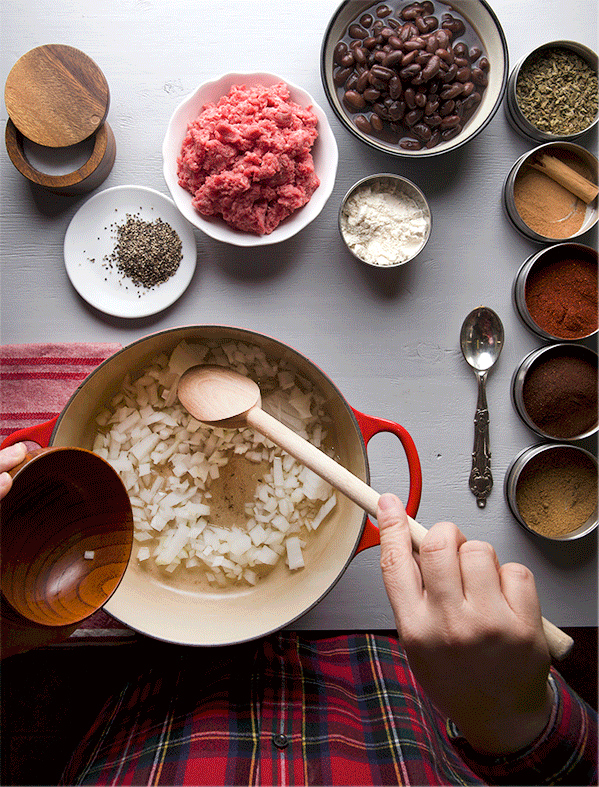 Quickie Skillet Corn Bread:
Serves 4
1- 6″ cast iron skillet.
2 tablespoons corn oil
Dry ingredients:
1 cup corn flour
1 ear of sweet corn kernels
1/4 teaspoon kosher salt
1 teaspoon sugar, or honey
1 tablespoon baking powder
1/2 cup Colby cheddar cheese shredded
Wet ingredients:
1 cup whole milk
1 egg
2 tablespoons extra virgin olive oil, corn oil or melted butter
2 extra teaspoons of corn oil for the pan
Directions:  Preheat the oven at 400F, Add 2 teaspoons of corn oil into the skillet and place the skillet on a baking tray, in the oven to heat up.about 5 minutes.
Mix dry ingredients, Mix wet ingredients and combine, mix well. Carefully open the oven, slide the baking tray and add the cornbread batter into the skilled as fast as you can. Spect splatters. Close the oven and cook for about 17-20 minutes, until center springs back and golden brown top. Sprinkle some smoked paprika to taste. Serve while is warm.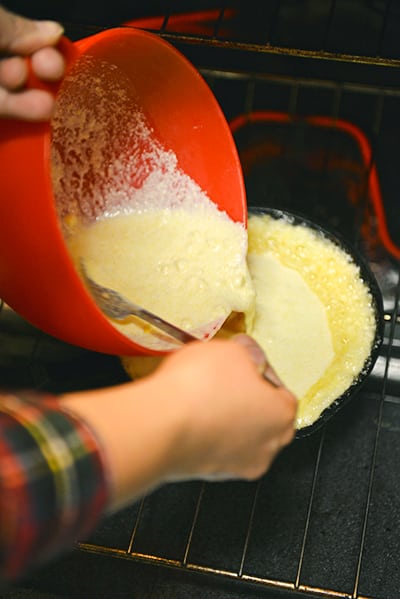 7. As soon the corn bread its out of the oven, Serve Chili on warm bowls, garnish with sour cream, colby shredded cheese, green onions.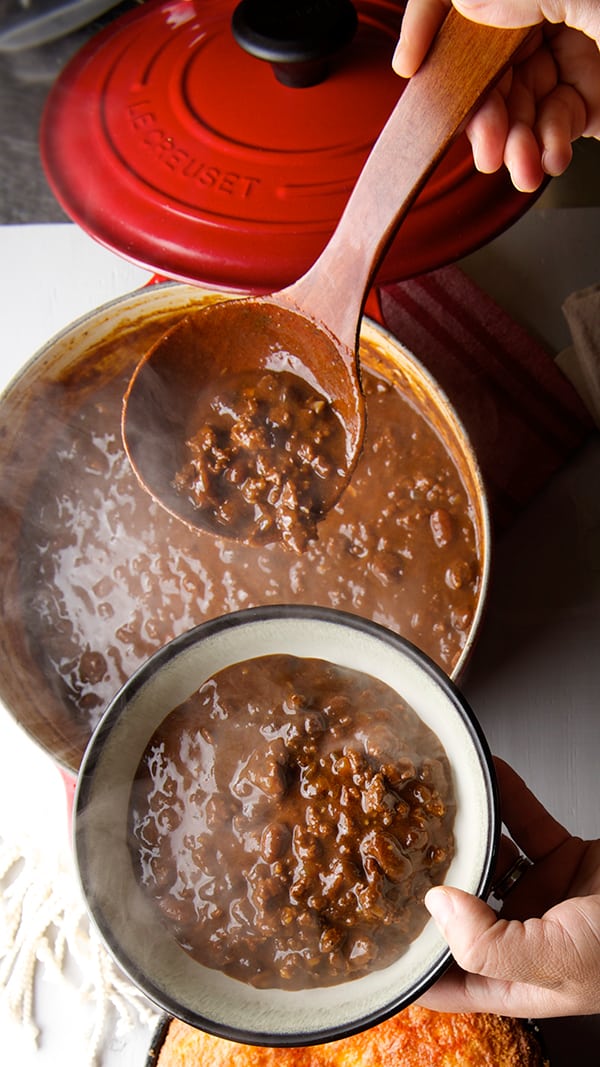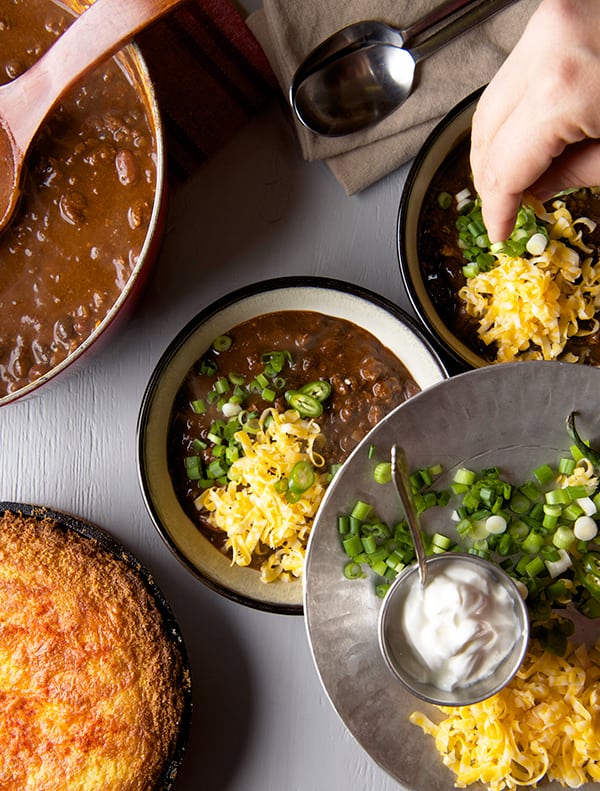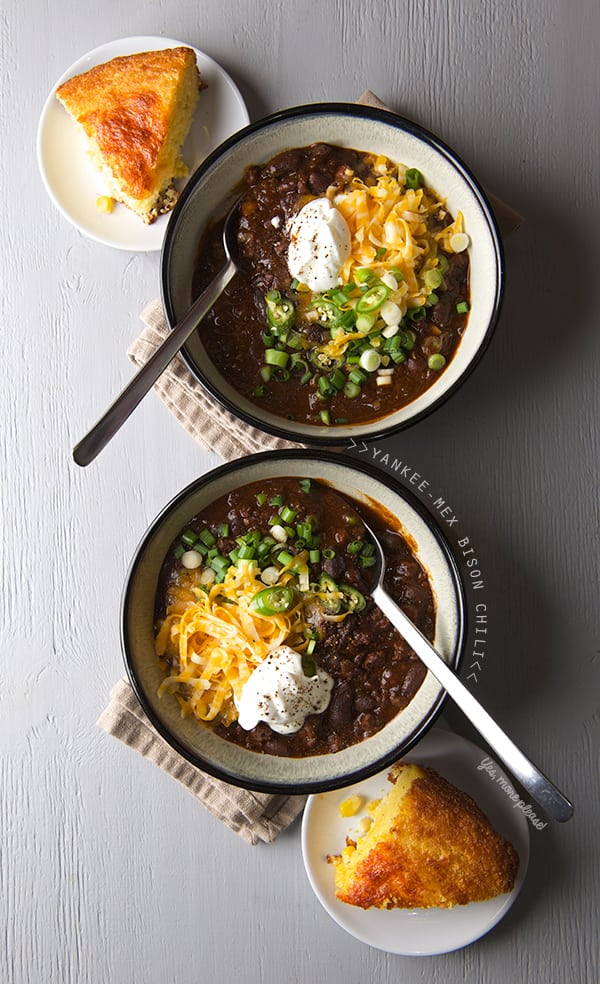 Eat . Warm up . Repeat . Enjoy!
Music Pairing: Devotchka – You Love Me
https://youtu.be/97prq7XfNgI