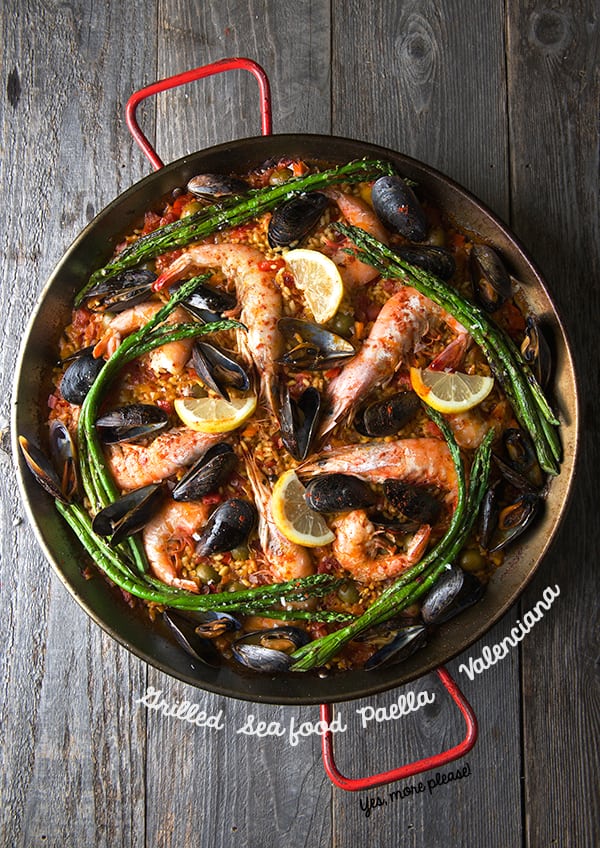 Valencia is one of the most beautiful cities in Spain. Great architecture, culture, and cuisine gather together in this little gem of a city that faces the Balearic sea.
Throughout history Valencia's splendid location attracted cultures contributing to this fantastic region character. Moors brought new ingredients to the region like rice, sugar cane, oranges, almonds, and spices. The Romans brought the utensils to cook with. This kind of influences, shaped one of the most iconic Spanish dishes, Paella Valenciana. The original Valencian Paella recipe consists of a combination of chicken, rabbit, rice, green vegetables, artichokes, peppers, bomba rice, white runner beans, saffron, fresh rosemary, sweet paprika, garlic and lemon. It sounds divine, right? And also a little far off from the Paella Mixta we know in America.
I had the opportunity to travel around Spain with my Grandma Ana.  One of the cities we visited was Valencia. We had a blast, and of course every time I tried some remarkable food I wanted to know the origin of the dish. I love to hear about different stories about what people believe and their traditions. For me, this is an enriching way to know a culture; by their stomachs! So I took this info at face value and what I discovered is that Valencianos prefer to make their Paella with one category of meat at a time and not mixing them. Hey, since they are the Paella creators, I will go with their advice!,… And it make sense, seafood ingredients available in the near coast, they use shrimp, langoustines, mussels, clams, and squid. Areas more inland use land creatures, rabbit, chicken. What ever freshest available always taste best.
Throughout Spain, other variations have been adapted for inland areas creating the infamous Paella Mixta which combines a variety of white meats, seafood, sausage and chorizo. But, just remember that Valencians are very proud of their dish and they do not recognize this Paella Mixta as Original Paella Valenciana. So watch out what you call Paella Valenciana unless you want to get in to a heated argument.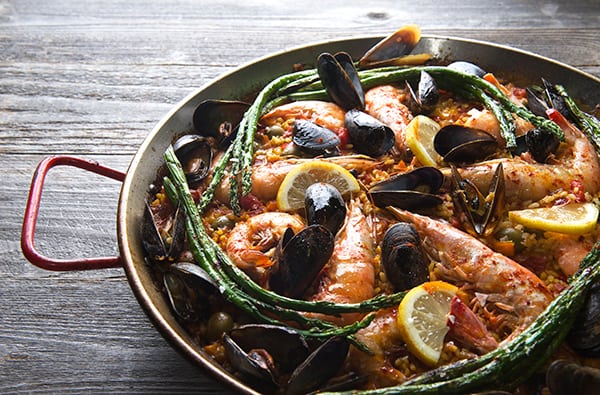 Every country has their nationalistic pride when it comes to Cuisine, and in this case there is no exception since Paella is Spain National dish.  Every culture has their memories linked around a particular dish, ingredient or preparation that was carried by generations, runs in the family, or evokes a moment in time. And It is admirable when people stand by their beliefs and roots. I do respect that.
I hope knowing all these facts makes you less intimidated, after all they say knowledge is power. I would say in this case, knowledge is inspiration. I truly believe that everybody has a little of a cook inside. I would love to encourage you to be comfortable  with the idea  of cooking and enjoying the process. Have some red wine, Rioja if possible, and music on the side to let  that cook come out. Whether you are preparing the best butter on a toast or a dish with a lot of history and tradition like this Seafood Paella Valenciana, just have fun and be curious about it.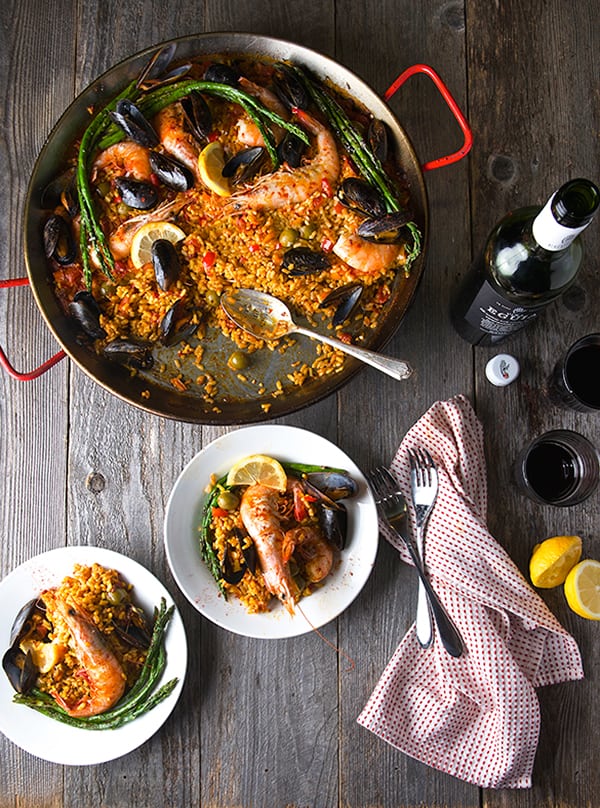 Honoring the authentic Paella Valenciana, I made it strictly with seafood. We live in Texas, and have some access to great shrimp from the gulf, beautiful fresh rosemary in abundance and delicious Spring vegetables, and Texans know all the whereabouts to build a wood fire and that's one of the key ingredient on the Valencian Paella, since it was created by people on the mountain.
I took the main components of the traditional recipe and added Spring vegetables like asparagus and green peas. I truly wanted to add some artichokes but I could not find good looking ones for some reason; anyway If you find some artichokes it would be a divine addition, if not, no biggy,  it is a delicious recipe any way. This seafood Paella Valenciana can be done in about 2 hours total including the prepping. It is definitely a dish that makes it perfect for small to medium gatherings. It is a fun crowd pleaser. With this fabulous weather, cooking outside and grilling this Spring or Summer its one of the best things to do.
Hey! Get out your inner cook and just cook!
Olé! Guapo…Let's start!…here comes the recipe…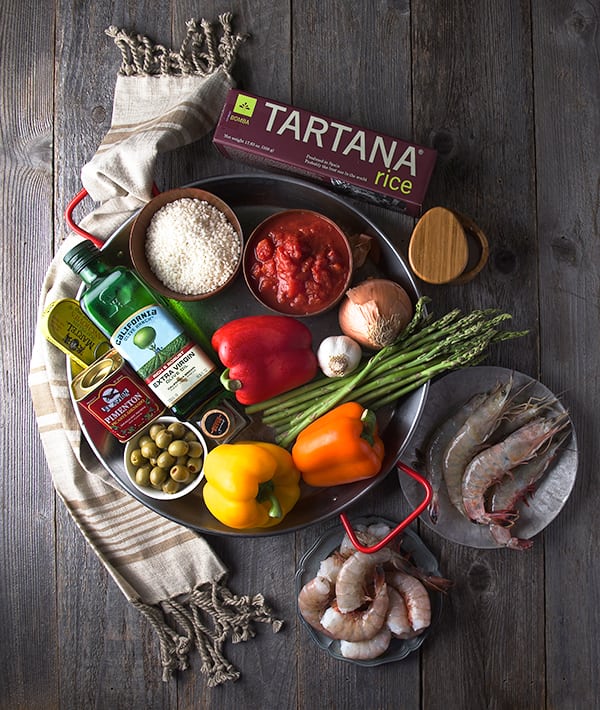 Grilled Seafood Paella Valenciana
Serves 6 Valencianos or 4 Texans
18 oz / 500gr. Arroz Bomba, I used Tartana gourmet bomba rice.
½ lb. Large Gulf Shrimp skin on.
6-8 Jumbo Shrimp with head and skin on.
½ -1 lb. Blue Mussels
½ lb. Squid rings.
1 cup fresh diced roma tomatoes or roasted can tomatoes diced.
4-5 garlic cloves finely chopped
½ medium size yellow onion finely diced
1-1/2 cups red, yellow or orange bell peppers finely diced
4-5 anchovies in olive oil
1-2 sprigs of fresh rosemary
½ cup manzanilla olives stuffed with piquillo pepper
2 quarts of fish stock
3 good pinches of saffron treads.
2 glugs of Extra virgin olive oil. I used California Olive Ranch "robust"
1 tablespoon sweet paprika or smoked paprika (this choice I leave to your taste, depending on flavor profile you want, sweet paprika is milder, and the smoke paprika adds more dept and character it is a bit spicier.)
Sea Salt
Garnish with:
Lemon and Grilled asparagus
Preparation:
1. Prepare and chop all your ingredients.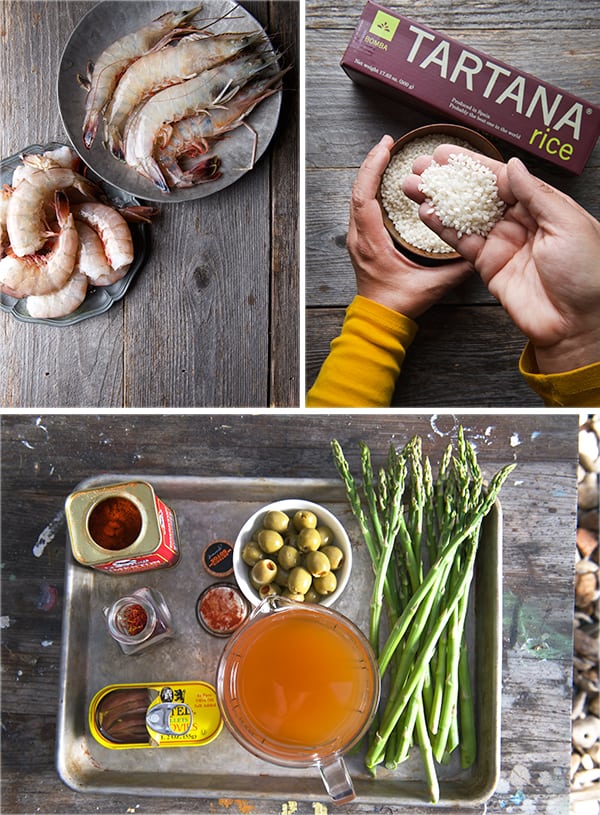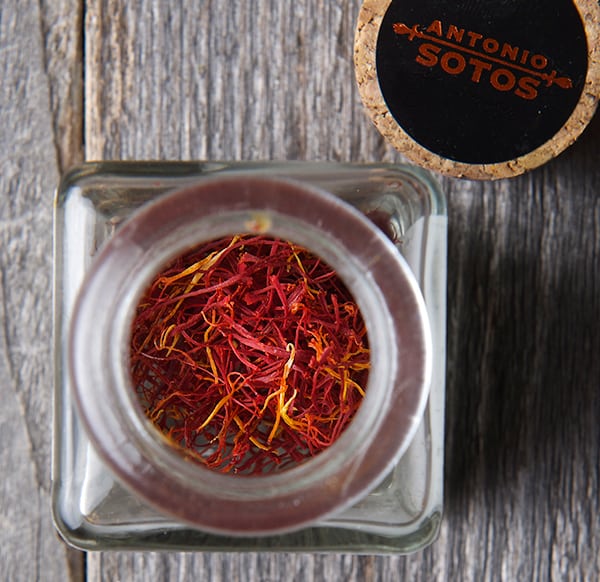 2. Start the charcoal and wood fire. We used our webber grill to build the fire and we placed the grilled rack and the paella pan on top. Our paella pan is 17" steel traditional pan, and it fits perfectly on our standard webber grill. If you have a bigger grill great!, if its smaller well, it might be a challenge but you can do it!.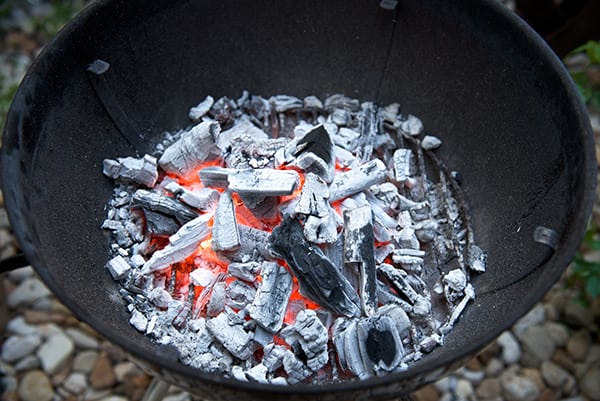 You want to start with a medium high heat, some flames to start preparing the "fondo" which is the soul of the paella. What is fondo? Well is the sauteed vegetables, condiments and fish stock where the rice is gonna cook in.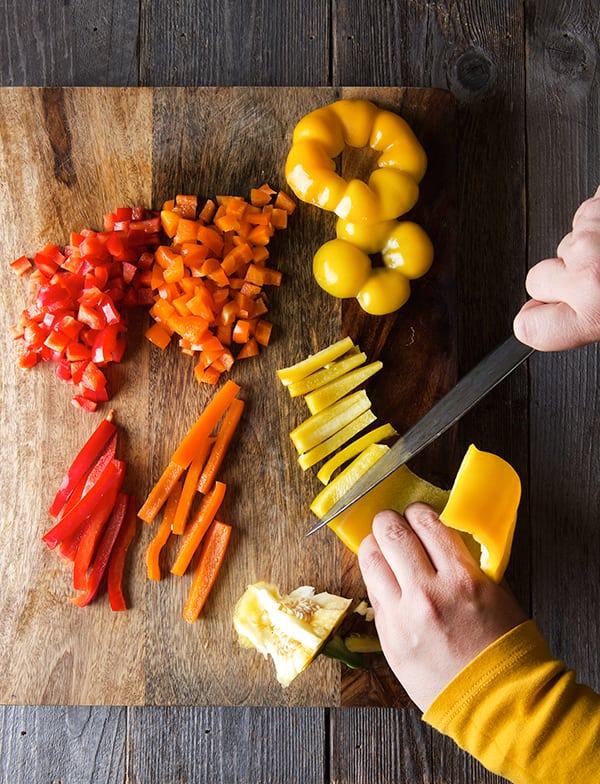 3. Place your pan over the grill rack, and add a good glug of olive oil, don't be shy this is the key to good paella, although remember paella should not be greasy but it has to have enough oil to make it moist, and flavorful. Add the diced red bell peppers, sauteed for 3-4 minutes, then add the onion, garlic and rosemary sprig.
With a good spatula move constantly. Saute for 3-4 minutes or so until the onion is translucent. Add the anchovy fillets and with the help of a wood spatula smash them and mix throughly, they will became a paste and blend with the rest of the ingredients. At this point add the tomatoes, and cook until they look shiny and intense red. Add the Paprika, stir briefly for 1-2 minutes you do not want to burn it.
4. At this point add 1 and ½ quarts of the fish stock stir, add the 3 pinches of saffron treads and bring it to a rapid simmering or a boil depending on your fire, cook for 3 minutes.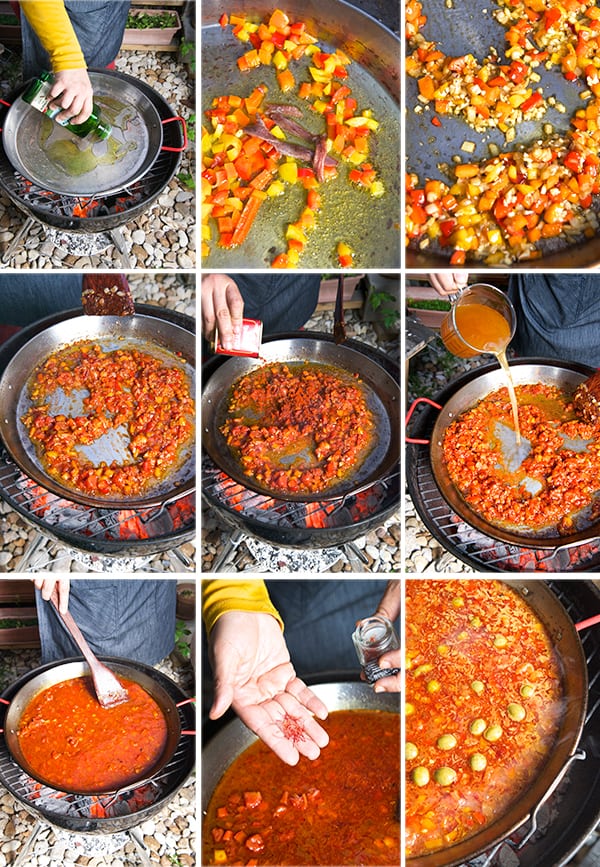 5. Once is boiling, remove the rosemary sprig, add the olives, stir and sprinkle the rice on a even layer over the whole pan.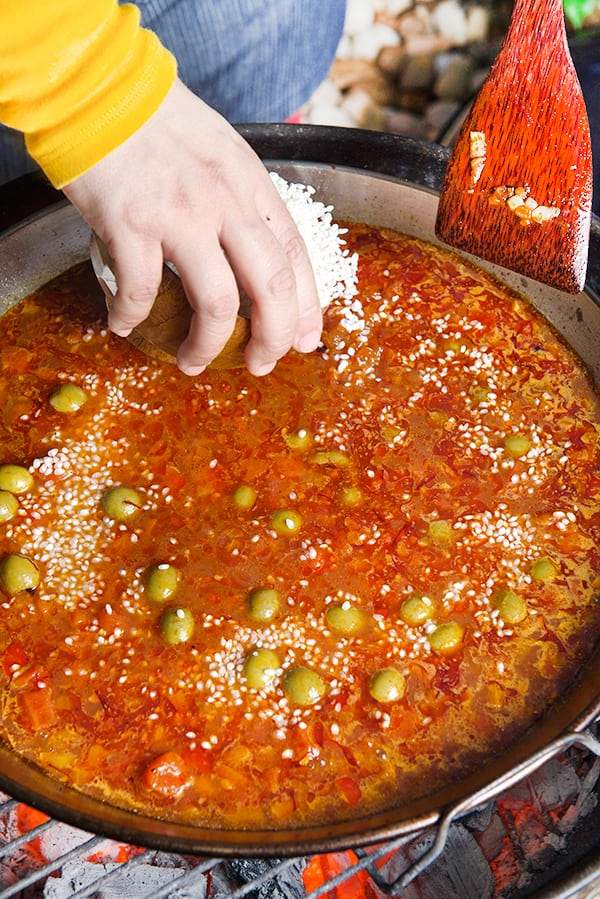 6. The rice will start cooking, watch out for hot spots on the fire. We had a hotter spot on one side so I kept turning the pan every now and then. Keep an eye on it. Cook the rice for 15 minutes or until you see that the stock has evaporated almost half way. At this point taste the rice to check for doneness it should be half way cooked, rectify for salt if necessary. Now arrange the large head on shrimp from the center of the pan to make a circle. Place the rest of the headless shrimp in between, and mussels. Cover, with grill lid. (Do not worry if it does not close tight, it is ok, this is just to help cook the top of the shrimp, and create a bit more heat for the mussels to open. It also helps to infuse a bit more the paella with the smoke from the wood and charcoal…mm delicious!)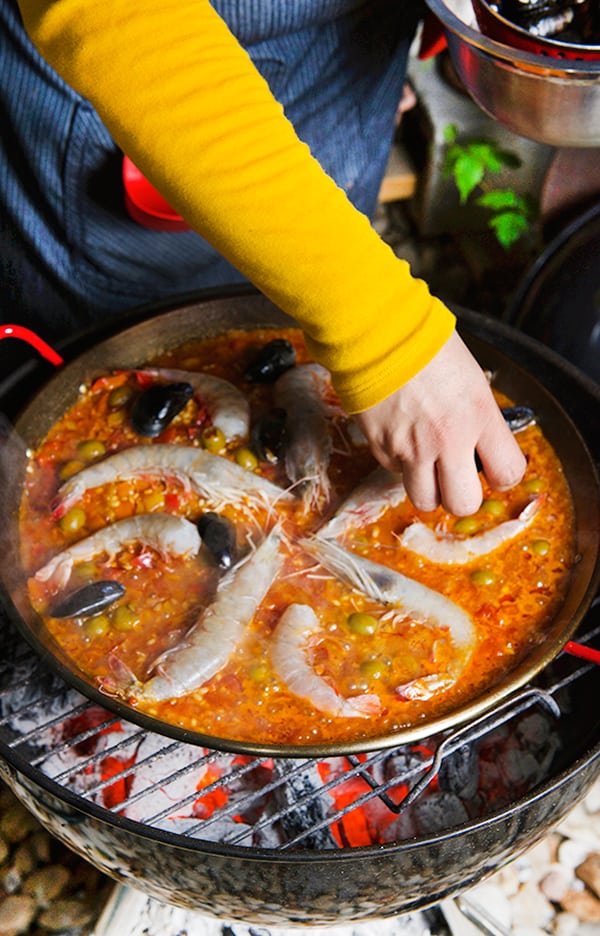 7. Remove lid , taste for rice doneness, if it look to dry and rice is not cook add a bit more of the fish stock, and cook the paella for another 4-5 minutes or until rice is cooked. Add the peas at last. They cook very fast.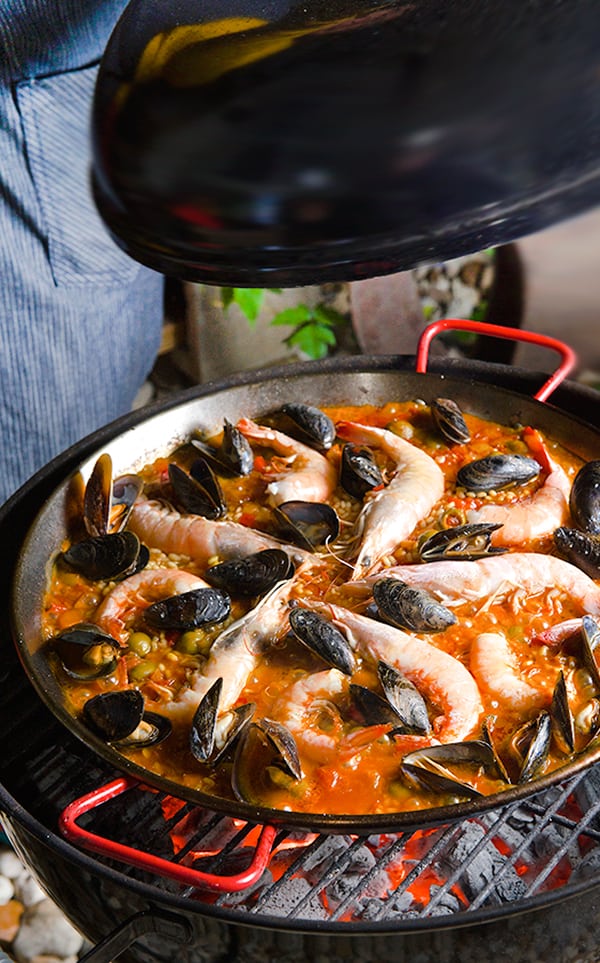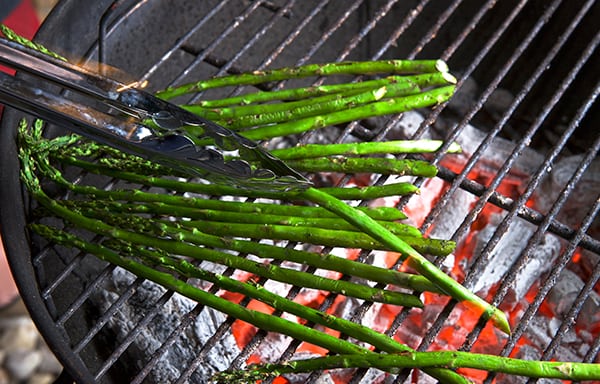 8. Set paella aside, loosely cover with aluminum foil. Meantime grill your asparagus, it will take like 3-4 minutes depending on how skinny the are. I like mine with a bit of snap on the middle, that's why I chose to cook them separate from the paella so they do not over cook. Remove the grilled asparagus and toss them with a bit of olive oil sea salt, fresh cracked pepper and a squezze3 of lemon. Arrange on top of the paella, add some lemon wedges, squeeze some lemon juice over the paella, sprinkle a bit of paprika, crunchy salt crystals and if you like drizzle some fresh extra virgin olive oil. Serve immediately. Enjoy!
* How you know the Paella is done? Well taste re rice, it should have a bit of a bite, the rice should be lose and moist. Edges of pan should be a bit crispy on the bottom. Paella crust is the best if you achieve this you are a paella master. But, do not get discourage if it does't happen, it will taste equally delicious.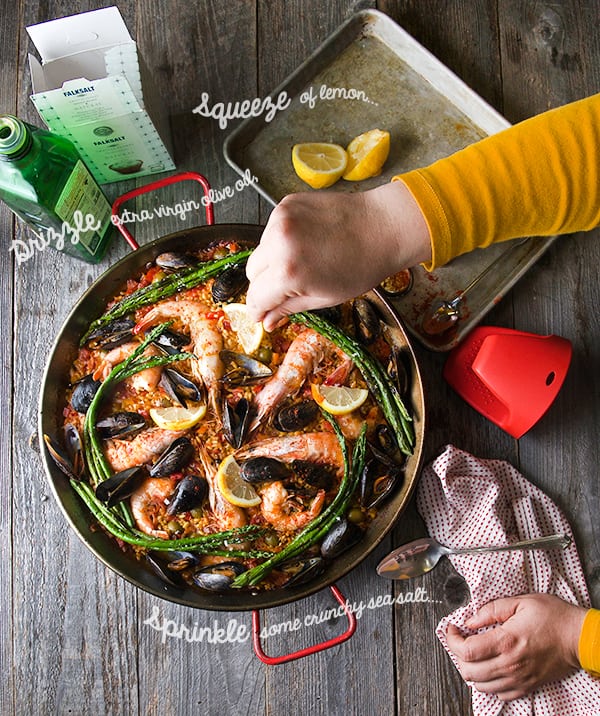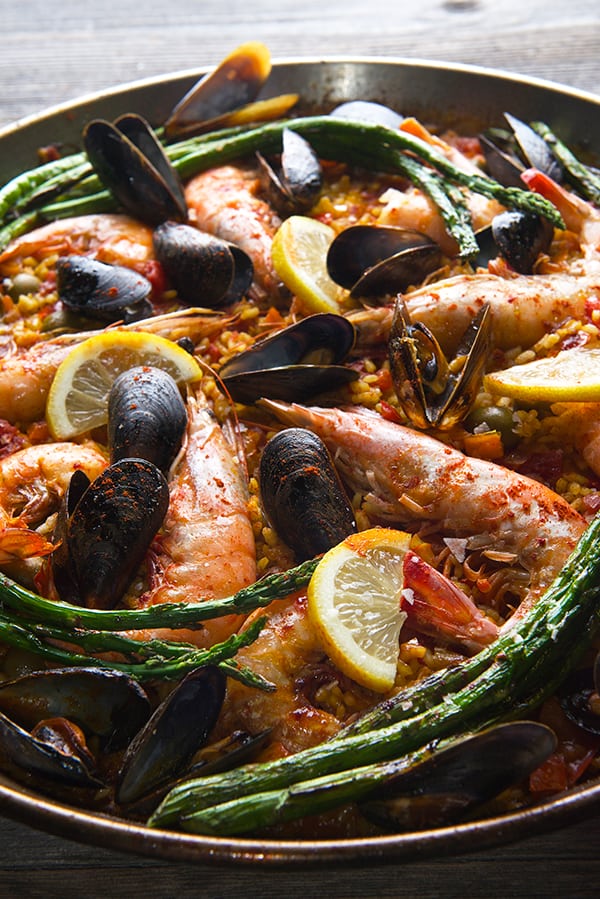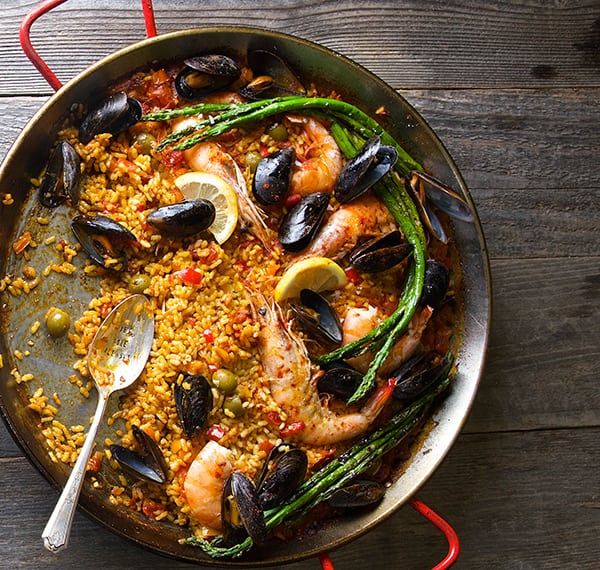 Hey! Get out your inner cook and just cook!
Music Pairing: Paco de Lucia, Como el Agua
https://youtu.be/dIueBl56MV8