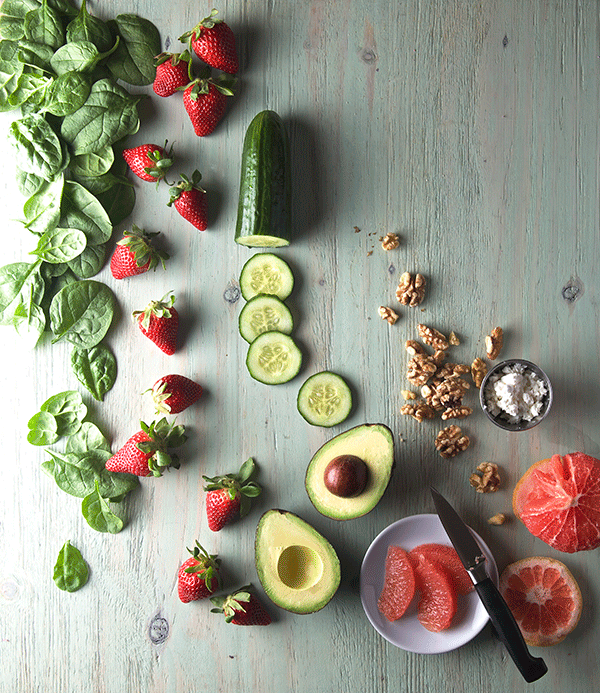 Semantically Ambrosia is a powerful word, the food or drink of the immortals, Greek goodess, sweet luscious juicy fruits, sweet honey smells, something that will bring  youth, pleasure, and health. In my crazy fantasy food world I imagine Homer, Penelope, Aphrodite, and Sappho and their ambrosia offerings of sweet and incredible nectars.  But the enchanted elixir got shattered when I Googled "ambrosia salad" and the record sounded broken. To my surprise his ambrosia salad it is an abominable concoction from the 50's. Where all the Greek Gods must of been under the marshmallow influence, along with cans of syrupy fruits like cherries red no.5, pineapple chunks of yellow no.5 undistinguished cubes of fruit matter, bright green grapes and that fluffy component all tied up into a sweet coma. That's what I call fulminating love…(Pepé Le Pew style hehhee)
Being lost in translation and trying to rescue the origins of the word,  this salad came to my mind. Lately I've been seeing a lot of "no wimpy salads" and a lot of encouragement to try and thrive while you feed not only your body, but the enticing act of eating consciously present and awake.
Althoug, I can not promise all of this matters in just one salad, I will assure you that this is not a wimpy one. In fact it does have the Ambrosia elements, fruits, smells textures, sweet, salty, acidic, juicy, creamy, crunchy all the components that make a salad a memorable meal, and the kind of salad you will crave the next day and perhaps the next weekend too. Spinach, strawberries, avocado, grapefruit segments, cucumbers, salty, creamy feta cheese, and crunchy nutty and meaty walnuts, all carefully combined and drizzled with a simple three ingredient Dijon-honey -grapefruit juice vinaigrette.  Needless to say the salad is healthy, energetic, nutritious, beautiful  and delicious.
This Spinach Ambrosia Salad with Dijon-honey-grapefruit vinaigrette  is what you need to welcome Spring and feel like a greek goddess, Enjoy!
For the recipe you will need…
Spinach Ambrosia Salad with Dijon-honey-grapefruit vinaigrette
Serves 2 Greek goddess or 4 whimpy mortals.
4 large handfuls  baby spinach /4-5 cups approx.
2 cups strawberries cut into halves
1 large pink grapefruit
1 avocado Hass cut into slices
1/2 English cucumber cut into slices
1/4 cup Feta cheese crumbled
1/4 cup toasted walnuts coarsely chopped.
Sea salt flakes
Fresh Black pepper
For the Dijon-Honey- grapefruit juice Vinaigrette
2 teaspoon Dijon Mustard
2 tablespoonful honey
4 tablespoons grapefruit juice
2 tablespoons coconut oil/ or extra virgin olive oil
2 pinches salt
4 cranks fresh black pepper
Preparation:
1. Before you start prepping , place a large plate onto the freezer. It is always best if you remember to chill your salad plates so your salad stays fresh during the meal.
2. Peel grapefruit and make grapefruit segments, by cutting in between each membrane. Make sure you use a bowl underneath wile you cut the segments, to catch all the juices. Once you have all the segments, squeeze all the membrane to get all the rest of the grapefruit juice. (See photo below)
3. Make your dressing by placing all the ingredients into a mason jar, or any jar with a tight lid shake until well combined.
4. Start arranging your salad plate. I like to built layers, starting with spinach, cucumbers, avocados, grapefruit segments, and strawberries, drizzle a tablespoon of dressing. Build at least 2-3 layers or until you use up all the ingredients. Drizzle the rest of the dressing on top. Sprinkle some sea salt flakes, and 2-3 cranks of black pepper.
Note: Make ahead for lunch, dinner, or if you are entertaining, reserve the dressing, and drizzle it before serving.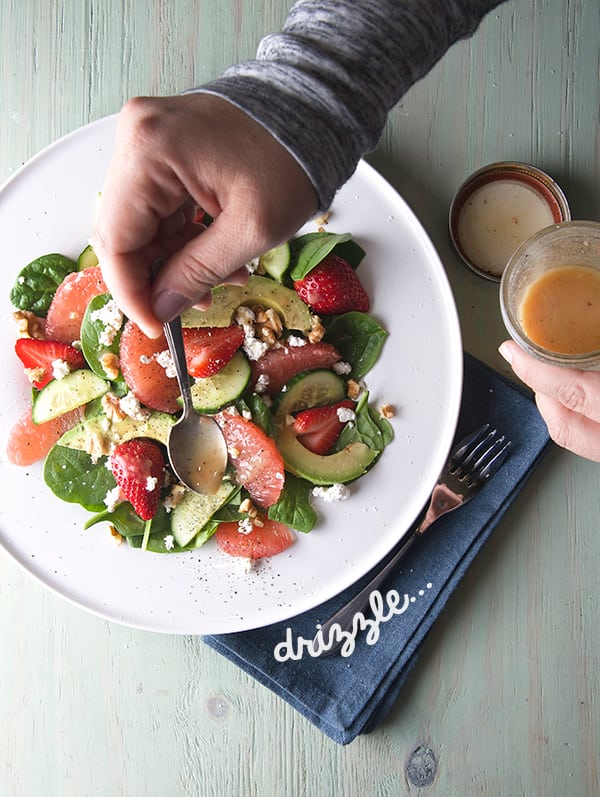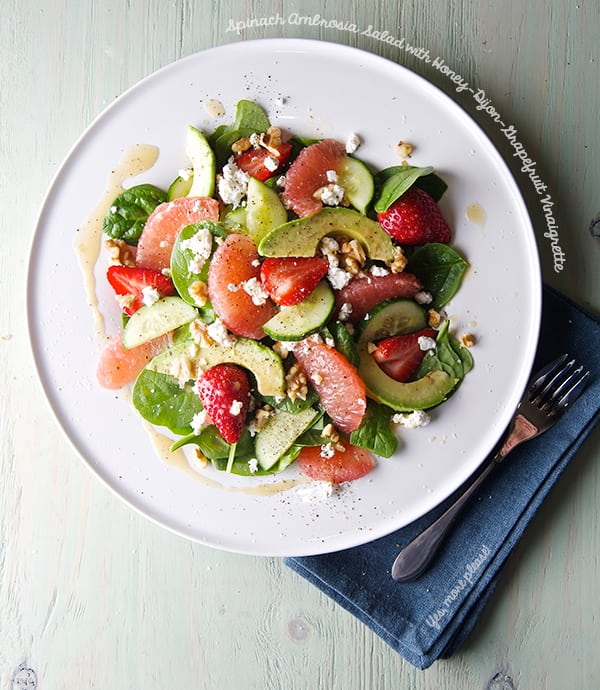 Enjoy!
Ambrosia: noun am·bro·sia \am-ˈbrō-zh(ē-)ə\
1.(classical mythology) the food of the gods
2. anything that tastes and smells delicious and fragrant
3. is used metaphorically to mean anything so fragrant, so delicious that it seems divine —