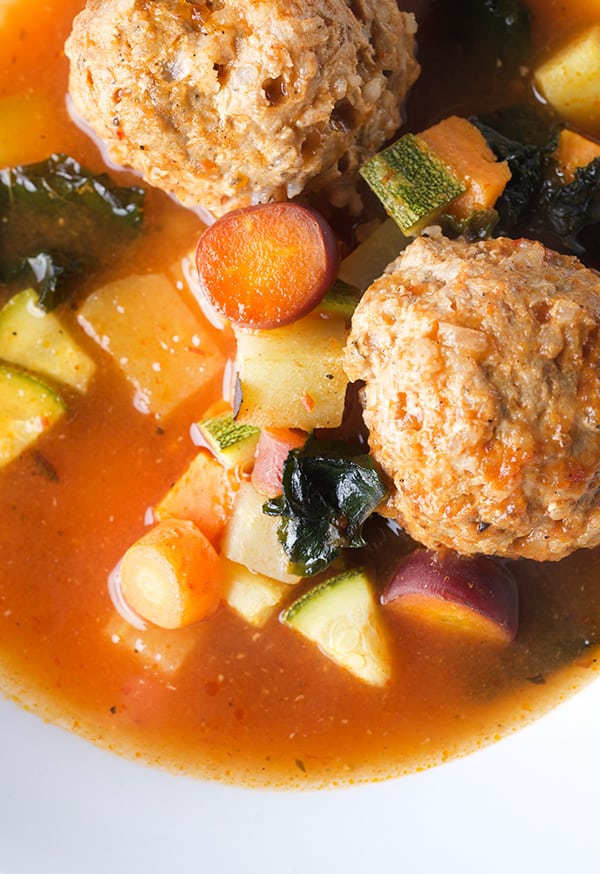 Praise the Lord for Albondigas and this 34F weather! I think this combination is a match made in heaven. Imagine a piping hot tomato smokey spicy broth with turkey-rice meatballs swimming among little pieces of carrot, sweet potatoes, potatoes, zucchini, kale and chayotes. Serve it with Sour Cream or Mexican crema, corn tortillas, and a squeeze of fresh lime juice.
This is the type of Mexican comfort soup dear to my heart. The classic albondigas are made with ground beef /ground chuck, which give the broth a richer flavor. I was craving a lighter comfort soup and I made them with ground turkey and chicken broth. The result is a soup which is light as a feather. Rice is added to the meatballs giving them a soft tender crumb along with egg and some finely chopped onions and spices. I used some of my favorite vegetable soup veggies and added some kale to win extra green points…
Feel free to use any vegetables of your affection. Not fan of kale? Spinach will work. The white rice can be interchanged with quinoa, farro, or brown rice to add extra nutrition and flavor. But beside the fantastic meatball action, I believe everything is about the broth in this soup. A combination of crushed tomatoes with chipotle and smokey paprika is the ticket to this fantastic soup recipe. It comes out mildly spicy; just enough to make your throat ticklish. Mmmm!
This one pot dinner soup would make you fall in love with wintery nights. If you like meatballs, vegetables and spicy broth you gonna love this Chipotle Albondigas-Meatball Soup.
Keep warm!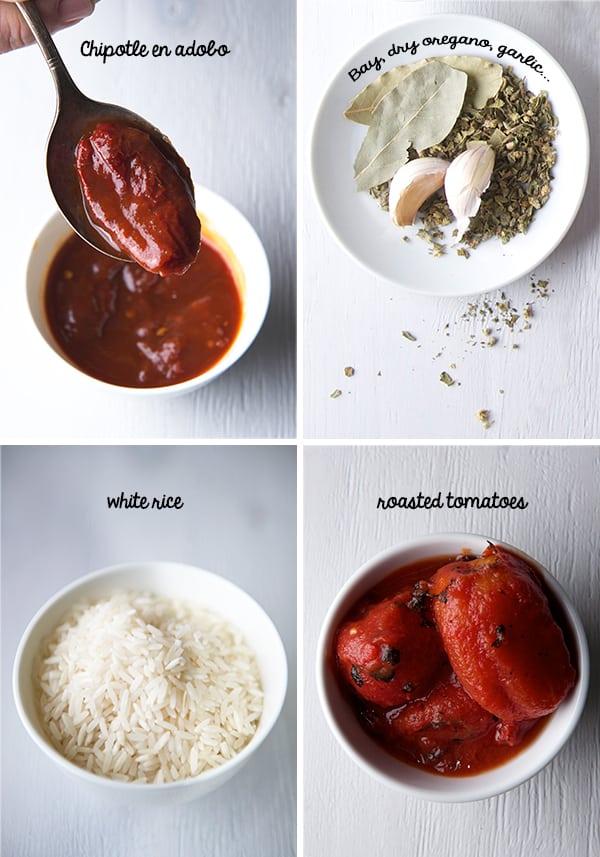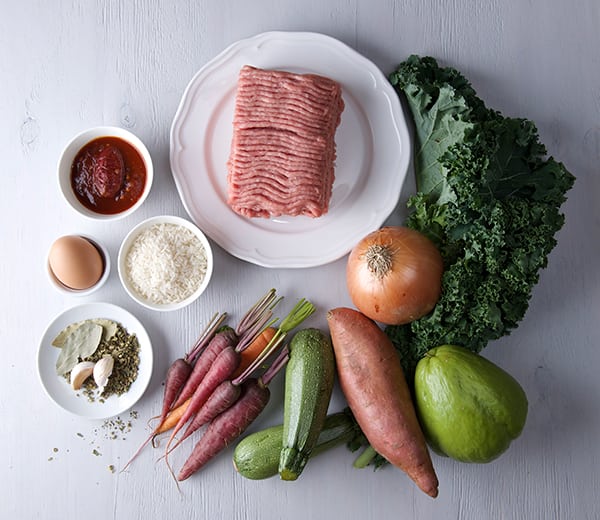 For the recipe you will need…
Chipotle Albondigas-Meatball Soup
Serves 1 mama bear, 1 papa bear and 2 cubs or 6 cold flamingos.
For the broth:
6 cups of water
1 quart chicken broth low sodium
2 bay leaf
1-1/2 cups crushed or whole tomatoes roasted
3 chipotles en adobo (one small can will do if not, freeze the rest)
1 garlic clove
¼ yellow onion
1 teaspoon smoked paprika
1 teaspoon dry Mexican oregano
2 teaspoons Worcestershire sauce
4-5 cranks of fresh black pepper
2 teaspoons kosher salt
For the Albondigas/Meatballs:
1 ¼ lbs. ground lean turkey 95% – 7% (Ground chuck or ground bison can be great substitutions.)
½ cup un-cooked white rice
¼ finely diced yellow onion
½ teaspoon dry Mexican oregano
1 large egg
1-2 spoonfuls of the Chipotle adobo juices.
2 teaspoons Worcestershire sauce
1 teaspoon salt
4 cranks fresh black pepper
2 teaspoons Worcestershire sauce
Vegetables for the broth:
1 medium sweet potato
5 small carrots
2 small light green Mexican zucchini*
1 Chayote**
4-5 curly kale leafs
*If you have not tried this variety of zucchini, please do. They are sweeter and mild in flavor. This light green smaller zucchinis hold their texture better than the dark green or yellow zucchini when cooked. I call it Mexican zucchini because it is the most common variety in Mexico and It's widely use in several dishes.
**Chayote in Latin American cuisine or Mirliton in French creole cuisine is a delicious fruit-vegetable, that taste between a potato and a cucumber. It is slightly sweet and starchy , very mild and juicy it holds it shape in soups and it has a great nutritional value. Easy to find now a days in many markets and supermarkets. Treat it like a potato, peel, wash and dice.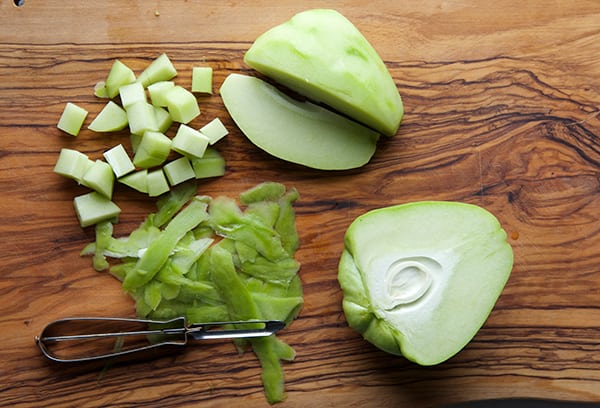 Preparation Method:
1. In a large pot add the water, chicken broth and the 2 bay leaves. Bring to a slow simmer.
2. Blend until pureed, the roasted tomatoes, chipotles, garlic clove, yellow onion, smoked paprika, mexican oregano, Worcestershire sauce, black pepper and salt. Add this purée into the simmering broth and simmer for 10 minutes.
3. While the broth is simmering, prepare the albondigas/meatballs by combining all the meatball ingredients: ground turkey,un-cooked white rice, finely diced yellow onion, Mexican oregano, egg, chipotle juices, Worcestershire sauce, S&P on a medium size metal bowl, using your hands mix until well combined. Now, Wash your hands, dry them. Apply a little cooking oil on the palm of your hands and start forming the meatballs, by taking a small chunk of the mixture, about 2 tablespoonfuls and roll it with your hands.The size of the albondigas/meatballs should be 1 ½" to 2" round. The oil in your hands will help shaping them minimizing the sticky matter. This amount of ground turkey makes about 12-13 albondigas/meatballs. Place them onto a slightly oiled plate or metal tray as you roll them.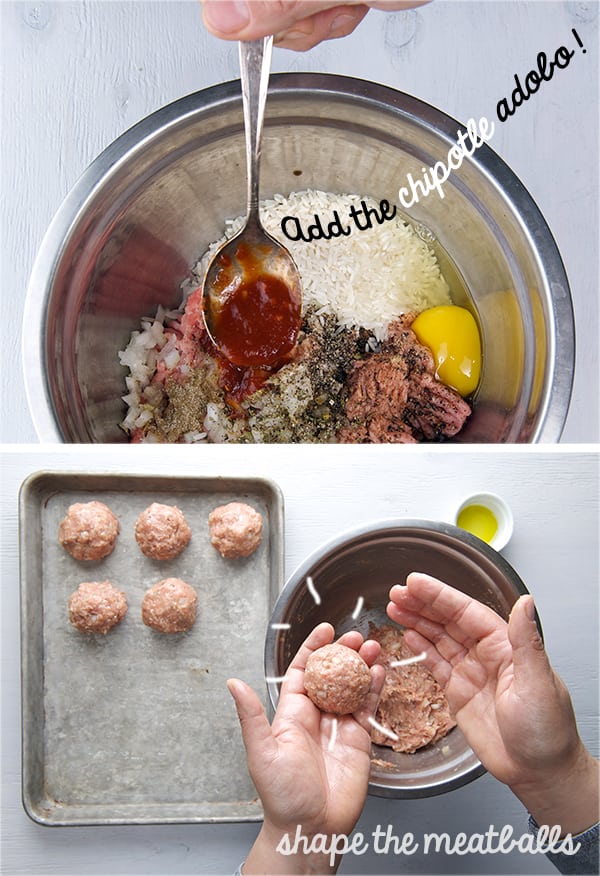 4. Check on your broth, remove and discard any tomato foam. Turn up the heat to medium high and once is boiling , carefully add one meatball at the time, waiting about 30 seconds in between each meatball addition. I usually place the meatballs into the broth with my hand as I form them. A safer way to do this, is by using a soup ladle to place the meatball and then submerge it into the broth. Make sure your ladle has a bit of the broth so the meatball do not stick on the ladle, specially if you are using a metal ladle. (see picture below).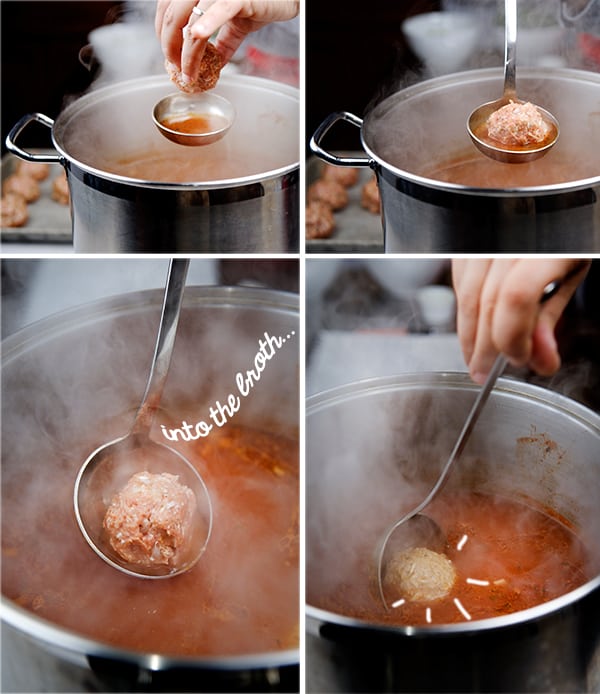 5. Once all the meatballs are in the pot, bring it to a boil and then turn down the heat to a slow simmer, cover and cook for 15 minutes. Stir gently, occasionally.
6. After 15 minutes, check on the albondigas/meatballs, the rice in them will start to look tender and cooked. At this point, add the hard vegetables like carrots, sweet potatoes, potatoes and chayotes. These kind of vegetables have the same cooking time. Bring the soup to slow simmer and cook until desired doneness. I like to cook mine for 5-7 minutes, I like them firm and cooked through but not mushy. Last but not least, add the softer vegetables like zucchini, spinach or kale, bring to a slow simmer cover and turn off the pot. Let it rest for 10 minutes before serving so this delicate veggies wilt and the zucchinis cook and marry all flavors. Taste and adjust salt and pepper to your taste.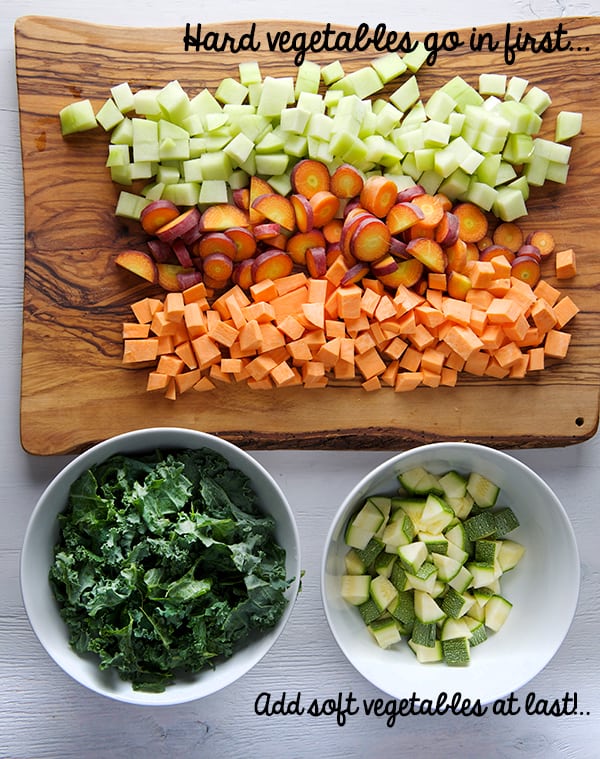 7. Serve piping hot maybe 2 to 3 meatballs per person, plenty of vegetables and broth. A dollop of Mexican crema, and squeeze of lime juice.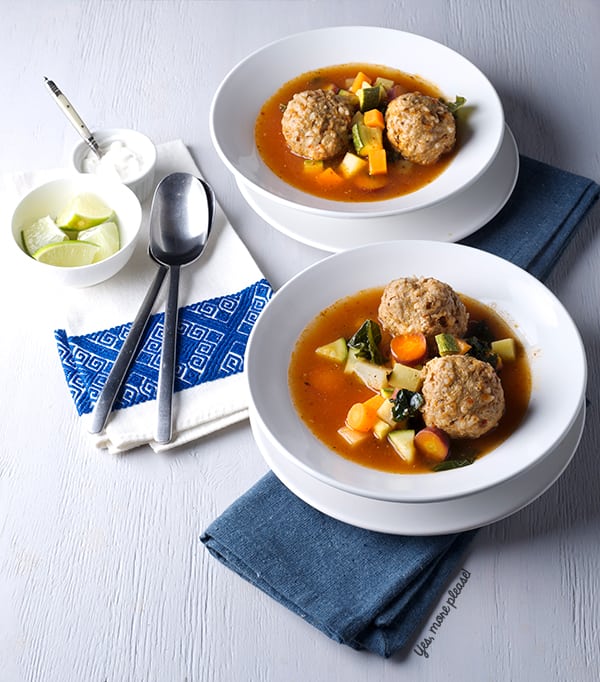 Eat, repeat and keep warm, Enjoy!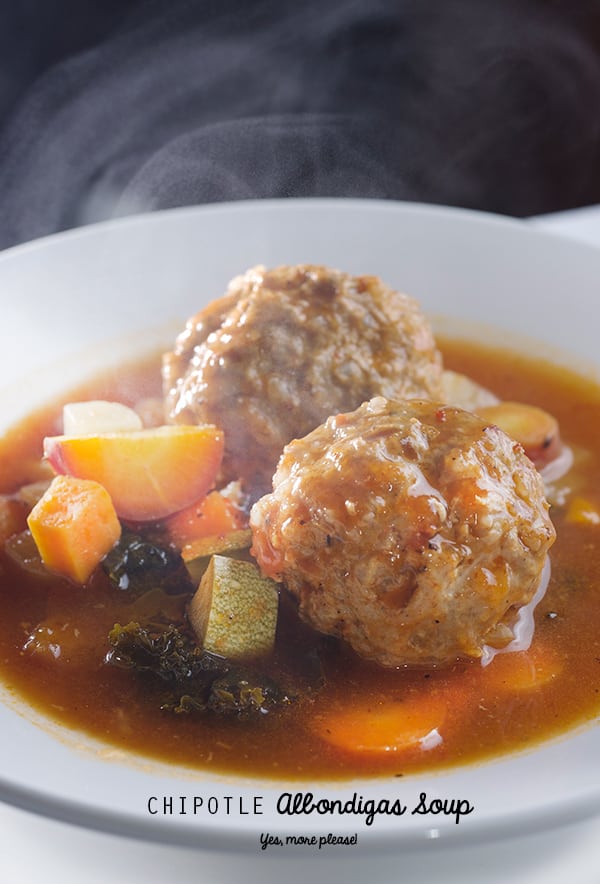 P.S. As with any soup, Chipotle Albondigas-Meatball Soup taste specially better the next day the rice in the meatballs thickens the broth and all the flavors are talking to each other in the most delicious comfort way!…This recipe freeze well, it's a keeper!
Music Pairing: Tom Waits – Emotional Weather Report