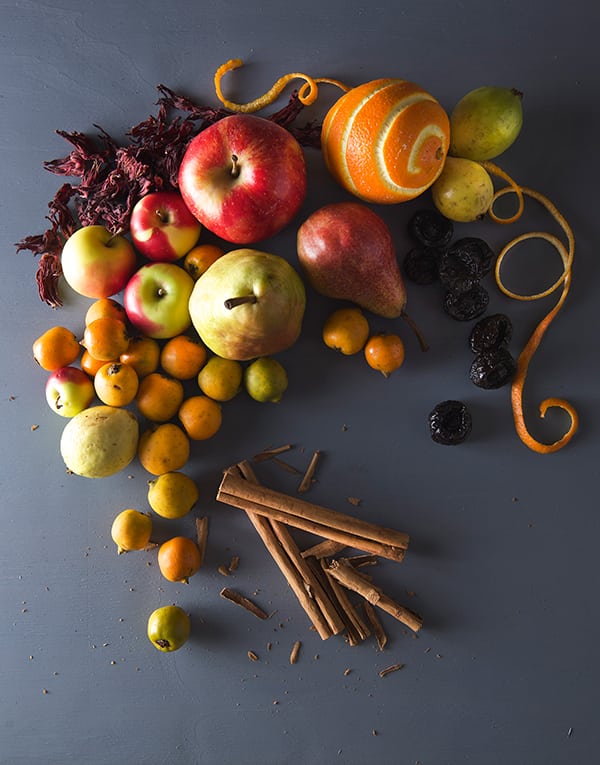 It is freezing and wet cold here in Austin, I really needed  a warm drink, so last night I geared up and made this warm fruit punch recipe, it is divine and it works like a charm!. This Punch is traditionally from Mexico and is served, on the cold weather months November, December, January, "Ponche de Frutas" Warm Fruit Punch is a delicious warm drink made with fall and winter stone fruits like apples, pears, crabapples, hawthorns, oranges, mandarines, guavas, prunes, plums, raw sugar cane sticks, tamarind, hibiscus tea, cloves, cinnamon well everything but the kitchen zinc!
Imagine all these ingredients gather in a pot, slowly simmering to magically deliver  fantastic warm aromas and wintery flavors with only one mission: warm you up!
There are no rules when making the punch, the only ingredient that is a must is the Mexican cinnamon. For the rest, you can make it with your favorite fruit combinations, but I will encourage you to use at least 2 kind of stone fruits, 1 citrus and either hibiscus or tamarind they add the acidity background note needed to balance the sweetness.
This drink is not meant to be overly sweet. In fact most of the sweetness comes mainly from the fruits so adding a small amount of sugar is just what you need to balance the flavors.
You can use brown sugar, turbinado sugar, honey, dark agave nectar, monk-fruit sweetener or piloncillo* which its my favorite option in small amounts. Piloncillo is raw-pure unrefined sugar compressed into a cone that resembles in flavor to molasses; some times you can find it with cinnamon, anise and a little vanilla added. It is used to sweeten desserts, drinks and bake goods. So a little goes along way.
Can you imagine the aromas that this concoction will bring to your kitchen? spices, apples, cinnamon, oranges, warming up the house!…**sigh**
This punch is served in mugs and with a little spoon so you can eat the fruits from the bottom as you drink along. It is great for parties and family gatherings kids love it!
For the grownups you can spike it up by adding a little splash-a-rooh of your favorite rum or vodka as you serve it.
Whether you make a large, medium or small pot, this fruit punch will definitely warm you up inside out!…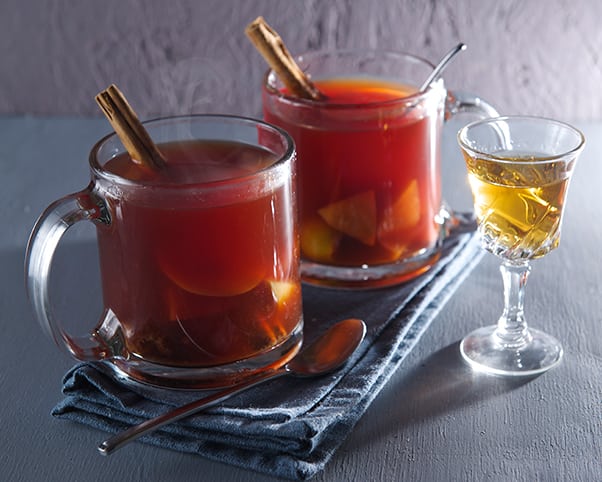 For the recipe you will need…
Ponche de Frutas – Warm Fruit Punch
Serves 4-6 adult cups or 2 Yetis
3 qt.-12 cups water
2 apples, any kind you prefer jazz apples and pink ladies will work because of its sweetness.
2 pears, bosc or seckel will hold their shape
4 guavas
6-8 small crabapples
14-15 hawthorns (Tejocotes)
1-2 quince
10 Prunes
1/4 cup hibiscus Flowers or about 4-5 tea bags
1-2 orange rind
3 – 4″ Mexican cinnamon sticks
3 cloves
2 star anis
1/2 to 1 piloncillo cone, this is up to you upon how sweet you like your punch, my advice will be start with a small amount, taste and add more if needed. If you are using any other sweetener, start with a ¼ cup and work your way up.
Liberal amounts of …Spiced Rum or Bourbon can be added into each cup, upon preference. Customizing each cup, allows the little ones to enjoy some  alcohol -free warm fruit punch
Preparation:
1. In a 4-6 qt large pot, add water, piloncillo, cinnamon sticks, cloves, hibiscus flowers and bring to a boil.
2. Core, and cut in medium size pieces the apples and pears
Cut the ends and de-seed the guavas with a small spoon or melon baller. Cut into quarters.
Slice the crabapples in round slices and tap the slices to remove the seeds.
With a pairing knife remove the end core of the hawthorns leave them whole.
"I like to cut each fruit a little different so people can recognize what fruit they are eating"
3. Add all the chopped fruits, cover 3/4 of the pot with a lid and bring to a slow simmer.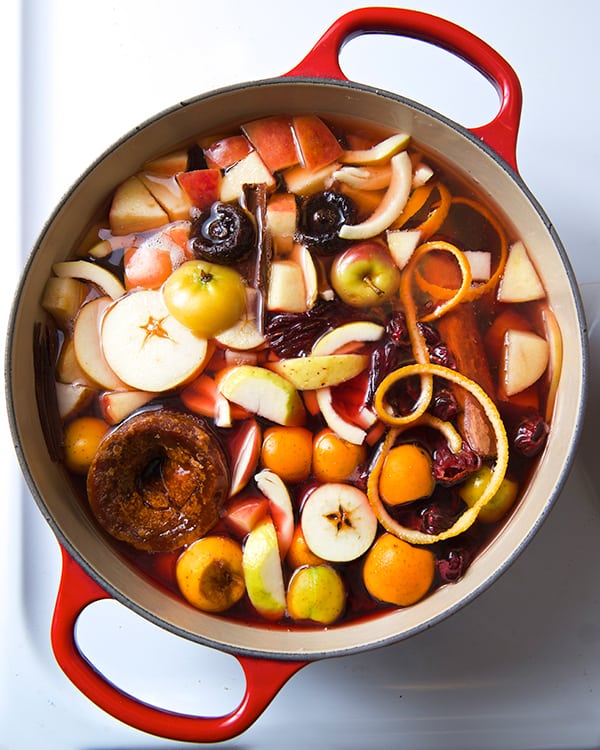 4. Slow simmer for about 15-20 minutes. After 20 minutes, carefully taste the punch and adjust for sweetness if necessary. When the fruit is fork tender your punch is ready to serve.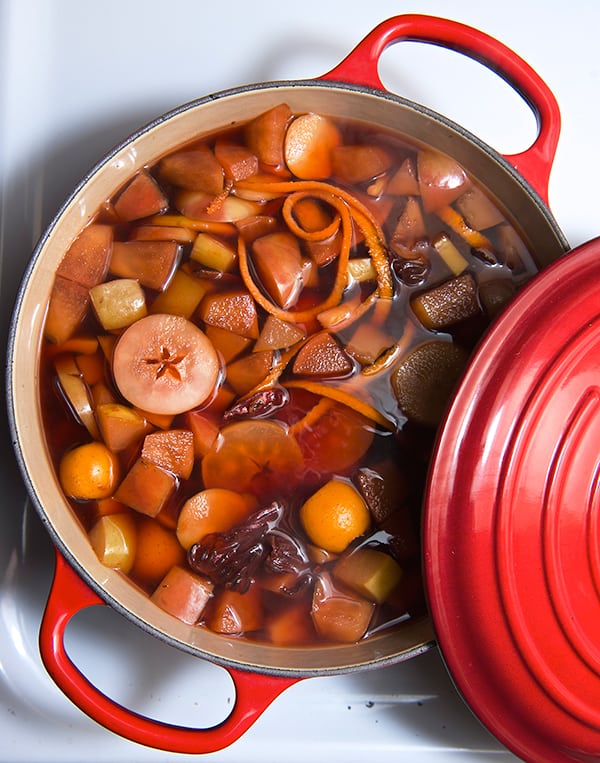 5. Serve piping hot on mugs with little spoons or skewers to fish out and eat the fruit, add some rum into the adult cups right before serving…warm up!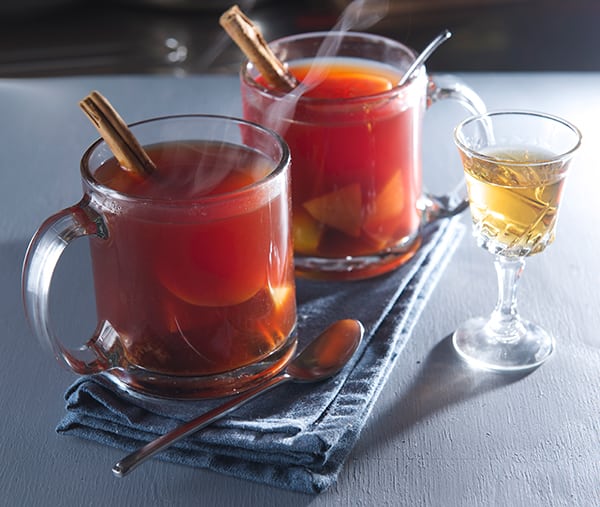 ~ Warm up! ~