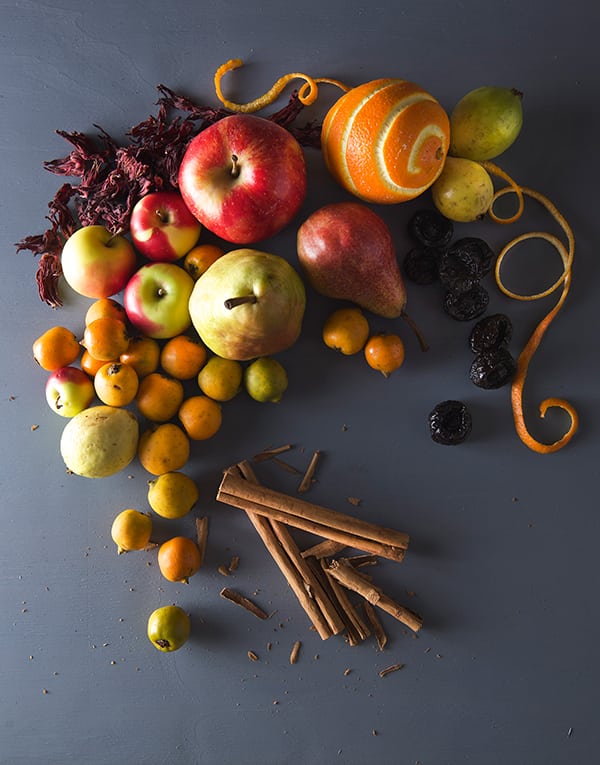 It is freezing and wet cold here in Austin, I really needed  a warm drink, so last night I geared up and made this warm fruit punch recipe, it is divine and it works like a charm!. This Punch is traditionally from Mexico and is served, on the cold weather months November, December, January, "Ponche de Frutas" Warm Fruit Punch is a delicious warm drink made with fall and winter stone fruits like apples, pears, crabapples, hawthorns, oranges, mandarines, guavas, prunes, plums, raw sugar cane sticks, tamarind, hibiscus tea, cloves, cinnamon well everything but the kitchen zinc!
Imagine all these ingredients gather in a pot, slowly simmering to magically deliver  fantastic warm aromas and wintery flavors with only one mission: warm you up!
There are no rules when making the punch, the only ingredient that is a must is the Mexican cinnamon. For the rest, you can make it with your favorite fruit combinations, but I will encourage you to use at least 2 kind of stone fruits, 1 citrus and either hibiscus or tamarind they add the acidity background note needed to balance the sweetness.
This drink is not meant to be overly sweet. In fact most of the sweetness comes mainly from the fruits so adding a small amount of sugar is just what you need to balance the flavors.
You can use brown sugar, turbinado sugar, honey, dark agave nectar, monk-fruit sweetener or piloncillo* which its my favorite option in small amounts. Piloncillo is raw-pure unrefined sugar compressed into a cone that resembles in flavor to molasses; some times you can find it with cinnamon, anise and a little vanilla added. It is used to sweeten desserts, drinks and bake goods. So a little goes along way.
Can you imagine the aromas that this concoction will bring to your kitchen? spices, apples, cinnamon, oranges, warming up the house!…**sigh**
This punch is served in mugs and with a little spoon so you can eat the fruits from the bottom as you drink along. It is great for parties and family gatherings kids love it!
For the grownups you can spike it up by adding a little splash-a-rooh of your favorite rum or vodka as you serve it.
Whether you make a large, medium or small pot, this fruit punch will definitely warm you up inside out!…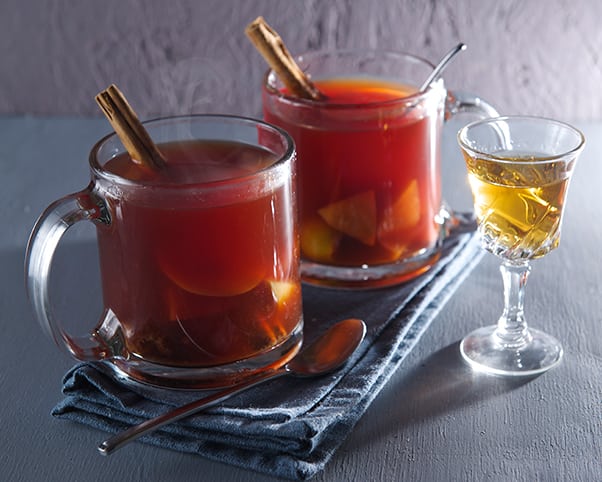 For the recipe you will need…