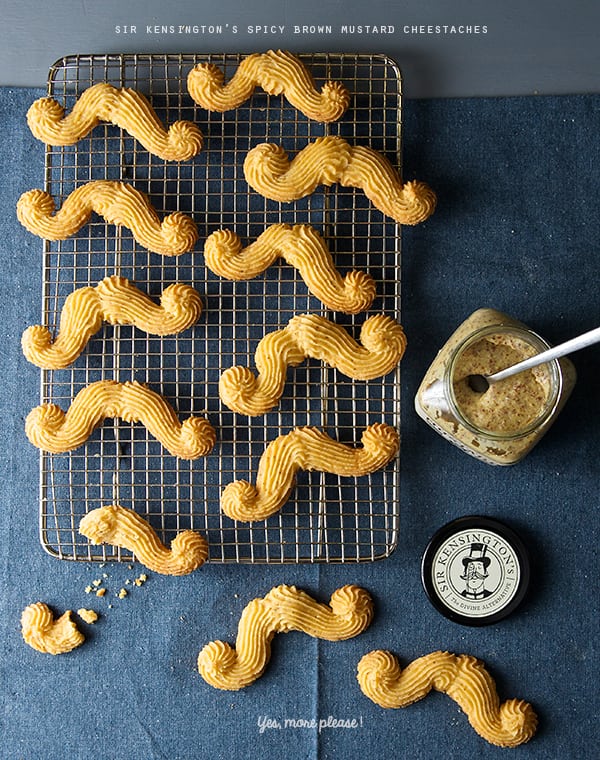 Not too long ago, roaming around whole foods supermarket aisles, I discovered on the shelves the magical Sir Kensington's ketchup. Looking at me rom the wide mouth glass jar I noticed Sir Kensington's top hat personality and I fell in love with his aristocratic moustache. That was my very first impression. But the man behind the monocle had way more to offer than just an attractive moustache. As I grabbed the jar and started to read the label my jaw just dropped, Non- GMO, 50% less sugar, 33%less sodium, and a short list of ingredients in which whole tomatoes take the first place ingredient. I was totally in love.
You all know my love affair with tomatoes, so you must know what this discovery meant to me. In my opinion this is the best ketchup I've had. Shortly after I discovered the whole condiment collection, mayo, chipotle mayo, spicy ketchup and their recent addition "The" Sir Kensington's Spicy Brown Mustard. I've tried them all. You should, too. Period.
A condiment revolution is here! With all natural ingredients, this spicy brown mustard already has a place in the Mustard Museum with a silver medal on the 2014 world-wide competition. The distinctive spicy mustard flavor has a hint of maple syrup. I have smothered it on everything. I decided to come up with a recipe that enhanced the mustard flavor, and a tribute to Sir Kensington's Moustache.
This is how this recipe was born. These cheese straws are the 'piped' kind  you can squeeze from a piping bag or a cookie gun. Not to be confused with the twisted puff-pastry kind. These  buttery, cheesy, crumbly, savory cheestaches have a spicy brown mustard kick!
Mild cheddar pairs fantastically with this spicy brown mustard. This easy and fun to make recipe has five ingredients and the result are this cheesy and spicy, utterly delicious moustaches. Most anyone with a love for creamy cheddar cheese and spicy brown mustard will appreciate a treat like this. This fun snack is a great treat to pamper your Dad on Father's Day.  Even if your Dad does not have a mustache!
Apple juice, a cold glass of beer or a cold iced tea will be the perfect match for this Cheestaches on a summer afternoon. Top notch!
Enjoy!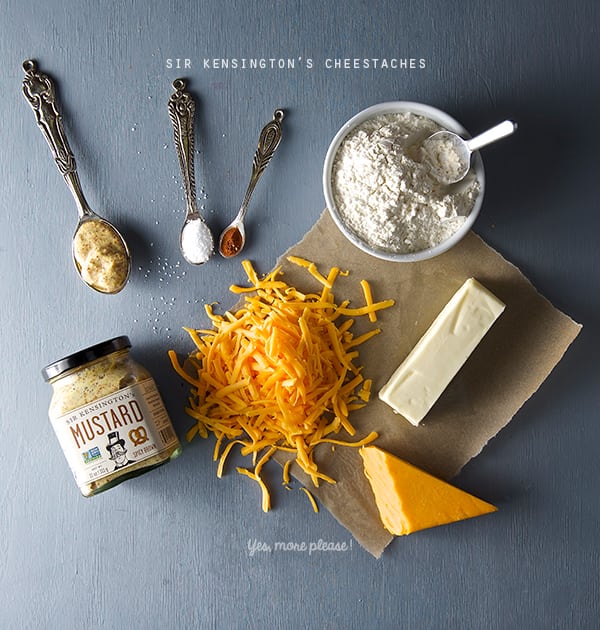 Sir Kensington's Spicy Brown Mustard Cheestaches
Makes 24 cheestaches
4 oz mild cheddar shredded and at room temperature
4 oz (1stick) unsalted butter room temperature
1 heaping Tablespoon of  Sir Kensington's Brown Spicy Mustard
1/8 teaspoon Cayenne pepper
1/2 teaspoon kosher salt
1+1/2 cups unbleached all purpose flour.
1 medium 12" piping bag
Metal decorating tip # 32 available at any craft store.
1 cookie sheet, parchment paper.
Preparation Method
1. In the bowl of a mixer fitted with a paddle attachment, whip the butter for about 4-5 minutes until the butter looks lighter color.
2. Add the shredded cheddar cheese mix for another 3-4 minutes. until you just see small speckles of cheese and the butter is fluffy and looks whipped.
3. Stop mixer, add the spicy brown mustard, cayenne and salt. Mix until combined. 1-2 minutes.
4. Stop the mixer and add the flour in two stages, mixing on medium low until well incorporated.
5. Mix on medium high for 2 minutes. the batter should look like a paste. (if the dough is to stiff, add a bit more mustard and bout a tablespoon more of butter. whip.)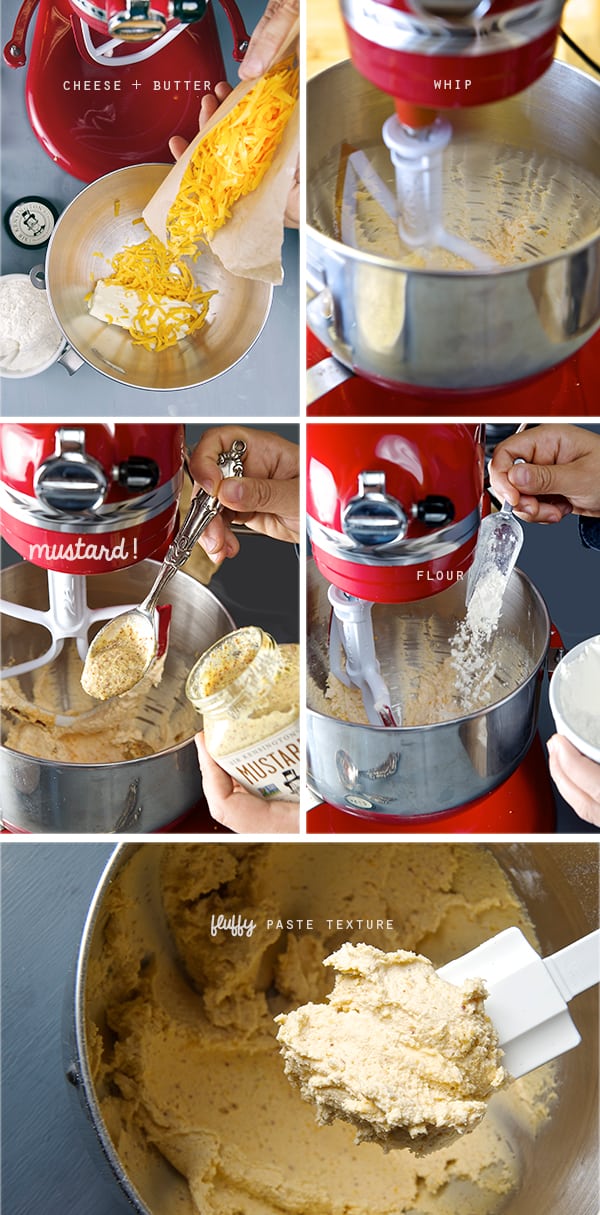 6. Prepare the piping bag, follow instructions below.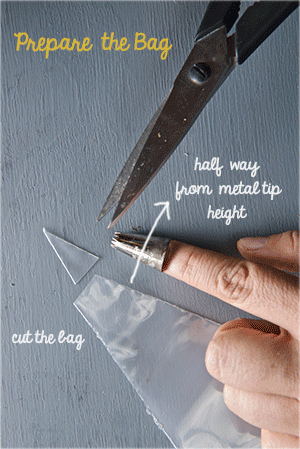 7.Line a Baking sheet with parchment paper, a silpad or reusable-parchment, mi favorite!; place the mustache stencil under the parchment.
I made a mustache stencil you can print for easy piping, you can look it up, down load it our Yes, more please! Facebook page click here to get it!
Not in the mood of mustaches?.. pipe 3"- 4" stripes and bake for about 12 minutes.
8. Now the fun begins!…Pipe the cheese- mustaches follow the instructions on the picture below, but first take a quick look on my easy way to handle a piping bag.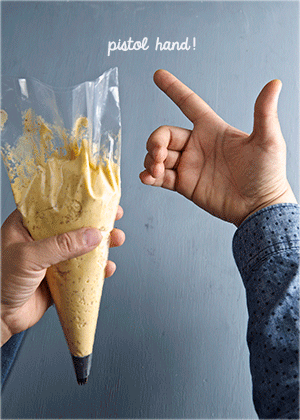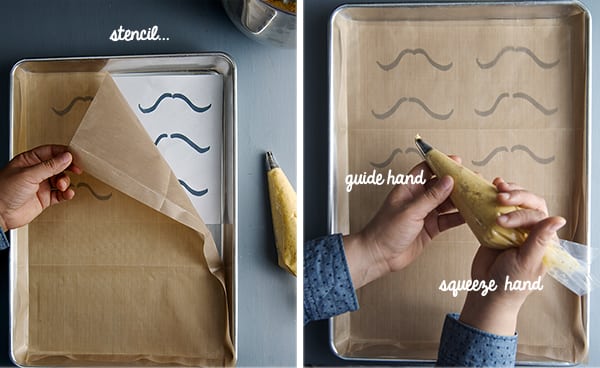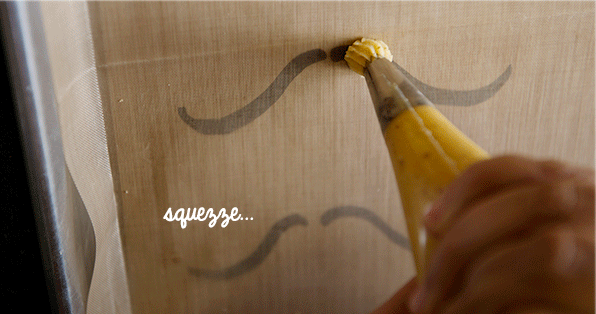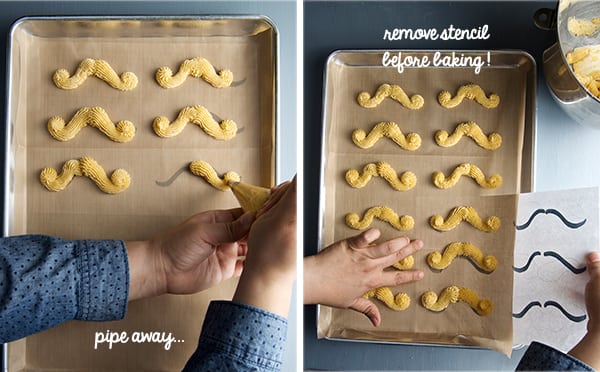 9. Once you pipe the mustaches place the baking sheet in the refrigerator for at least 15- 25 minutes.
10. Preheat your oven at 350 F.
11. Bake cheese straws for 12-14 minutes, until the tips and base of the mustaches start looking golden brown on the edges.
12. Remove from oven, let them cool on the cooking tray for 4-5 minutes on the tray. Then with the help of a flat spatula transfer them to a cooling rack.

13. This cheese mustaches can be dipped on a bit extra of spicy brown mustard if desired for more kick. But to tell you the truth they are great as they are!..and they taste fantastic the day after.
Serve with a nice cold glass of beer or Iced Tea. Enjoy!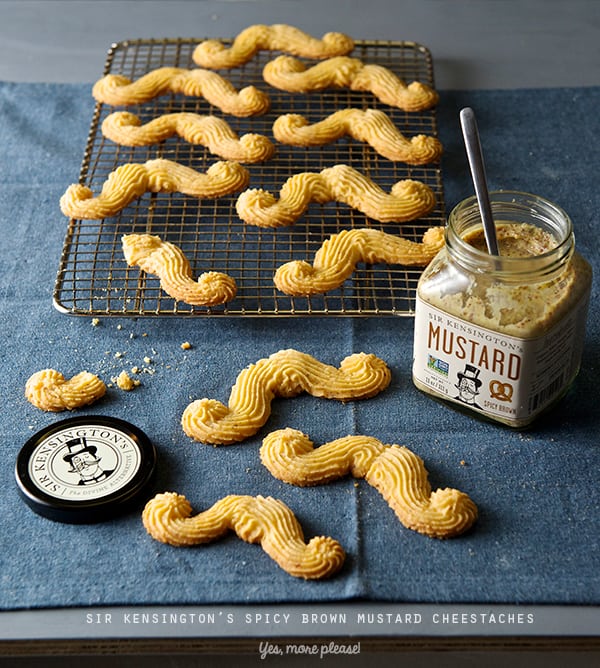 This recipe post was sponsored by Sir Kensington's brand condiments and the mustard used was furnished by the good folks at Sir Kensington's.
Thank you much!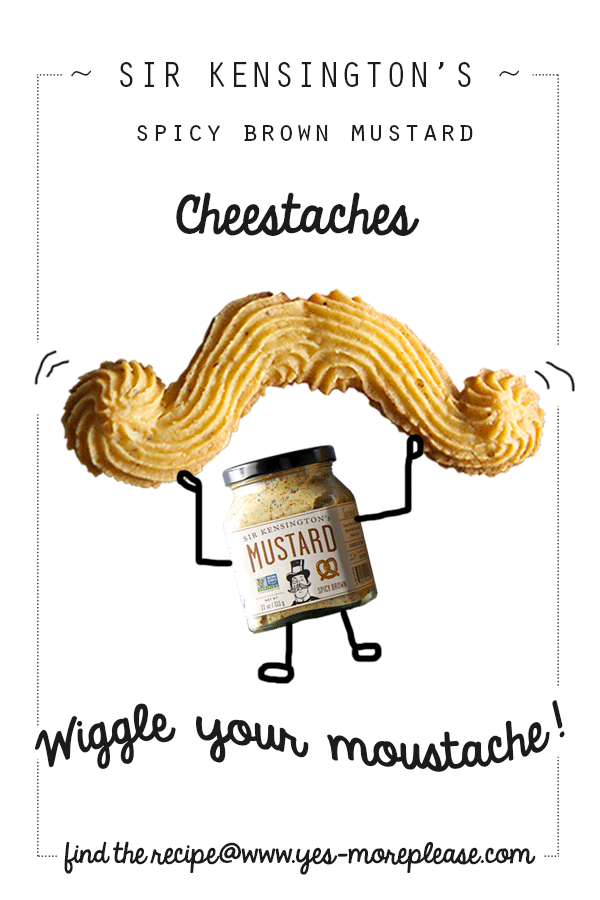 Music Pairing: If You've Only Got a Moustache