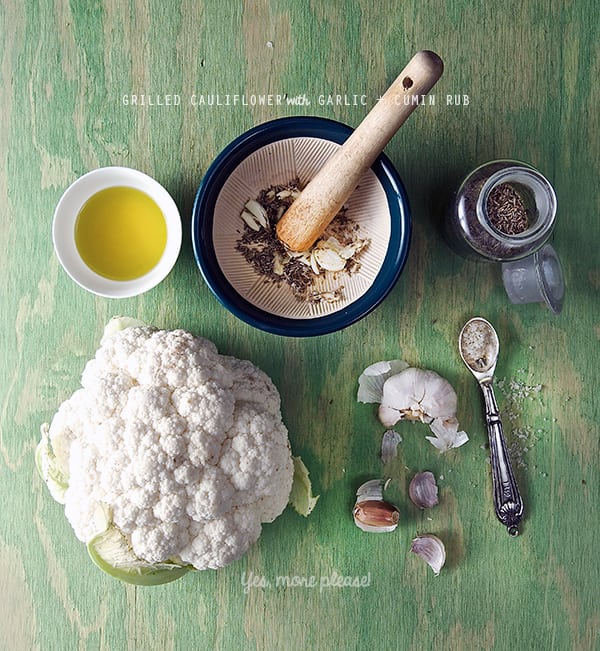 Chef Dan Barber was the creator of the famous Cauliflower steak. His original recipe uses the whole cauliflower head. He slices two thick cauliflower wedges and sears them in a cast iron pan until the cauliflower is caramelized but al dente. He cooks the rest of the cauliflower florets in milk to make a smooth and light mash. He serves the cauliflower steak over the light cauliflower mash. The contrast in textures and different cooking methods is what makes this dish outstanding.
Cauliflower to the square; a brilliant idea.
Chef Dan's cauliflower approach inspired me to create this recipe. Instead of contrast in textures, I wanted a contrast in flavors but chose a spice that enhanced the grilled cauliflower. With Dan's premise of simplicity in mind, I made a four ingredient paste as a rub with garlic, cumin seeds, extra virgin olive oil and sea salt. I wish you could off been here with me when I was pressing the garlic and cumin seeds in the mortar, the smell was insanely good.  I must confess that prior this recipe I was not fond of cumin seed flavor and using cumin was totally out of my comfort zone.This recipe gave me a different outlook about it.
  I rubbed two cauliflower steaks and the rest of the loose florets with this pasty rub and grilled them. When the cauliflower was grilling the aromas were insanely good: smokey, lemony cumin and garlic.   It's a savory aroma that squeezes your tongue from behind. I just can say that  I am converted now. These  two flavors work together so well that I see lots of cauliflower in my near feature…
Enjoy!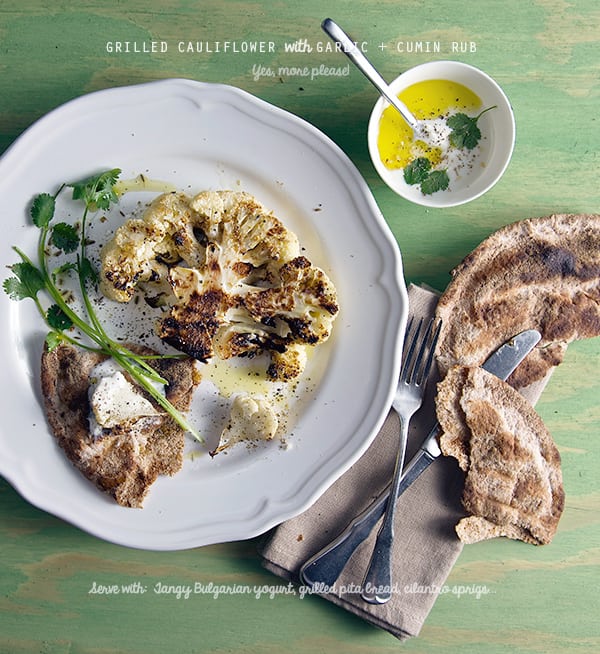 Grilled Cauliflower with Garlic + Cumin Rub
Serves 2 as main dish, 4 if served as a side dish.
1 Medium fresh Cauliflower head.
For the rub:
2  teaspoons cumin seeds slightly toasted.
3 medium garlic cloves
2 teaspoons sea salt. (I used grey sea salt)
1/3 – ½ cup extra virgin Olive oil.
Serve with:
Tangy Bulgarian yogurt
Grilled pita bread
Sprigs of cilantro
Fresh cracked black pepper.
Grill and natural Charcoal.
Preparation method:
1. In a small skillet over low heat, toast the cumin seeds for 2-3 minutes.
2. Using a small mortar, place the toasted cumin seeds, garlic cloves and sea salt. Start smashing these ingredients with the pestle, until it looks like a paste.
3. At this point start adding the extra virgin olive oil little a the time, and keep mixing and smashing until each oil addition is incorporated.
4. With a silicone brush rub both sides of the cauliflower slices and the florets.
5. Fire up your grill.
6. Grill the Cauliflower steaks for about 4-5 minutes per side. They should look charred and with a fork check the center core for doneness.
7. Remove from grill and serve warm with some grilled pita bread, Bulgarian yogurt, fresh cilantro, a bit of fresh black pepper and a squeeze of lemon if desired. Enjoy!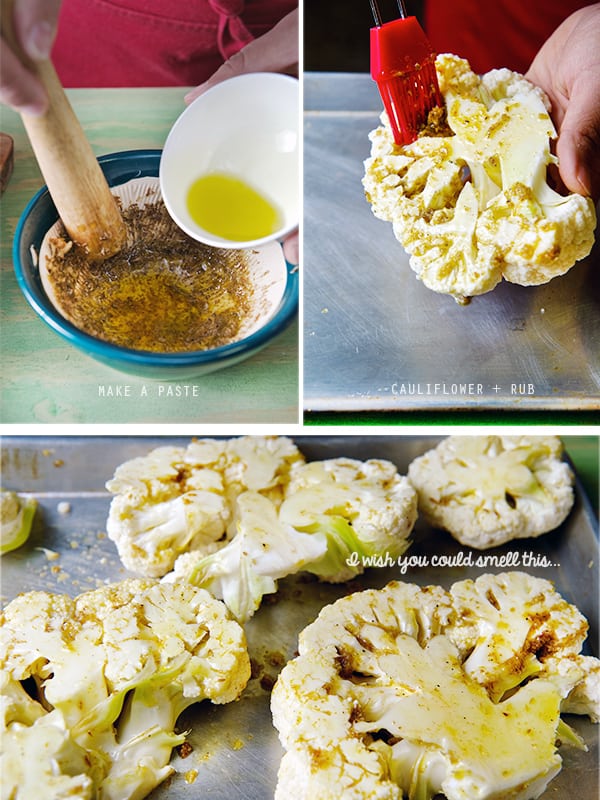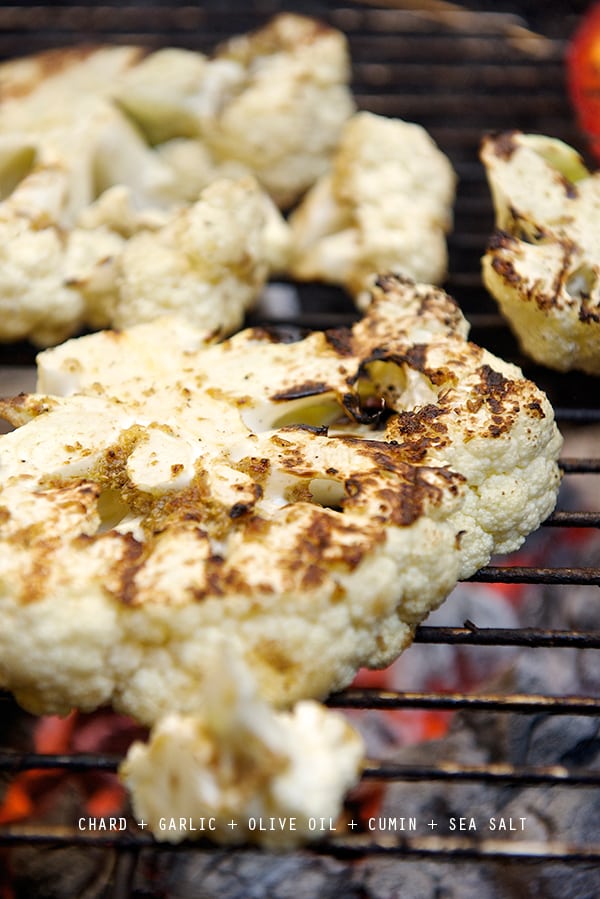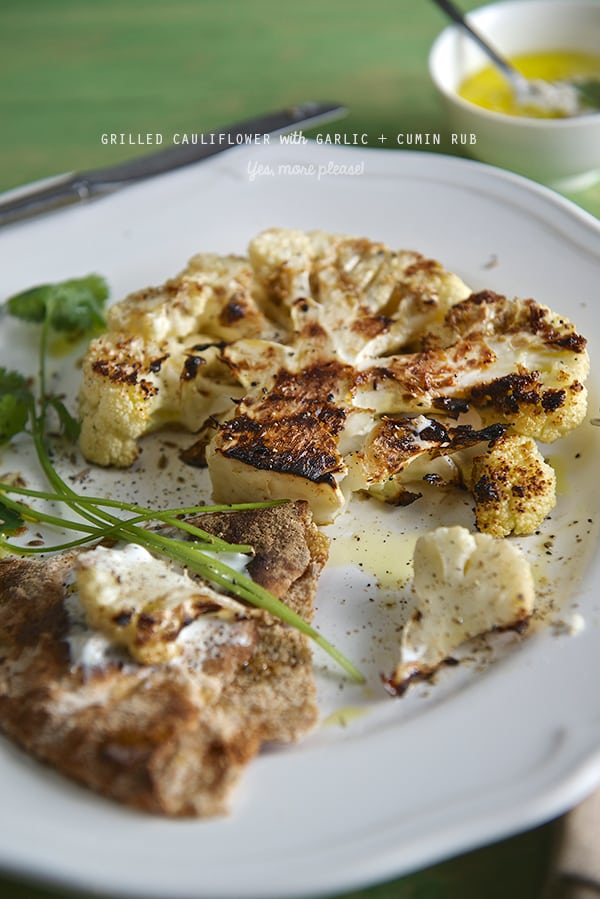 Enjoy!