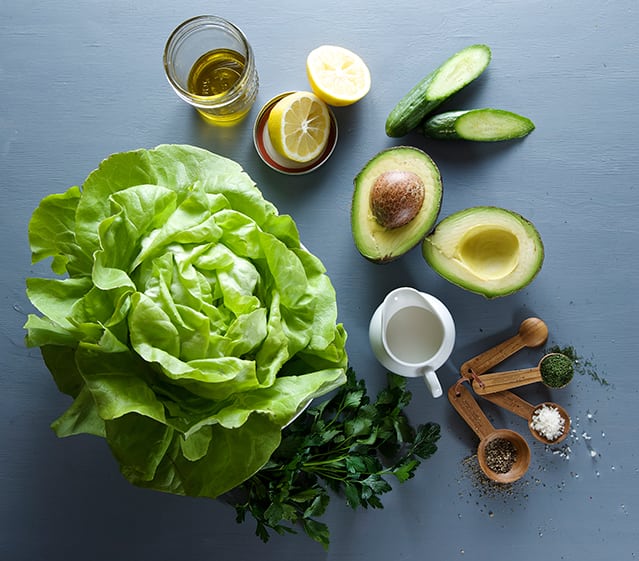 Wicked! Is how I describe this creamy dressing. Avocados the natural butter of the fruit kingdom, and coconut milk make a fantastic duo. Lemon Zest, Lemon juice, salt pepper and herbs is all you need.
You have to try this dressing, forget about that white stuff you have been dumping on your salads and make this spectacular dressing on a blink of an eye!
I used this avocado-coconut dressing over a Boston Lettuce, thats what I found on my farmers market incredible fresh and so beautiful that I could not resist to bring it home with me. I've included step by step photos of a 4 step easy method to leaf and separate with out bruising this gorgeous and delicate Boston lettuce, I really believe you gonna find this method a keeper for your vegetable techniques.
Avococo dressing drizzle liberally, over lettuce, carrots, fish chicken, your hiking boots, it's delicious everywhere!…Celebrate and be green green green Spring time is here!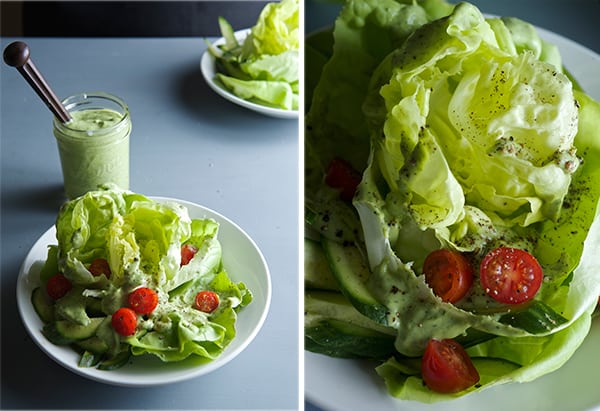 Avococo Salad Dressing
Makes about 2-2.5 cups of dressing, it stays good for about 4 days, avoid plastic, save it in a glass jar with an air tight lid.
1 medium size ripe avocado
1 to 1-1/2 cup coconut milk (depending on avocado size and preferred consistency)
4 tablespoons good extra virgin olive oil.
2 tablespoons rice vinegar
the juice and zest of a lemon
1 teaspoon agave nectar
1  garlic clove
6-8 sprigs of parsley, basil, or cilantro. (use only the leaves)
1 teaspoon dry dill
1 teaspoon sea salt
1/2 teaspoon of fresh black pepper.
Preparation:
Place all ingredients on a blender or on a glass of an immersion blender, puree until smooth and desired thickness. If needed, adjust thickness by adding a bit more coconut milk.
Keep it on a glass jar with an air tight lid, it will keep for about 4 -5 days.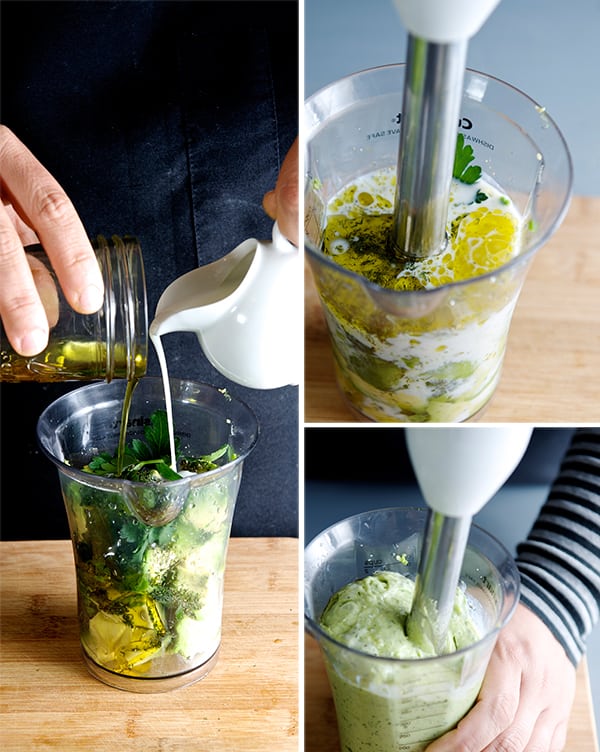 How to wash and de-leaf a Boston lettuce?…
Wash:
Holding the head of lettuce upside down, submerge the lettuce into a big bowl with iced water and shake a few times. Leave the lettuce floating for a few minutes to allow the little dirt particles to sink to the bottom. Remove from water, shake several times, and live it air dry upside down over a clean kitchen towel. Shake 2- 3 more times to make sure all water is out. Then proceed to de-leaft.
De- leaf the lettuce:
1. Run a pairing knife around the back of the stem.
2. Gently pull the core of the stem.
3. Hold the head of lettuce in your hands and place your thumbs in the center, gently pull apart.
4. With a small lettuce, like this one, half will make a great portion, if bigger, arrange and divide leaves in 4 portions.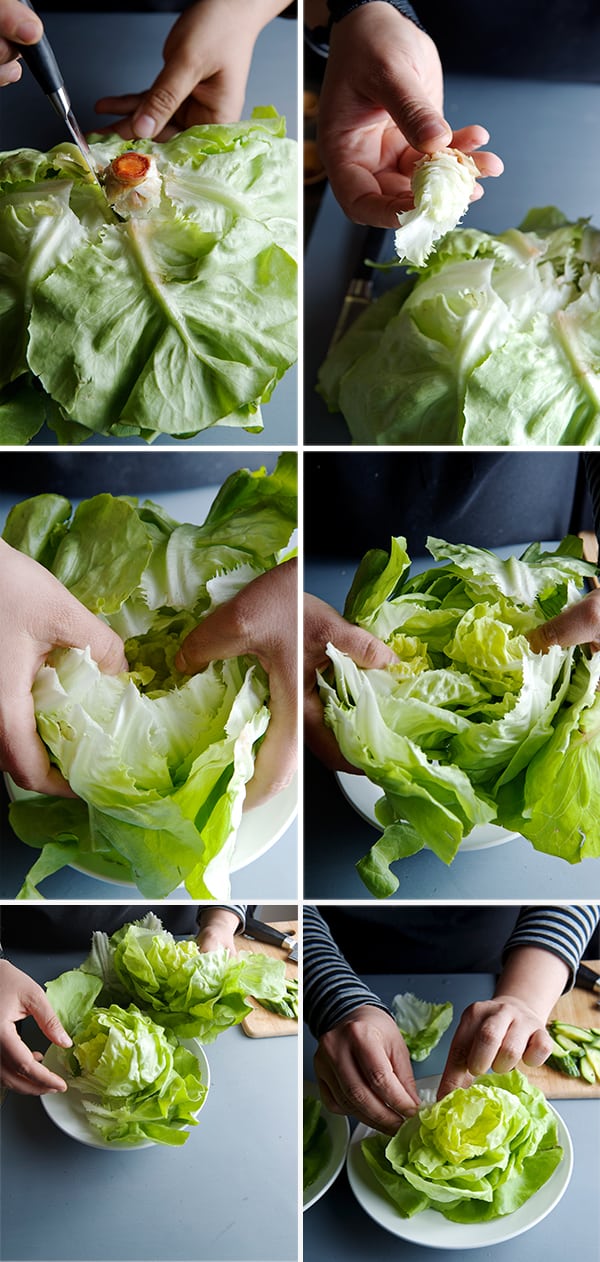 Dress your lettuce and Enjoy!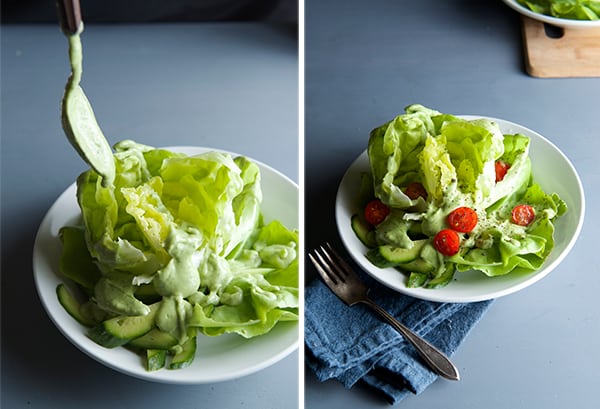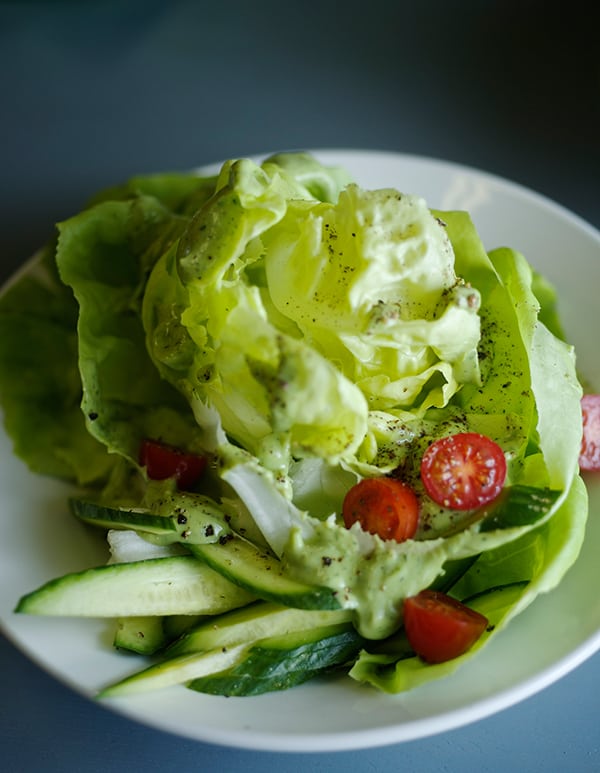 Avococo Salad Dressing, Yes, more please!