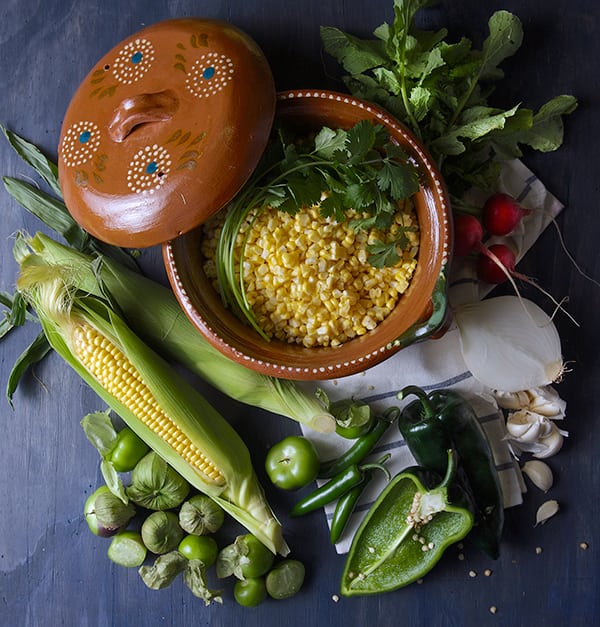 Pozole is a soup usually made with hominy, pork meat, spices and fresh garnishes that create a wonderful one bowl meal warm soup. Let's say Pozole Is kind of the Mexican Pho. There are a couple of variations upon regions and availability of ingredients, red chiles , green tomatillos and poblanos, or just garlic and onion. There's even not so traditional versions using chicken or turkey to make the soup a little lighter and healthier; even vegetarian versions using button mushrooms instead of meat, in my opinion all equally delicious in its own way.
Another variation on this dish would be the fresher version also known as 'Pozolillo', that uses fresh white corn in the cob kernels like in Michoacan and Guerrero. Which is the version I prepared.
The hominy used in Pozole is freshly made from dry kernels that are transformed into 'nixtamal' this process involves soaking the dry corn kernels in water and limestone to burn and cook the skin. It is an intense preparation more commonly used in the South of Mexico, Sinaloa, Jalisco, Michoacan, Guerrero, State of Mexico and Distrito Federal. While in the norther mexican states like Sonora, Monterrey, Chihuahua, the proximity with the border has a not so preferred commodity, hominy on a can which to my taste is hard to equal the good flavor from the freshly made.
Despite the regionalism, Pozole is a classic soup among mexican families, every family has its own recipe and a style; whether is white, red or green, a grandma, sister, mom or aunt who makes it; It is always a great comforting meal that brings family and friends together.
In my family, My Grandma, from my father's side is my Pozole Guru. She will start to cook the Pozole two days in advance by soaking the dry corn-nixtamal with a bit of lime stone to lose the skins on the kernels, rinse it infinite times and slow cook it for a couple of hours. Grandma Mago used pork shoulder and very meaty pork cuts. Her Pozole was white, meaning she would not add any chiles to tint and flavor the broth, the flavor came from the cosmic union of the extremely well prepared artisanal hominy, tender pork, garlic and onion. Amazing, simply amazing.
On the other side of my family, the Pozole Guru is my Aunt Paloma, she makes the BEST Red Pozole. Absolutely delicious, she uses also pork and red chiles like ancho and guajillo which are very mild chiles that flavor the broth transforming it in this aromatic and savory broth you almost want to use a straw to drink it. Scrumptious.
As you can see I have a mayor task here, So far I've cooked both Pozole styles, white and red, I love them equally. And yes, it is the cook hand, what we call "sazon" that makes a dish your dish and the only way to exceed at it is practice, practice and more practice my little grasshopper.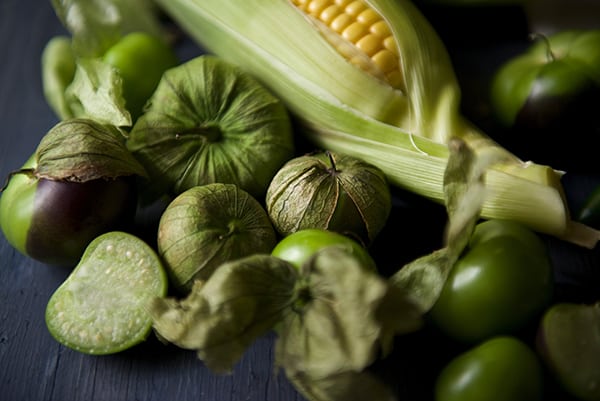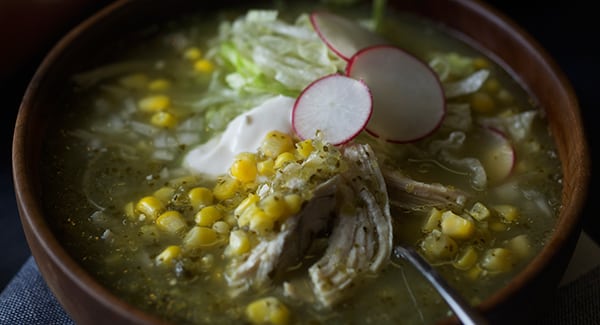 This time I'm attempted to recreate a Pozole Verde or Pozolillo. First time I had this green gem soup was at a friend's house she was from Michoacan. I inmediatelly fell in love.
This Pozole Verde is made with white corn kernels instead of hominy and uses tomatillo, serrano and poblano peppers to flavor the broth. What is so special about it? the broth in this Pozole Verde It's light, fragrant, almost has a herbaceous flavor, and the green tomatillo adds a bit of a thickness to the broth without making it heavy to the palette. The corn kernels make this Pozole a great fresh taste, really unique and very achievable if you lack of a mexican Grandma, Aunt or good quality hominy.
In this recipe, I used sweet corn. Why? Well, Ian is more familiar with the corn flavor than with the hominy. Not a lot of people likes hominy and I strongly believe is because what they have tried is from a can. So what you do? What did I do?..I used what I had freshest available. This week I ran into a good corn sale at the market, it was fresh and tasted sweet, juicy and crunchy good enough to make it into a soup.
Now, I know some people will crucify-me about using sweet yellow corn but, I have to say that the variation came out tasting really good.
Do your best with what you have, use what is freshest available to you, if you find white corn this will be my first option, and if you prefer Hominy, I will encourage you to find "Rancho Gordo hominy".
This Rancho Gordo California farm grows heirloom beans and grains, the quality and flavor resembles a lot of the hominy you can find in Mexico. Sometimes I can find them at Whole foods or Traders Joe's. If you plan ahead of time, order them on-line. absolutely divine. http://www.ranchogordo.com/index.htm
Last option will be Juanita's Mexican style hominy. Yes this particular brand has the best texture, and 3 ingredients, water, hominy, lime stone. Making it the best option. If can is the only option you have, this will taste good.
I used chicken one of my favorite chickens from Smith & Smith Farms, I know chicken again!!! well I do not mind when the quality of it is so good In fact, every other weekend I've been buying a whole chicken from this farms, there are so good I crave chicken!.. ridiculous I know…
Any how, easy recipe, one pot wonder, it keeps really well, I have not attempted to make this Pozole Verde on a crock pot, I see no reason why not you could use it. Please, if you do, let me know how it goes.
Keep warm and EAT your SOUP, do not lick the bowl, use a straw!.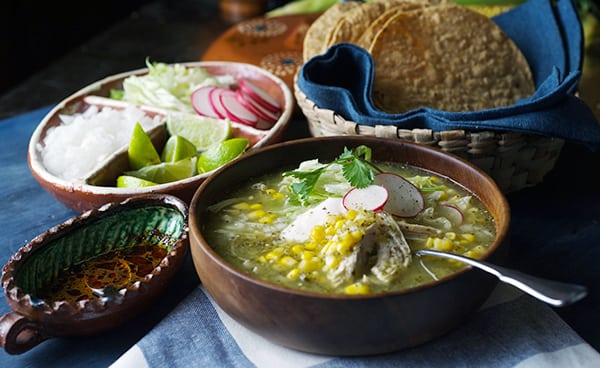 Pozole Verde a.k.a. Pozolillo
Serves 4 Mexicans 6-8 Green coats.
8 cups /2Lt. chicken stock
3.5-4 lbs. Whole chicken or the meat of a roasted chicken shredded.
6-8 ears of white corn preferable or yellow corn de-kernel
2lbs green tomatillos.
3 poblano peppers remove seeds and deveined.
2-3 serrano peppers
1 large bunch cilantro
½ teaspoon mexican dry oregano
1 medium white onion
1 small head of garlic
2 teaspoons Sea Salt.
Garnish with:
Iceberg Lettuce shredded
Radishes
White Onion finely chopped
1-2 Lime wedges
Mexican Crema
Avocado
Corn Tostadas
Salsa toasted chile de Arbol:
1/4 cup Corn, Sunflower or Vegetable oil
14-20 Dry chiles de Arbol- (remove stems, include seeds)
1-2 medium garlic cloves
1 pinch of sea salt.
Toast in Oil about 14-20 dry red chile de arbol, until they have this mahogany dark color, remove from heat, add 2 garlic cloves cut in half and a good pinch of sea salt. Blend all this until a coarse puree. Add a dash of dis paste when ready to eat.The heat in this sauce-paste is mild, due to the toasting of the chiles, it makes it smoky and mild heat.
Preparation:
If you are using the whole chicken:
1. In a large pot add 8 cups of water ½ medium onion, ½ teaspoon oregano, ½ head of garlic ½ bunch of cilantro, 2 bay leaf, 1/2 teaspoon dry thyme, 2 carrots, 1 sprig of celery, 2 teaspoons sea salt. Add the whole chicken, skin on, cut in pieces, for faster cooking. Bring to a slow simmer; with a ladle remove the white foam that forms as it cooks. Cook for about 35-45 minutes. Until chicken is tender.
2. Once the chicken is cooked, Remove the chicken, herbs, onion, garlic, sieve the broth.
3. Let the chicken to cool down until riches a comfortable temperature to remove the skin and shred the chicken meat. Set aside.
If you are using a Roasted Chicken:
1. Remove skin from roasted chicken and shred. Save the chicken carcasses and set aside.
2. In a large pot add 8 cups of chicken stock, ½ onion, ½ teaspoon oregano, ½ head of garlic ½ bunch of cilantro, 1-2 teaspoon salt and the chicken carcasses from the roasted chicken. Bring to a slow simmer; with a ladle remove the white foam that forms as it cooks. Cook for about 20-25 minutes. Until chicken is tender.
3. Once the chicken broth is seasoned and cooked, Remove the chicken carcasses, herbs, onion, garlic. sieve.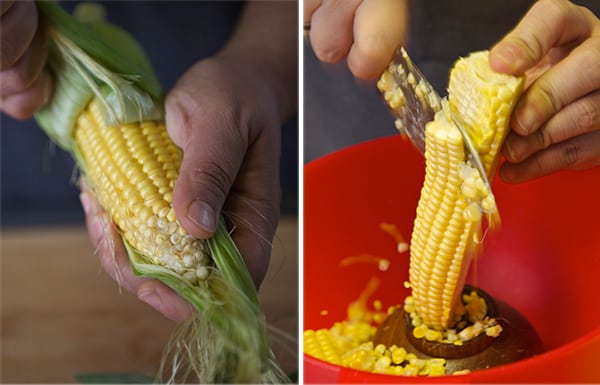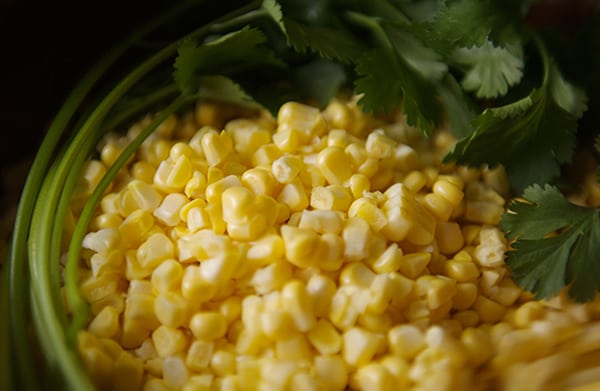 4. Remove the tomatillo husk, wash them and cut in halves. Cut poblano peppers in half remove the green veins, and seeds. In a blender add the tomatillos, poblano peppers, the other ½ onion, 3-4 garlic cloves, the other ½ bunch cilantro, salt, 2-3 serrano peppers. Add one serrano at a time and taste in between blending so you can measure how spicy it is. The serranos in this recipe are used to add flavor not spice, they act like black pepper. Add a little of the chicken broth from the pot to help blend all this. Blend until is pureed.
5. On a large deep pot add 1 tablespoon sunflower oil until oil is hot. Add the tomatillo blended sauce to the oil and cook for 5 minutes (careful it will splatter). Now that the sauce is sautéed, add the 8 cups of chicken stock, along with corn kernels. Bring to a slow simmer. Cook for about 25-35 minutes.The broth will change color from emerald green to a bright sage green. At this point taste to adjust for salt. Add your shredded chicken to warm through.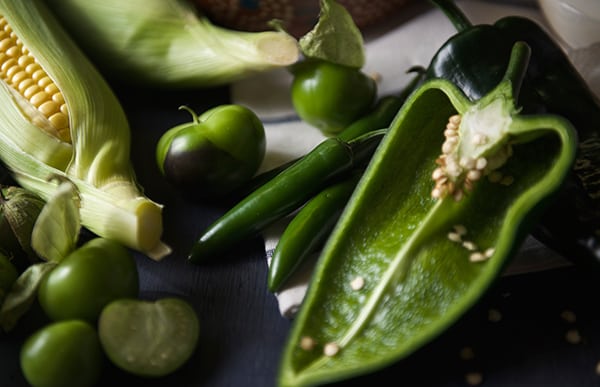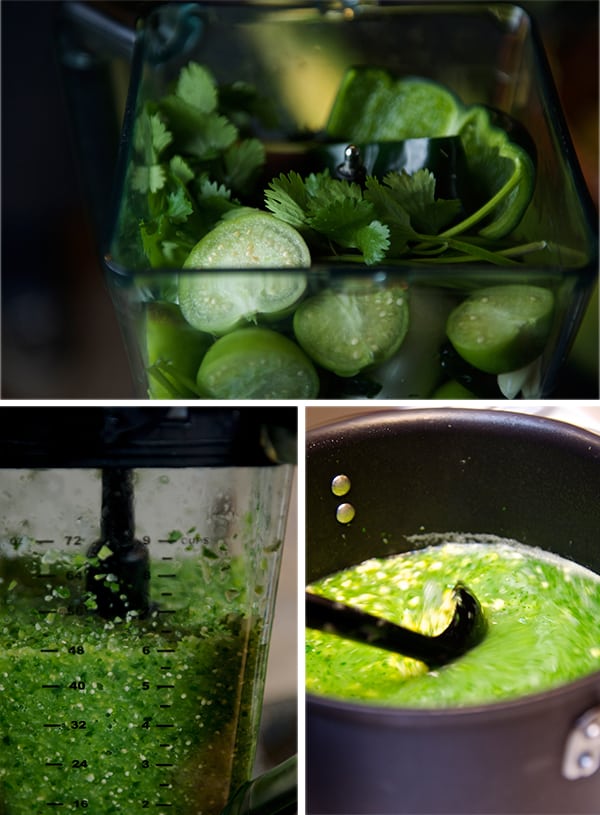 7. Serve piping hot and garnish with shredded lettuce, chopped onions, slices of radishes, squeeze of lime and a dollop of crema. Enjoy!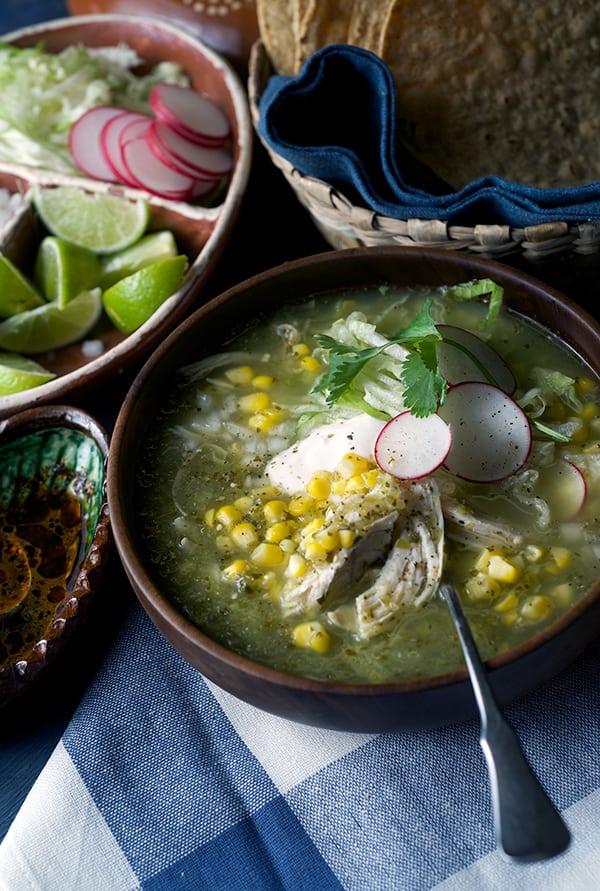 Pozole Verde~Yes, more please!