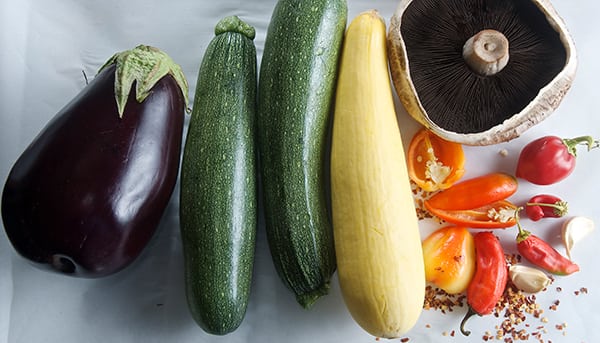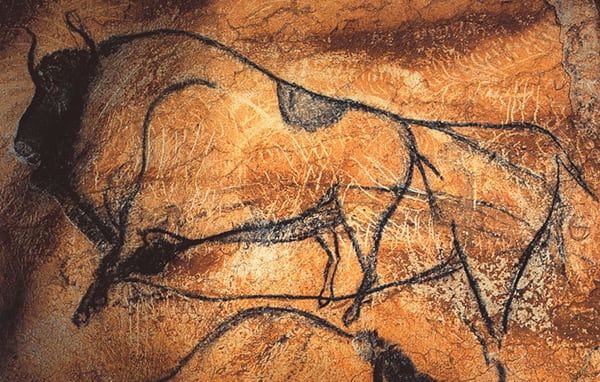 What a crazy title! I think it took me more time to name this dish than to make it. What the title really should say is: Roasted Vegetables stacked with a Bison spicy Bolognese. The "napoleon "part is just a fancy name to say stacked, and this dish by any means is "fancy"…
Well, this was dinner yesterday. They say not to live in the past, always in the now, but memories are important and this meal was one of the memorable ones.
When our carnivorous crave knocks at our door: Lamb, Pork or Beef?… Bison!
Here in Texas that's what every carnivore should be eating because its extremely remarkable in beef flavor due to its high Iron content. Bison has 80% less fat and 49% less calories than beef. Lets say Bison is the Better Red meat. Just make sure to look for the USDA approval triangle on the front label and look for 100 percent natural-grass feed-hormone free. Keep in mind that you'll get what you pay for. Tender, flavorful bison costs more to raise, thus it costs a bit more, but one bite and you'll never go back!… it is indeed a great option.
This is why: Bison spicy bolognese works great because it makes the bolognese sauce lighter yet richer in flavor. And because Bison cooks faster than beef, this 30 minutes spicy bolognese can change your life. You can make a double batch and freeze it for a fast pasta dinner during the week.
Half inch sliced vegetables, roasted at 475 F temperature for 25 minutes can be magical, all the flavor of the vegetables just seems to concentrate and develop their natural sweetness and caramelization.
All in all this is a great recipe, You can serve it with a green salad on the side, a piece of crusty bread, and a glass of wine… Enjoy!
Vegetarian & Vegan suggestions:
Now, I do think on my vegetarian friends and it is such an easy way to transform the recipe, using a combination of bottom and cremini mushrooms instead of meat.
Or if you are fan you can use texturized soy protein.
For the cheese, a walnut sauce is always a great substitution. Here is the link to a previous post where you can find the recipe.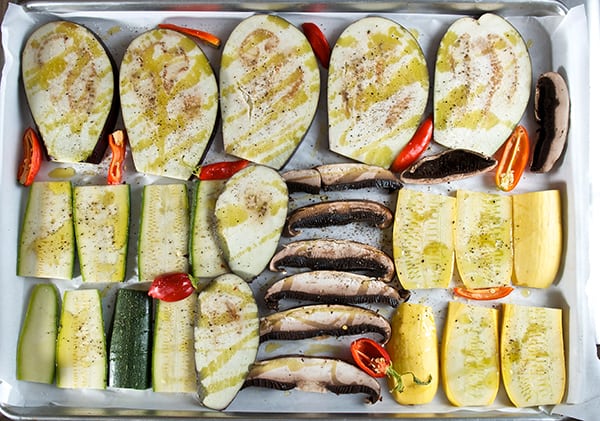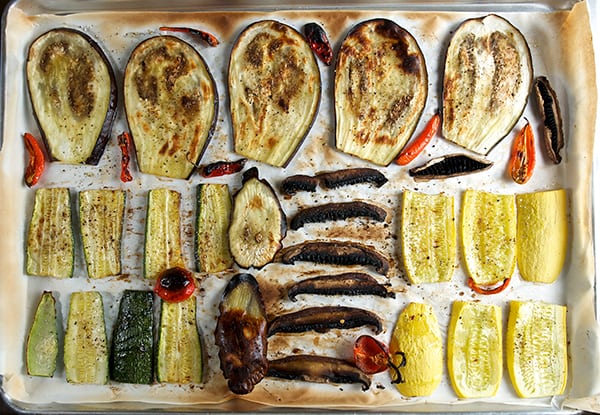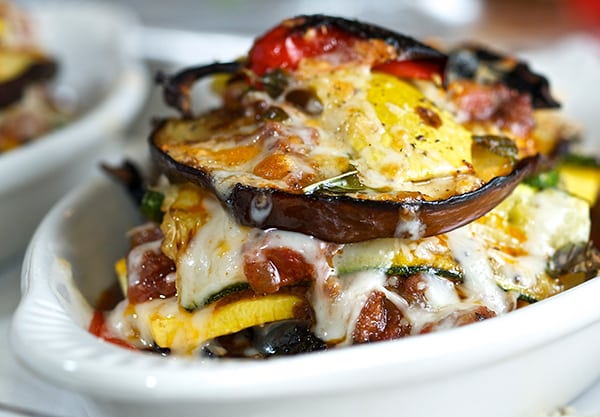 Roasted Vegetable Napoleon with Spicy Bison Bolognese
Serves 2 with room sauce for 4 or you can freeze the rest of the sauce for another night.
1 egg plant
1 green zucchini
1 yellow squash
1 medium large portobello mushroom
3 sweet red peppers
Extra Virgin Olive Oil
Salt and pepper
1/2 cup Assiago
1/2 cup Fontina cheese shredded
For the Mirepoix:
1 cup chopped sweet onions
½ cup carrot small diced
½ cup celery small diced
3 garlic cloves
1 Bay Leaf
1/2 teaspoon of red pepper flakes
1 teaspoon of salt
½ teaspoon freshly ground black pepper
3 tablespoons extra virgin olive oil
For the Spicy Bison Bolognese
1 pound of grass feed-hormone free-Ground Bison (or beef or turkey or texturized soy or cremini mushrooms)
2 cups Red wine (Cabernet-or a rich tempranillo)
1-12 oz. canned San Marzano tomatoes (this is my only exception to the rule on canned products)
1 tablespoon Balsamic vinegar
3 dashes of Worcestershire sauce
1 tablespoon Sriracha* the odd ingredient but it is so good!
Salt and pepper to taste
2 tablespoons of butter optional*
Directions:
1.-
Start by making the sauce;
In a Medium- Large sauce pot, saute the mirepoix ingredients in 3 tablespoons of extra virgin olive oil until onions and celery are translucent. Add the ground Bison saute for 3-4 minutes with the help of a wood spatula making sure you incorporate everything avoiding big lumps of meat. Add the wine and let the alcohol evaporate for about 3-5 minutes. Add the can of diced San Marzano tomatoes, the balsamic, Worcestershire sauce, Sriracha sauce, and adjust salt and pepper. Simmer the sauce for about 15-20 minutes or until the excess juices have evaporated. You want a slightly thick consistency. Cover with a lid and keep the sauce on low. At this point you can decide to add 1 or 2 tablespoon of butter this will round off the flavors on the sauce.

2.-
Once the sauce is ready, preheat the oven at 450-475F  / 230-245 C
In a large Baking pan lined with parchment paper, arrange the vegetable slices in one single layer. Drizzle some Olive Oil seasoned with salt and pepper. Roast for about 10-15 minutes or until the vegetables have a golden -to dark brown on the edges.
In two oven Ramekins of Pyrex, start layering the vegetables alternating with the sauce and grated cheese. You can add some fresh herbs like basil, parsley or rosemary. Make sure the last layer is cheese and broil in the oven for about 5-6 minutes or until cheese is bubbling and melted. Serve placing the ramekins in a flat plate for safety.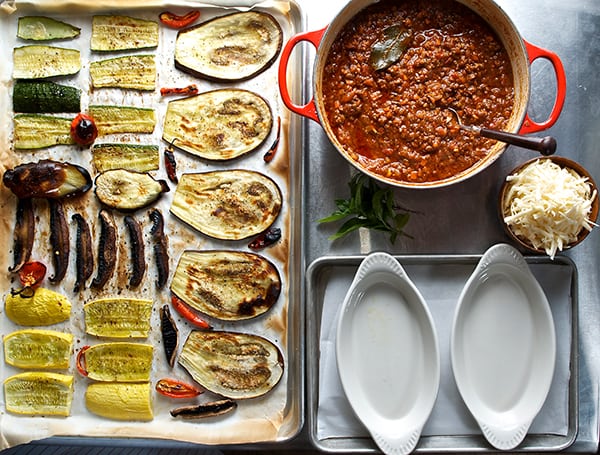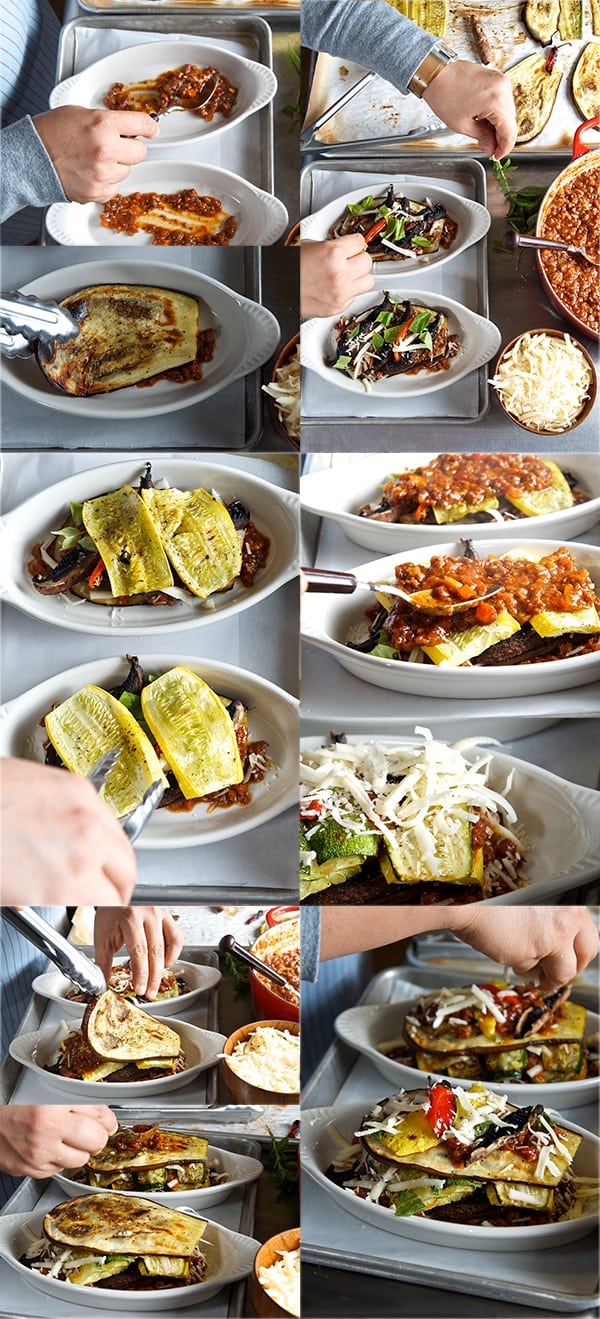 Roasted Vegetable & Spicy Bolognese Napoleon..ready to serve!