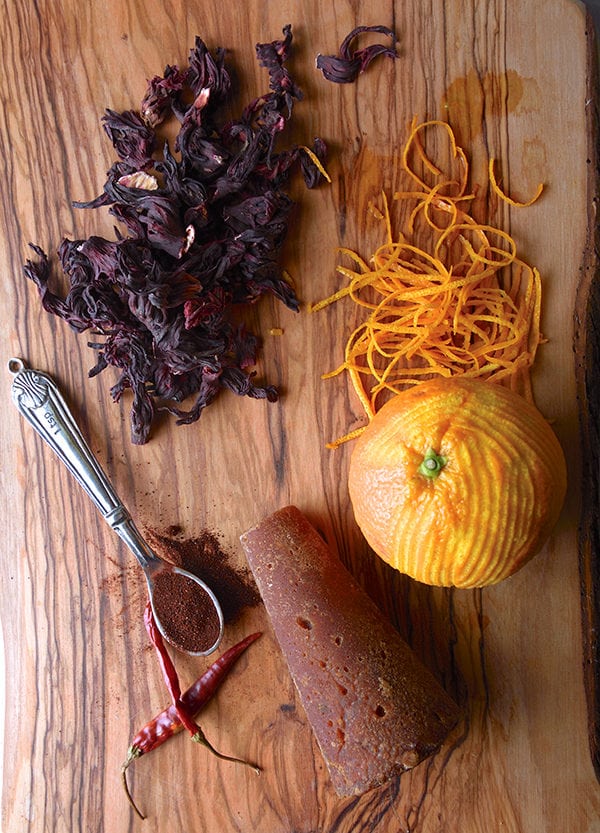 Have you ever tried hibiscus?… hibiscus is a flower from a tall plant that when dried makes the most fabulous aromatic and vitamin C loaded tea or cold beverage. It is one of my favorite ingredients.
I'm from Mexico and Hibiscus is called "Jamaica" and it is pronounced Ha-my-cah, not to get it confused with the Island. Hibiscus is used in many different preparations, the most common is to prepare "agua fresca"flavored water. Jamaica it is very floral and refreshing, its our natural instant beverage.
It is also used in candy making in Mexico on the Chapala Lake Riviera, in Jalisco. There they make delicious sweet and tart hard candy pieces. If I was to describe the hibiscus flavor, it resembles a little to cranberry. The difference: Hibiscus has this floral notes that makes it so remarkable.
I was thinking of a little spin on Thanksgiving for people who find cranberry too tart so I thought of Jamaica. Then, what to do besides agua fresca and candy? Chutney?.. no… Glaze!
Oh yes I experimented last week glazing some Cornish Hens and it tastes  delicious. My original thought was to glaze some quail, but I look for a good source of quail here in Austin and I was with out luck… so I cooked Cornish Hens…and what a treat!
The results?… Well  you have to try it. It's floral, tart, sweet and I added a hint of orange zest, and ancho powder to give a little spicy kick….Ian loved it!.. and yes I liked it too.. I definitely want to share the recipe with you, let me know what you think!
Try it with Quail if you or some soul around reading this can find some. I think it will be wonderful and if not it's great on Cornish Hen! And if you are already a Hibiscus Lover, try our recipe  Martini dos Flores… you will fall in love with it! https://yes-moreplease.com/2013/08/martini-dos-flores/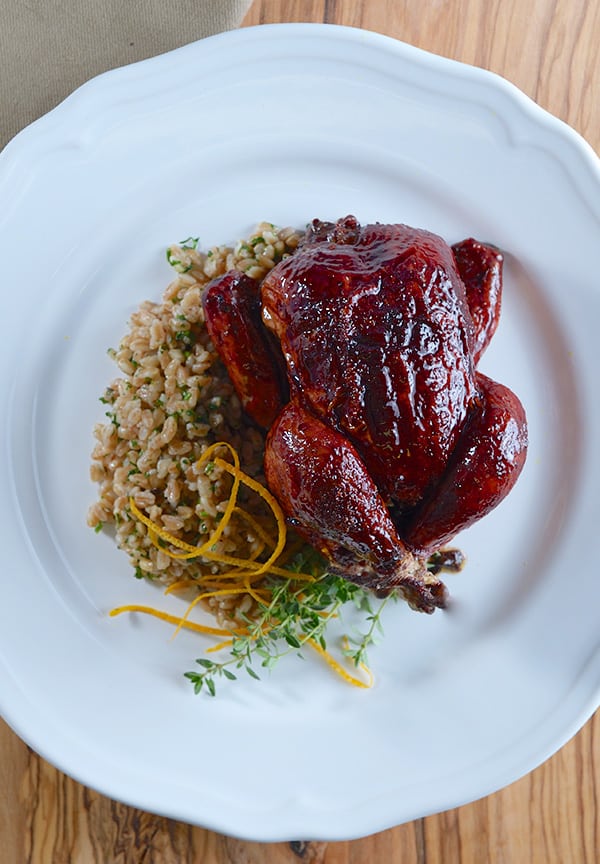 Hibiscus-Orange Glazed Cornish Hens
Serves 2-4
2 cornish Hens, about 18 to 22 oz each
4 sage leaves
4 bay leaf
Sea salt and black pepper
Directions:
To roast the perfect cornish hens, I always follow the following steps:
1. Bring the Cornish Hens to room temperature. Take them out of the refrigerator at least 30 minutes before start cooking.
2. Preheat the Oven at 450 F/ 232 C – cook at 425 F/ 218 C
3. Using paper towels pat dry the hens. Salt, pepper and add 2 bay leaves and 2 sage leaves to each bird cavity.
4. Truss the birds, ensuring legs are tight and the tips of wings are behind the body just like if the bird is taking a nap in the sun. Trussing the Cornish Hens make a more even mass, so they cook more evenly.
5. Place them on a baking sheet or a heavy bottom roasting pan and roast for 30-25 minutes until a meat thermometer, inserted in between the breast and thigh reads 165 F/ 70 C anf juices run clear. 0While the hens are in the oven, make the glaze.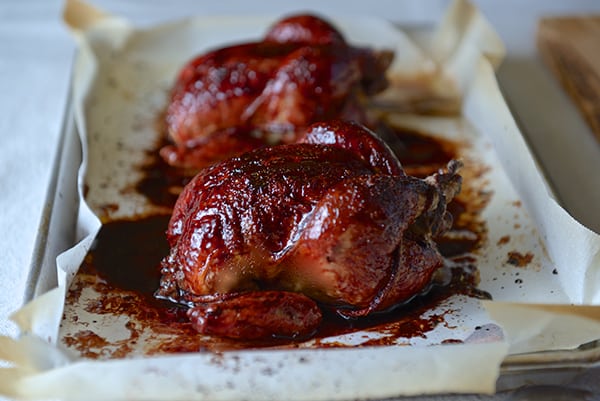 Hibiscus-Orange Glaze
The first time I made this dish I tried to make the glaze using the Cornish Hens drippings from the pan and de-glaze de pan like when you are making a gravy. I did not like this, the delicate floral flavors from the hibiscus were masked by the chicken fat so I made the glaze separate to keep the floral notes alive.
1 cup dry Hibiscus flowers
the zest of ½ medium size valencia orange
½ cone piloncillo, grated
1 aromatic clove
1 chile de arbol
1 teaspoon ancho powder
4-6 sprigs of thyme
1 tablespoon of butter
pinch of sea salt
Directions:
Steep 1 cup dry hibiscus flowers in about 1 ½ cups of simmering water for about 8-10 minutes.
In a small sauce pan add the concentrated hibiscus tea, piloncillo, clove, chile de arbol, ancho chili powder, orange zest, and thyme. Bring to a slow simmer, simmer for 4-6 minutes.
Remove the sprigs of thyme clove and chilies. Bring the glaze to a rapid simmer stir constantly, until the glaze is reduced by half. Check the consistency by dipping a spoon into the glaze and running your finger tip across. If the line stays put, your glaze is ready (see picture below). At this point add 1 tablespoon of butter until melted and well incorporated, set aside.
Check cornish Hens at 35 minutes. If the thermometer reads 160F/70C start glazing.
Use a pastry brush or a rubber brush to varnish them. Apply 1 coat and keep baking for about 2 minutes, apply 2 or 3 glaze coats in total. If necessary turn on the broil on the oven and broil for 1 minute for a shiny glaze finish.7. Check temperature until reads 165F/74C and juices run clear.
Remove from the oven and let them rest for 10-12 minutes before serving.
Serve over a bed of herbed farro or buttery rice, recipe follows…


Quick herb-orange farro

Serves 2

½ cup farro perlato
2 cups water or chicken stock
¼ cup finely chopped parsley
1 teaspoon orange zest
1 tablespoon butter (or you can use some of the chicken fat from the roasting pan)
salt & pepper to taste.

In a small sauce pan, bring water to boil and add farro. Reduce heat to a low simmer.
Cook for about 20-25 minutes. Check for doneness. It usually takes 30-35 to be al dente,
at this point add butter, chopped parsley, orange zest, salt and pepper. Toss well, remove from heat and cover with a lid for 5 minutes. Serve warm.
Note: I love farro done this way, I like it a little al dente, not too mushy, and I like to add the herbs, at the end to keep the flavors fresh and colors vibrant.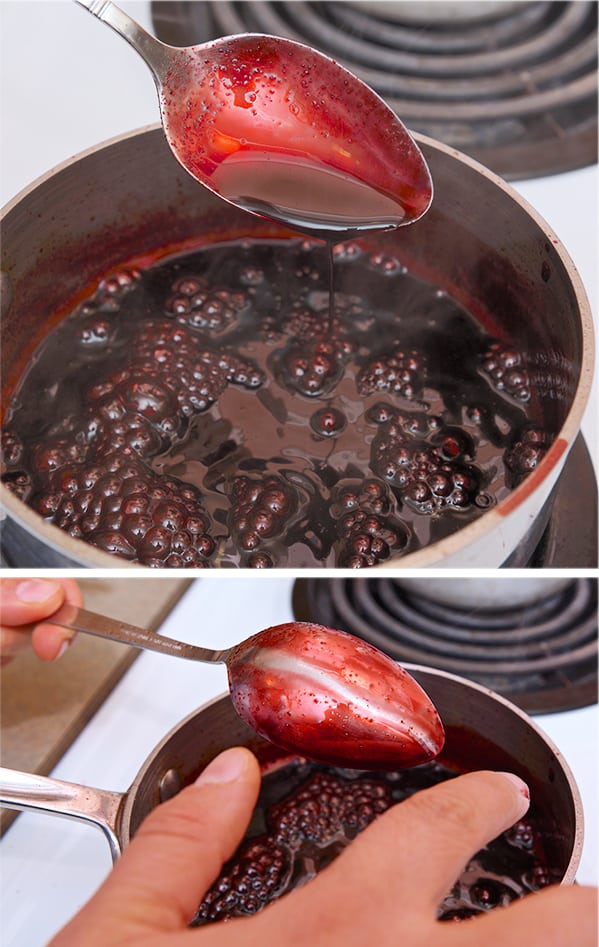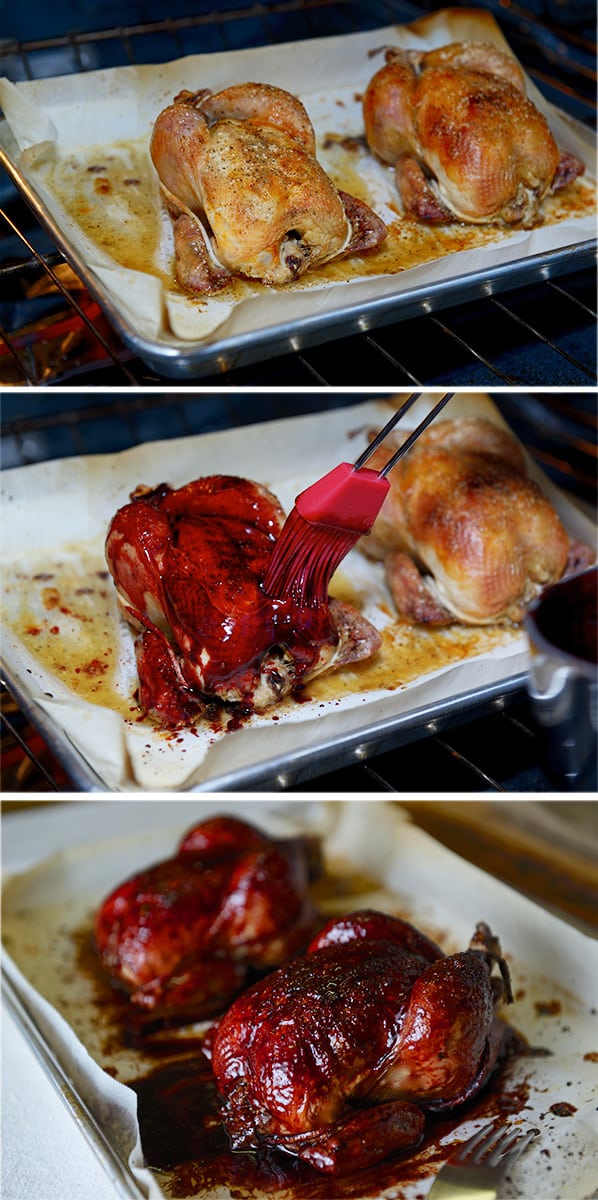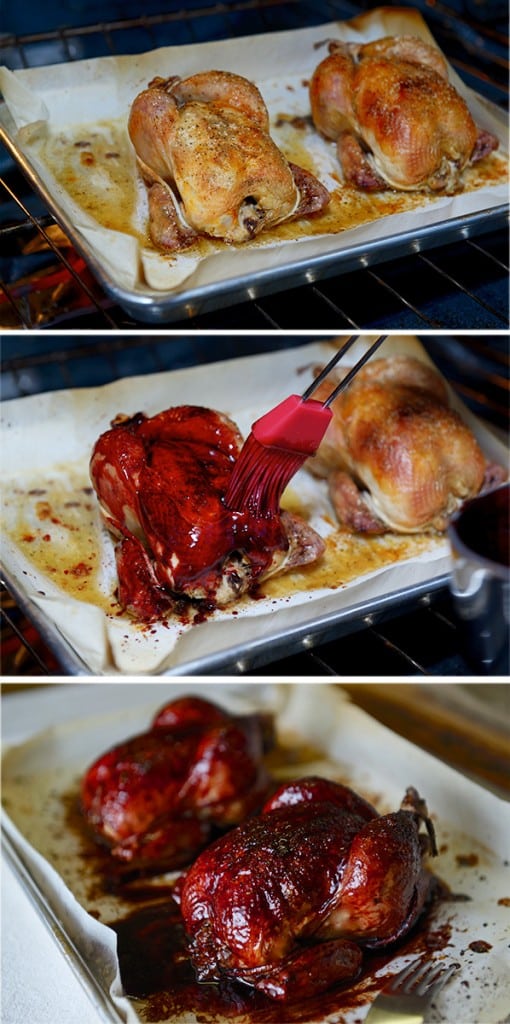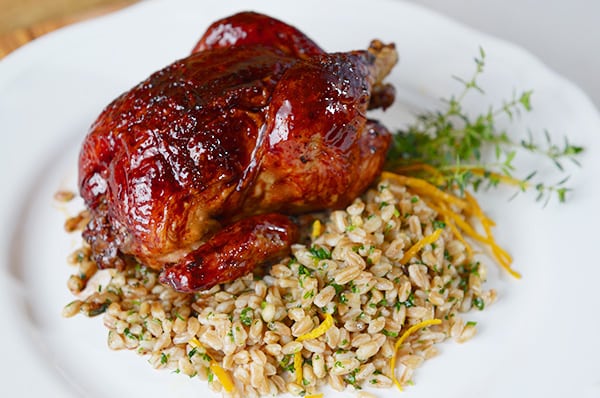 Enjoy!
Music pairing: Sabor a mi, by Lila Down