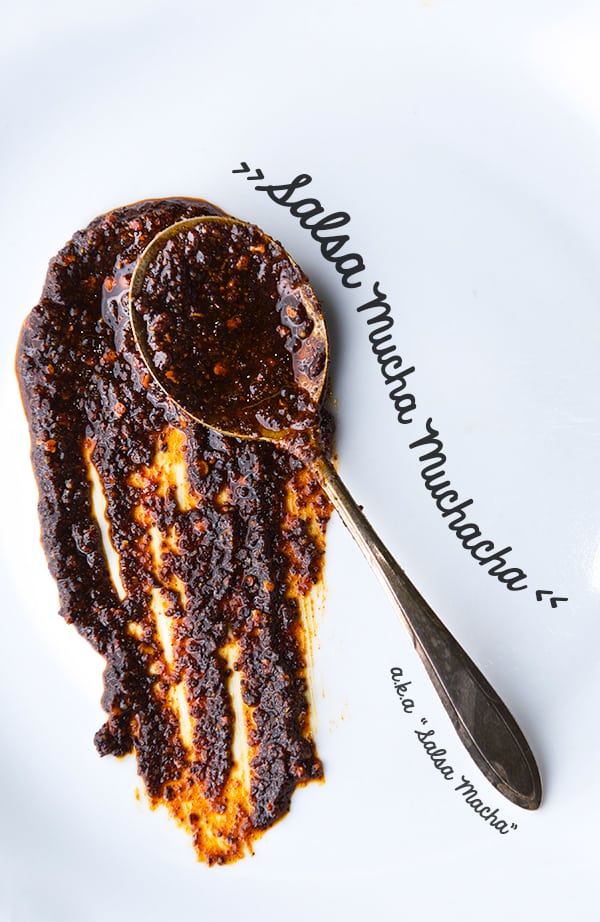 This is one of my salsa obsessions. In the chile kingdom and its spice scale, this Mucha muchacha salsa has the best flavor and intensity in my opinion. Chiles are one of my dearest ingredients because by preparing them in different ways they transform and have multiple flavors and textures to offer far beyond simply spicy and hot. The level of spiciness can be tamed by the cook and by combining different chiles one can create new flavors. From smoking, toasting, roasting, frying, charring, grilling, steaming, boiling, its an endless combination that ends with a delicious result and the best accent for a meal.
Like this salsa.
This salsa will make your heart sing, and speak in tongues.
This recipe has a back story from my single years. I had a neighbor who became one of my best friends, Ultiminio. Yes, that was his name; he was such a great friend and had a great charisma. We lived in a four level small building. Bottom floor for a small retail area top tree levels for three little apartments. I lived at apartment No.3 and Ultiminio lived on the first level. On the weekends we used to scream at each other from our little balconies: ~Vecina!, Vecino!Whats for breakfast?…
We knew Sundays were for refrigerator inventory. So in less time than you imagine, we were gathering ingredients to make breakfast happen. Usually I had beans and he had one egg and I had another egg, a piece of cheese, a lost potato, tostadas or tortillas… and Coffee always was in both pantries. You get the picture, but this salsa, THIS SALSA always brought everything together. Ultiminio taught me how to make this salsa with chiles Moritas from his hometown Chiapas. It was absolutely fantastic and we would eat endless pots of beans and totopos, eggs, orange wedges, cucumbers, jicama, soups, you name it, this salsa was the excuse to prepare anything and everything. I remember dearly those days because no matter what we had we always ended up with a delicious breakfast and this salsa was always on the menu.
Later on, I adapted the recipe using my favorite chile, Chile de arbol and a hint of Morita. I always remember making this salsa and my tastebuds salivate every time, its my ultimate craving.
The flavor on this salsa its like no other, is intense chili, smoky and nutty. The spicy notes from the arbol bring depth and a settle spiciness, then just when you think your mouth its gonna be on fire, the chile Moritas hit you with their bright, sweet spicy almost like cherry flavor and all starts to mellows down, following by the hint of sharp garlic, salt and nutty notes from the oils. It is Like a roller coaster. Afterwards, a tamed pleasant spice lingers on your tongue and warms up your tastebuds leaving you wanting more.
Please do not be alarmed when you read the ingredients on the recipe, I know 64-68 chiles can be excessive, but this is exactly the type of salsa preparation that shows the versatility of chiles and the multiple spectrum of flavor versus heat, that chiles can offer. Bare with me and follow along, you are a few steps from salsa heaven.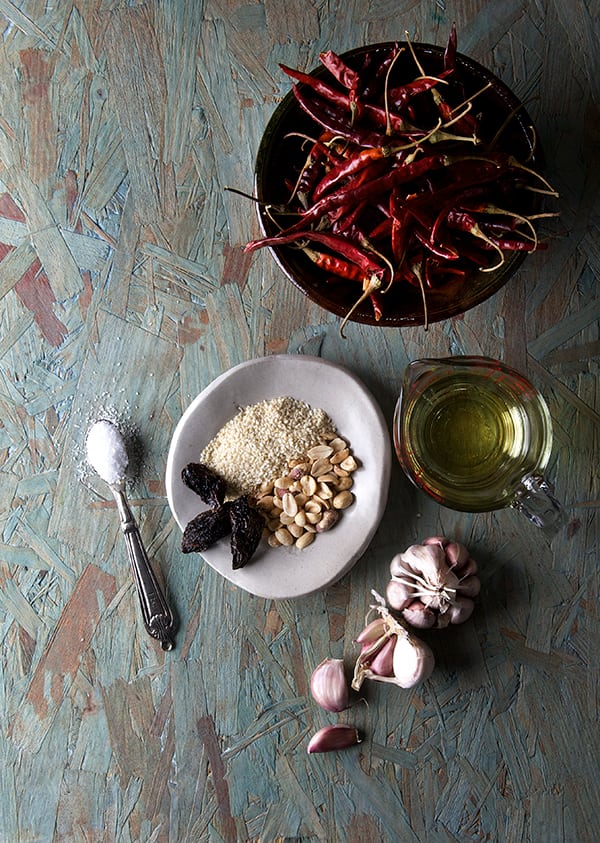 Salsa Mucha Muchacha AKA Salsa Macha
Makes 8-10 oz Jar
50gr. About 64-68 dry chiles de arbol, between 3.5" to 4" long approx.
3-4 chiles moritas about 2" 3″ in size
1 cup sunflower, or corn oil
2 tablespoons toasted sesame seeds
2 tablespoons roasted salted peanuts
2 large garlic cloves (I used Ajo Criollo, its mild and very aromatic)
1 – ½ teaspoon sea salt
Directions:
1. Remove all the steams of the chiles. In a medium size pot place oil and warm up over medium heat. Place all the Arbol chiles and carefully toss constantly until all chiles look dark mahogany red but not burt. If you see some of the chiles getting darker faster than others, remove promptly and keep frying the rest.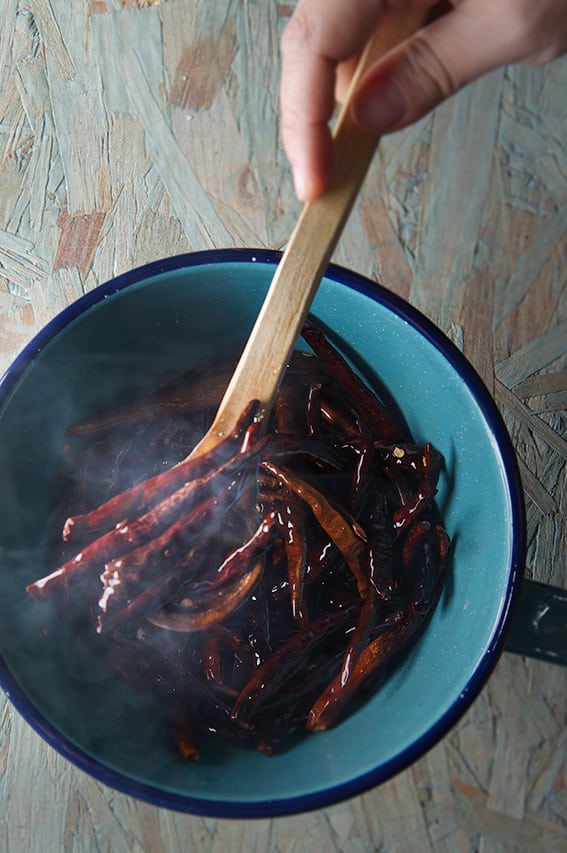 2. Remove pot from heat and take out all the fried chiles to cool down a bit.
3. Return the oil pot into the stove and add the 3 Morita chiles watch carefully, because this Moritas tend to inflate like balloons. Once they are dark red, almost black, remove chiles from the oil and let them cool off.

4. Place the pot with the oil on a safe place to cool off for about 3 minutes. Then add the toasted peanuts and sesame seeds, into the oil and toss. Wait for another 3-5 minutes until the oil is at a luke warm temperature.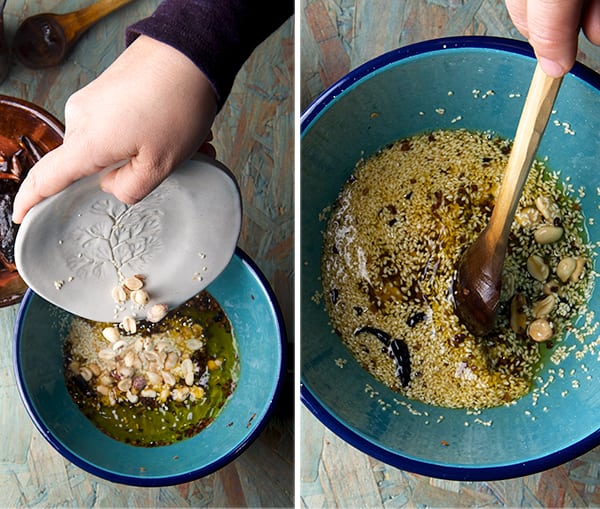 5. Place the fried Chiles the arbol, The chiles Moritas, garlic cloves, salt and carefully poor all the oil with the sesame seeds and peanuts on the glass of a blender a small food processor or for best results use an immersion blender, and Puree everything until a lose paste.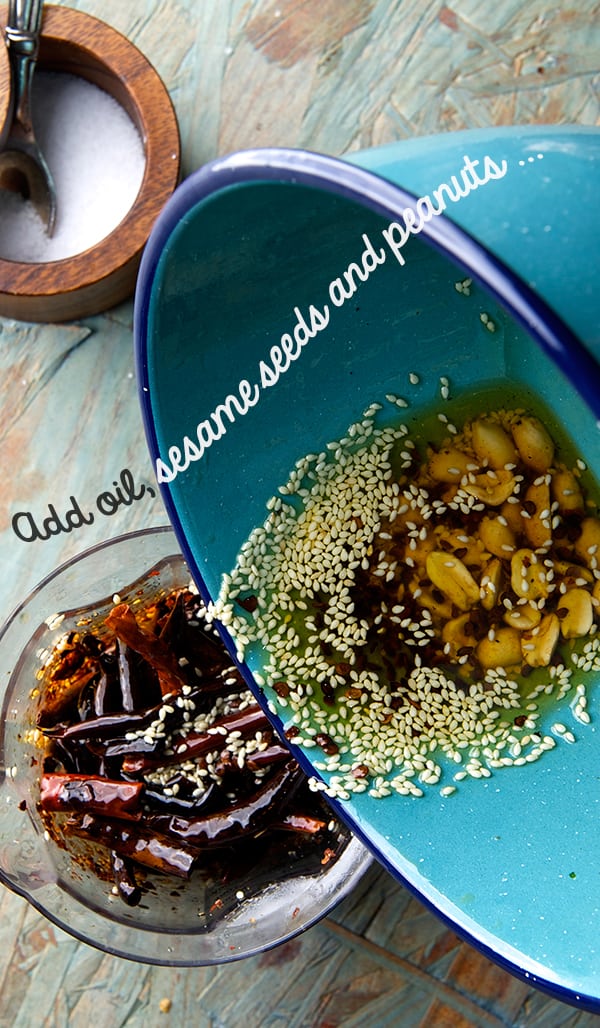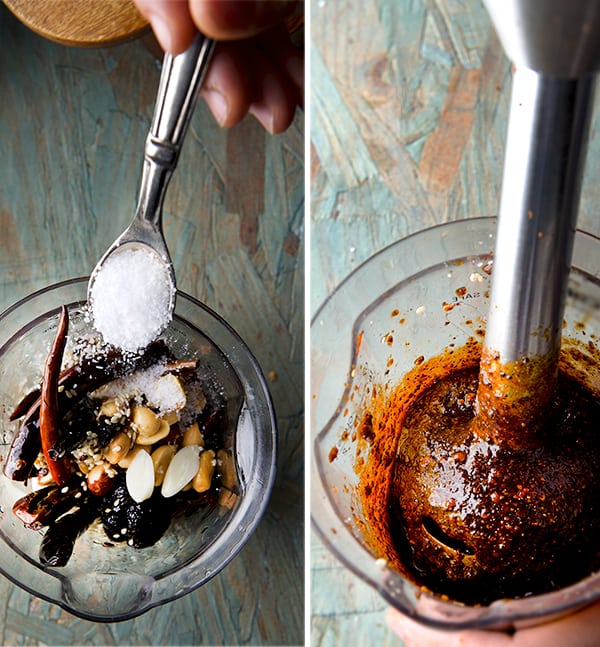 6. The salsa should look smooth enough but have some texture left from the seeds. Keep salsa on a air tight glass jar on the refrigerator. The chiles and oil tend to separate, just shake or mix well with a spoon before using. This salsa will last about 2-3 weeks if you are lucky. This salsa gets better and better every day. Enjoy!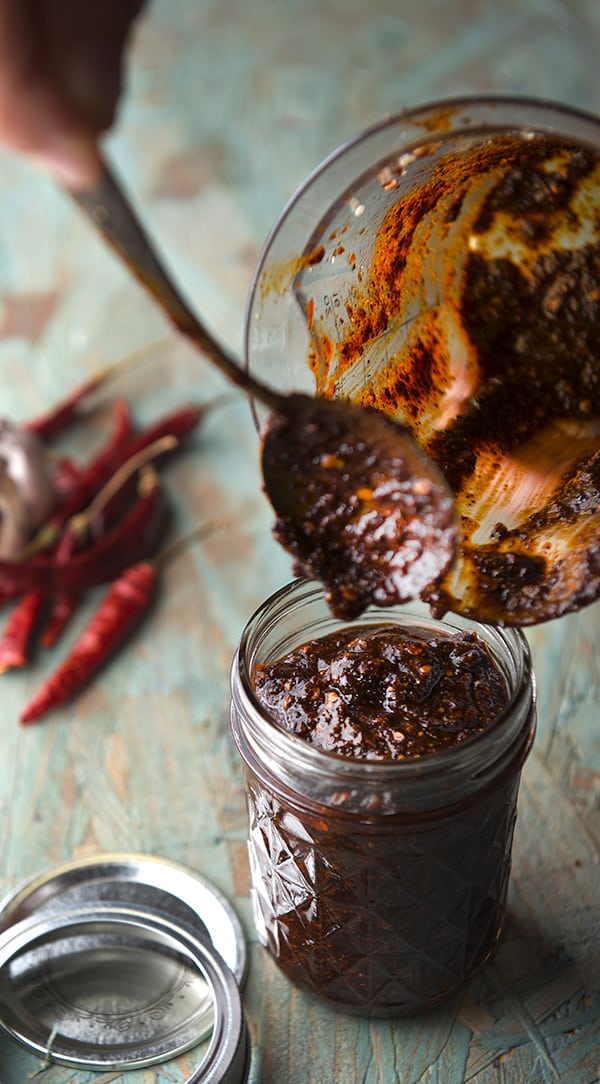 A few suggestions on how to use Salsa Mucha Muchacha,
Its very versatile. It can bring to life any fried egg, avocado toast, creamy soup, or broth. It is specially good on black beans, quesadillas, tacos, aguachile, seafood and it is amazing on this Mariana's Mexican Sashimi. It is also great on any stew, steak or roasted meat. Also as condiment fora roasted chicken, or use it as rub or marinade with a couple of tablespoons of vinegar.
Lately, one of my favorite ways to use it its when sautéing  greens, like Kale, Chard, Spinach, Purslane, Dandelions, even broccoli!.
Here is how it goes: Quick saute some kale, chard, or spinach in a little bit of olive oil add some onion slices, toss week until edges of the onions start getting cooked. Then add the greens, add one or two teaspoons of this salsa toss quickly until bright green and right before turning the pan off add a little splash-arooh of apple cider vinegar or a squeeze of lemon , toss briefly and serve over brown rice, quinoa, farro, beans, serve with slices of avocado add a dollop of greek style yogurt. Put an egg on it and there you have it, an unforgettable quick lunch that will make you crave your greens. Enjoy!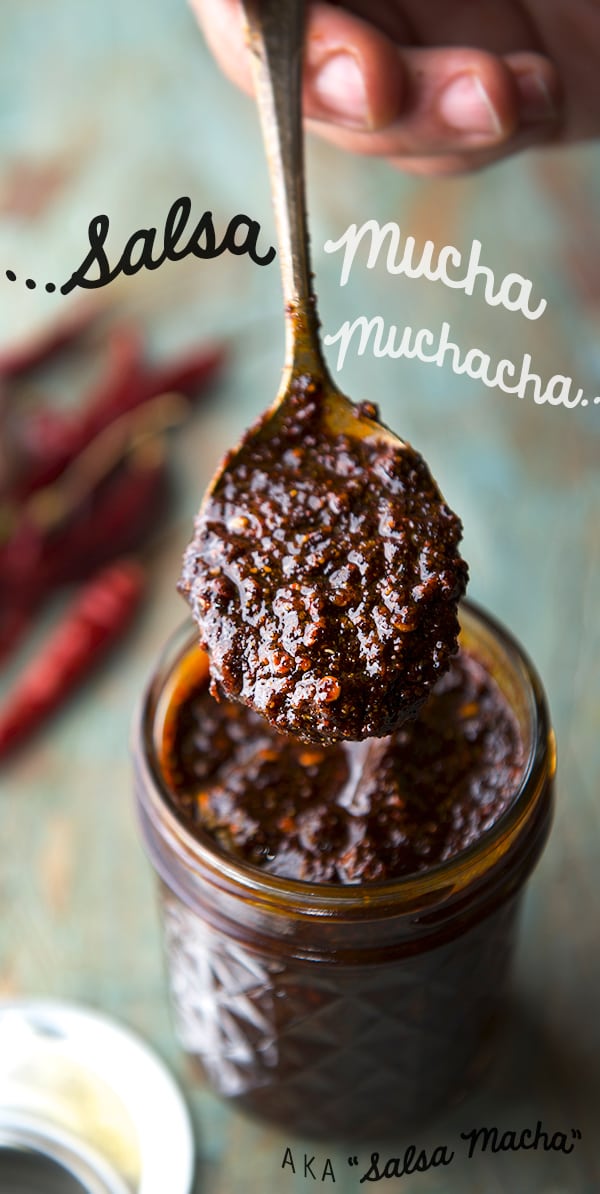 Music pairing: Esquivel – Mucha Muchacha