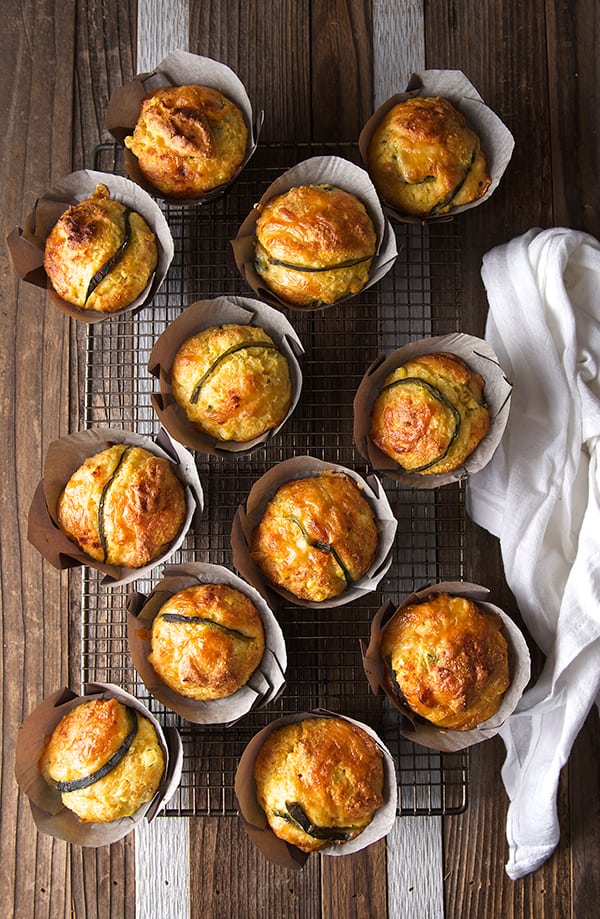 This is the time of the year when quick breads like this fill up the house with warmth and delicious comforting aromas. MAKE THEM, It's a must.
I have had this recipe for about 25 years …from one of my grandma's best friends. It is one of the first encounters I had with baking. My modern grandma Ana Fernanda used to make this cornbread; she used some canned goods and different chiles from the north part of Mexico including chile California a bright green chile mild in spice. Also she used Chihuahua style cheese and baked it in a big rectangular dish. By the time this corn bread hit the table it was pretty much gone, absolutely delicious.
I decided to adjust the recipe and replace the canned goods by using fresh ingredients. For me it makes such a big difference in flavor and in texture. I used corn meal instead of corn mix, and interchanged the flour for gluten-free flour mix, which gives them a lighter and fluffier texture. The recipe works great with both types of flour, whether if you are using all-purpose flour, or a gluten-free all-purpose mix.
Now, instead of a big rectangular bread, I think to portion them out it's the ticket! It cuts down the cooking time and each muffin gets an irresistible crusty top. I used Poblano peppers instead of California, Hatch chiles would be also great if you happen to have some frozen ones from this last season. Now, do not worry about the Poblanos, they are mild with just a hint of heat that play really well with the sweet corn. Instead of Chihuahua cheese, since I could not find one of a good quality and flavor, I used Smoked Gouda. Use what you like, perhaps something local, mild with good melting qualities.
These Cornbread Muffins with Poblano peppers and Smoked Gouda will make everybody happy at the table, including your gluten-free guests, they are moist , fluffy and flavorful, I assure you this babies can be the hit at your Thanksgiving table or any given baking night!…Or Breakfast…Ian and I split them in half, warmed them on the pan with a dash of butter and topped them with a sunny side up egg…you've got to love the leftovers, if there are any…
Enjoy and Happy Thanksgiving!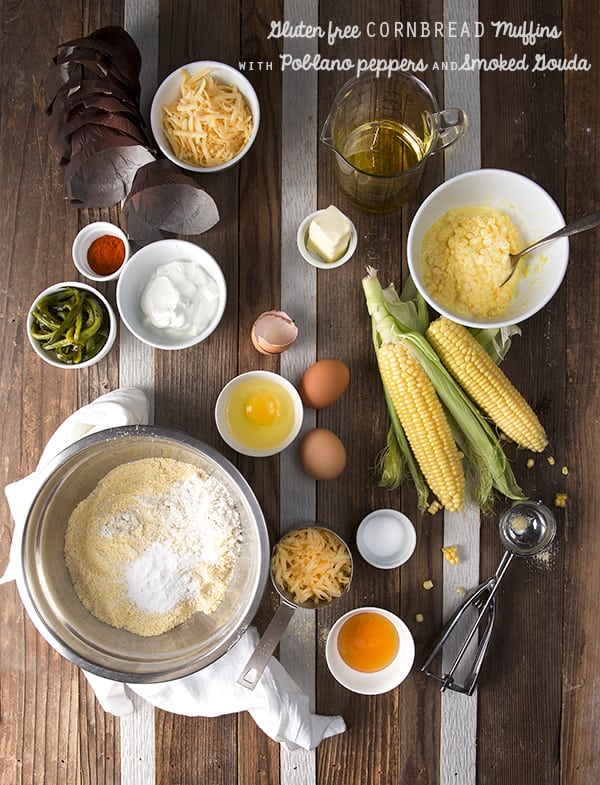 Gluten free Cornbread Muffins with Poblano Peppers and Smoked Gouda
Makes 12 muffins or one 9×13 rectangular baking dish.
1-1/2 cups organic corn meal flour *
1 cup gluten-free all-purpose flour ** Not gluten-free fan? you can use regular all-purpose flour.
2 teaspoons baking powder***
1 teaspoon plus one pinch kosher salt
4 eggs
½ cup greek yogurt
1-1/2 tablespoons honey
¾ cup corn oil. Grape seed oil, sunflower will work too.
4 tablespoons melted butter
4 small medium fresh ears of sweet corn
1 cup shredded smoked gouda cheese
2 Poblano peppers roasted, skinned, de seeded and sliced into strips. Remember to save some strips to top the muffins!
1 pinch smoked paprika
Topping with:
½ cup shredded cheese
12 thin Poblano strips
smoked paprika to sprinkle on top
12 baking liners
*If you are in Austin, Boggy Creek Farm has the best one, Lamb's stone ground meal, or Bob's Red Mill for a national brand.
**The brands I prefer for gluten-free all-purpose flour: Cup4Cup, King Arthur all-purpose gluten-free mix.Not a gluten-free fan, you can use regular unbleached all-purpose flour.
*** I always use aluminum free Baking Powder.
Preparation Method:
1. De-kernel 3 ears of corn and blend on the food processor or immersion hand blender, until a coarse purée. De-kernel the 4th ear of corn and add the kernels to the purée.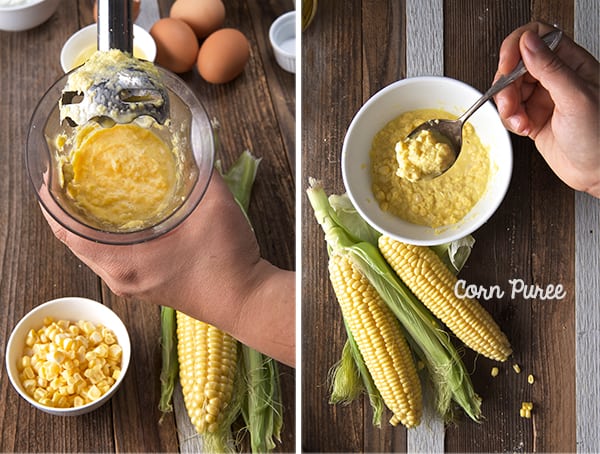 2. Preheat your oven at 375F. Line two muffin baking pans with the large muffin liners 6 on each pan alternating spots. (Please: Read bottom note about baking liners and baking times.)
3. In a medium size bowl mix all DRY ingredients, whisk well to incorporate. Add cheese and toss.
4. In another medium size bowl, mix all your WET ingredients, including the corn kernel purée and the poblano strips. Remember to save some poblano strips to top the muffins.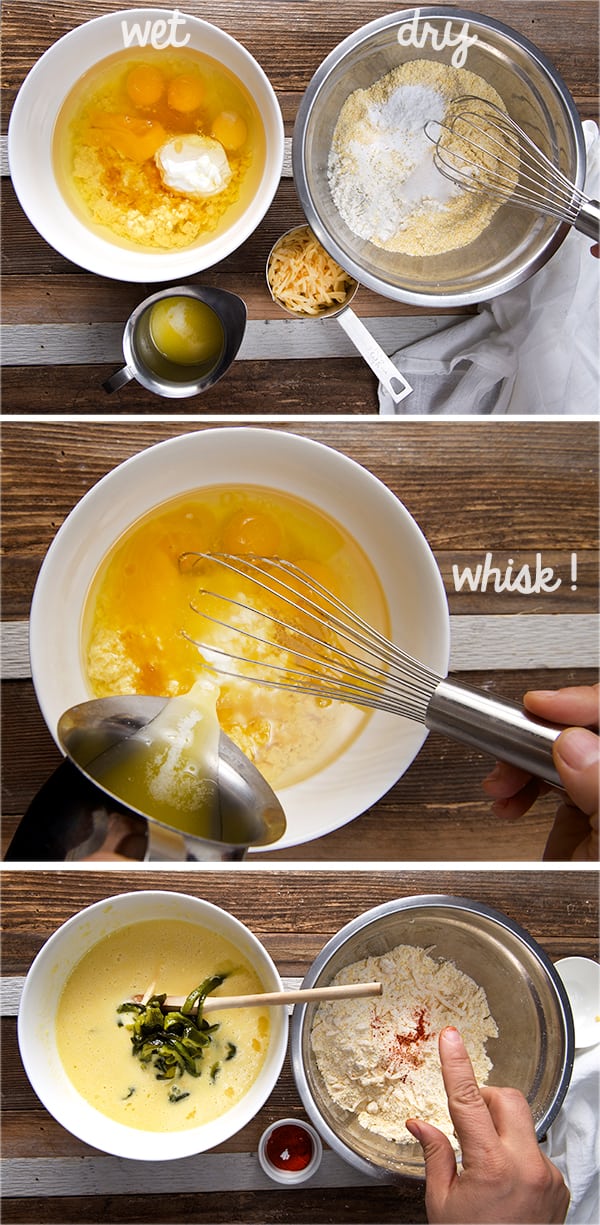 5. Combine wet ingredients into Dry with a wood spatula, until well incorporated, do not over mix.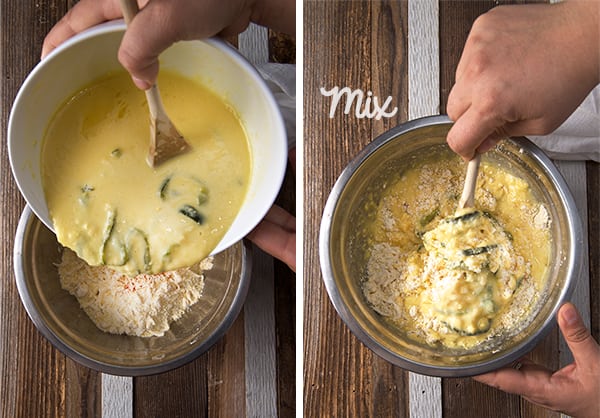 6. Apply a little oil to a standard size Ice cream scooper, and fill each cup with a well-rounded heaping scoop of the batter. If you are using smaller cups use a leveled scoop.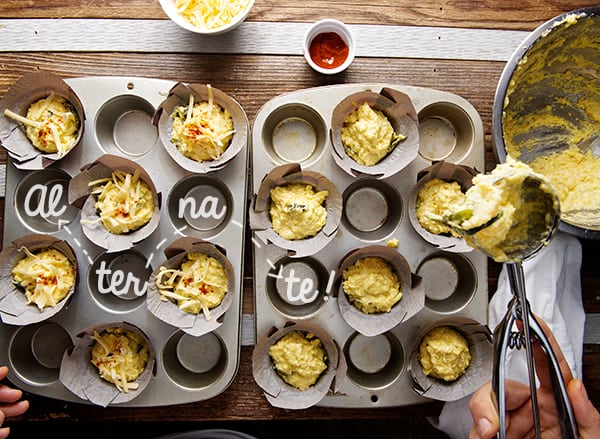 7. Sprinkle a little cheese, a poblano strip and a dash of paprika on each muffin.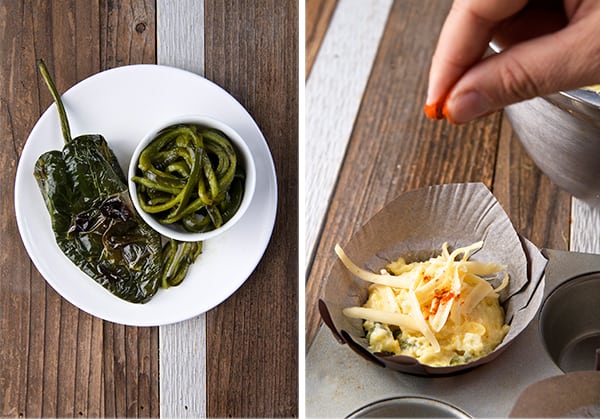 8. Place them into the oven on the lower third rack and LOWER the temperature to 350F.
9. Bake at 350F for 17-20 minutes until golden brown tops and a toothpick comes out almost clean with a few crumbs. Remove from oven and wait for 1-2 minutes, remove from pan into a baking rack or a basket and take them to the table. Enjoy.
Note:
Baking liners: I used a large paper cups that overlap if you bake them to close. That's why I alternate them, and I used two trays. I love the medium size muffins and the raised muffin tops. They take about 17-20 minutes to bake.
If you are using regular cupcake liners I would say you might have more than a dozen, since they are smaller, and they will bake faster, perhaps 12-15 minutes. So, watch out and keep an eye on them.
If you are using dark muffin pans you might have to lower down your oven temperature at 325F since the darker pans retain more heat.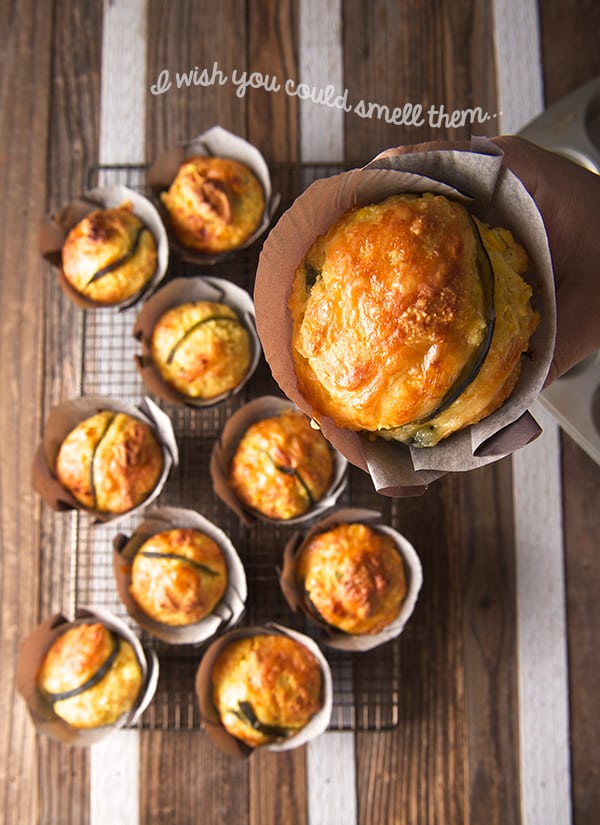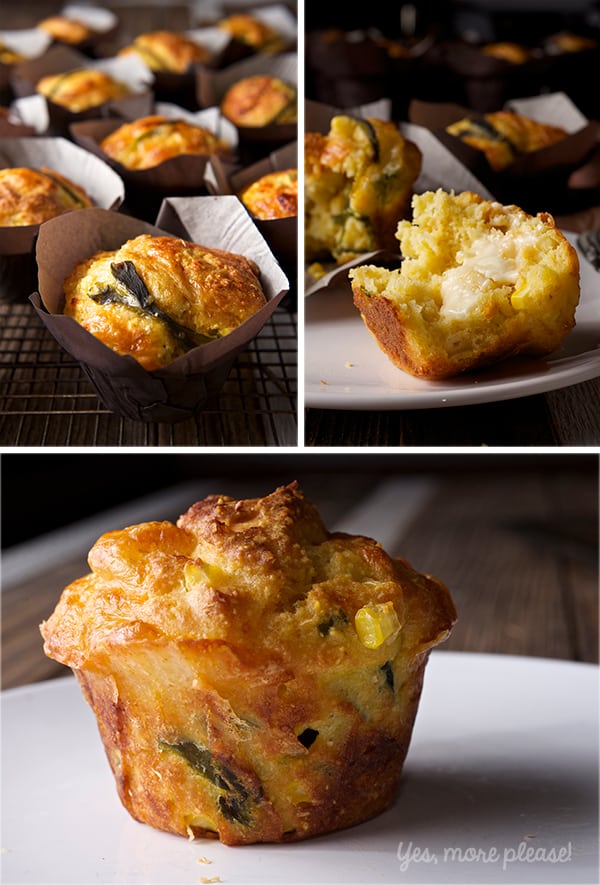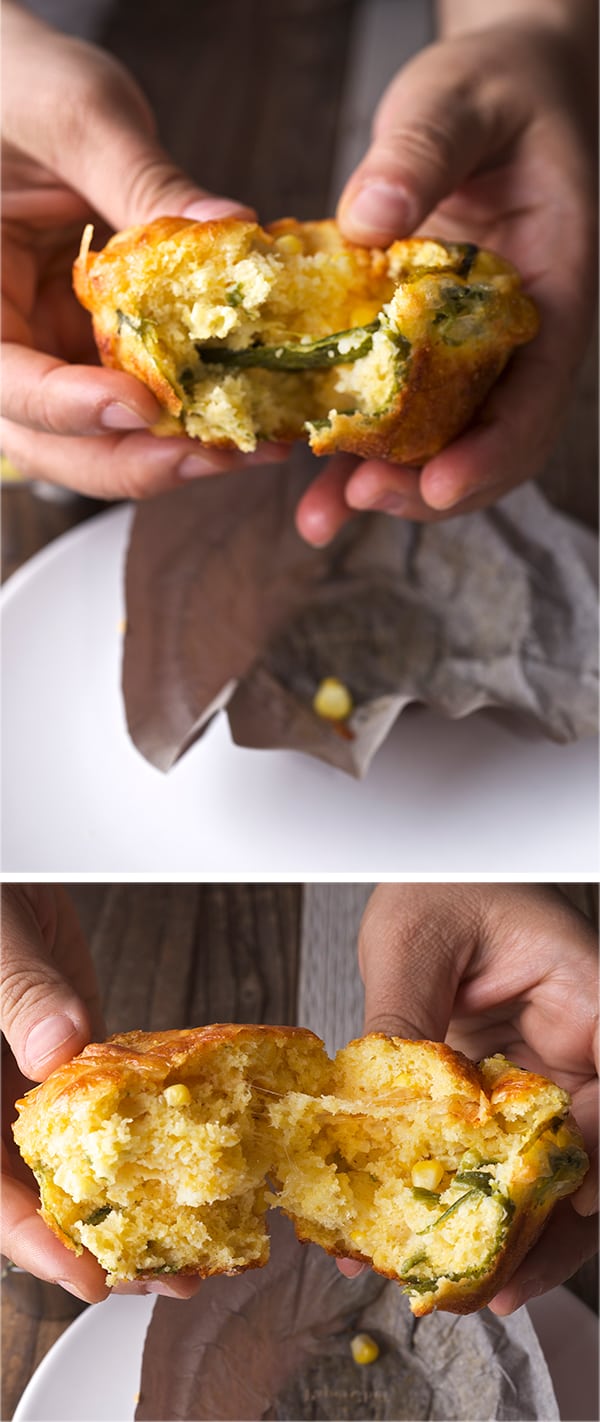 Enjoy!
Music Pairing: Billie Holiday – The very thought of you