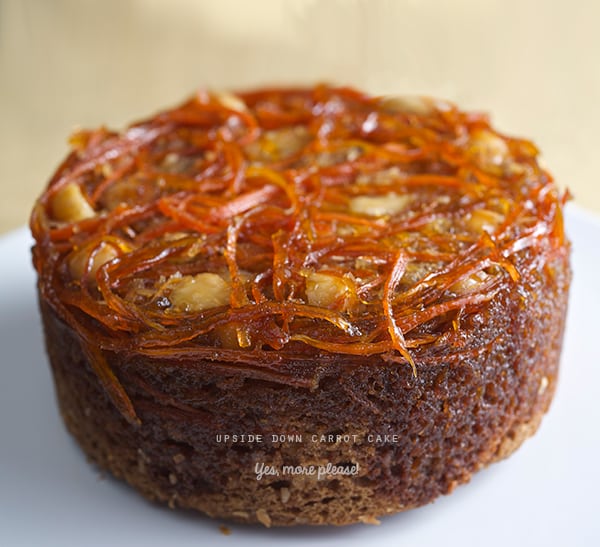 Lately everything in my world seems upside-down, but the little wacky moments in everyday life can be fun. Being playful in the kitchen is my kind of fun. And boy, if this cake screams upside-down, I'm seeing life straight up now!~
After making the Leek and Potato Tarte tatin, a light bulb turned on in my head and crisscrossed with the idea of a carrot cake. What if I apply almost the same concept of a pineapple cake to the carrot cake? Without hesitation I made ½ of a recipe, and it turned into a delicious unexpected result. I placed the carrots on the bottom of the pan and used coconut butter instead of regular butter to create a coating. I added some honey and turbinado sugar which caramelized beautifully on the bottom. Adding some freshly ground ginger was the final touch; fragrant with a spicy lemony note.
I think Ian looked at me funny when I told him I was baking an upside-down carrot cake. He probably though I was crazy…and then when he saw the cake, he just smiled and understood, and when he tried it he asked: "When are we shooting this?"… So I guess he liked it!
The cake is mildly sweet. The caramelized carrots add the sweetness and texture to this scrumptious cake, without being overly sweet. It is more of a coffee cake than the classic carrot cake with cream cheese icing, (which I adore) but, in this case, the no frosting makes the idea of baking and eating cake for breakfast more…manageable…*hehehe*
This recipe I wrote is for a small 6" cake, since is just Ian and I it is more than plenty. You can easily double it and bake a 9"-10". for bigger crowds. This upside down carrot+coconut+ginger cake  will make a fantastic bake good for brunch or a simple delicious birthday.  I'm really hopping you enjoy this recipe, shoot us a comment, we'd love to hear from you!
Upside down Carrot Cake
Makes 1- 6" cake, serves 4-6
Dry:
1 cup all-purpose flour
½ teaspoon baking soda
½ teaspoon baking powder
1 teaspoon cinnamon
½ teaspoon nutmeg
¼ teaspoon ground clove
½ cup shredded carrots
¼ cup shredded coconut
¼ cup roasted Macadamia nuts, roughly chopped
Wet:
1 tablespoon freshly ground ginger
¾ cup turbinado sugar
½ cup safflower oil
2 eggs
For the bottom of the cake pan:
4 tablespoons solid extra virgin coconut oil  I used this kind or butter if you prefer
3 tablespoons turbinado sugar
4 tablespoons honey
1-1 1/2 cups of long shredded carrots
¼ cup shredded coconut
½ tablespoon freshly ground ginger
¼ cup roasted macadamia nuts halves or whole.
Preparation:
Preheat oven at 350F /176 C
1. Shred your carrots, This julienne peeler is one of my favorite tools, it is so easy to use, so much fun and time saver. Makes the julienne a dream!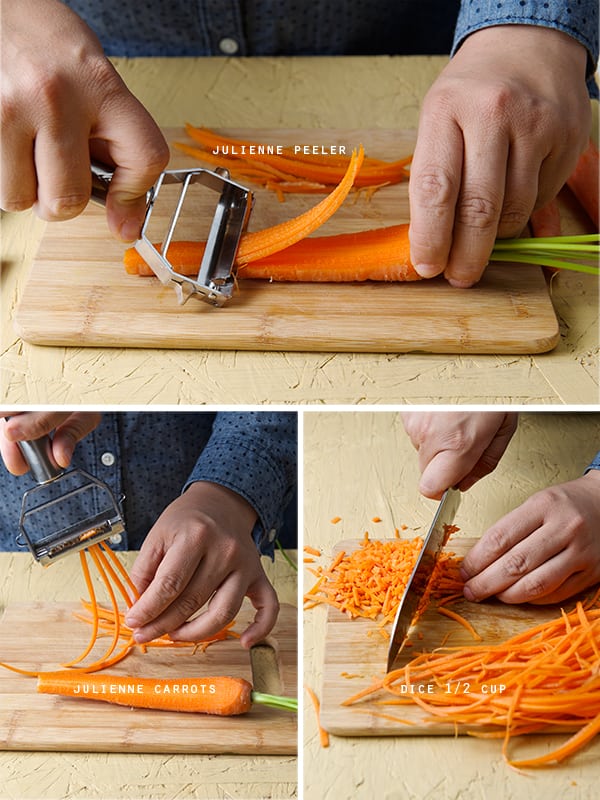 Prepare the mold:
1. In a 6"x 4"tall pan, spread an even thick coat of the solid coconut oil.
Thinly grease the sides of the pan as well.
2. Scatter evenly the sugar and honey
3. Layer the shredded carrots evenly
4. Sprinkle the roasted macadamia nuts halves
5. Sprinkle the shredded coconut in an even layer.
6. Set aside in a cool place

7. In a medium size bowl whisk together all the dry ingredients.
8. Add the ½ cup shredded carrots, shredded coconut, and roasted macadamia nuts.
9. In a small size bowl whisk first oil, sugar and ginger, then add the eggs one at a time and whisk until well combined.
10. With a spatula, mix wet ingredients into dry ingredients until well combined.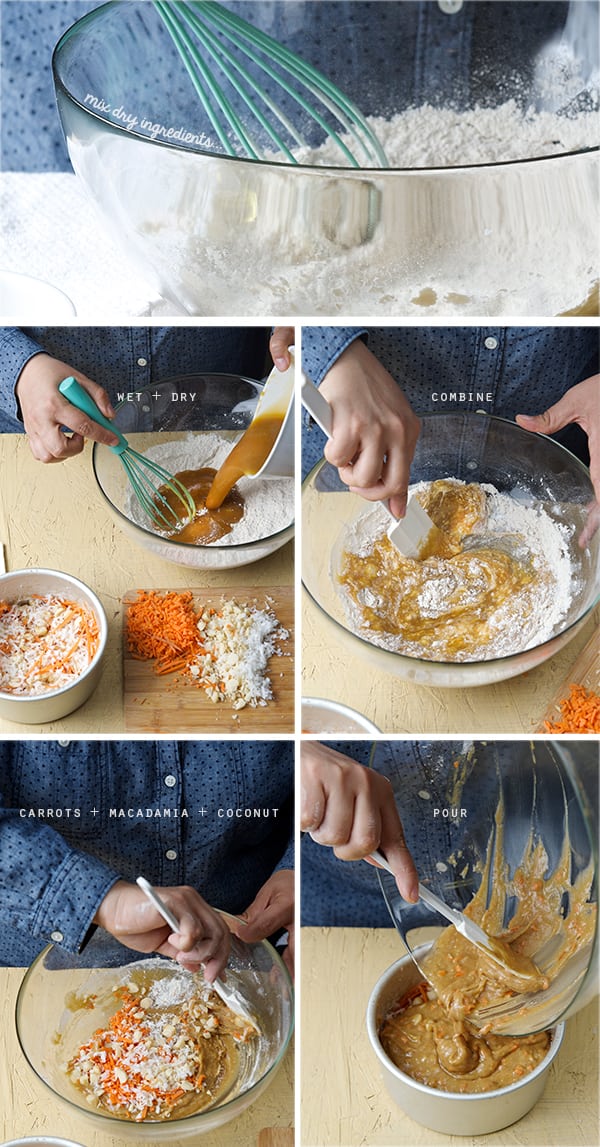 11. Poor the batter on top of the carrot layer, and bake for about 30-35 minutes. Until a toothpick in the center comes up clean.

12. Cool on a rack for 20 minutes and un-mold the cake before its completely cool.
Knife… Ready, set go!… first slice is mine!…Enjoy!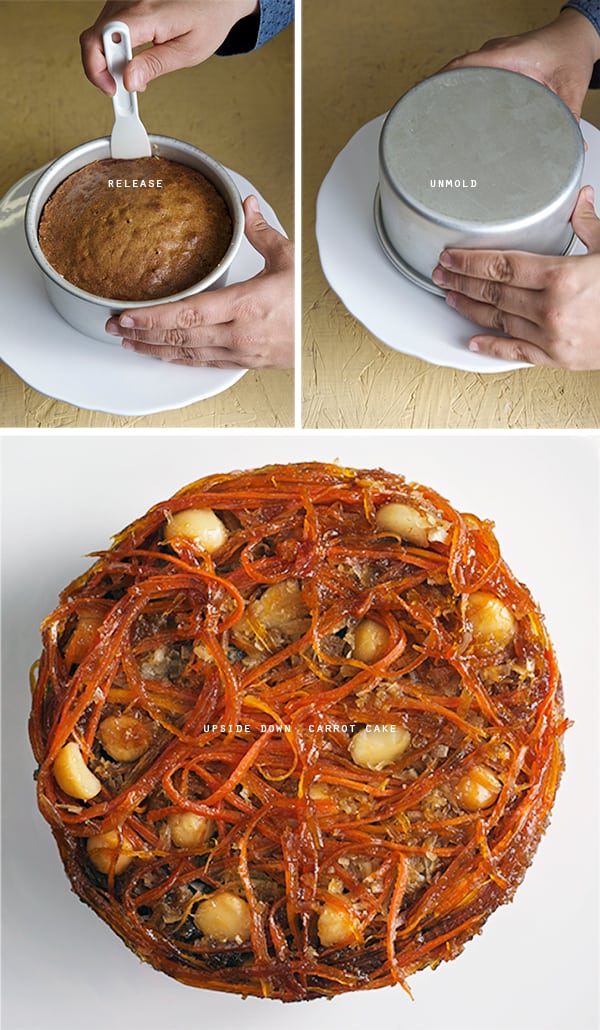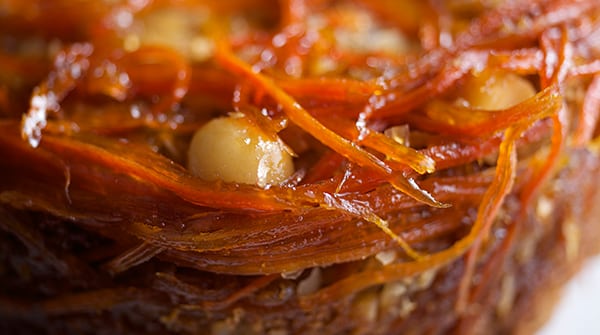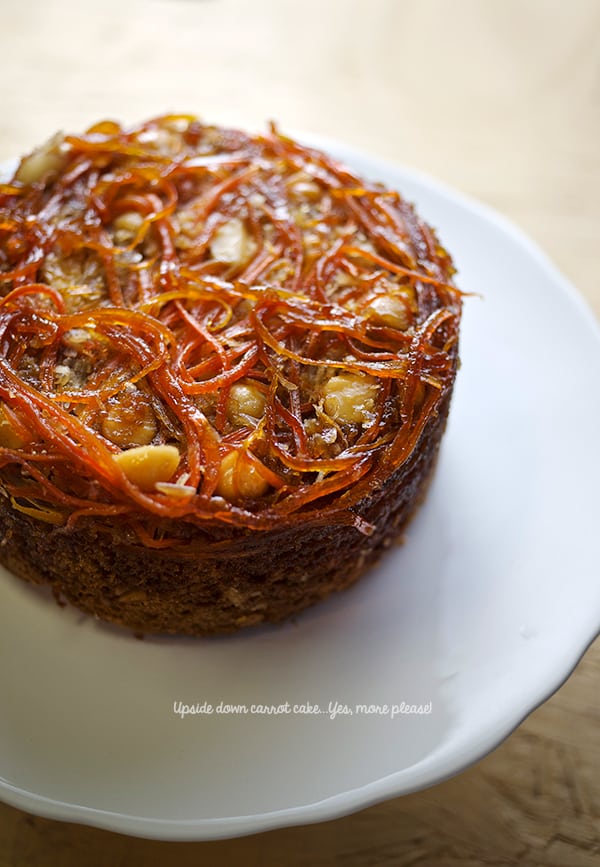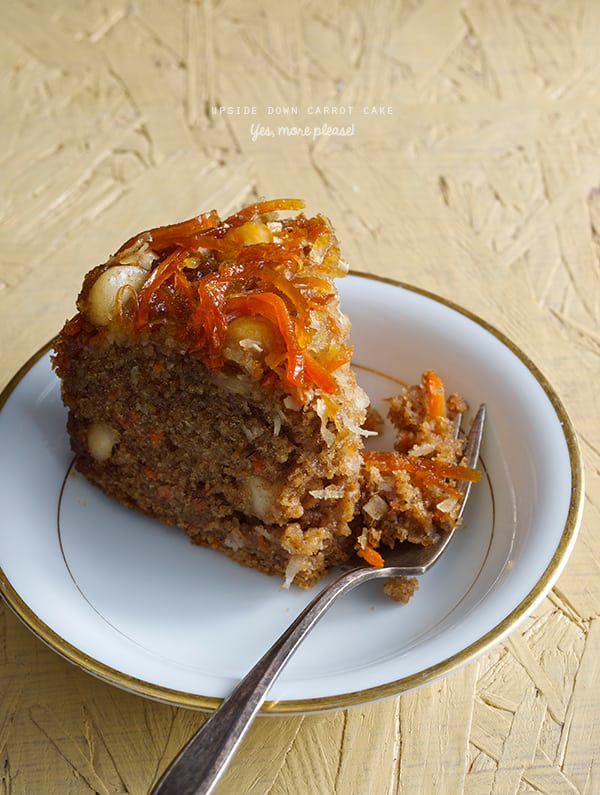 ~Scrumptious~