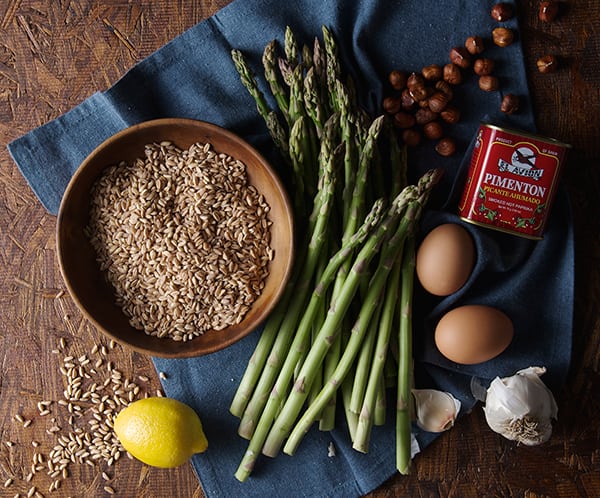 Have you ever tried farro before? Farro is a handsome Italian whole grain with a great tan color, a nutty and slightly sweet flavor. Farro's texture is firm with a bit of a chew.  An early variety of hard wheat, farro has been around for more than 10,000 years. It was originally grown in Tuscany, Italy and nowadays you can find great organic farms here in U.S that now cultivate this "ancient" new grain.
Farro has a number of nutritional advantages over other grains. It is a complex carb which makes it far more nutritious than white rice. It is higher in protein than regular durum wheat and higher in fiber in comparison to many other grains. It is rich in Vitamin B complex, A, C, E and rich in Magnesium. Due to it's low gluten content is easier to digest and to make it even better:  it has a low glycemic index. As you can see Farro is not just a handsome whole grain. Farro is smart and a gentleman too.
I strongly believe that farro should be the new super grain. I would say I prefer farro over quinoa.  There are different varieties of farro and the one I recommend to try first is farro perlato. It cooks in the same way as white rice. 2:1 ratio, 2 cups of water, 1 cup of farro perlato and in 20-25 minutes is perfectly cooked a bit al-dente and each grain separated which it makes it fantastic to sprinkle on salads or as a whole dinner like in this recipe. If you have more time and you are craving more fiber, choose a wholesome farro, soak it overnight and it cooks for about 45-1 hour… (but not my favorite choice, look for perlato!)
For this recipe I cooked the farro with some garlic and tossed it with extra virgin olive oil, lemon salt and smokey hot paprika. To top it off… a poached egg… And that farro dinner was amazing. I know you will love it and I would love to hear some feedback after you have dinner with this Italian grain…This recipe is definitely comforting and effortless.
Warm Farro, asparagus and poach egg… makes a great brunch, lunch or dinner.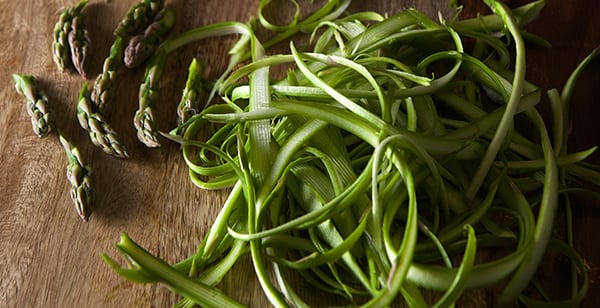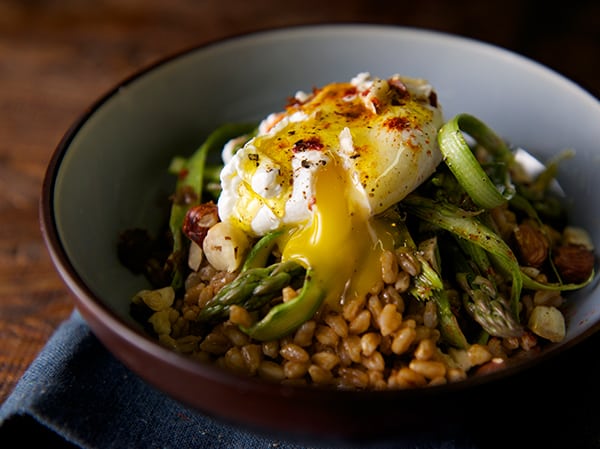 Warm Farro Asparagus and Poached Egg
Serves 2 with some left over farro to sprinkle over your next green salad.
1 Cup Farro Perlato (Bluebird Grain Farms, Bob's Red Mill Natural foods)
2 cups water
2 garlic cloves
1 teaspoon salt
1 glug of extra virgin olive oil
½-1 teaspoon Smoked Hot Spanish Paprika. (upon you preference, start with ½ , check on flavor)
8-12 asparagus (the thiner the better, pencil asparagus work great , they are tender and less fibrous)
1 glug of extra virgin olive oil
1 Lemon (the zest and the juice)
Salt and Pepper
2 Eggs room temperature
To garnish:
2 tablespoons toasted hazelnuts, coarsely chopped .
2-3 pinches Smoked Hot Spanish Paprika.
Preparation method:
1. In a medium size pot bring 2 cups of water to boil along with two garlic cloves. Add the Farro and a pinch of salt. Reduce heat to medium-low and cook for 20-25 minutes. Or follow directions on package otherwise.
2. Meantime, wash your asparagus, cut the ends, and with a vegetable peeler make thin ribbons. In a medium size bowl toss the asparagus with salt, pepper, extra virgin olive oil lemon zest and lemon juice.set aside.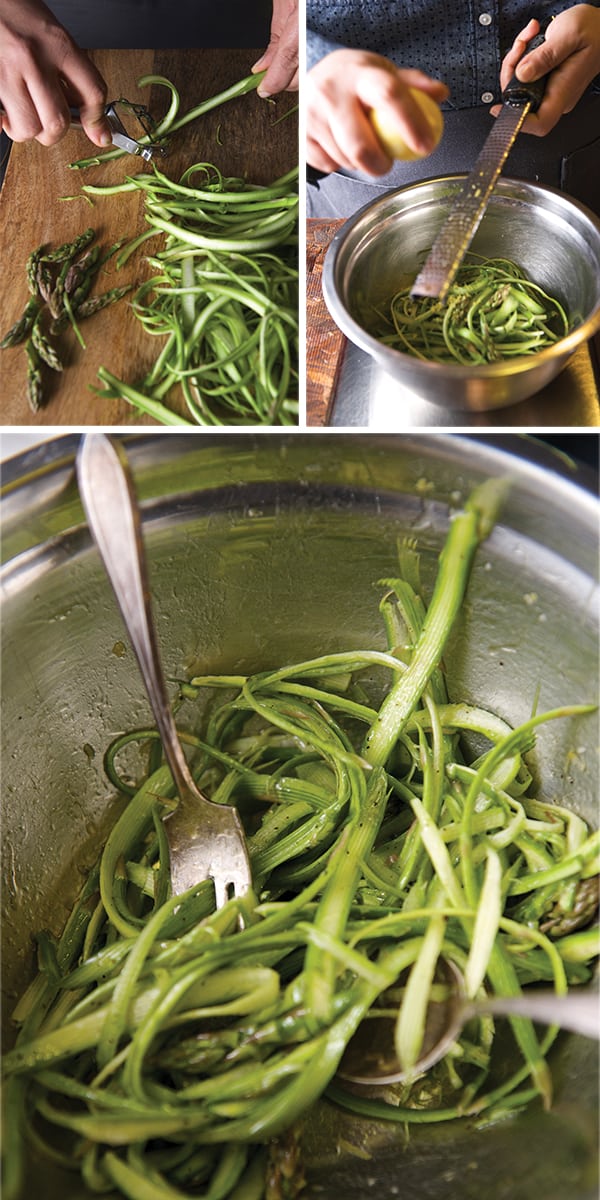 3. When Farro is cooked, turn off the heat remove the garlic cloves and Season the Farro by adding a glug of extra virgin olive oil, salt, pepper, the Smoked Hot Spanish Paprika, lemon zest and a squeeze of lemon juice. Toss and cover with a lid to keep warm.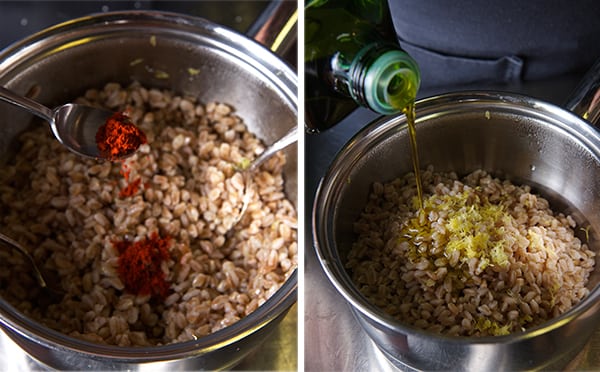 How To poach eggs:
It is certain that poached eggs take a bit of patience and timing, but I assure you that eggs meant to be poached. Practice helps, and if you follow this easy method you will be an expert poacher in no time. The reward makes it worth trying.
1.In a small pot bring about 6 cups of water into a simmer. Add 1 teaspoon of salt, 1 tablespoon of white vinegar.
2. Crack one egg at a time onto a small ramekin or a small cup (this with help you to drop the egg into the water more easily)
3. With a Wooden spatula, create a water whirlpool and drop the egg into the center of the whirlpool. This will help to contain the shape of the egg-white into a pillowy egg goodness.
4. Turn down the heat to low
5. Let it swim into the water for about 2-3 minutes if the egg was room temperature. If the egg was in the refrigerator, it might take about 4-5 minutes.
4. With a slotted spoon carefully remove the egg from the water, and place it into a warm ramekin with a bit of tepid water, while you proceed to poach the next egg.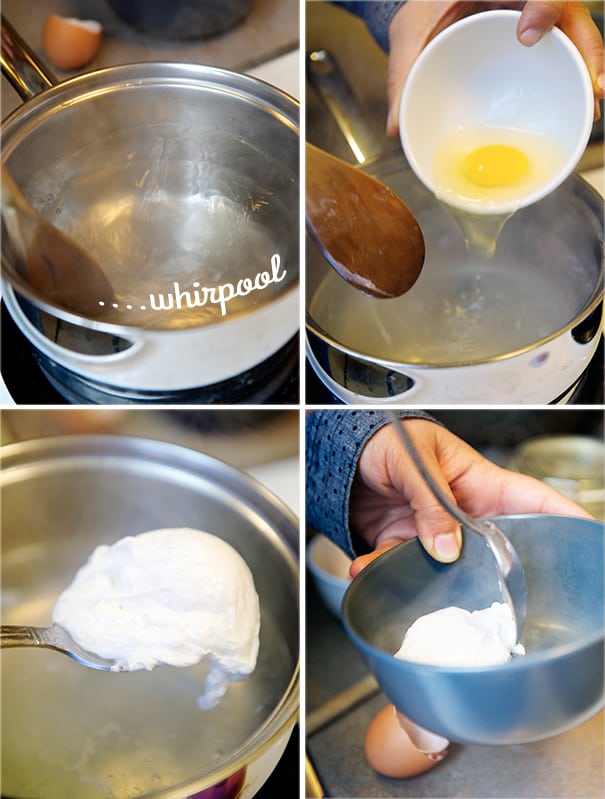 Note: if you are not trilled about the poaching your eggs,  over easy eggs will work to!
There is no rules in here, this is just pure cooking inspiration!
5. Plate a generous amount of warm farro and top it with the asparagus ribbon salad.
6. Carefully Place the warm poached egg on top.
7. Drizzle some extra virgin olive oil, sprinkle some toasted hazelnuts, sea salt, fresh cracked pepper and a pinch of Smoked Hot Spanish Paprika. Enjoy!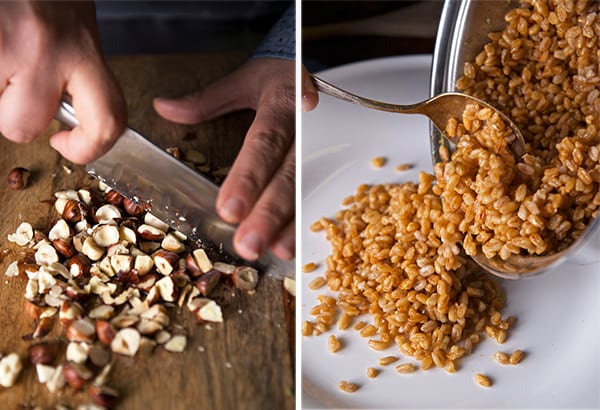 If you want to know more about Farro, check this articles:
http://www.takepart.com/article/2013/03/20/jane-says-farro
http://www.bluebirdgrainfarms.com/nutritional-information.html