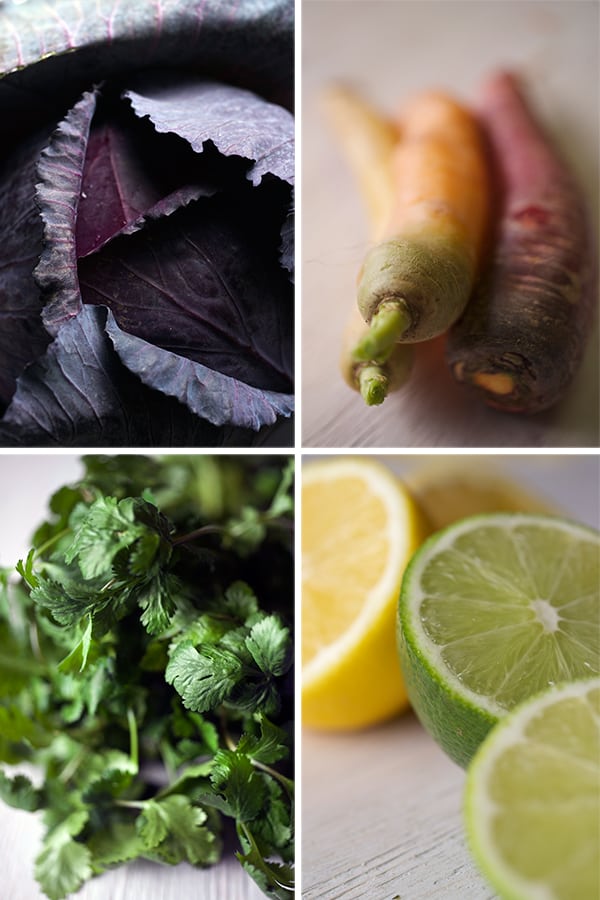 Is it Spring time yet?… I think we are almost there. This Raw Veggie Tostadas scream welcome spring!, Spring is about renewal, everything in nature starts again, a new cycle that makes me feel like eating fresh,crunchy root vegetables. There is an abundance of them right now, lots of cabbage, carrots, radishes at the farmers market. For me is time to set aside the roasting pans, lets eat them raw. Raw vegetables have an earthy and unique flavor, they are juicy and sweet. I've learned to loved them when I shred them, it is so easy to eat them raw and when you combine them in a salad they are also so attractive to the eye and all together make a crunchy symphony texture, simply amazing.
This recipe screams "easy", you can whip this up for a week dinner or an easy-laid back weekend lunch. This recipe its one of my favorites, Ian and I used to have them almost once a week for our veggie night or our MM, Meat-less Monday. Have fun and enjoy!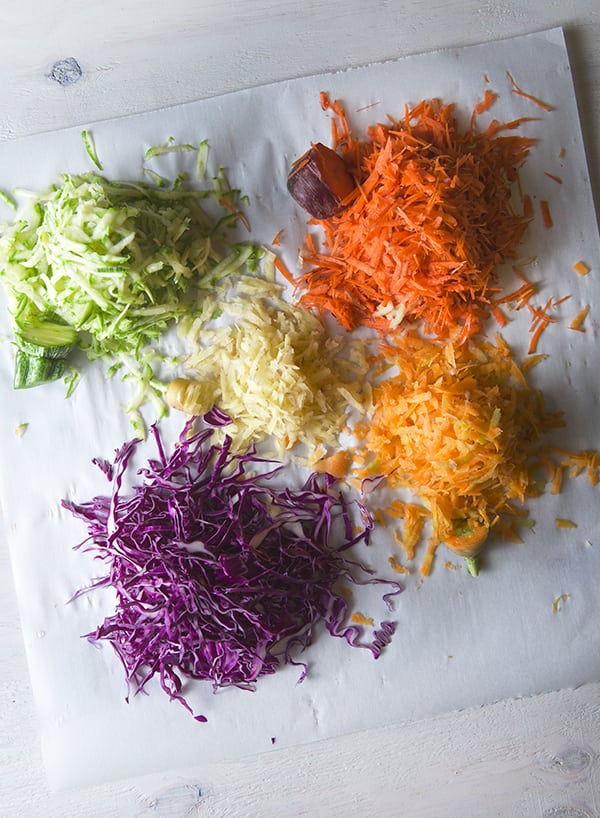 Raw Veggie Tostadas
Makes 4-6 Tostadas
Ingredients:
6 tostada shells*
(Baked or Milagro brand if you are her in Austin, definitely the best..)
1 cup of black beans cooked and smashed
4 shredded carrots…any color any variety.
2 shredded mexican zucchini (light green kind preferable)
¼ head of red cabbage, shredded
2-3 tablespoons finely chopped cilantro
1 lime
1 lemon
2 tablespoons Extra Virgin Olive Oil
1/2 – 1 teaspoon sea salt (upon your taste)
fresh ground black pepper to taste
Garnish with:
2 tomatoes diced or in slices
4 thinly slices of red onion
1 avocado
3 tablespoons of greek plain yogurt + 1-2 tablespoon of milk + pinch of salt.
Whisk until well combined, to create a lighter creamy sauce. (for vegan options use tofu yogurt)
2 Tablespoons queso fresco or feta cheese crumbled or small diced firm tofu.
Red Roasted Tomato Salsa(recipe follows)
Red Roasted Tomato Salsa:
2-3 medium size tomatoes roasted and peeled.
6-8 toasted chiles de arbol.
2 toasted chiles cascabel (remove seeds)
1 medium garlic clove
1 teaspoon sea salt
Place all the ingredients in the food processor, until well blended, add a little warm water if needed for consistency. The salsa should reassemble a lose puree.
Preparation method:
1. Warm up the beans, you can use refried beans if you like.
2. In a large bowl, combine carrots, zucchini, cabbage, cilantro, the juice of lime, lemon, salt and pepper to taste, toss well.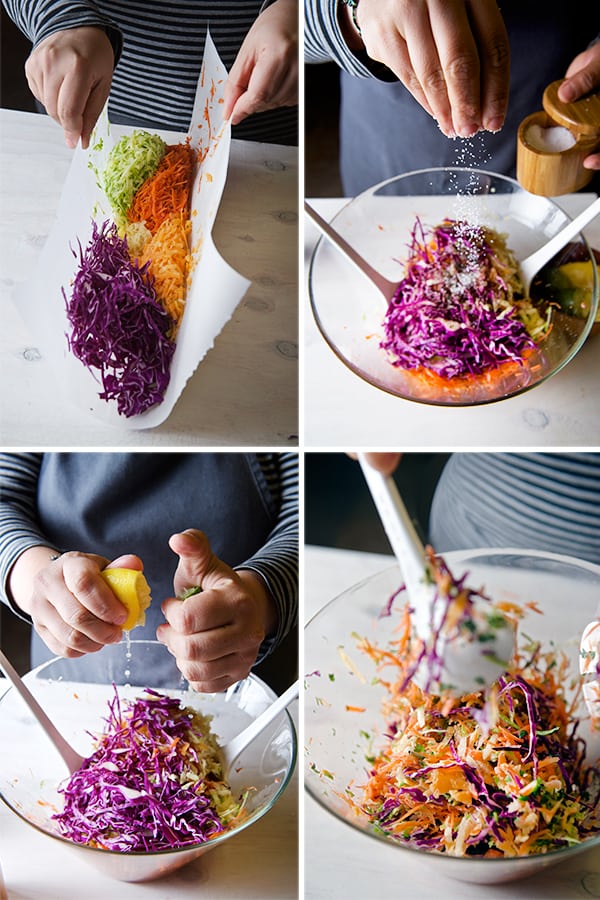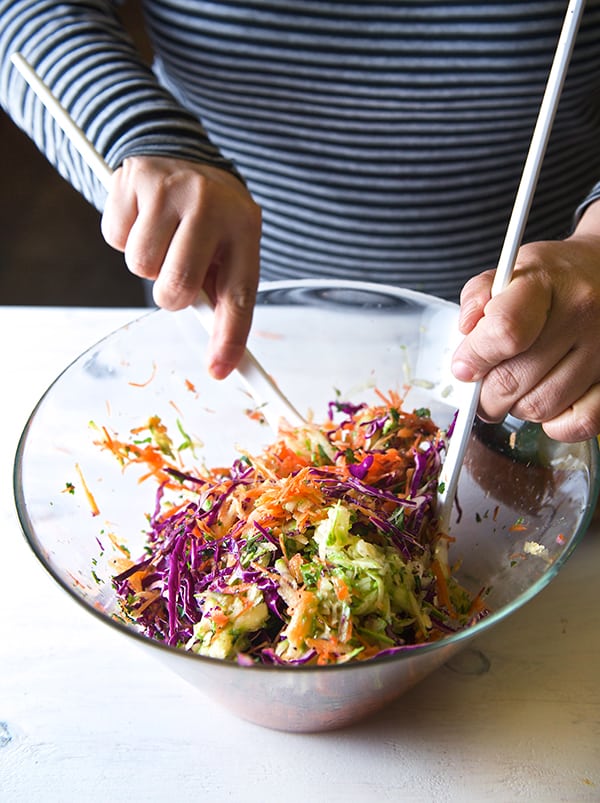 3. Make your Salsa…I made this Salsa Roja Asada click for recipe here.
4. Prepare your garnishes.
5. Assemble the tostadas, spread a light coat of beans on the tostada (this will be your glue!) and then a generous amount of the vegetable concoction. Top with slices of onion, avocado, drizzle some of the yogurt sauce, and some salsa. Serve immediately. Enjoy!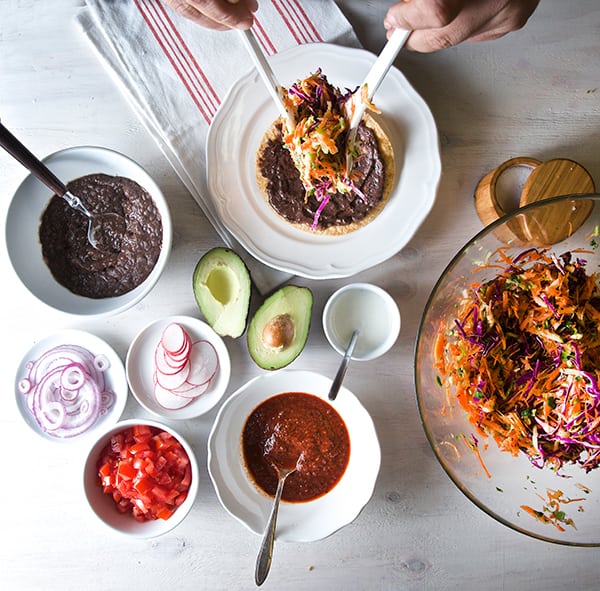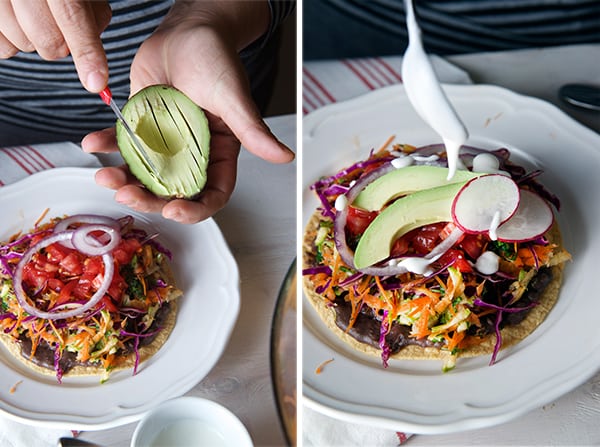 Have you had your rainbow today?
Cook with music! Music always sets the mood for cooking, My music pairing for this recipe: