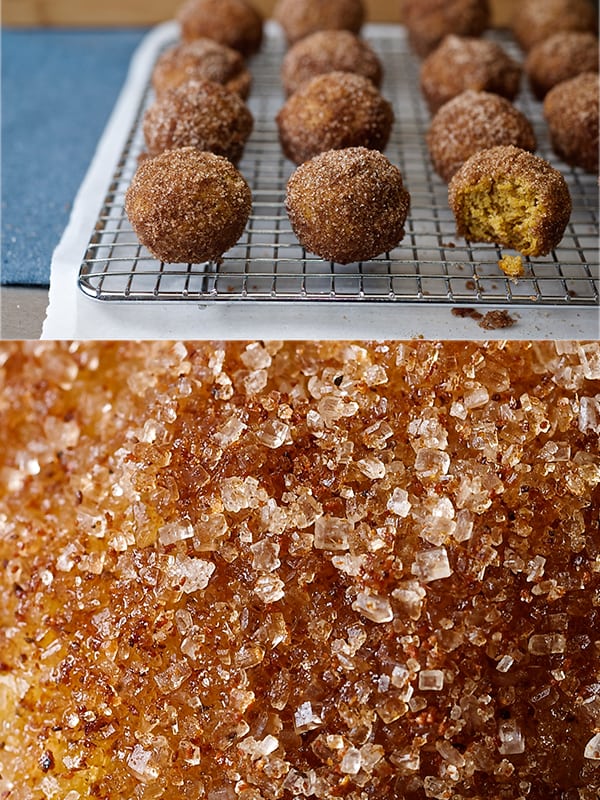 October, the month of the most beautiful moons, weather changes and…pumpkins.
Pumpkin shakes, pumpkin coffee, pies, cheesecake, soup, bread, cookies, everything pumpkin!
It's all about the pumpkin season, spices, aromatics, baking!…what Am I baking? Pumpkin doughnut bites!
Pumpkin is so versatile,it can easily be used in sweet and savory dishes, and it makes the most comforting warm soup for the fall. For me it is always 100% worth the effort to roast them. Its so easy; the house warms up and it taste so much better than the canned stuff. My advice is to buy 3 to 4 small to medium pumpkins roast them puree them and keep them in small batches that you can freeze for feature dishes. Why small or medium pumpkins? They are easy to cut, they cook faster and you do not need 2 oompa loompas to carry them into the oven. But, if you prefer to buy a bigger one they are definitely more meaty and you can cut it into smaller pieces so it will bake faster. The more pumpkin the merrier.
This recipe is incredibly easy and rewarding, so few ingredients transform into the most delightful bites. The pumpkin flavor is enhanced by all the aromatic spices, they are like pieces of pumpkin clouds in your mouth, little pillows of comforting goodness. The pumpkin keeps the batter moist and when you bite into them, the contrast between the soft inside and crunchy sugar crystals make these doughnut like bites irresistible!..
They make the perfect little bite with your morning coffee, or afternoon cup of tea… I love them with a glass of cold milk.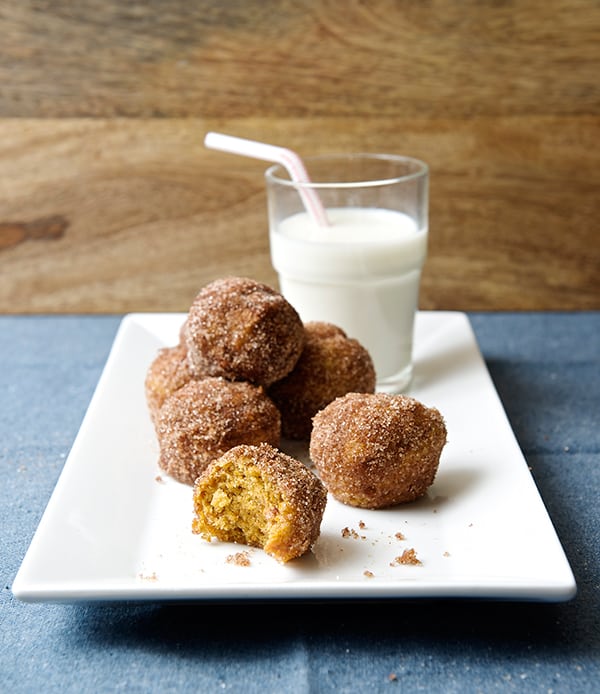 Pumpkin -baked- doughnut bites
Makes 25-30 bites
Dry:
1 1/2 cups all-purpose flour
¼ cup cornstarch
2 teaspoons baking powder
½ teaspoon salt
½ teaspoon cinnamon
½ teaspoon nutmeg
½ teaspoon allspice
1/8 teaspoon ground cloves
Wet:
1/3 cup vegetable oil
½ cup brown sugar
1 large egg
1 teaspoon vanilla extract
¾ cup pumpkin puree
½ cup whole milk
Roll them in:
1 stick of butter melted in a small bowl
In a separate bowl combine the next three ingredients:
2/3 cup fine granulated sugar
2 tablespoons cinnamon
1 teaspoon allspice
Directions:
Preheat oven at 350F/ 176C
1.-
In a medium bowl whisk all dry ingredients. In a medium bowl whisk all wet ingredients.
With a spatula, combine wet and dry ingredients until well incorporated. (do not over mix).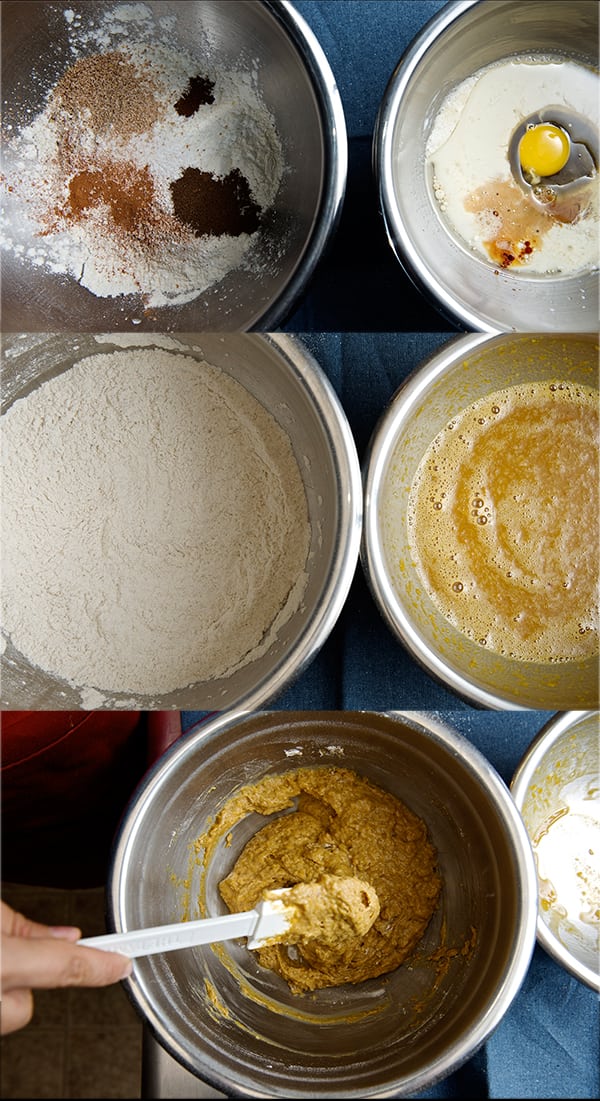 2.-
Proceed and grease 2 mini muffin pans with non-stick spray.
Using a small Ice cream scooper (1.5" inch diameter works best for a mini muffin pan)
scoop the batter immediately.
Bake at 350 for about 10-12 minutes.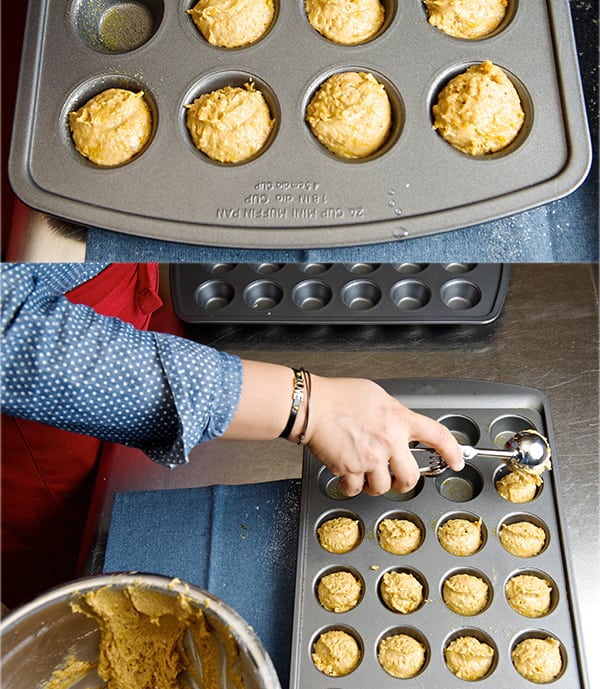 3.-
Cool them on a rack for about 15 minutes.
Proceed to quick coat them into the melted butter, making sure to drip the excess butter before dumping them into the sugar-cinnamon dust. Roll them until well cover and tap the bites to remove any excess sugar-cinnamon. Place them on a cooling rack and allow to dry for about 30 minutes. Keep them in an air tight container far away from reach… they are highly addictive. Enjoy!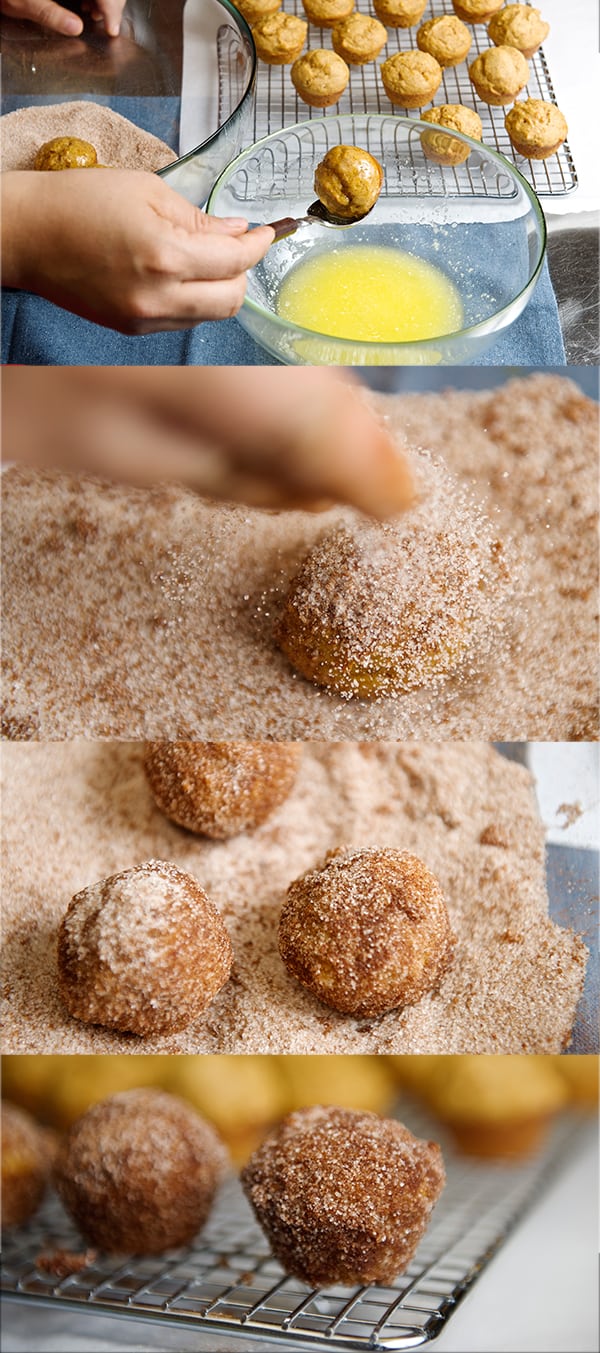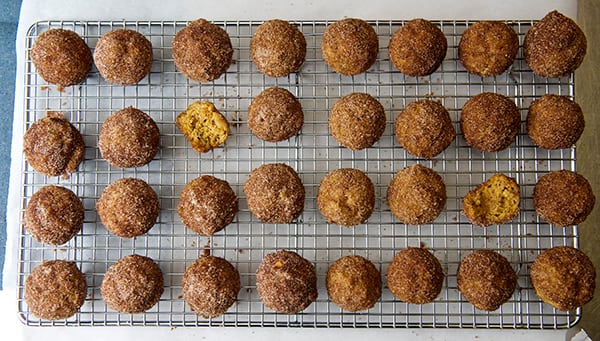 Keep them in an air tight container far away from reach… they are highly addictive. Enjoy!
Bite me!