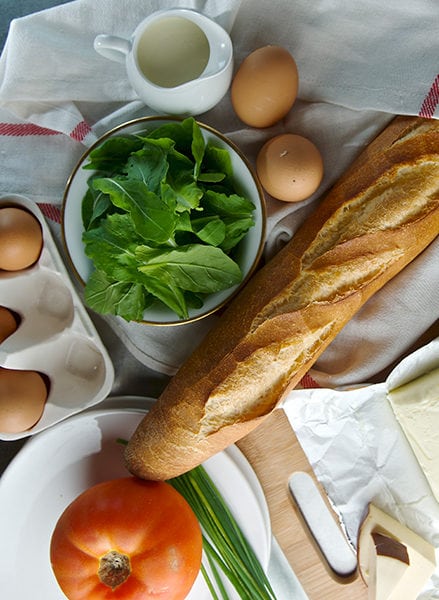 For Ian and I, Sundays mornings are the best mornings of the week, we wake up with no schedule, we take our time to enjoy our coffee, enjoy the morning listening to music, wearing our pajamas and our biggest plan is: whats for breakfast-brunch?.
We love eggs in any shape, color, form, or cooking method, my favorite eggs are poached or baked in ramekins with cream where you can dip the crusty baguette into the yolk- creamy goodness ah!….Eureka! That's when it hit me. Why not omit the ramekins, and cook the egg into the baguette? That's when the "Baguegg" conquest started. We picked up the bread on sunday morning, I cut them into cylinders, remove some of the inners, spread some butter and cream inside, crack the egg and there you have it, the perfect vessel for your egg.
At the beginning I was worried about the crust becoming more like a crouton! But when they come out of the oven they where perfect. The egg and cream add the right moisture inside out so the baguette does not over crunch-iffy. The egg cooks perfectly with runny egg yolk and custardy egg whites. And to top it all off , I made a cheesy sauce with smoked gouda… Talk about indulgence….
We always eat as healthy as we possibly can during the week and save our cravings for Sunday morning. So why not indulge a little?…….After all, it is finally Sunday and life is short so enjoy the ride! Can it be Sunday soon, please?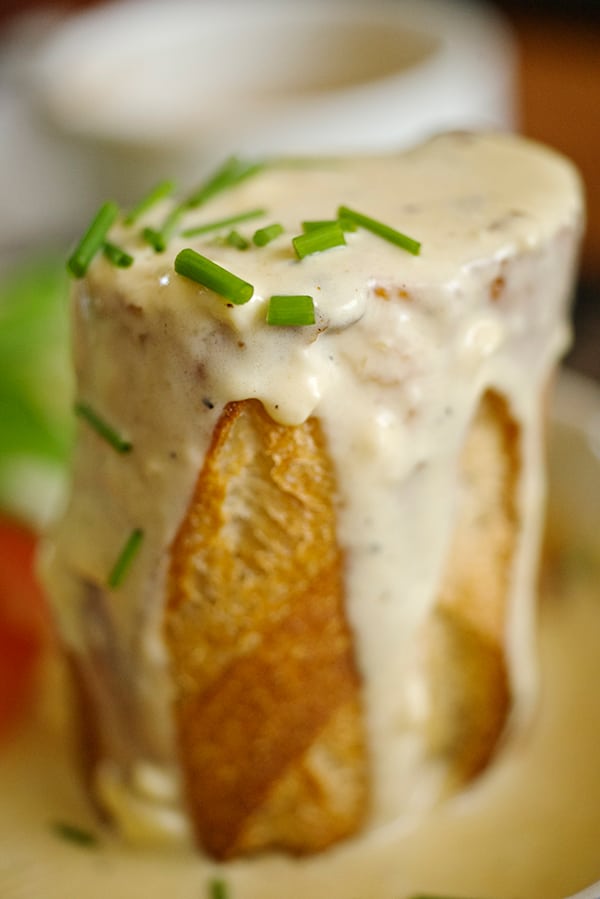 Baked eggs in Baguette + Smoked Gouda Sauce – A.K.A "Bagueggs"
Serves 4 or 2 hungry brunchers.
1 Baguette Traditional, crusty good, artisanal quality.
4 eggs.
2 tablespoons of heavy cream.
2 tablespoons of butter.
Salt and fresh ground pepper.
For the Cheese Sauce:
1 cup Smoked gouda shredded
1/3 cup of heavy cream
1 teaspoon of butter
1 pinch cajun pepper powder
fresh cracked black pepper to taste (about ½ teaspoon)
pinch of salt.
1/4 cup of whole milk if needed to adjust the thickness of the sauce.
Beer cheese Sauce variation:
1 tablespoon of butter
2 teaspoons flour
1 cup shredded smoked Gouda cheese
1 to 1 1/2 cup Stout beer, Guinness will be best.
1/4 cup heavy cream
1 pinch of cajun pepper powder
fresh cracked black pepper to taste (about ½ teaspoon)
Salt to taste
Method:
Preheat your oven to 400 F/ 200 C
Cut the baguette into 4 pieces around 4"/ 20 cm. long and remove ¾ of the inners being careful to leave some inner bread in the bottom so the egg does not escape. Brush the inside of the baguette pieces with heavy cream and spread with a ½ tablespoon of butter. Place the baguette cylinders standing up on a baking tray lined with some parchment paper. Crack 1 egg inside of each baguette cylinder.
Bake at 400 for the first 5 minutes. Lower the heat 350 and bake for about 8-10 more minutes. Keep in mind that these cooking times work with large eggs at room temperature. You might need to adjust the recipe time, about 5 to 8 more minutes if your eggs were in the refrigerator. Keep an eye on them. The best way to know when the egg is ready, look at the whites on the top of the baguetta, they turn translucent white, and a bit shiny.YOu are looking for a simmilar donnennes of a poached egg or a soft boil egg with a runny yolk. (look at picture below.)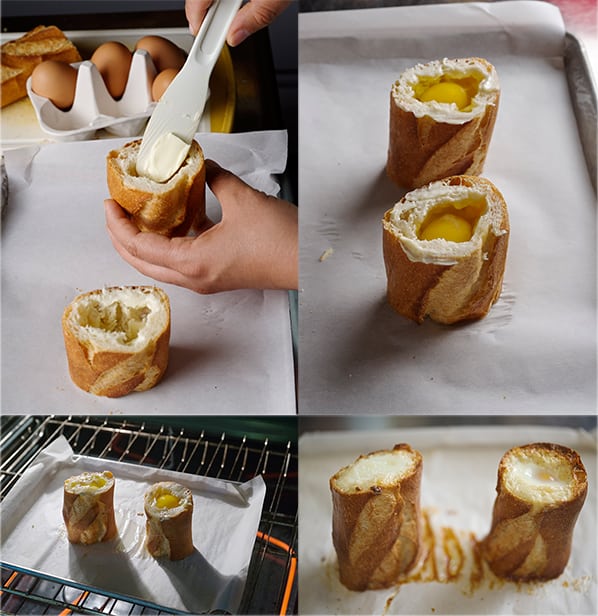 Prepare the Cheese Sauce:
While the bagueggs are in the oven, prepare the cheese sauce.
In a small saucepan heat the milk, heavy cream, butter and cajun powder until you see small bubbles on the edge of the pan, add the cheese little by little stirring slowly until all cheese is incorporated. bring down the heat to the lowest. Add pepper, salt and pepper , if it is to thick you can add a little bit of milk stir until well combined and creamy velvety consistency.
Variation: Beer cheese Sauce
In a small saucepan over medium heat, melt butter and sprinkle the flour. With a whisk combine the melted butter and flour. Cook until golden brown for about 30-45 seconds. You want to create a light roux. Once the flour slightly changed color to a light golden, lower the heat, and with the help of a whisk, promptly add the beer whisking at all time to avoid any lumps. Whisk until beer and the roux are well incorporated. Add heavy cream, whisk just until combined, let it warm up then add cheese and slowly whisk until melted. Season with a pinch of cayenne pepper, add salt and black pepper to taste. If consistency is too thick add a bit more beer… heehehe
Keep sauce warm on the lowest heat and stir often to avoid a skin on the top of the sauce.
To serve:
Remove tray from oven and using a flat spatula or tongs to transfer them to the plate. Serve each baguegg with a generous 2-3 ladles of the warm cheese sauce. Sprinkle with chives, and a few crancks of black pepper.
On the side, I like to serve them with a fresh slice of tomato and peppery arugula, it refresh and lighten every bite. a small leafy salad of greens dressed with olive oil, lemon, salt and pepper will be delicious too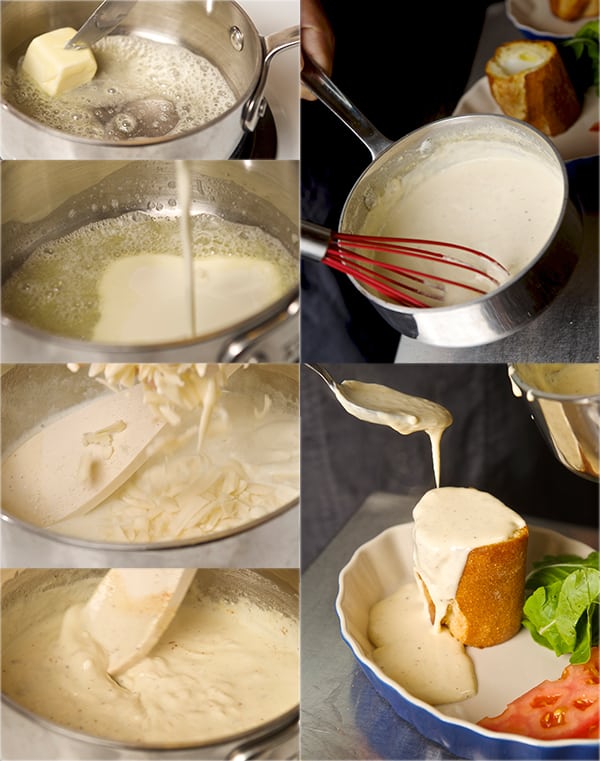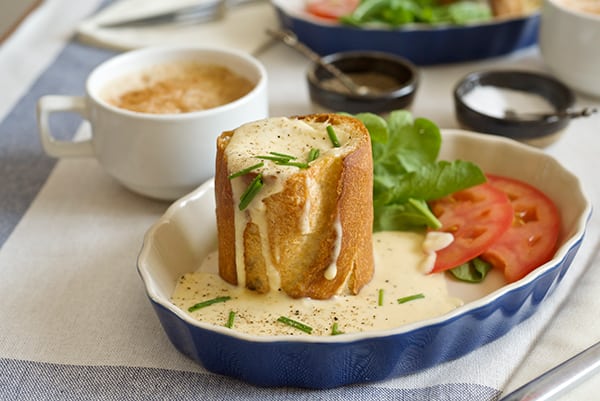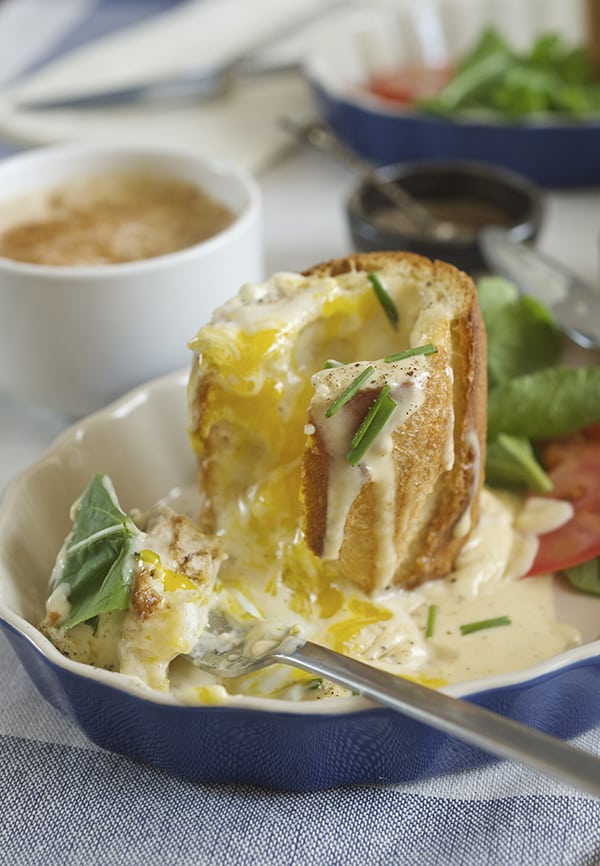 Enjoy!
Listening to: